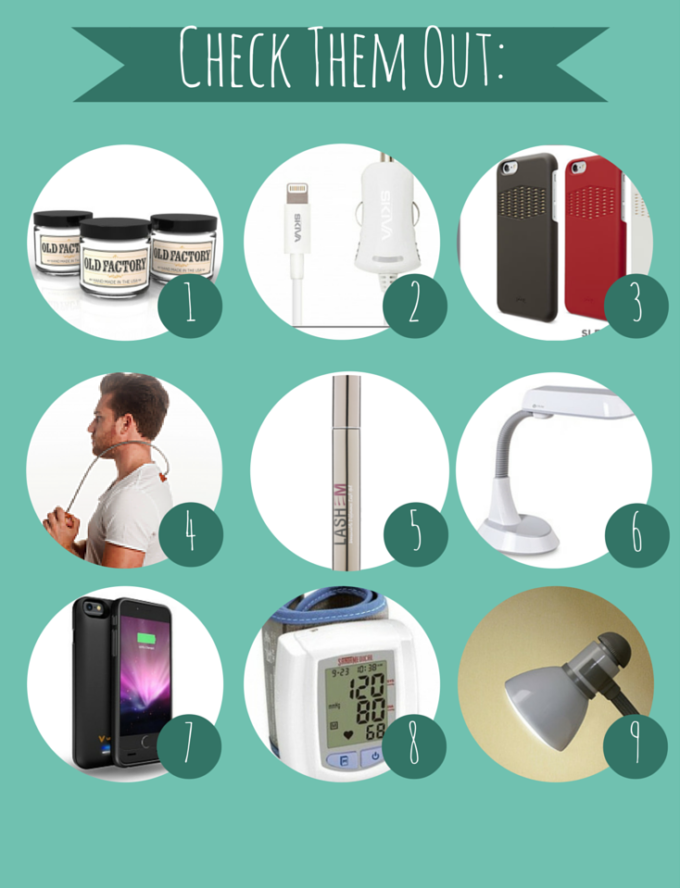 1.  Old Factory Candle Gift Sets
Go for the fresh and clean collection – lemongrass, olive blossom, and fresh linen.  These Old Factory candles are hand-poured in the USA with natural soy wax and self-trimming wicks.  I love the smell of lemongrass and wish I could have 10 in this scent.
2.  Skiva Lightning Car Charger 
The Skiva lightning charger is fantastic.  I leave it in my car all the time, and use it more than my wall charger.  It charges faster than my wall charger, and the cord is more durable.  I wouldn't replace it for anything.
3.  Pong Case
Are you worried about the radiation that you are exposed to from your phone?  I know a lot of pregnant women specifically get nervous about using phones.  The Pong Case has a micro-thin gold antenna that directs radiation away from you.  It is proven to reduce your exposure to radiation and does not compromise your device's ability to communicate.  Pretty cool, right?  Be careful – the charger doesn't fit right with it on.
4.  Happy Trigger 
Okay at first this device seems as peculiar as its name.  However, for those who want their muscles to relax rather than the usual back scratch other similar items provide, than this is what you need.  This tool is easily controlled and provides deep pressure for your shoulders, neck, chin, butt, and feet.  It works, and its bound to be a conversation starter.  More info here, buy it on Amazon.
5.  LASH EM extensions in a bottle
I love the new products that are out for mascara and lash products. I have never found a mascara that far exceeded the others, but this is quite the cool thing.  It lengthens my lashes and when I wore it, my family all asked if I had extensions or falsies on.  I LOVE the Lash-em extensions in a bottle, and plan on wearing them often.  They are available at Nordstrom.com, Walgreens.com, Pharmasave in canada, and beauty supply stores.
6. Ott Light –
The ott light is one of those products I get for myself and it ends up being stolen by my husband for fly fishing.  He immidatley proclaimed it as his own and even starting singing about it.  Because you know I'm all about that 'base'.  He proclaimed it as the best part, and the color of the light is perfect.  He can tie flies for hours without it getting too hot and the bulbs are efficient!  Luckily they are available at Michaels, because I love it enough to want my own still.
7.  Phone Charging Case –
Whenever I am travelling or at a blog conference I find having access to a charger is one of my biggest frustrations.  My cell phone is the worst.  While on a 4 hour flight I loaded up my phone with as many movies and books as it has the largest amount of storage.  However, the battery doesn't last long enough for even one movie.  So frustrating.  This iPhone 6 case will give you 14 extra hours of talk time or 10 hours of browsing plus it protects your phone.
8.  Wrist Digital Blood Pressure Monitor
My mom has always owned a blood pressure monitor, and the one she had broke because the grand kids used it as a toy.  Amateur move,grandma.  This wrist monitor is not only portable, it has a large screen and can store 60 readings.  New advances in technology allow it to auto inflate and auto power off.  My mom needs one, so chances are yours does too.
9. SmartLight Natural Spectrum Clip Lamp
Another great light for general desk use or crafting.  I like the clip base, so you can adjust its location.  Lighting is so important, not only does it affect your mood it can help you study longer without eye strain, read faster, and work smarter with greater productivity.  Check out the Verilux natural spectrum smart light.