It Started With A Rug
Remember how my mom moved into a new place and is in the process of redecorating?  Well, we (she) have officially moved it all into the house, but we have a lot of too large furniture to sell, and hopefully some new items to buy.  The end goal is a space that feels different than what she had before, but overall it just has to feel finished and pretty.
I was putting together my ideal room that I would like my mom to have.  I started with a rug.  We saw a really stunning zebra styled rug while walking through a shop last week.  Sadly, the price tag made it an unrealistic option.  It didn't take long to find 2 similar rugs on Wayfair.  Mom and I each had our own favorites, so I put together a room for her featuring my favorite rug.  Then, when I showed her, we came up with a completely different design.
So, I want to know, which room would you rather have?
| Zebra Grey Rug | Sofa | Coffee Table | Wood Frame Arm Chair | Wood Bead Chandalier (Similar and Similar) | Curtains (Similar) |
| Zebra Rug | Sofa | Grey Tufted Arm Chair | Coffee Table x 2 |
 If you are searching for a rug, I highly recommend Wayfair for great selection and great prices.  To sweeten the deal, I have a special promo code JUST for my readers.
Code: RUGLUV23
With this code you will get 15% off all area rugs.  There are sales often, but wayfair does NOT do promo codes, so this is a pretty big deal – but only until 8/4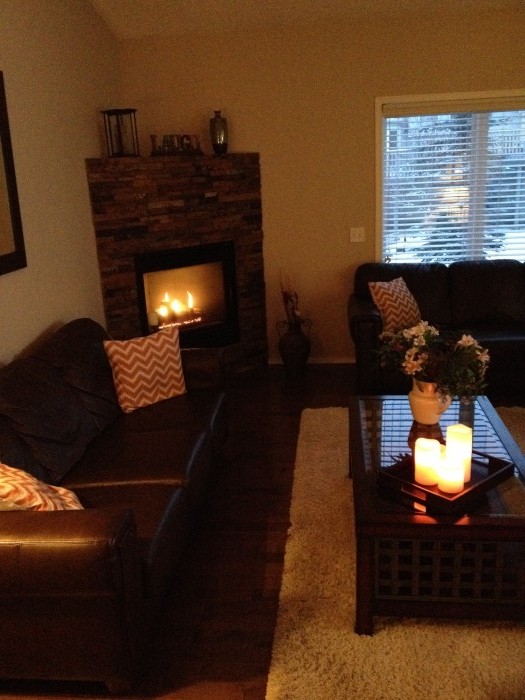 P.S. This is the living room we are working with in my moms house.  Needs something bright, right? It has a corner fireplace to work around, AND a baby grand piano.  This is a space planning challenge.
*This post was sponsored by Wayfair but my love for them is all my own, unless you want to share it with me!*