Hunter Green Is The New Black
Hunter green is back in home decor in a big way. I have seen it creeping its way into both modern and traditional interiors, it has come a long way from the hunting lodge and country club look of the 90s. My favorite way to use hunter green in home decor is on cabinets with a monochromatic background – as in white walls, black and white floors, hunter green cabinets. Here are some great rooms that use hunger green:
Green Basic Kitchen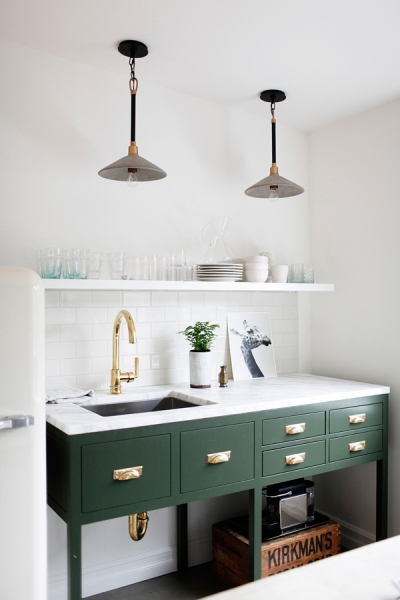 Katie wanted the office space to feel like the H2 brand, timeless traditional details with modern lines and amenities. After placing the powder room, office desk, and a Smeg fridge, she had a given amount of space remaining to design and place a small kitchenette.
via Lonny
via
A traditional kitchen full of glamor. The back wall is painted the same color as the cabinets which I think looks like a full set of cabinets at glance. The shelf holding paintings in a modern kitchen trend, but is done in a traditional way.
This wall color is called hunter green from Benjamin Moore.
The makerista has green ish cabinets.
via West Country Shutters

Source

Source

Source

I love everything about this minimalist kitchen. The hunter green just adds the life and personality into this room.

Jillian Harris designed an out of the box green kitchen. I love the mix of traditional and modern in this home.
Check out Hunter Interior's bathroom updated for the One Room Challenge. This has me sooo excited.