Creative Kids Rooms in Small Spaces
It seems that once kids come into the family, everyone thinks they need way more space. Yes, there is a lot of gear out there that you may think that your baby has to have. I for one, am a true product junkie, and I am willing to try something if it will make me or my kids eat/sleep/poop/feel better. However, there are also a few things I thought were a complete waste. I know everyone has their own list of must have's and waste of money products (I'll save that for another day). I am, however, impressed with those who managed to work with what they have SPACE wise and still create a great space for their kids.
Room Changes
Danielle (another talented design school friend) designed this beautiful room for her daughter. Loft beds and play spaces in kids rooms. Two things I never thought I would like to see in my own home, and yet I love this. As her oldest got older, more space for toys and a play room was needed as well as room for a beautiful baby brother. I love that she made a really cute and functional space using an ikea bunk bed and DIY curtains.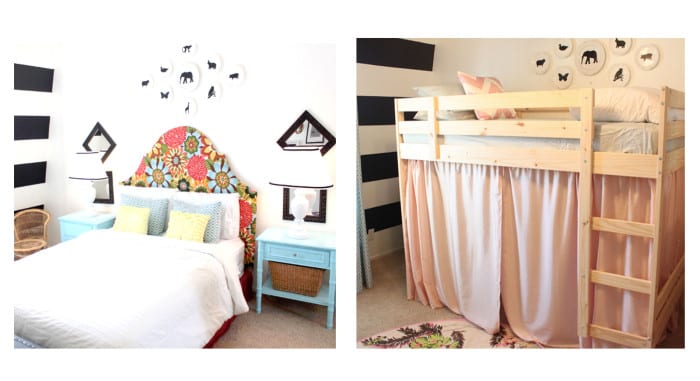 Kids Can Share
Kids can share a room, I swear. As a mom to 3 kids, I tell you, most people think you are crazy for having any of them share a room. That is except my friends with 4 or 5 kids. They get it. Sharing a room isn't a big deal. I love that three three boys are sharing this room too. The rope bunk beds are anchored into the wall and create a really fun place to help sharing a room be really fun!
Use What You Got
Build in to the space you have existing. Whether its a small room, closet, or small room, you can make it work. The owners of this house had a space left in the basement for a fireplace. While that would look beautiful, its not the most practical or safe feature for a kids play room. The existing framing was used to DIY a custom play house. The bottom "bunk" is a fort / play house complete with an adorable window with a bright colored window box, contemporary "house" numbers, and ladder to the top bunk. Other rooms have been built into closets (a la Harry Potter) and they work well! I think it adds to that fort factor, and it makes it fun!