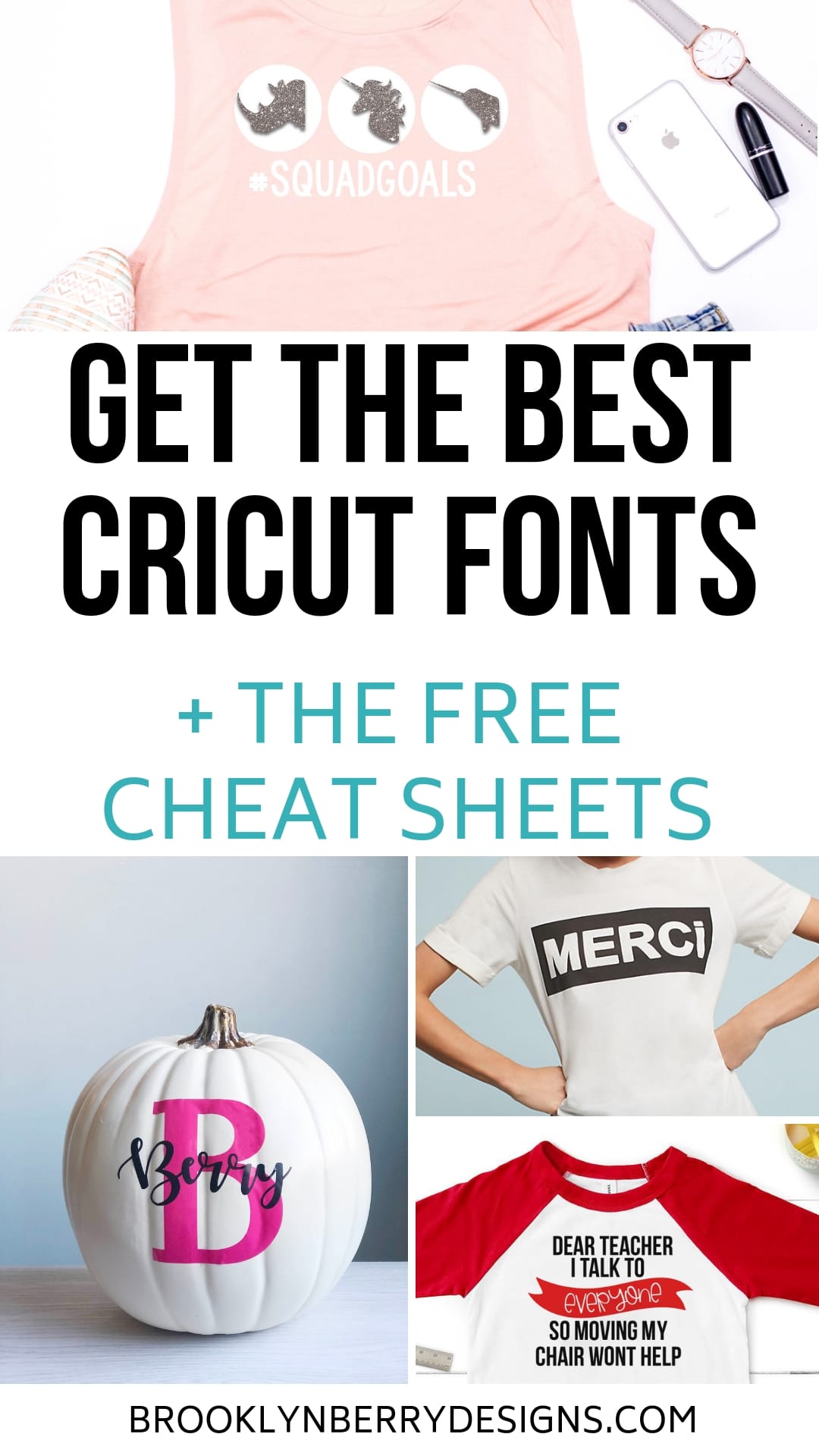 Do you find yourself wasting time scrolling through to find the best Cricut access fonts in Cricut Design Space? You will love this collection of my favorite Cricut fonts. Feel free to screenshot the images for easy access to font cheat sheets or download the free printables to have near your computer!
The most frustrating part of designing projects in Cricut Design Space is all of the font choices. There are so many fonts to choose from, which is a wonderful problem to have, but they are sorted alphabetically and there is no way to star or mark your favorite fonts. I just want to use a great font for my Cricut projects!
I have spent some time searching, and looking into which fonts I tend to use the most often, all that are included in the Cricut Access plan.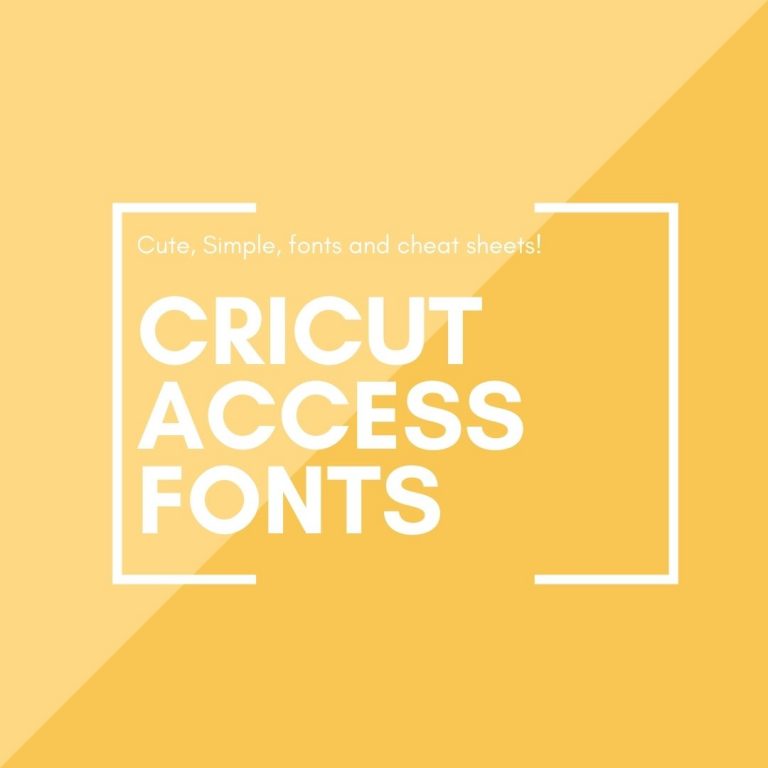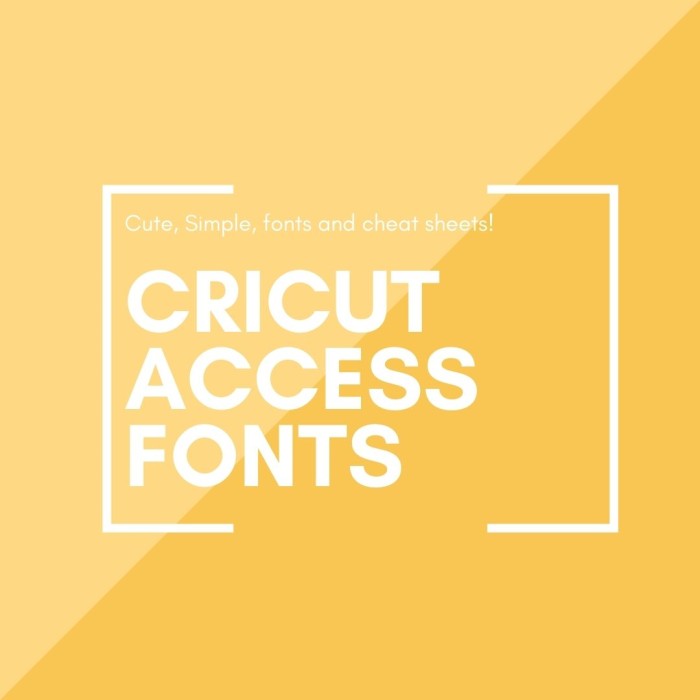 Cricut Fonts – Everything You Need To Know
What Are Cricut Fonts?
Cricut fonts are fonts that are available with the Cricut Design Space software. They are designed for using to cut and using them helps to ensure your text designs will cut out nicely.
There are a few free fonts that anyone is able to use, as well as a huge selection of fonts included with a Cricut Access subscription.
Can I Use My Own Fonts With The Cricut?
Yes, you can! These fonts on your computer are called system fonts, and you can filter your fonts by Cricut fonts or system fonts to find them easier. Any fonts that you have installed on your computer will be available in Cricut Design Space. There is no need to install any fonts again.
However, if you are using more than one device – say designing on your computer but opening it later on your phone to cut, the font will need to be installed on both devices. If you have purchased a font from creative market or creative fabrica (those are my favorite places to buy my fonts) make sure to remember where you saved the font files or download it again to each device.
If you know you are going to open the fonts on another device here is a quick hack. When your design is finished, weld your letters together and save the file. This saves the text as its own file and allows you to open it on a second device.
Tips For Choosing A Good Font
Choosing the perfect font can be tricky. Avoid any with rough edges as they are hard to cut out.
Bold fonts make the letters stand out and easier to weed and remove from the mat. Many letters have ripped while being removed because they are too thin.
Best Cricut Cursive Fonts
Script fonts are so pretty and I love that they look much prettier than my own handwriting. Use these fonts with attention to detail – you will need to adjust the letter spacing (also known as kerning). My biggest pet peeve when seeing other people's completed craft projects is script letters spaced out individually.
How to adjust the spacing in a script font
Letter spacing is known as kerning. Because script fonts are meant to be connected, you will need to adjust the spacing on the letters so that they are touching.
To adjust the spacing on a script font simply un-group the word so that each letter is adjustable. Drag the letters closer together so they touch or overlap a bit.
When it looks how you like, select and weld the letters together to join them. This will make it so the word is cut out as one piece, rather than every letter overlapping. I have made this mistake before!
Update 7/1/2021: There is now an update in Cricut Design Space that gives us a kerning tool! If you are looking at this font list and not seeing the names on my list of fonts, check if the kerning box is checked. If you uncheck the box you should find all the fonts listed here.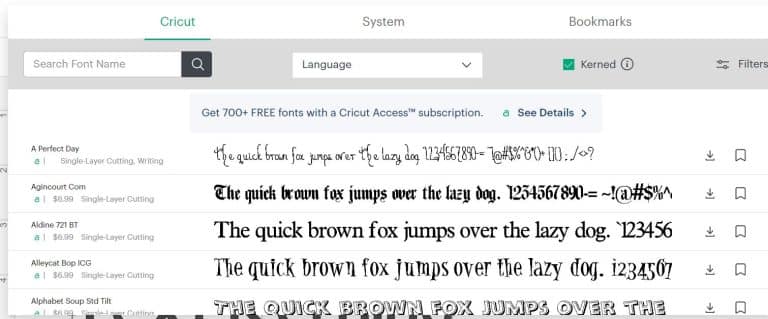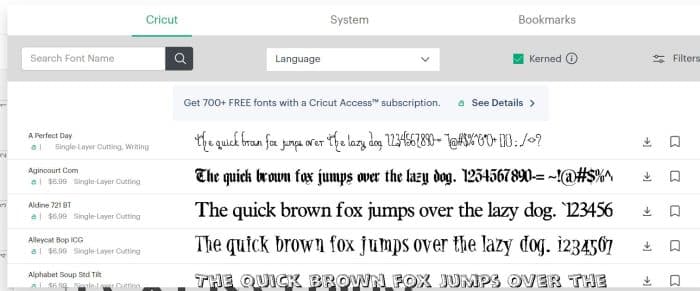 If you are using a font that has kerning optimized, the letters should be spaced correctly as soon as you type them! The letters will still need to be welded if you want them to be cut as one piece.
Here is what the text looks like welded vs not welded: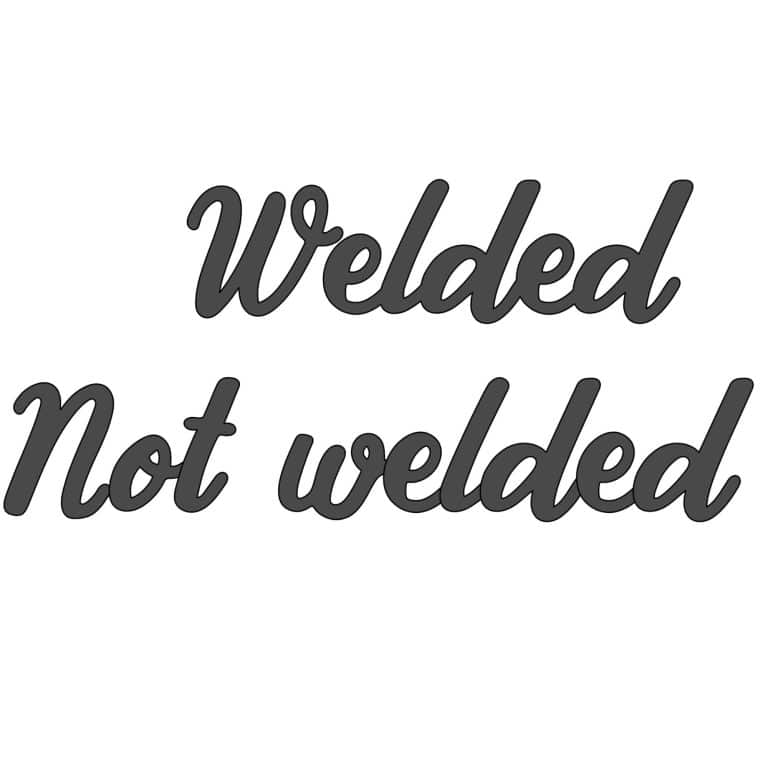 Here is a close up view: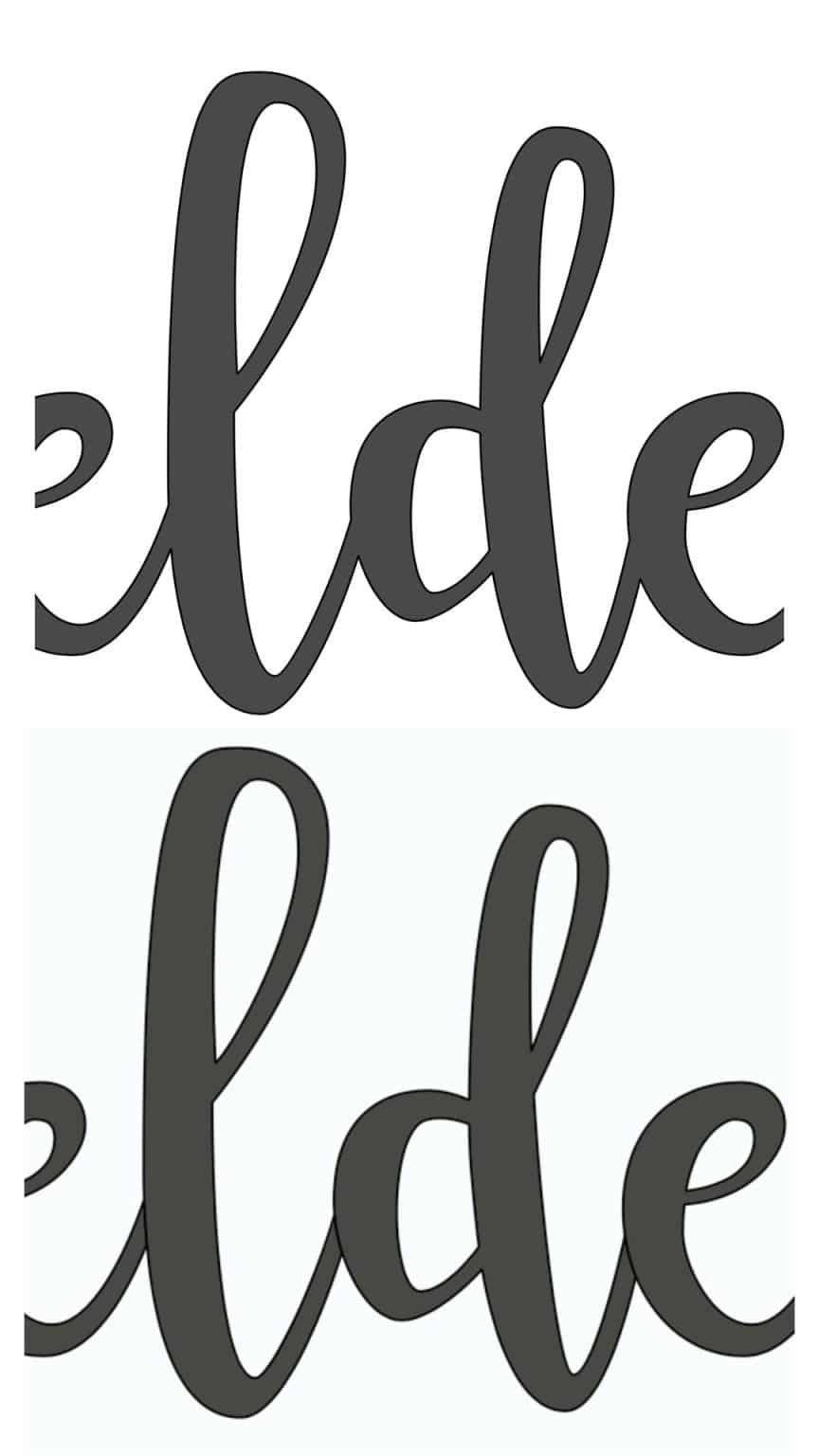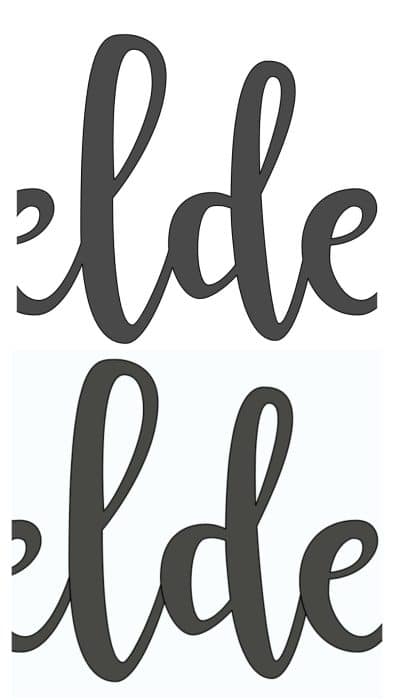 If you are cutting these letters from vinyl or paper and want it as one word connected, you want the letters to be welded.
Popular Fonts For Script Lettering:
Brush Script
Babette
Chloe
Emma Rae
Embassy
Emiline
Lipstick lettering
Mahogany
Merlot
P.S. Script Font
Pen Pals
Quarter note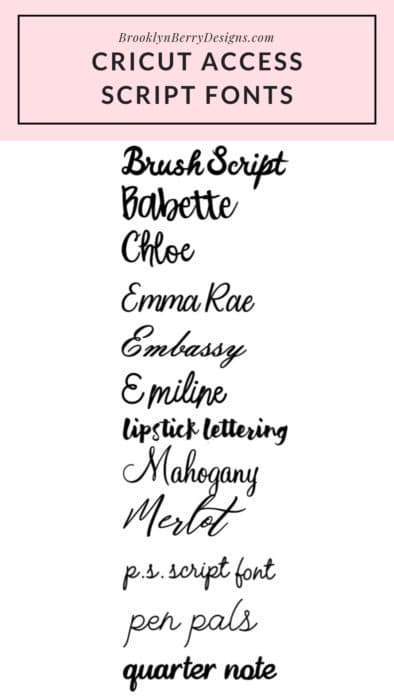 Print Letters – Serif Font and Non-Serif Fonts
Print letters are non-script letters. They are individually spaced out like regular hand-printed letters. There are two different types of fonts in this category – serif and non-serif fonts. To over-simplify, serif fonts have tails or decorative ends on them.
Non-serif fonts don't have any tails or ends on the letters. They are simple in design and can be bold, thick, or thin. There are a number of fonts that cut easily on the Cricut maker.
Best Cricut Fonts:
Beach Bum
Chipboard
Din 1451
Dreacher
Four Seasons
Kyden
Jacoby
Poker Night
Rockwell
Rubber Ducky
Street Sign
Type Writer
Utah
Victoria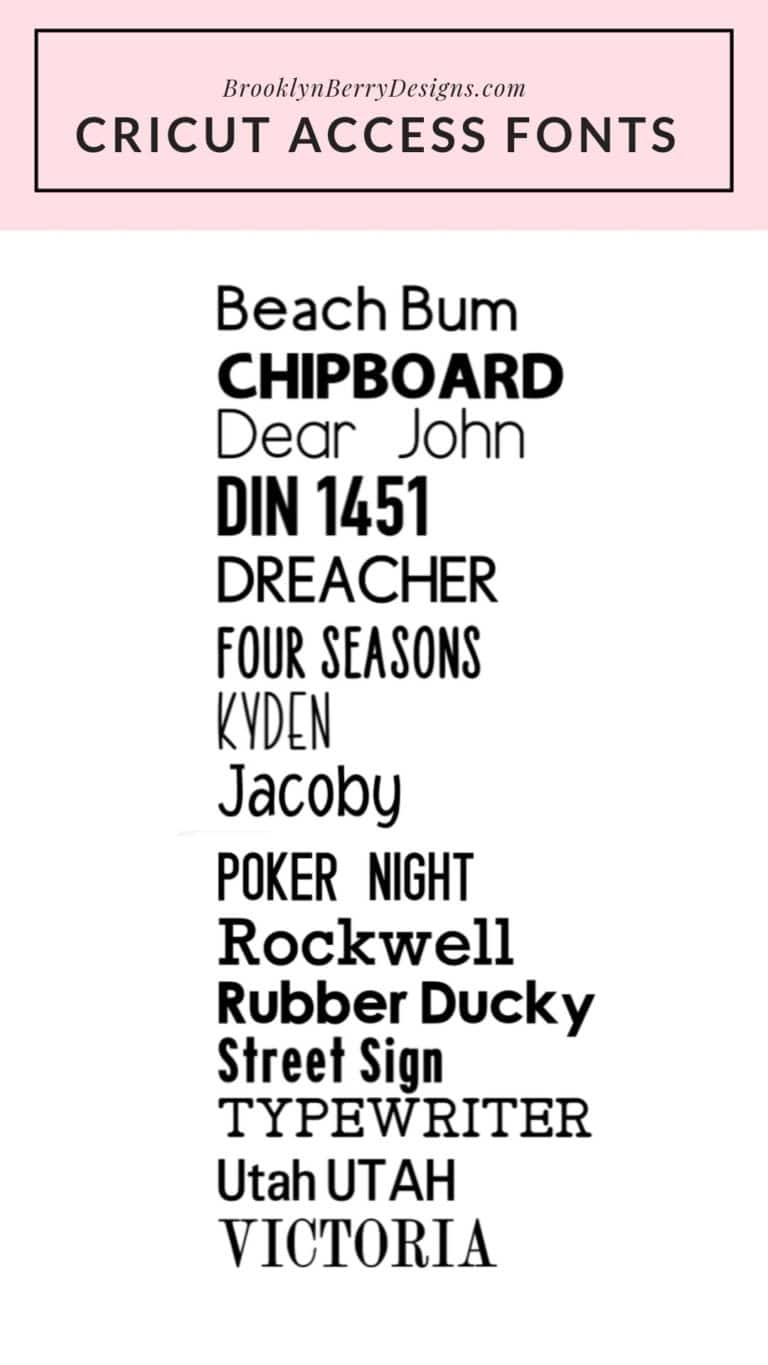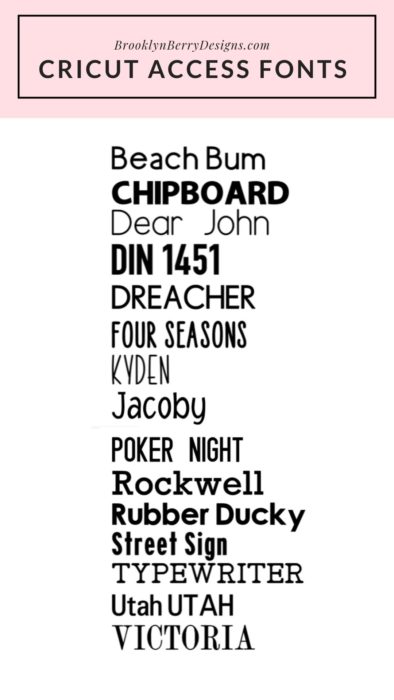 Writing Fonts
Use the pen tools to have the Cricut write your text rather than cutting it out. These fun fonts are great to use to address envelopes with a Cricut pen.
Writing fonts are also used in engraving (perfect for the engraving tool on the Cricut maker) or for the foil transfer tool!
When choosing a font, you can filter by fonts that have a writing style. These fonts are designed specifically to be used with a pen. If you use a standard font the pen will draw around the outside of the letters and it can look like bubble or balloon letters with a hollow inside.
My favorite Cricut Access Writing Fonts Are:
A Child's Year
Adalaide
Awesome
Baby Steps
Babette
Be Happy
Bookmark
Car Decals
Chloe
DJ Juicy
Don Juan
Emma Rae
Easton
Emiline
Felicity
Haley
Kyden
Letterman
Lia's Wedding
Little White Lies
Simple Celebrations
Yours Truly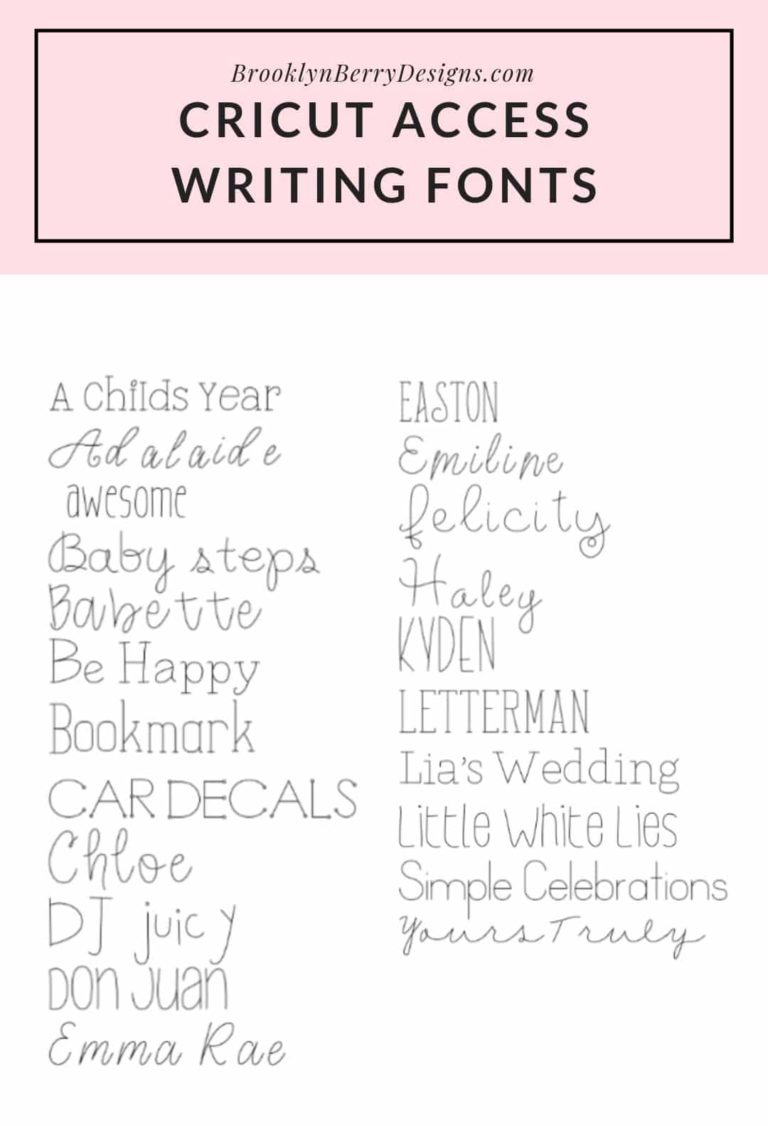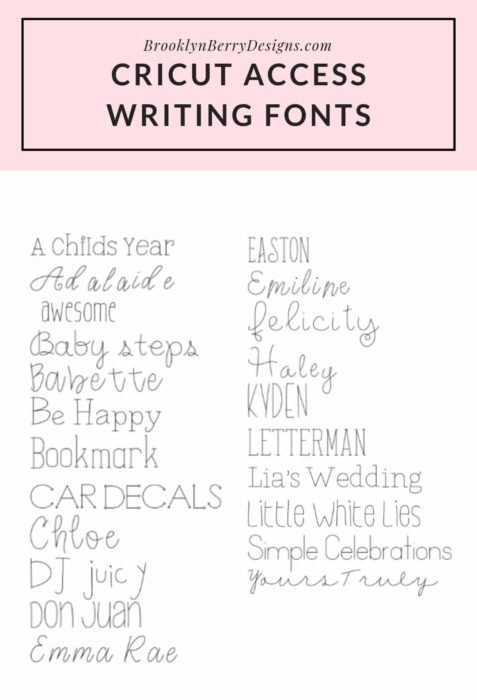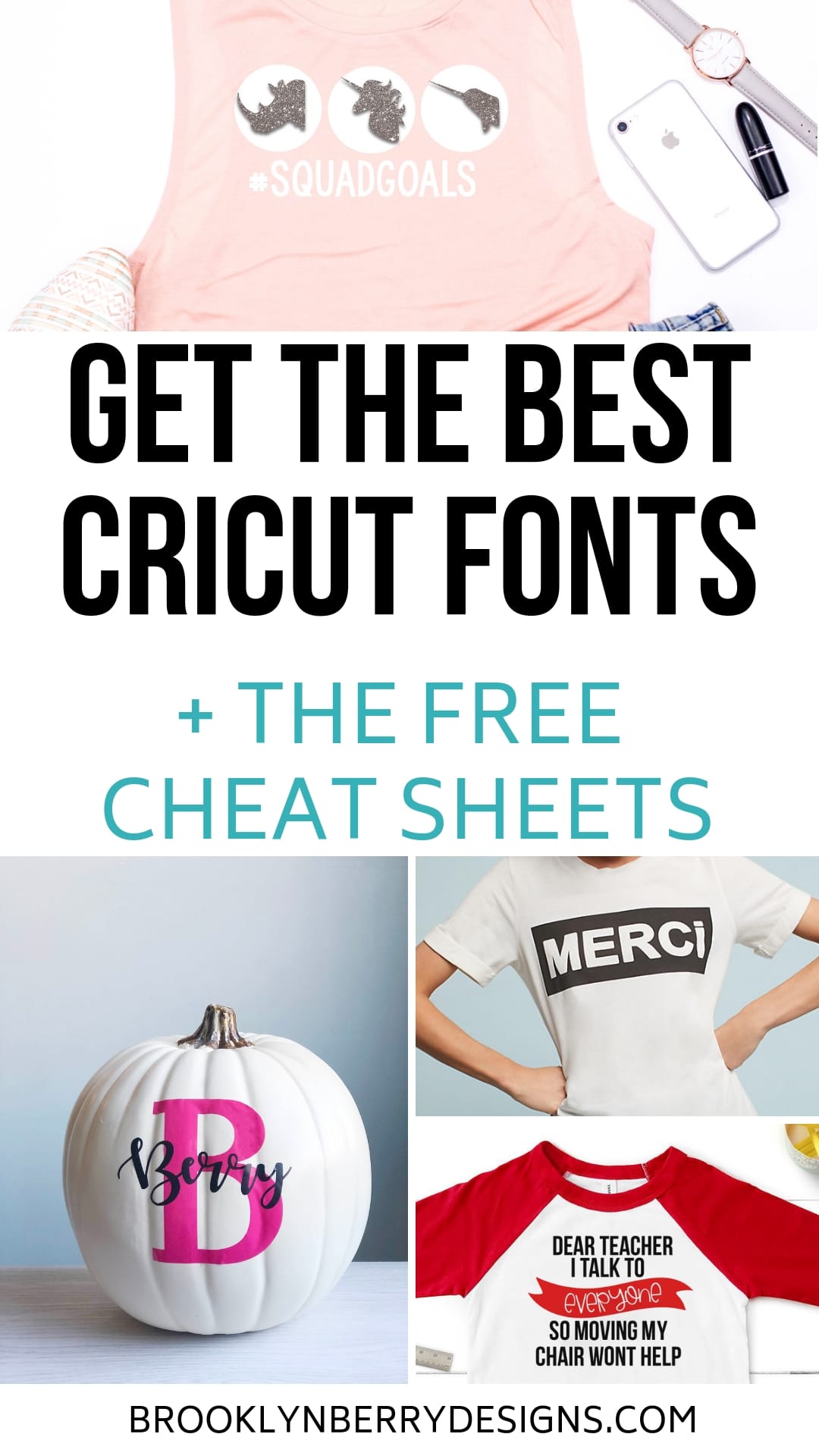 Design Space Update: October 2022
There are new fonts added with a holiday theme! Go to your Canvas and select "Cricut Fonts" after you add a text box. Search "BFC" to see all these fonts and more: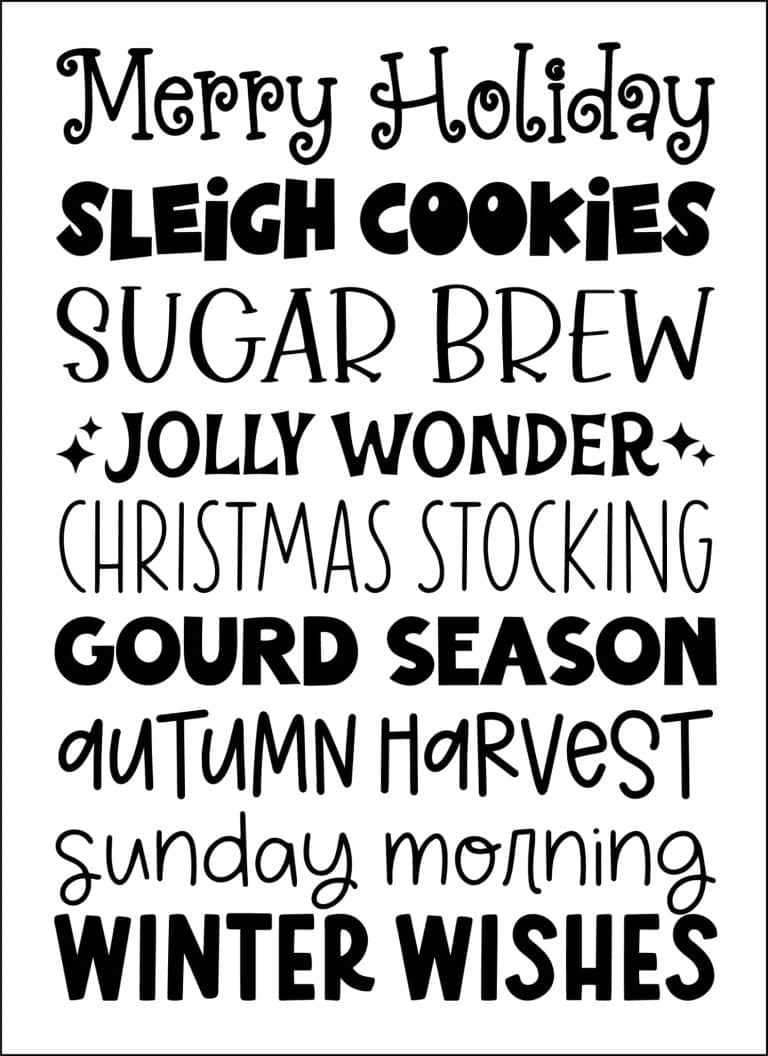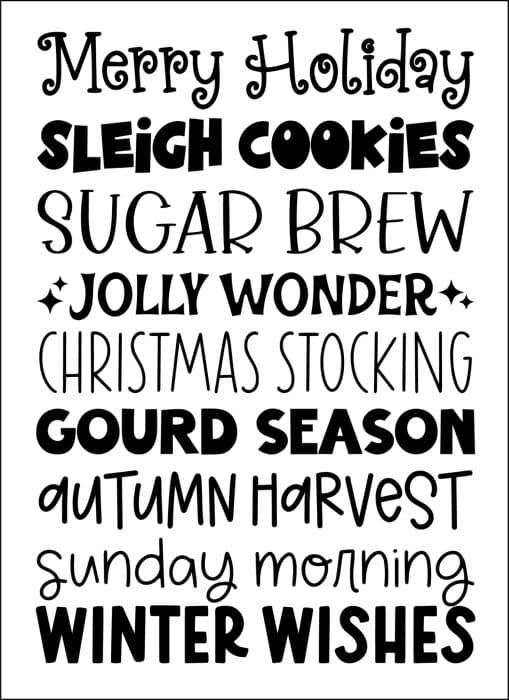 Quick Tip: get the stars on Jolly Wonder by using the '<' and '>' keys! Perfect for adding a little spice to your holiday projects.
CHECK OUT THESE CRICUT TUTORIALS:
SOME OF MY FAVORITE CRICUT PROJECTS:
Looking For A Crafty Friend?

Download The Free Cheat Sheet
Get my list of the best Cricut access fonts! I have included a printable format of this long list of free fonts so you can have a physical copy to reference any time you need it!
If you find these helpful, be sure to book mark this page or pin it so you can find it whenever you need it. To make it easier for you I have made a one cheat sheet you can download as a PDF and print off – perfect to have by your computer! This is free for my email subscribers, so leave your email in the form below and it will send you the email for the download!
Instructions: After entering your information you will receive an email from me with the link to download. It should open and download automatically! This is a PDF so it should be easy to view and print right there.