Get a luxury leather journal without breaking the bank – this DIY leather composition book cover is made with faux leather and cut using the cricut explore. Not only is this leather composition book cover inexpensive to make yourself, but it is also reusable too!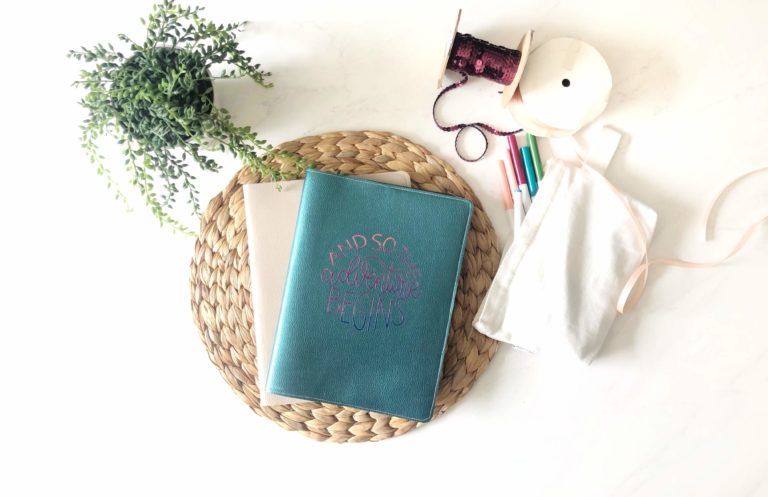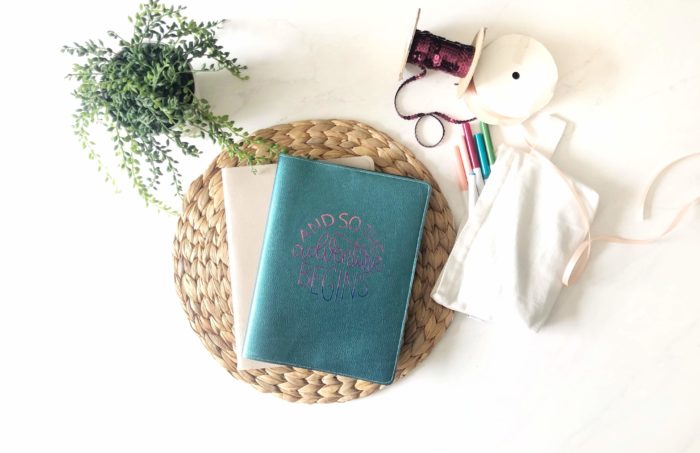 Back To School – DIY Composition Notebooks
There is nothing more satisfying than gathering new school supplies for a new year of school. For those of us not currently in school, a new notebook is a perfect place to doodle, take notes, or make to-do lists. Personally, I find I need to write things down to help prioritize my daily tasks. So take advantage of those back-to-school sales and make something for yourself!
Alternate Ways To Use Cute Notebooks
Journals and notebooks can be made into so many different styles and uses. My most commonly used notebooks are a to-do list notebook, bullet journal, spiritual journal (more doodles and phrases that stand out to me), and travel journals. A great journal idea I see often is a travel notebook where you can attach ticket stubs, pictures, and notes as a keepsake.
What makes journals and notebooks even more special is when they feel nice. The feel of the paper, the right pen and ink style, or a leather journal cover – what qualities do you treasure in a notebook? For me, it is a pretty journal cover and a pen that makes me like my writing.
Customized composition book covers are a great gift for a friend or family member.
Easy DIY notebook cover
If you love a luxurious journal cover you will love the project I am sharing today – a reusable DIY leather journal cover. Starting with an inexpensive composition book, I'll show you how to make a leather journal cover with your Cricut.
Don't have a cricut machine? I will also provide a template to cut materials by hand or a different way to create a gorgeous DIY notebook cover with other materials.
Tips For Cutting Leather With Your Cricut
You can use genuine leather or faux leather for this DIY journal cover. Faux leather is thinner, which makes it easier to cut with the Cricut.
Place leather pretty side down on the cutting mat and mirror image your design before cutting. This helps your cutting mat to last the longest.
Another option to keep your cutting mats nice is to put transfer tape on the fuzzy side of the leather before adhering it to the cutting mat.
Make sure the leather is attached really well to the mat. Use a brayer to push down on the leather. You can use painter's tape or masking tape to secure the leather to your mat.
With genuine leather, move the white star rollers on the roller bar to the side – they will indent the leather if not moved.
Here is what you will need to make this DIY leather journal cover:
How To Assemble Your Cover
Upload SVG File

Upload the SVG file to design space (available for free to my email subscribers – enter your email at the end of this post to have it sent to your inbox).

Cut out faux leather

Cut out the leather pieces with your Cricut Explore or Cricut Maker.

Cut HTV

Cut out the design for the front of the notebook – I used the design listed above but any design or text would work.

Layout your leather pieces

Because leather doesn't fray I chose to sew the notebook together with the raw edges exposed. If you were sewing with fabric you would place the right sides together, but in this case, we aren't going to do that.

Clip leather together

Clip your leather pieces in place, working around the rounded corners. Binder clips are a great idea to hold the pieces together without making holes in the leather.

Test Fit

Test fit your notebook into the sleeves making sure the right and left side each fit into the cover with enough room to close the notebook.

Sew edges together

Using a sewing machine, sew your notebook together, allowing for a very small seam allowance, about 1/8 inch. Sew a straight line along each of the edges. I chose to start at the center of the bottom edge of the notebook, being extra careful along each side of the notebook where there are two layers of leather.

Add HTV Design

Adding an HTV design is a great way to customize the front of your notebook, and you could also choose to add something to the back cover! Remember to cut the design mirrored, and adhere it using an easy press.

Insert notebook into cover

Once finished, slide each side into the cover. Use and enjoy as you like!
Other DIY Composition Notebook Covers:
Creative ways to decorate a plain notebook
Use contact paper or gift wrap to create a cover. This tutorial uses this method, using a pretty floral gift wrapping paper with mod podge. Seal the cover panel pieces by using a coordinating piece of duct tape for the spine. If the paper you are using is a light color you may want to add a base layer of a white sheet of paper to prevent the bright colors or patterns on the front cover from showing through.
You could make an entire cover with duck tape or washi tape- not only is it very durable it comes in pretty patterns and designs.
Create a fabric cover with a piece of fabric. You can use pretty fabric pieces, even some fat quarters! There is a detailed tutorial on Dainty Dress Diaries. For a more advanced option, this tutorial includes pockets for additional storage.
Paint your own designs with acrylic paint.
Other Cricut Leather Projects
If you love this DIY leather journal cover, you will love these other leather projects using the Cricut!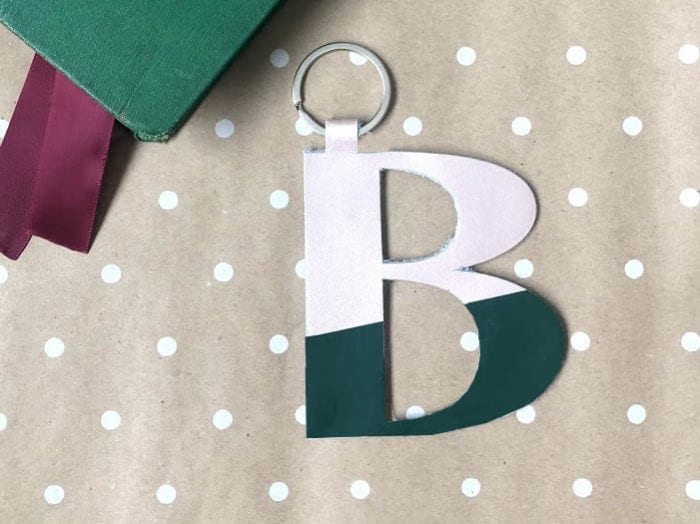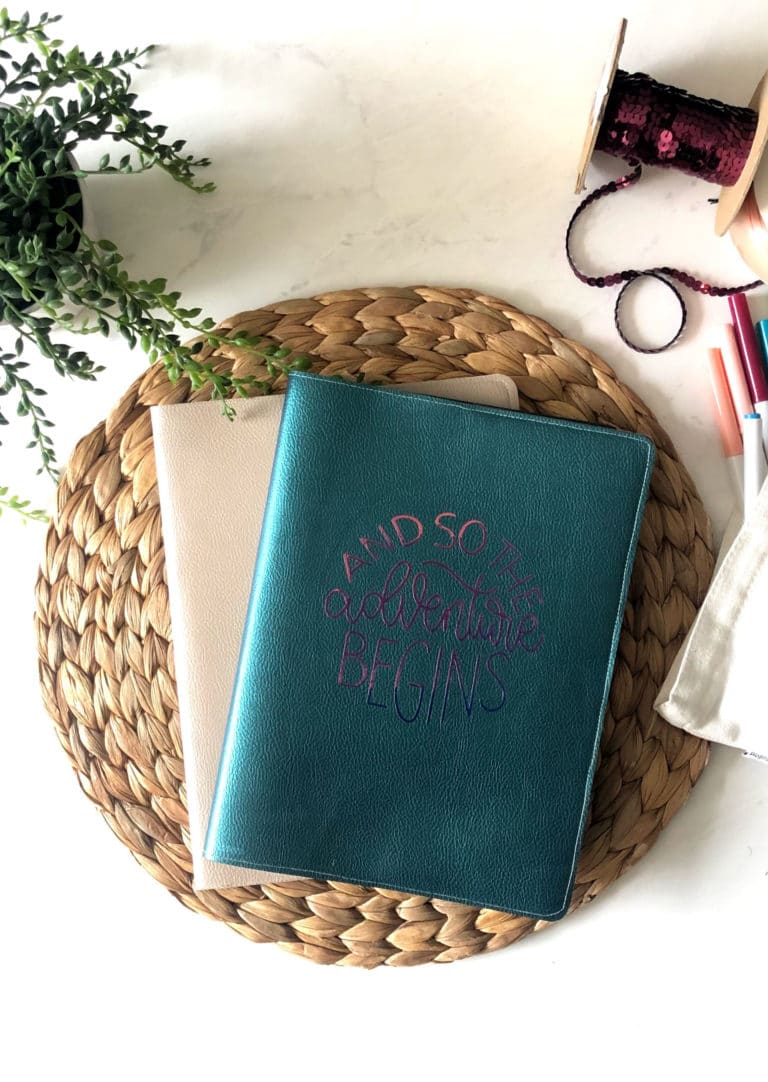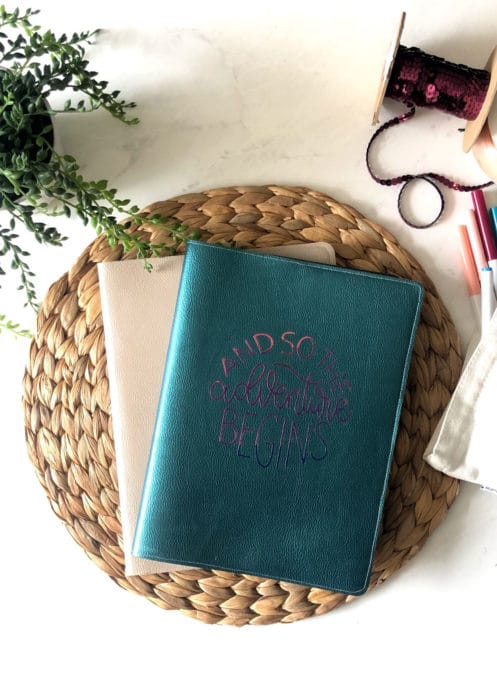 Download SVG Files Here
To get the free SVG, enter your name and email address in the form below and click the GET IT NOW button. I'll send the SVG cut file straight to your inbox.
Terms and Conditions:
Downloading this free cut file signs you up for my e-newsletter and you'll be notified when I release new free SVG files.
This cut file is for personal or classroom use only.
This file can be used in part or in whole for your personal projects.
Digital reselling, sharing, and redistributing of the files is NOT allowed. If you would like to share, please direct friends to the original blog post where you found this cut file.
Happy Crafting!