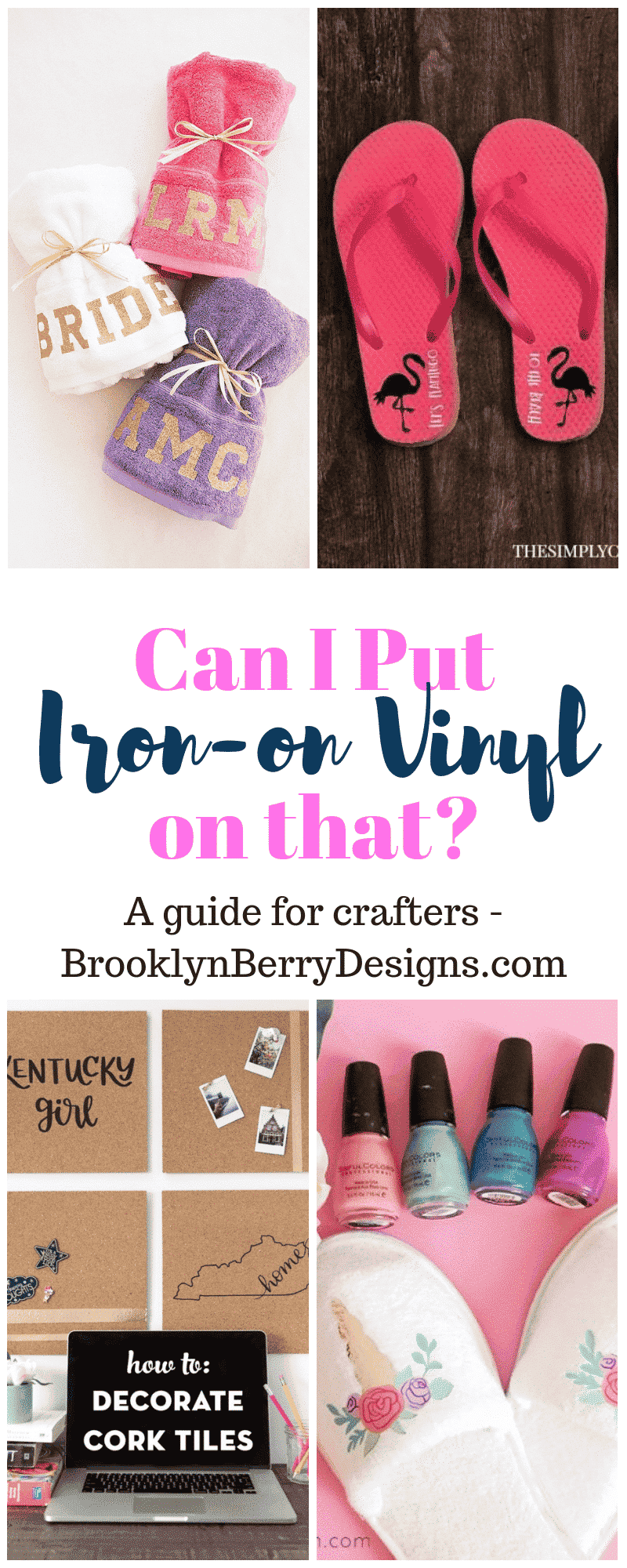 Explore Unique Surfaces For Iron-On Vinyl Projects
Hey, my fellow cricut crafters and crafty friends. Let's explore the world of iron-on vinyl with your Cricut and learn about more projects you can make with this awesome material.

Iron on vinyl is easy to use
When I first started using my Cricut machine, my first and favorite projects were made using iron-on vinyl (also referred to as heat transfer vinyl). I made shirts for my soon to be born 4th son and I was completely thrilled with the quality of them- they didn't look like they were homemade.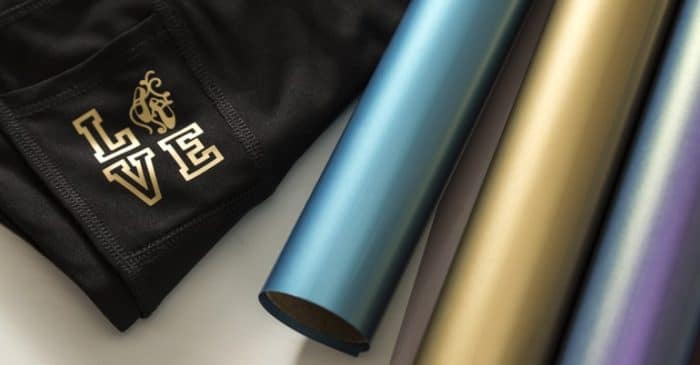 I will sing from the rooftops that my first and favorite projects to make with the Cricut is iron on vinyl projects. Taking a blank shirt or bag and transforming it into the custom design of your dreams never loses its magic. But what if you want to customize something other than a shirt? What materials can you add heat-transferred vinyl to? (Is it correct to still call it iron-on vinyl when you use an easypress to adhere it?) So when you see a project idea, ask yourself… Can I put iron-on vinyl on that?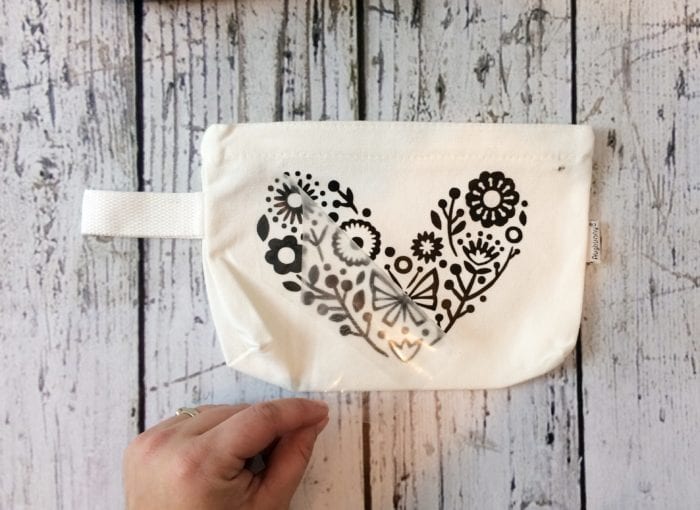 Iron on vinyl can be used on many different materials beyond fabric
Once I ventured into other crafting materials such as cardstock, regular adhesive vinyl, and even felt or fabric I learned a few tricks along the way about using materials in unexpected ways. After struggling to apply adhesive vinyl to a rough piece of wood I wondered if I could use HTV instead, and it turns out I could! I found myself wondering what else would be better with Iron-on rather than regular vinyl and wanted to share my experiences with you.
Unique Materials For Iron-on Vinyl Projects
What I love the most about my Cricut machine is that the more often you use it, the more ways you think to use it. Here are a few unique materials I bet you didn't know you could put iron on vinyl onto:
Leather
Wood
Canvas
Canvas shoes
Can koozies (neoprene or foam)
Cork
Metal
Towels
Ribbon
Paper Napkins
Felt
Flip Flops
Silk / Satin Robes
Glass
Ceramic
Rubber
Wool
Benefits of Cricut Iron-on Vinyl
There are many great features that top the list of benefits for iron on vinyl. The adhesive lasts a long time because it uses a heat source (I use my easy press but any household iron or heat press will work) to stick to the base material.
There is no transfer tape needed because iron on vinyl comes with a plastic carrier sheet already applied to the front of the material. This is why the number one tip for HTV or Iron-on vinyl is to check mirror image! Because when HTV is applied to the cutting mat shiny side down, with the dull side that has adhesive facing up.
Types of Iron On Vinyl
Cricut iron-on vinyl comes in many different colors and product types. My favorite is the everyday iron-on vinyl, because it is so versatile. All of Cricut's vinyl products have been tested rigorously for the best settings and quality which saves me money crafting because I am not wasting material testing cut and heat settings.
For shirts with stretch I like to use the sportflex iron-on as the vinyl itself has some stretch to it and won't crack or peel.
Glitter iron-on is tied for my favorite vinyl, as it looks so pretty and is very forgiving. When applying cricut vinyl to any project with an uneven surface I always find the glitter to help hide any bumps. For the canvas shoes where pieces of the pattern had to be cut together, the glitter helped to hide any imperfections in my piecemeal placement.
Iron-on designs can be used even if you don't have a cricut! Buy them as is and iron them on to your items!
Smart iron-on is the same type of vinyl just a bit wider to allow it to be cut without a cutting mat on the cricut maker 3 or the cricut explore 3.
Printable iron on vinyl is a great way to add some flair to your items. There is an option for dark colors that I love.
Cool peel vs warm peel
Sometimes you will see the suggestion to use iron-on material with a cold peel or warm peel. All this refers to is the time you peel the carrier sheet off your design. A warm peel means to remove it has cooled down a bit but is still warm. Cold peel means let it sit completely until its room temperature. For example, foil iron on is always a cold peel as the foil will wrinkle if it is still hot.
Iron-on Vinyl Projects
Here are some great projects that use iron-on vinyl on various surfaces: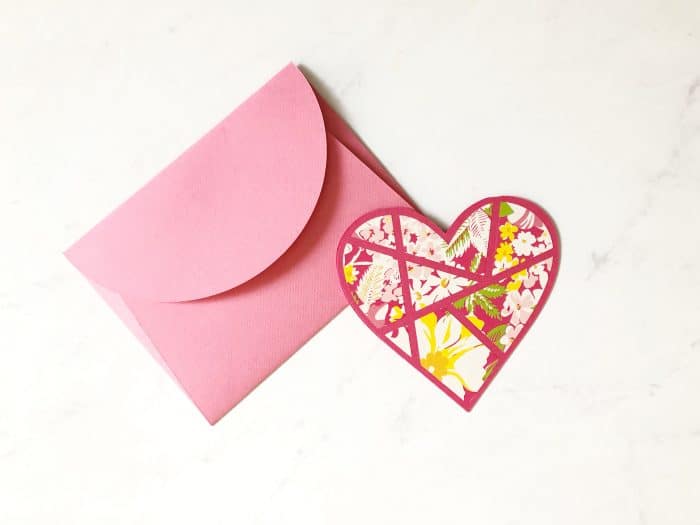 When using cardstock there may be times where you want to add a layer of smaller letters or design elements. This is where iron on vinyl saves the day. Technically you can cut it out of paper and glue it down, but it moves around, the glue makes a mess, and it takes forever. Regular vinyl could work as well, but it often tears the top layer of paper when you remove the transfer tape. If the piece you are adding is intricate or thinner at all, try using iron on vinyl instead!
Patterned vinyl makes a great accent on this geometric heart shaped card.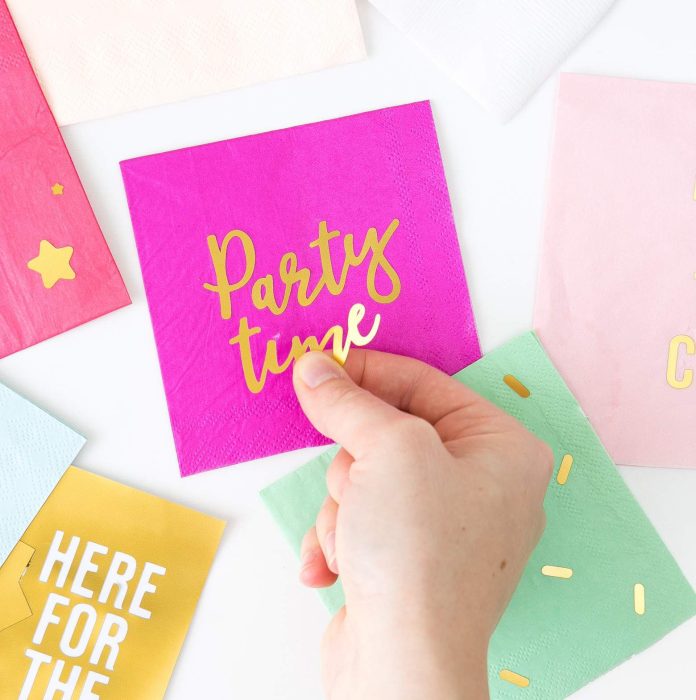 Paper Napkins
Hosting a party? Add an extra special touch with personalized napkins. It is so much cheaper to make them yourself, and because they use such small amounts of vinyl its very affordable too. This would be great for a graduation party, wedding, bridal shower, birthday party, or even a retirement party!
Wood
To say applying iron on vinyl to wood blew my mind would be an understatement. Yes it can be done, however it may need some experimentation first.
If applying heat transfer vinyl on wood there are a few methods to try out. Wood is durable to heat (much like cotton). A smooth wood surface will work the best so be sure to sand and wipe down the surface before beginning. You can apply stain as well, just make sure it is dry before moving on to vinyl.
For a rough wood texture, I actually prefer iron on vinyl to any other material. I find the HTV melts into the texture of the wood and it looks more like paint.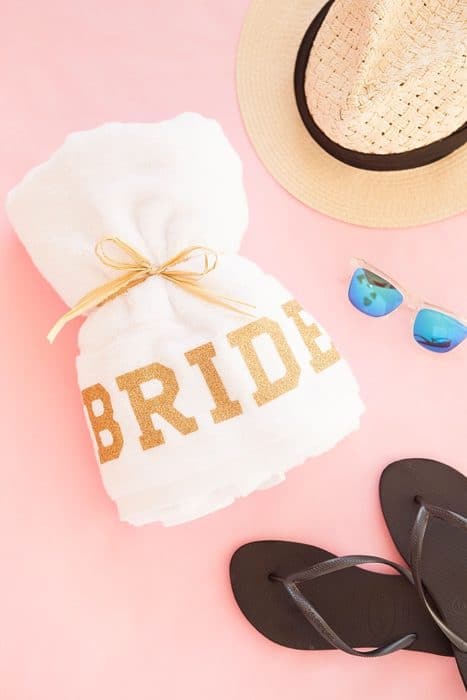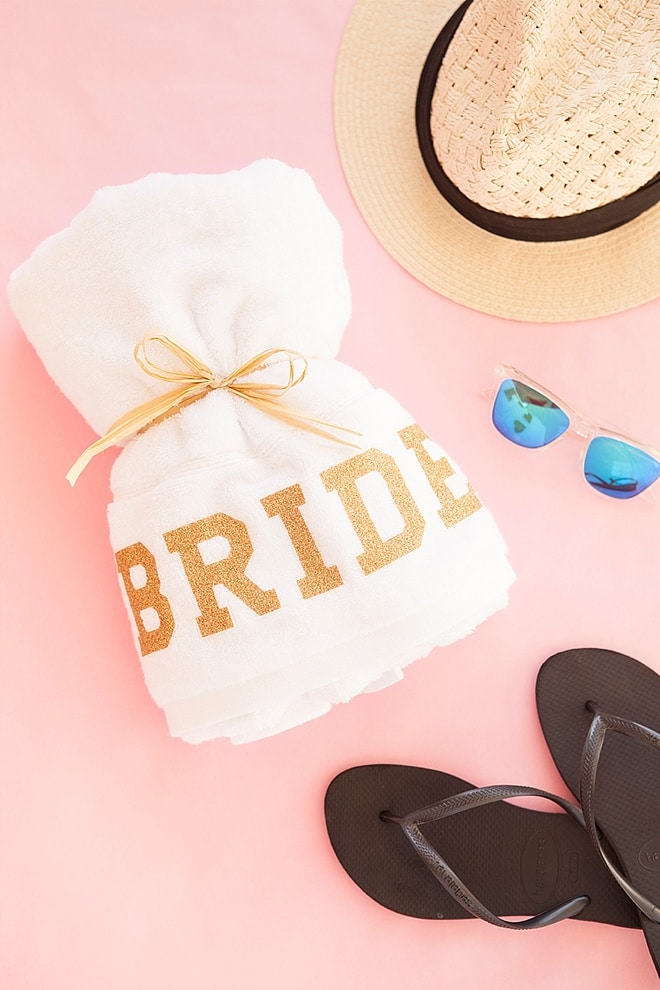 Beach Towels
Personalize and keep track of your kids towels by adding their names, monograms, or other custom designs to their beach towels!
Typically cotton towels are fairly smooth and easy to iron onto (see my farmhouse floursack towel) but fluffier towels seemed extreme. To my surprise, iron-on vinyl has held up much better than I expected. Using everyday iron on vinyl at 320 degrees for 10-15 seconds worked for me. For best results use on a new towel that hasn't been washed with fabric softener.
More Iron-on Vinyl Projects:
Explore Unique Surfaces For Iron-On Vinyl Projects
Let's explore the world of iron-on vinyl with your Cricut and learn about more projects you can make with this awesome material.
SVG Files For Iron-on Projects
Are you looking for SVG designs to use in your iron-on vinyl projects? I have so many that I love to share with my crafty friends. Check out all my free svg files!
Pin for later: