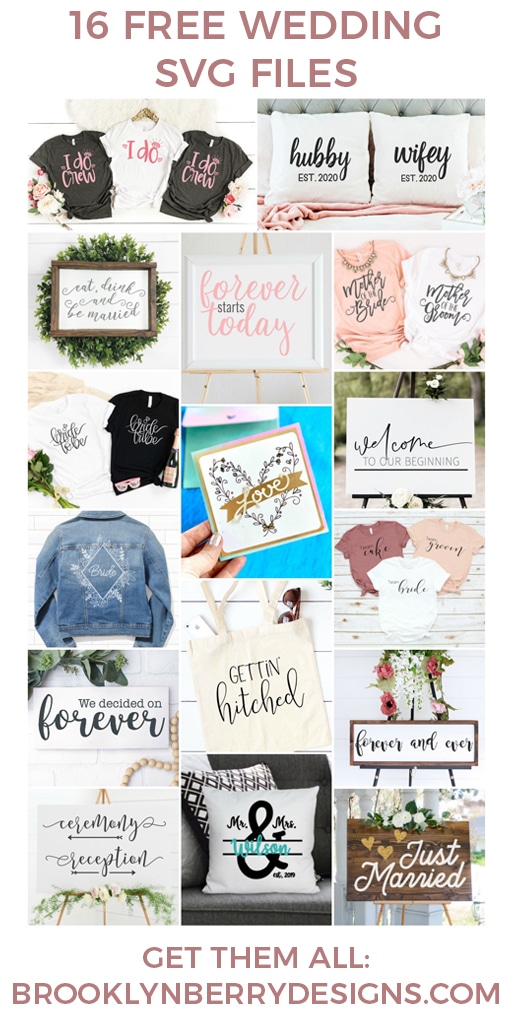 Looking for a floral frame wedding SVG file to make your own wedding jacket? These custom denim jackets can be made for both the bride and the bridesmaids! If you or someone close to you is getting married you might have some wedding crafts planned – for wedding decor or gift ideas. Luckily I am sharing a hand drawn floral frame wedding svg file – plus 15 FREE wedding svg files!
I love using my Cricut for crafting, and only wish I would have had it when I was getting married and in the pinterest generation. So jealous! There are so many great ways to personalize your wedding and saving money while you are at it.
BUDGET FRIENDLY WEDDING IDEAS
Crafting and DIY projects are a great way to save money and get the custom look you want for your wedding. If you are looking for budget friendly wedding ideas for bridal showers, bridesmaid gifts, wedding fashion, or diy wedding gifts you will love all the wedding svg files here. Keep reading to the end of this post to get the files, and to the very end for the download link.
DIY Personalized Bride Jackets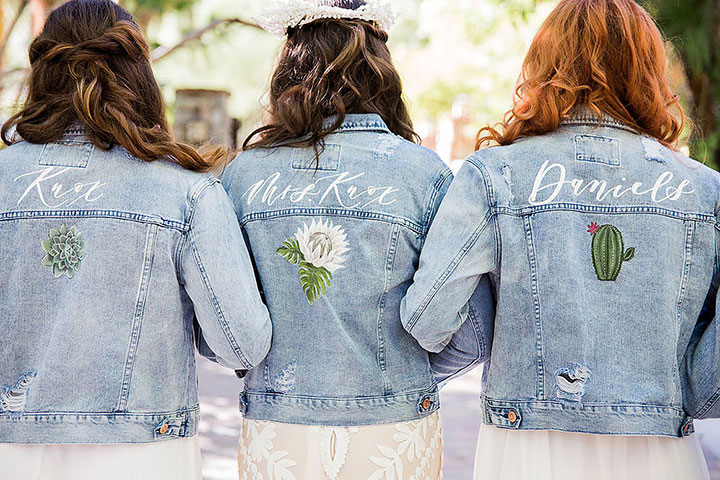 A wedding trend I am obsessed is the personalized bride jackets. There are some styles with a simple hand-lettered name, others have big sequin letter patches or hand-painted features. Painted leather jackets, embroidered jackets, and personalized jackets, the options are limitless and can be found in both big shops and etsy shops. Try searching for inspiration on instagram with #wifeyjacket #personalizeddenim #personalizedwedding #weddingjacket #painteddenim #bridejacket #misstomrs #bridaljacket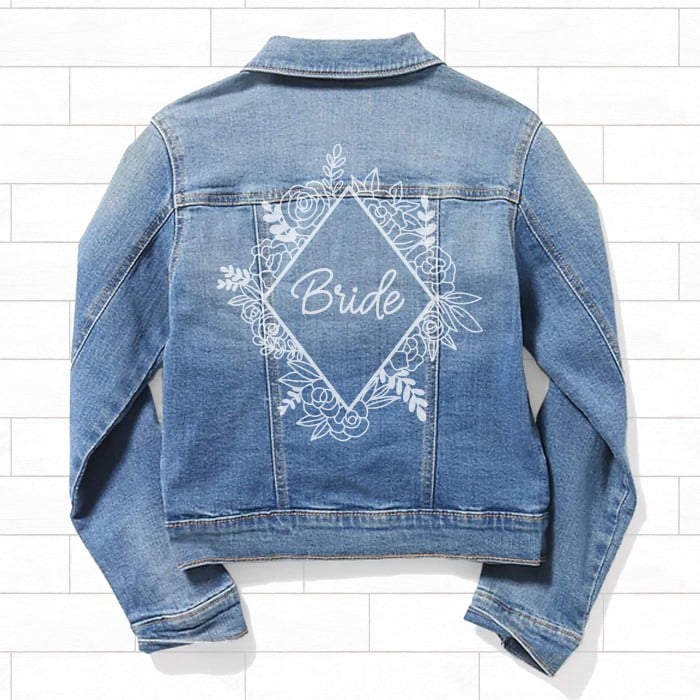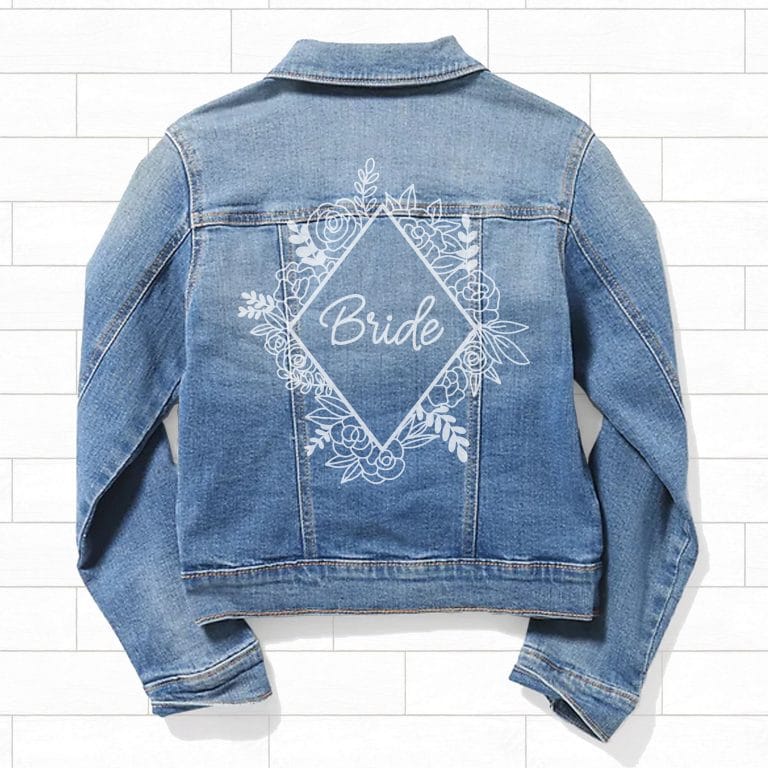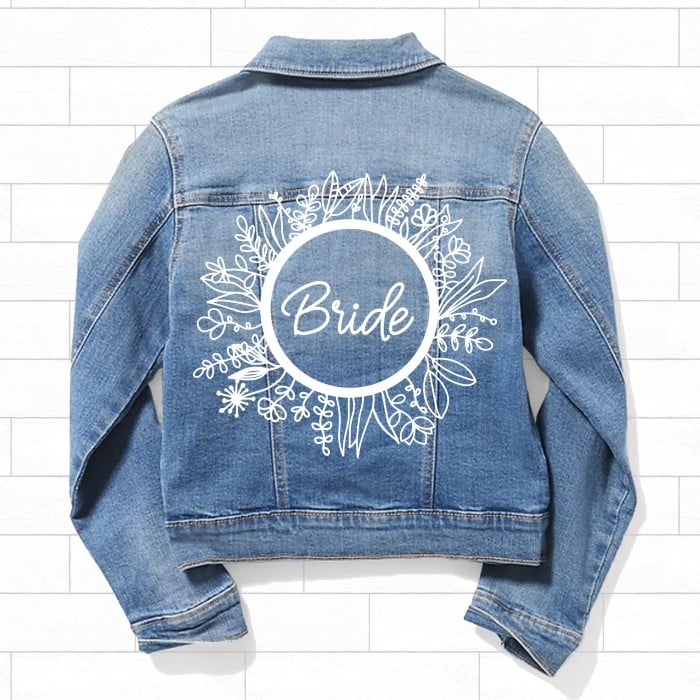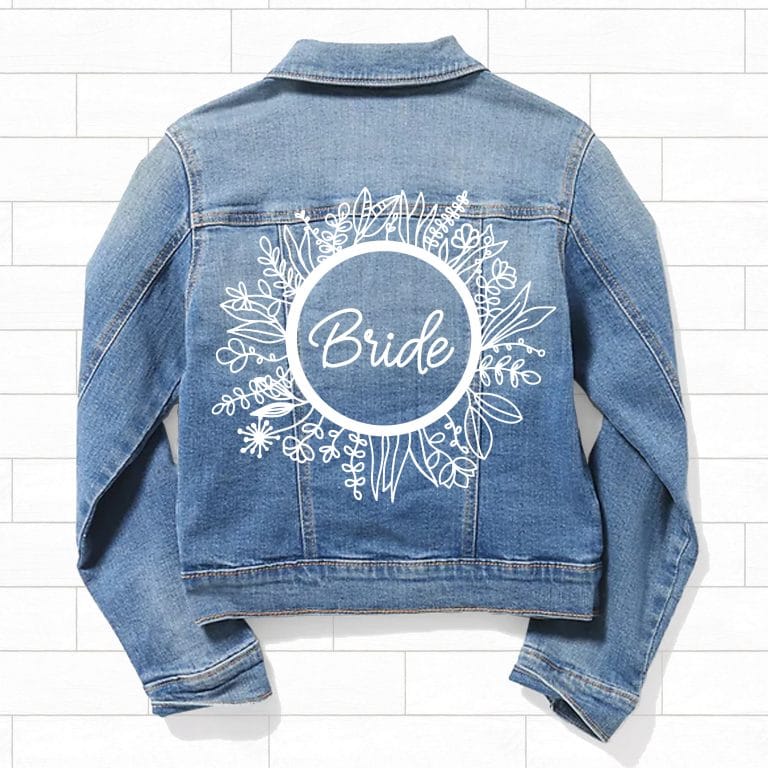 Do you want your own bride denim jacket that you can make in 30 minutes? Here is how to get it done.
TOOLS AND SUPPLIES:
Cricut Explore Air 2 – and cutting accessories to go with
Iron On Vinyl (Expressions is my go to shop)
Floral Frame Wedding SVG File (download at the end of this post)
HOW TO MAKE A CUSTOM DENIM JACKET
To get started you will need to download the Floral Frame Wedding SVG from this post (it is available for free to my email subscribers – you can sign up at the end of this post and it will email you the file right to your inbox!
Here are detailed instructions on How To upload an SVG File to Cricut Design Space if you need more instructions.
For this design, I wanted it to be simple, elegant, and have the ability to be customized. Included in the design file is text for the word bride, but you could easily add your own monogram, last name, or whatever you would like inside the floral frame. You can use whatever font you have on your computer!
If you would like to remove the existing bride text using the contour or slice tool in Cricut Design Space (How to use the slice tool in Cricut Design Space). In silhouette studio you can simply use the eraser to delete the name.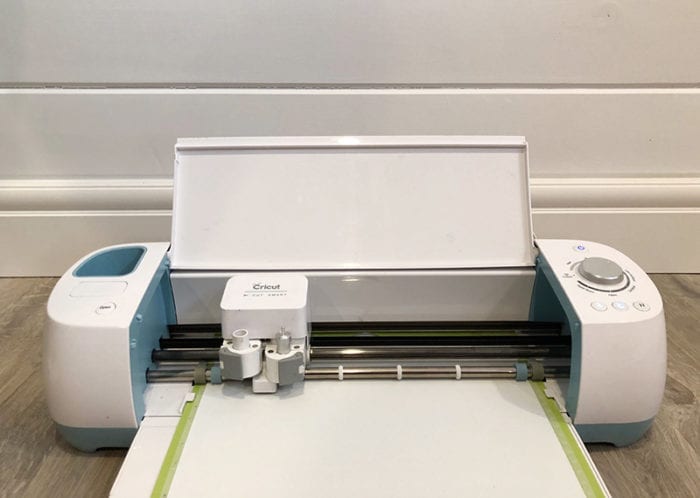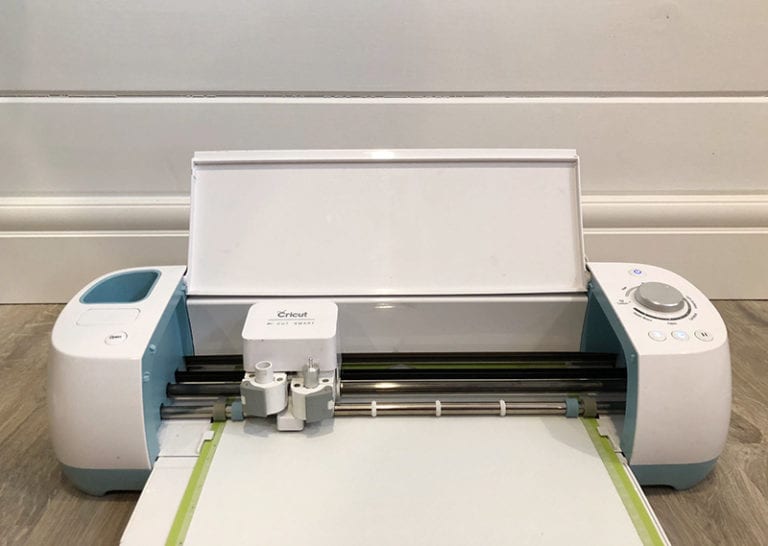 Remember to MIRROR the design before cutting the iron-on vinyl with the shiny side DOWN on the mat. After cutting you will need to weed the design (remove background and inside of the letter pieces of vinyl).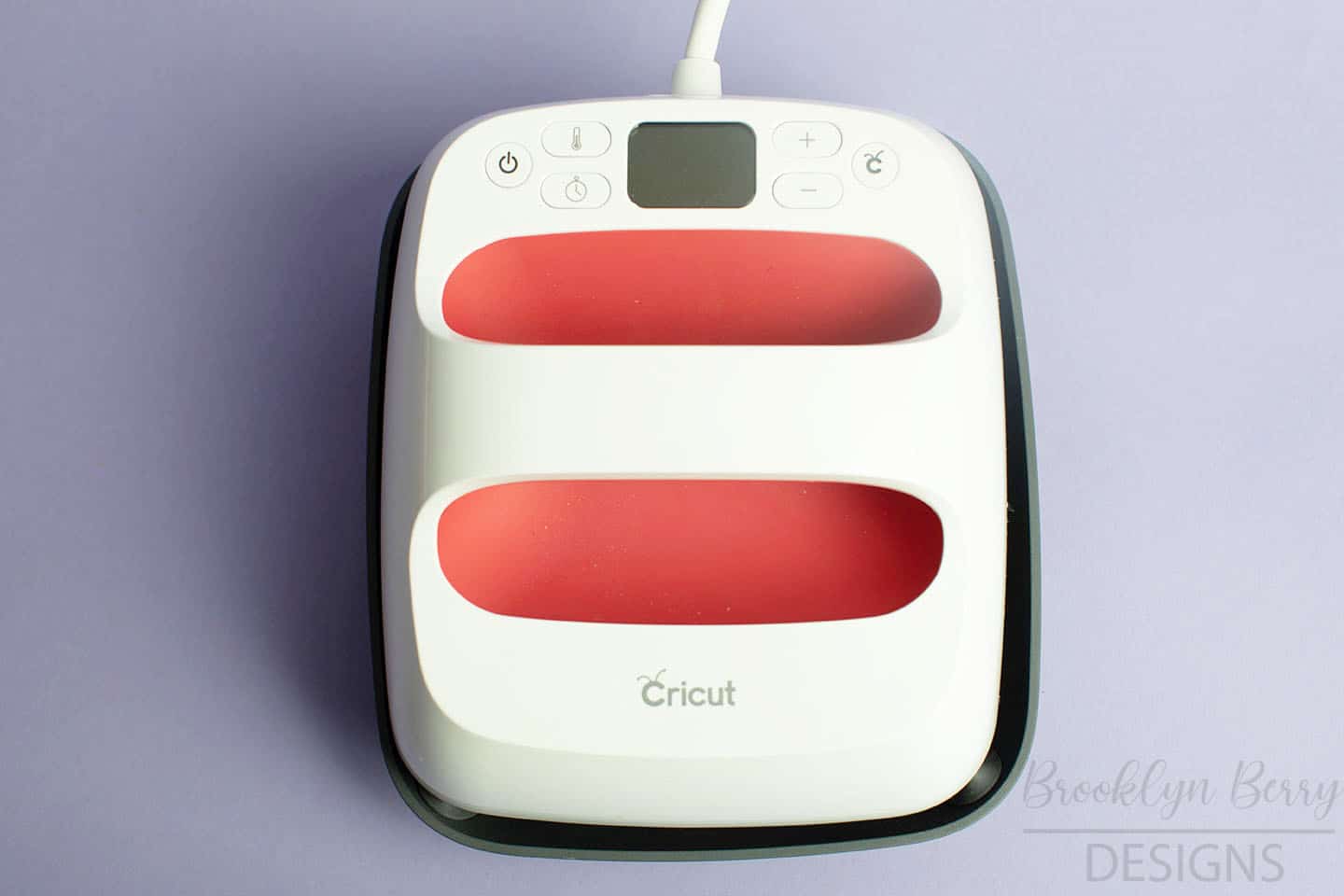 Now is the most fun part – ironing on. Your design will appear the correct way when viewing it from the front with a clear plastic sheet on top. You will place it on your jacket, being sure to line it up in the center.
Using a EasyPress set to the recommended settings, you will simply press the design onto your jacket and voila! You are done.
Tips for DIYing your denim wedding jacket
1. Make your design the correct size – you don't want it going over the back seams. I know I show it here over lapping, but do as I say not as I do, right? I have learned that the seams are tricky to get the Iron-on vinyl to stick to.
2. Use a pressing pillow or towel underneath the back of the jacket. Again, those side seams are a pain in the butt. Because they are thicker, you want the center section higher up so you can put pressure on that area.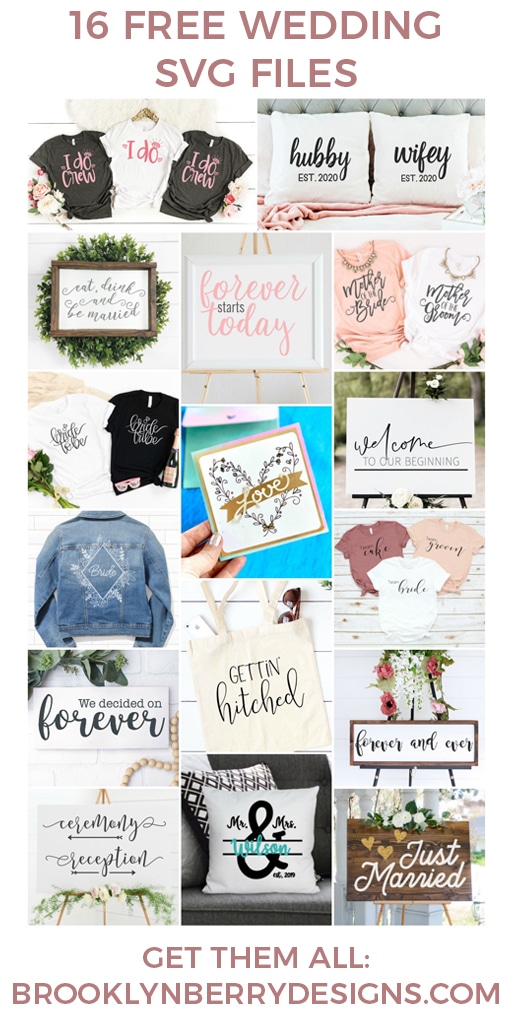 Do you know what Cricut wedding project that would look stunning as both event decor and can be used later as home decor? A custom last name wedding sign. You won't want to miss it.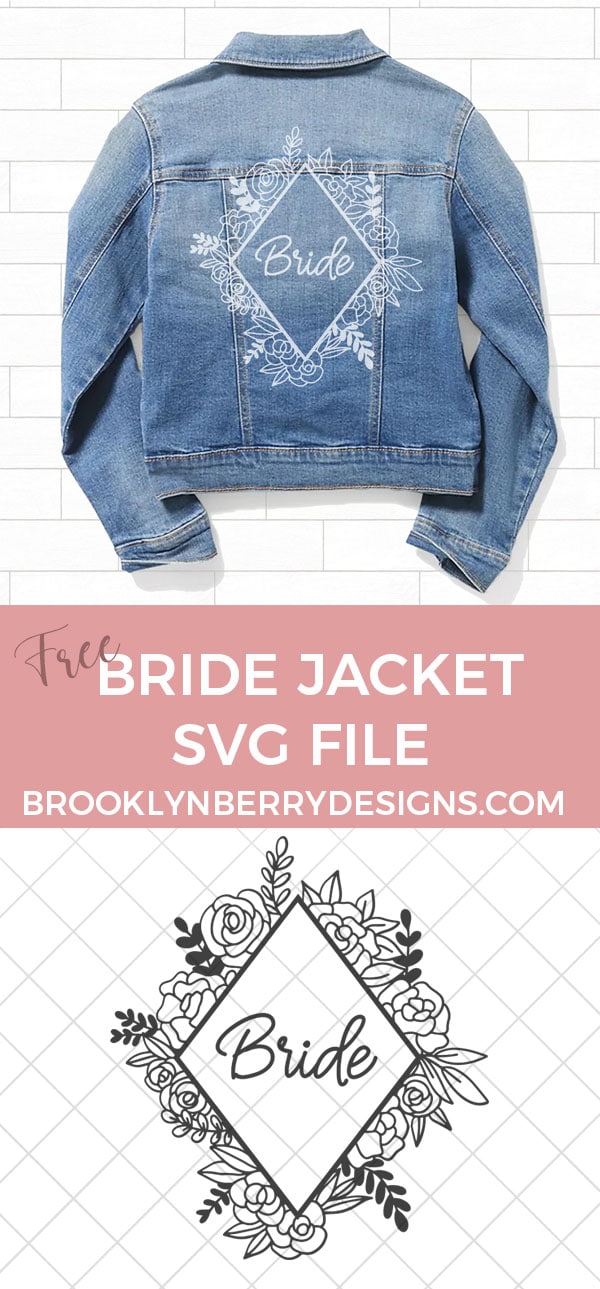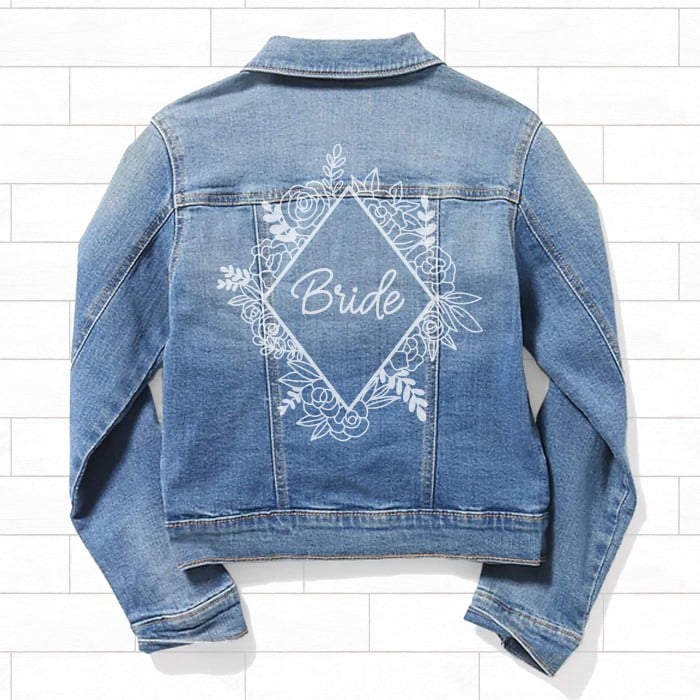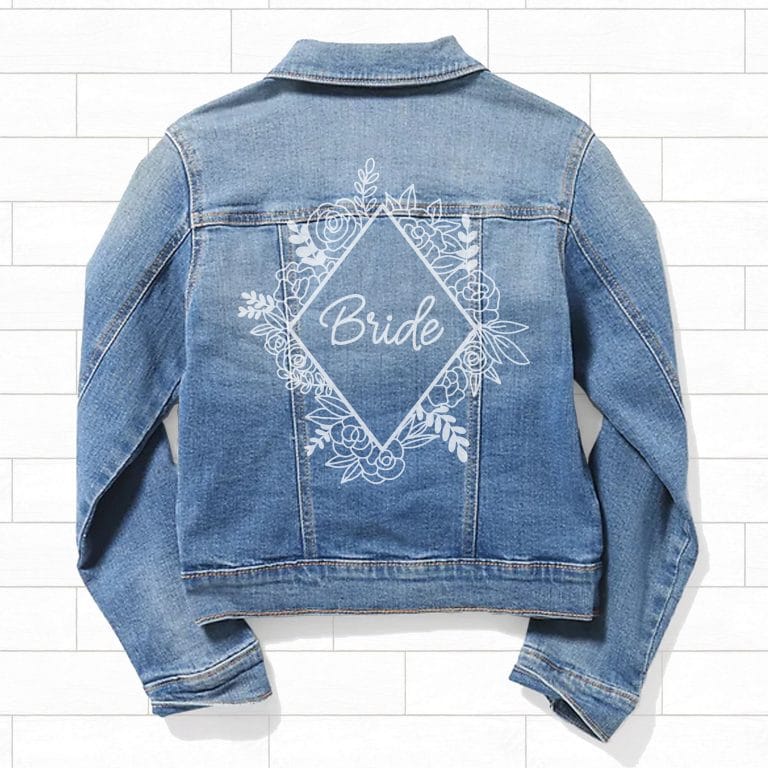 Download SVG Files Here
To get the free SVG, enter your name and email address in the form below and click the GET IT NOW button. I'll send the SVG cut file straight to your inbox.
Terms and Conditions:
Downloading this free cut file signs you up for my e-newsletter and you'll be notified when I release new free SVG files.
This cut file is for personal or classroom use only.
This file can be used in part or in whole for your personal projects.
Digital reselling, sharing, and redistributing of the files is NOT allowed. If you would like to share, please direct friends to the original blog post where you found this cut file.