If you have a dinosaur fan in your home, you are going to love this collection of Dinosaur SVG files. I am sharing a dinosaur glass can wrap that is a free download, with the box to sign up at the very end of this post.
If you have a dinosaur fan in your house, chances are you are always attracted to dinosaur items for yourself and everyone else in the family too. The dinosaur phenomenon has taken over my own house big time, and everyone is learning the proper pronunciation of names and interesting facts whether we want to or not.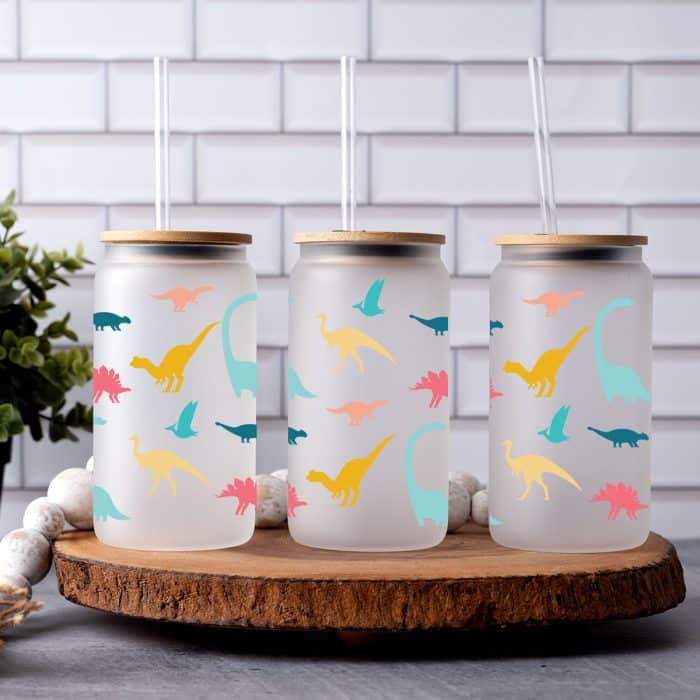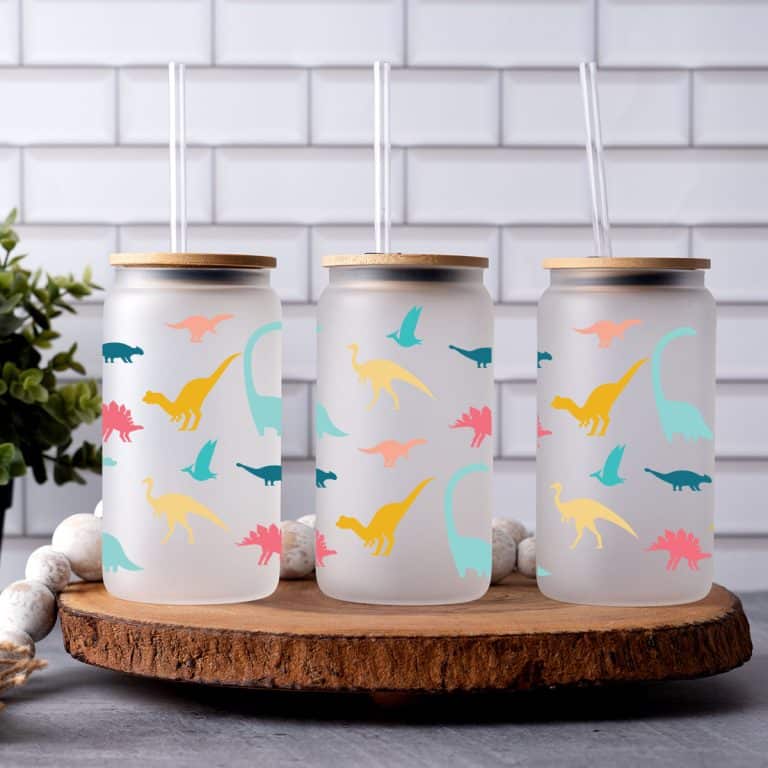 Colorful Dinosaur Glass Can Wrap
Dinosaurs can be both scary and cute, but the kids that surround me prefer them to look more realistic. So I decided to make a design with an accurate outline, but a solid shape to keep it from scaring small children. When you make a glass can cup you can take it anywhere!
As with all vinyl projects, you can cut it using any color of vinyl that you would like. This would also be a great project to use scraps! You could also use the images in any other way possible! The dinosaur outlines could be used individually on a card, shirt, or party banner.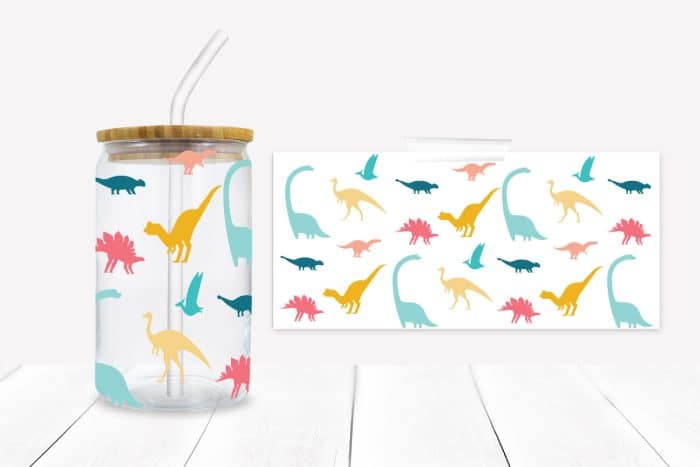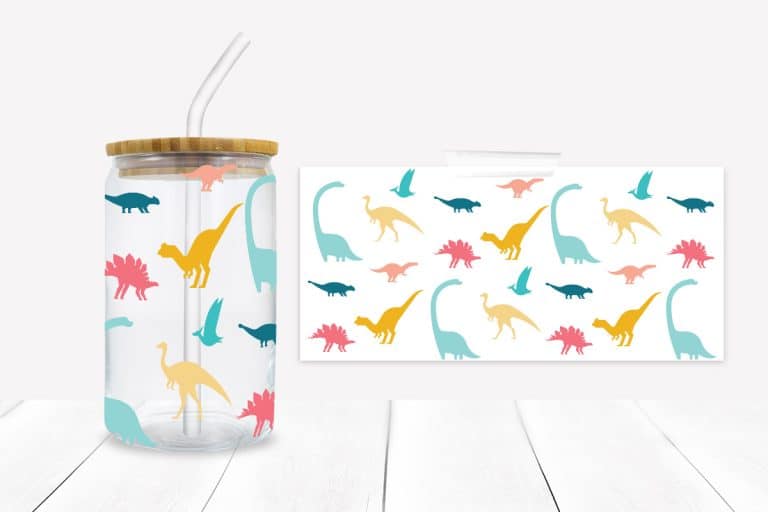 Supplies Needed To Make A Glass Can Wrap
How to Make a Libbey Glass Can with Vinyl Decals
Download your SVG file and upload to your cutting machine software of choice.
Open up Silhouette Studio (or Cricut Design Space) and create a box that is 9.5″ long and 3.793″ high. This is your template that will fit 16 oz. Libbey beer can glass. These numbers can be changed to fit other cups as needed.
Adjust the size of your SVG file as needed for the tumbler cup. Center the design on the rectangle and adjust the SVG to fit.
Cut your design one color at a time with permanent adhesive vinyl. Choose the colors needed for your design.
Weed vinyl using a weeding tool.
Option – hand place designs manually
Frequently Asked Questions About Glass Can Vinyl Decals
Can any type of vinyl be used for glass can cup projects?
When working with glass can cups, it's recommended to use permanent adhesive vinyl. This type of vinyl is durable, waterproof, and designed to withstand regular use and handwashing.
How do I prepare the glass can cups before applying vinyl decals?
It's essential to clean the glass can cups thoroughly to ensure proper adhesion. Wash them with warm, soapy water and dry them completely before starting the vinyl application process.
What settings should I use on the Cricut machine for cutting vinyl?
The recommended settings may vary depending on the specific Cricut model and the vinyl brand you're using. Generally, a fine-point blade and a vinyl cutting setting are suitable for most vinyl projects.
How do I transfer the vinyl decal onto the glass can cups?
After cutting the vinyl decal using the Cricut machine, you can use transfer tape to transfer the design onto the glass can cups. Apply the transfer tape over the vinyl design, smooth it down gently, then peel off the backing paper, leaving the vinyl on the transfer tape. Align the design on the cup, press it firmly onto the surface, and carefully peel off the transfer tape, leaving the vinyl decal in place.
More Dinosaur SVG Files
I love to join with other very talented SVG designers in this industry and share SVG files around a central theme. Its a great way to get more great quality SVG files, as well as discover new websites to add to your collection. Check out the 17 free dinosaur svg files here!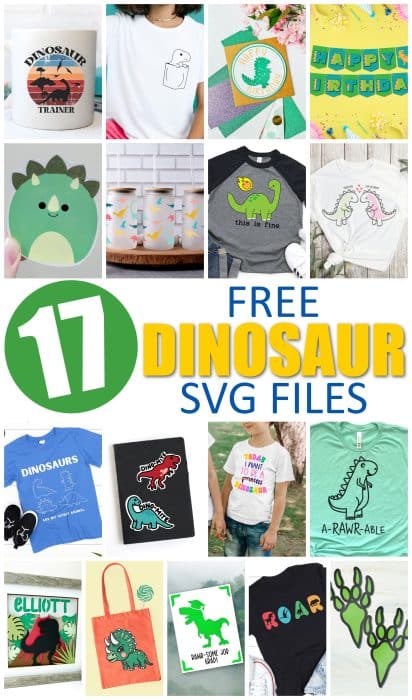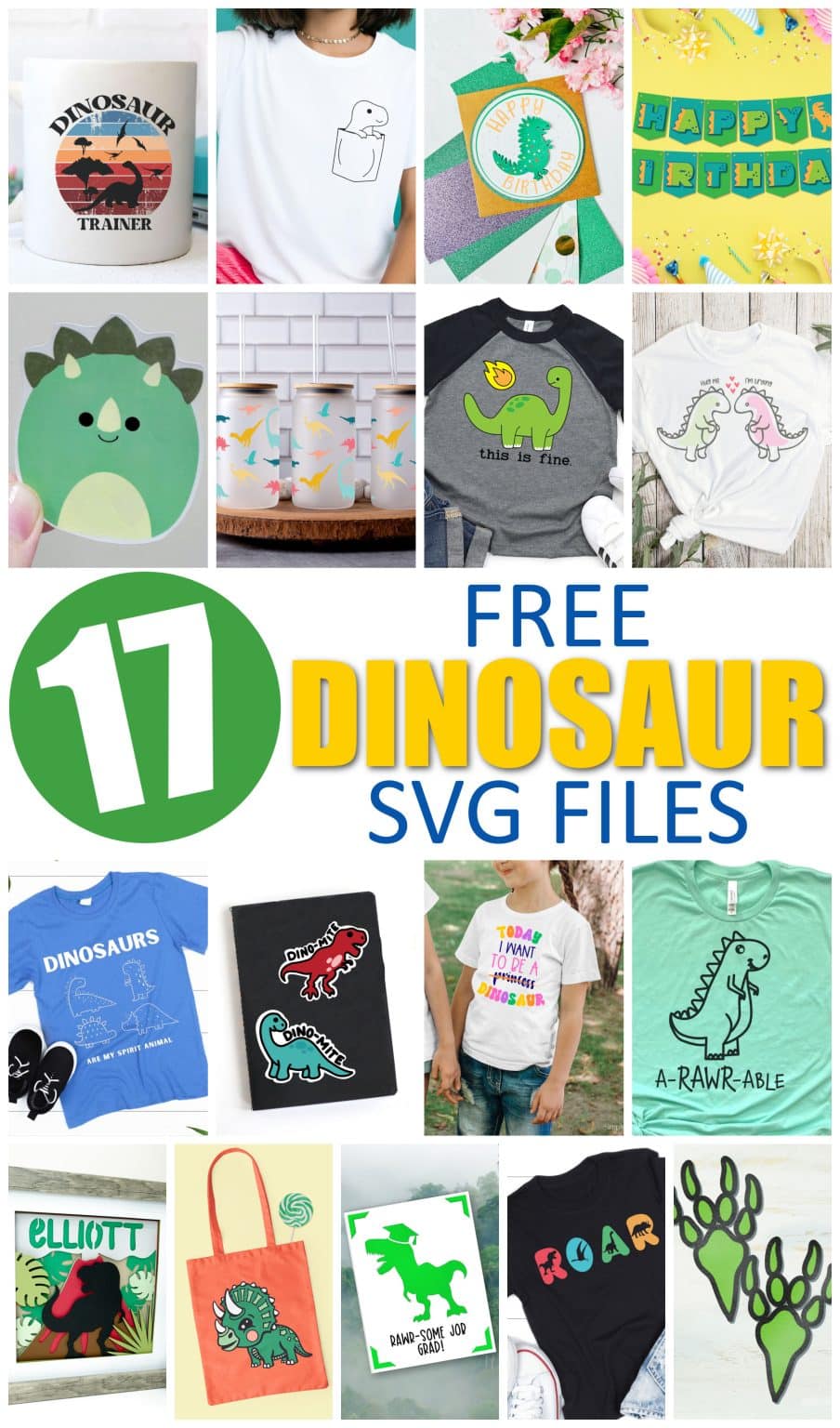 There are three different triceratops designs for you all – two faces (one with a bow and one without) and one full body. Get the Cute Triceratops SVG from Persia Lou
Make this cute A Rawr Able shirt created by Crafting Overload
Dinosaur Glass Can Wrap from Brooklyn Berry Designs (you are here!)
A layered Dinosaur Foot Prints SVG that was designed by Like Love Do would be a great accent piece in a style bookcase or as wall decor.
Celebrate all things prehistoric with this Dinosaur Party Banner from Gina C Creates.
This vintage inspired Dinosaur Trainer Sunset SVG brought to you by Color Me Crafty would make the perfect shirt. I love the distressed style made from vinyl – or would also look amazing as a sublimation design if you have a sublimation printer!
This funny dinosaur SVG makes me laugh – I am trying to hug you and I can't! Grab the Dinosaur Hug Me SVG from The Denver Housewife.
These dinosaur cutout letters are great for shirts or shadowboxes! Grab the Dino ROAR SVG created by The Quiet Grove
Make a layered shadow box design and learn how to personalize it with this Customizable T-rex Shadowbox designed by Dinosaur Mama.
If your kids love squishmallows they will love this Dino Squish Sticker from Kiy's Craftroom.
A funny and sarcastic design for a shirt – grab the This is Fine. svg from Artsy Fartsy Mama.
Everyone loves dinosaurs, so make sure you have enough of these stickers for everyone! Dino Mite Sticker by Liz On Call
Who wants to be a princess when you can be a dinosaur? Join team dinosaur and make this Today I Want To Be A Dinosaur shirt from Simple Made Pretty.
Make your own cutout card with this Dinosaur Graduation Card by The Bearded Housewife.
Use the print then cut feature to make this Dinosaur Printable and Card Tutorial from Extraordinary Chaos.
This Dinosaurs Are My Spirit Animal from Sunshine and Munchkins makes an adorable shirt and could also make really cute coloring pages.
Who wouldn't want a pet dinosaur? Add a Dinosaur Pocket to share your love. Grab the file from Tried & True Creative.
More Dinosaur Activities:
Download The Dinosaur Cup Wrap
Download SVG Files Here
To get the free SVG, enter your name and email address in the form below and click the GET IT NOW button. I'll send the SVG cut file straight to your inbox.
Terms and Conditions:
Downloading this free cut file signs you up for my e-newsletter and you'll be notified when I release new free SVG files.
This cut file is for personal or classroom use only.
This file can be used in part or in whole for your personal projects.
Digital reselling, sharing, and redistributing of the files is NOT allowed. If you would like to share, please direct friends to the original blog post where you found this cut file.