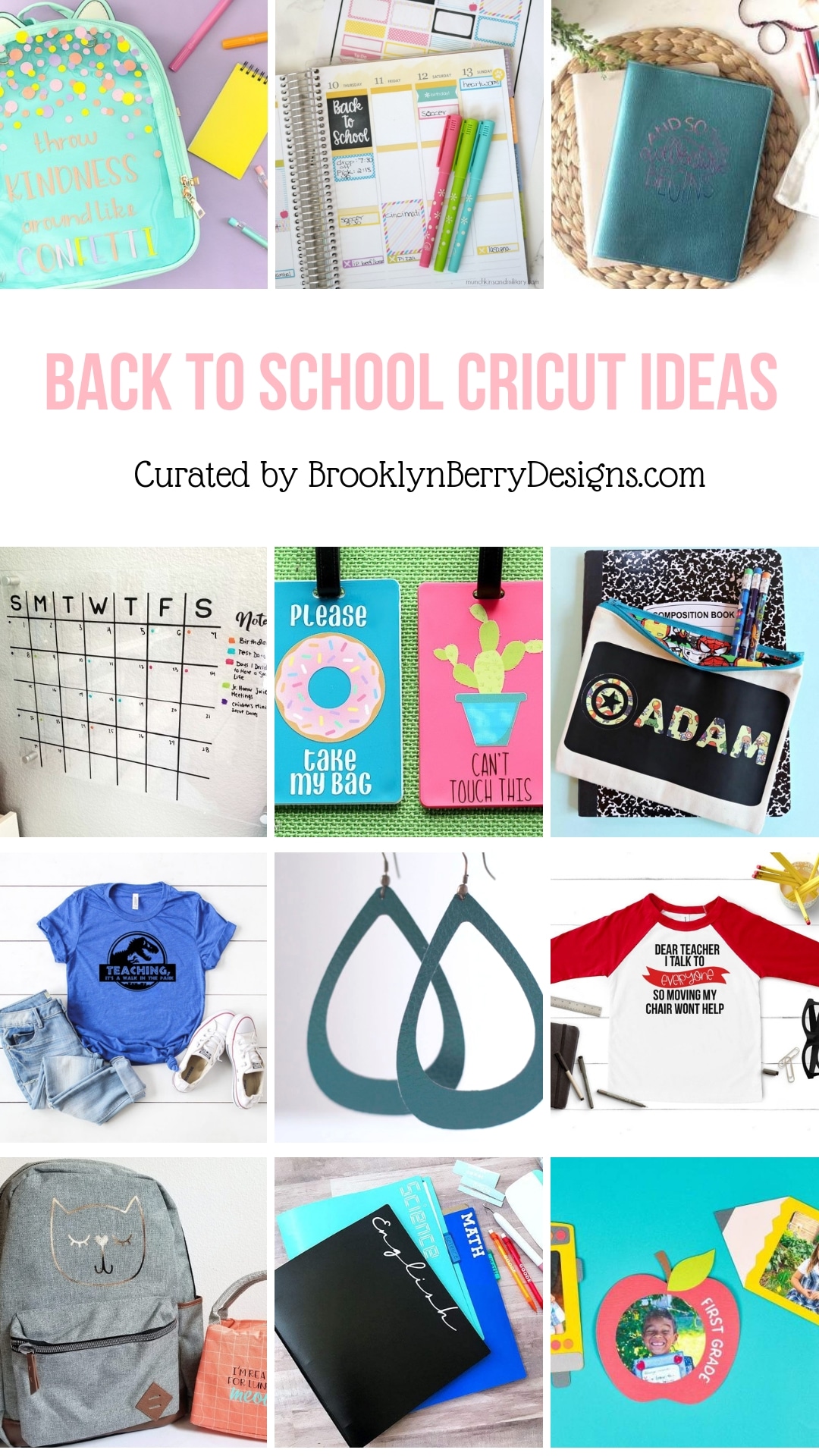 Get your back to school Cricut ideas right here! After about 2 weeks of summer I was looking forward to not being the entertainment for my family. With school starting again soon, I am sharing that excitement by personalizing all the gear in the house. Whether you are teaching in a classroom, starting a new school year as a student, or just getting organized for a new season, I have tons of back to school Cricut ideas for you to get started.
Back To School Cricut Ideas
Get your entire family excited for the new school year by personalizing everything. Let your Cricut machine do all the heavy lifting and leave the fun part for yourself. From the classroom, the teachers lounge, or home there are so many ways to personalize waterbottles, backpacks, or anything else you don't want lost or left behind.
Get prepared for school to start again with these cute back to school Cricut projects to personalize your gear.  Whether for kids, teachers, or just for fun - these personalized school supplies will be loved by everyone.
Photo Credit: threelittleferns.com
There is something so satisfying about starting a new planner for the school year. Adding the stickers and writing in your neatest printing all the calendar events is just so fun (is it just me?). Make your own planner stickers with your home printer and Cricut! If you don't have a planner, these would also work for book marks.
Photo Credit: lydioutloud.com
These luggage tags could easily be added to a backpack or even a lunch box. I'll take two please!
Get a fancy leather journal without breaking the bank - this DIY leather journal cover is made with faux leather and the cricut explore.  Not only is this leather composition book cover inexpensive to make yourself, it is reusable too! This would also be great for a custom planner cover.
Photo Credit: leapoffaithcrafting.com
Get back to school ready - or add this custom acrylic calendar to the classroom! Check out the tutorial where you can also get the free cut file.
Photo Credit: www.thecountrychiccottage.net
Customize your school supplies by chooseing the font, vinyl color and icons! Skip the handwriting labels and have fun with personalizing.
Photo Credit: craftingintherain.com
I love the idea of skipping a name label and adding your childs favorite animal or character! Just as personal without worrying about safety. Get all the details on this cute cat backpack and lunch box - plus a great tutorial...
Make the perfect accessory for that first day of school - these pretty faux leather earrings are so comfortable and light weight.
Photo Credit: heyletsmakestuff.com
Remember just how adorable those kids looked on the first day of school? Print that photo out and make these cute school themed frames - your kid will feel like a rockstar!
Looking for some SVG cut files to use in your back to school cricut projects? Here are 16 FREE files for you to download - all perfect for back to school. I personally would have needed this shirt - Dear Teacher - I talk to everyone, so moving my chair wont help. I feel like it should say *you've been warned* on the back.
Photo Credit: lydioutloud.com
Another great backpack personalized without the name - but I couldn't resist those cute little ears, the confetti dots, and multi colored vinyl letters!
Photo Credit: hellocreativefamily.com
If you can sew a zipper you can make a pencil bag. Even better, you can use a fabric to add a surprise pattern - bonus! It can include your childs favorite on screen hero!
Teachers - here is a funny shirt to get you in the school mind set. Teaching its a walk in the (Jurassic) park. Get the free SVG file plus 15 more school themed files!