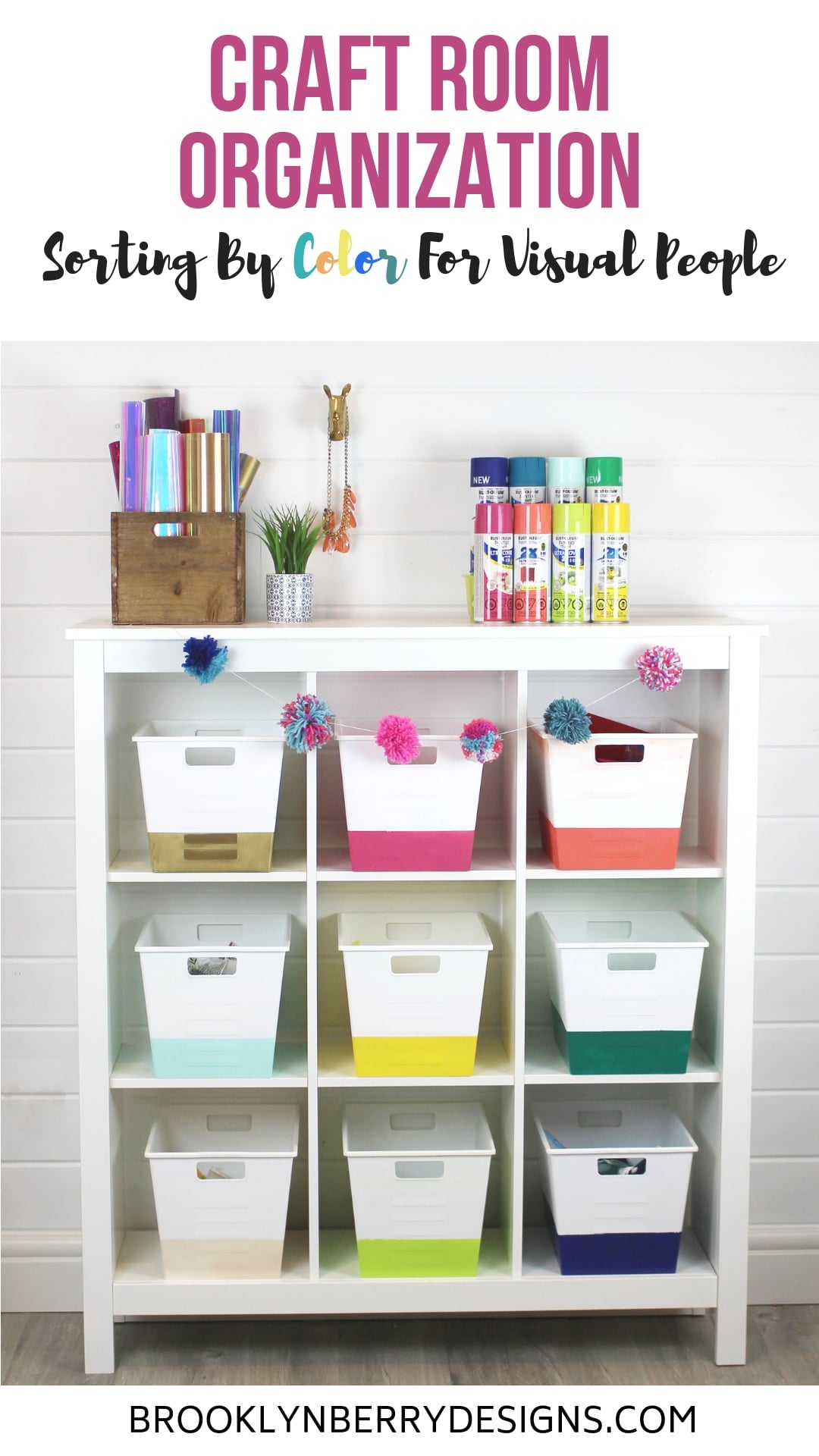 Looking for craft room organization ideas before the school year starts? If you struggle to keep things in their place, you might consider an unconventional organizing method – sorting by color!
Keep reading to learn a few great reasons why a visual organization system could work better for you and I will show you how to make it happen.
Craft Room Organization
While some areas of my home are very organized because everything has a home (I am looking at you utensil drawer and kitchen cupboards) other areas are difficult to keep looking clean. Especially in a craft area – when you can use supplies for so many different uses sorting by an items purpose doesn't work here.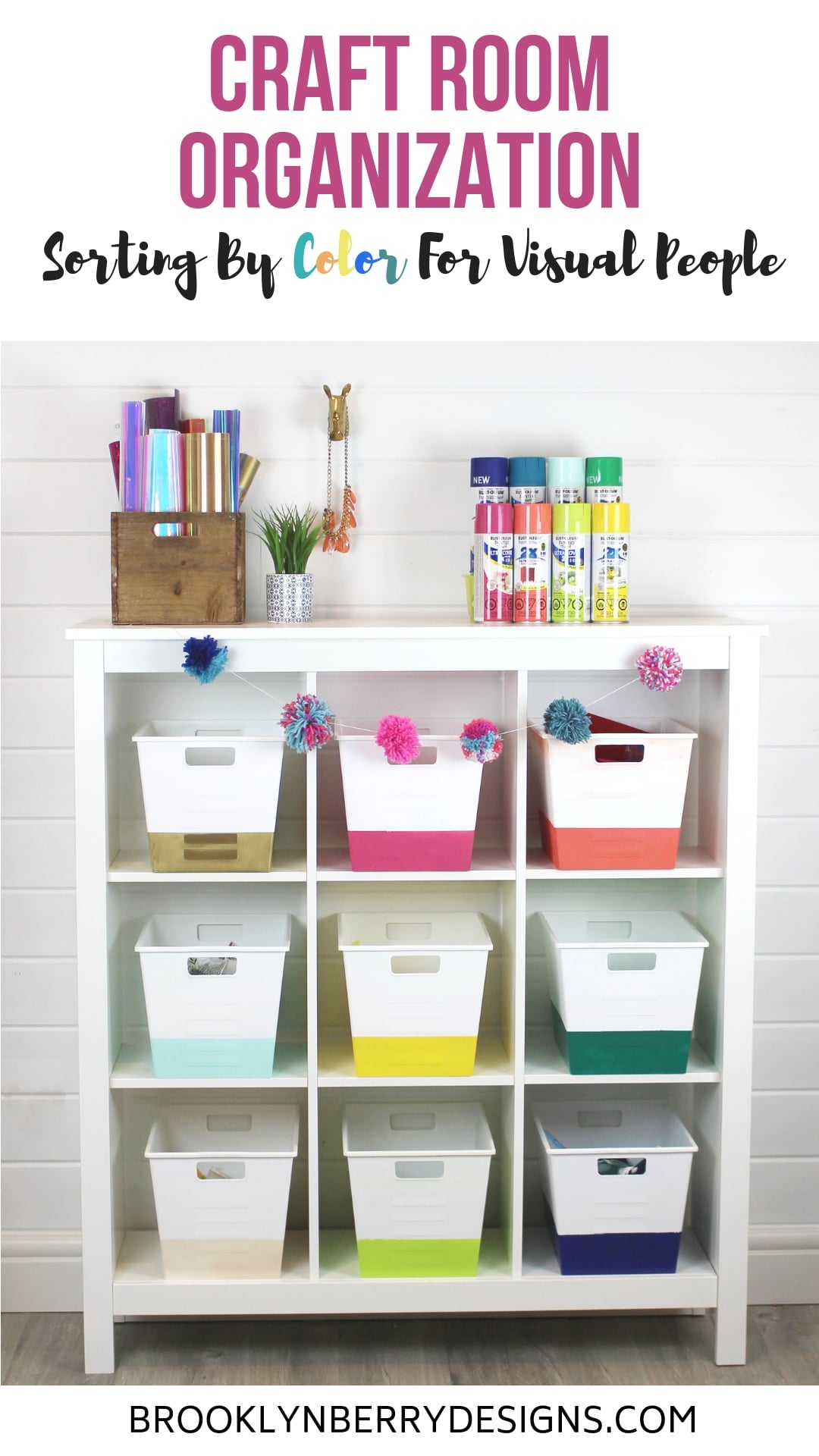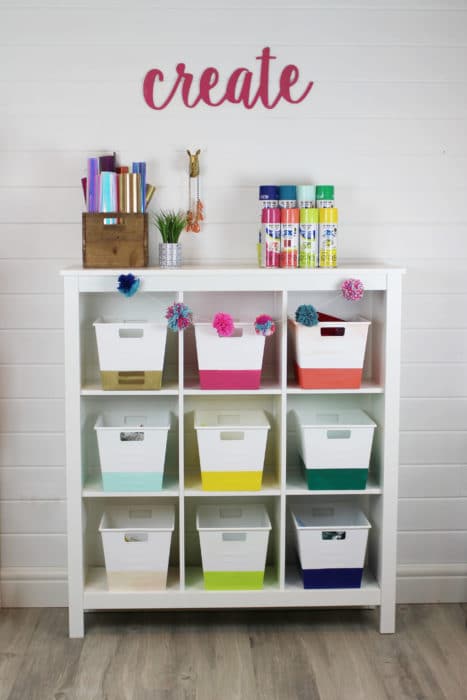 Sort By Color
How do you feel about sorting supplies by color? I am a very visual person and can often remember a book by its cover, an iPhone app by its color, or search for an item by its appearance. So why not put things in a place based on its color?
Whether you have a desk area or an entire room dedicated to art and craft supplies, this method can be applied to any creative space.
Sorting by color helps me find things faster and make putting things away a much easier.
Organizers to the stars The Design Edit – (who is creating their own show and their own product line at The Container Store) often organize pantry and craft rooms with each box or drawer organized in rainbow order (ROYGBIV).
Organizing according to the rainbow helps create a playful and creative space for kids, and a stylized space for adults. Arrange the books, art supplies, toys, and pretend food by color, and you will not only have a pretty playroom, but your kids will automatically know where everything is stored.

The Design Edit
The sort by color rainbow system has the added benefit of turning cleaning time into a fun sorting game. Challenge a child to find as many green toys, another red, and see who can pick up the most in a set amount of time.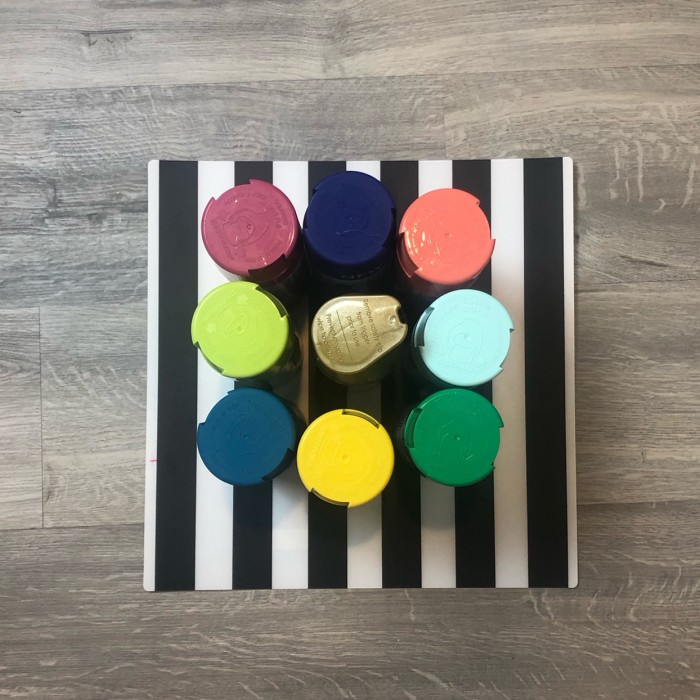 How to Organize Your Craft Supplies
Start the organizing process with identical style of bins. For my craft room I chose white containers that fit inside a cube storage shelf I already had. I wanted to add a portion of color to the bottom of each bin to show what color would be stored inside.
Color Block Plastic Bins
I chose to use spray paint for the easiest application. The best option was Rustoleum Painters Touch spray paint because of how many color choices it has.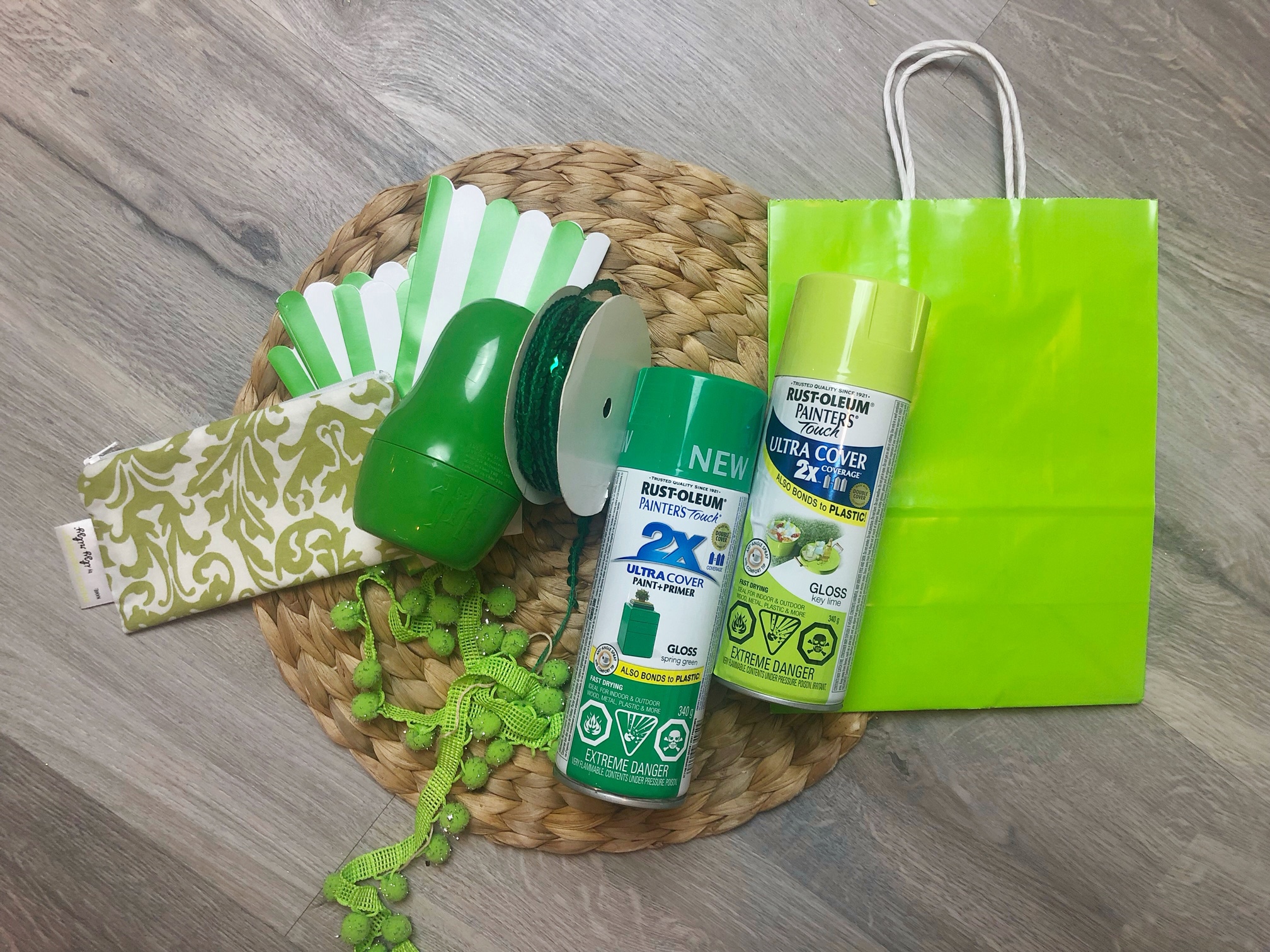 I gathered my supply and prop accessories and looked for paint colors based on those. It doesn't need to be an exact match. Orange is not my favorite color, so while I was sorting by color I didn't follow a true ROYGBIV scheme.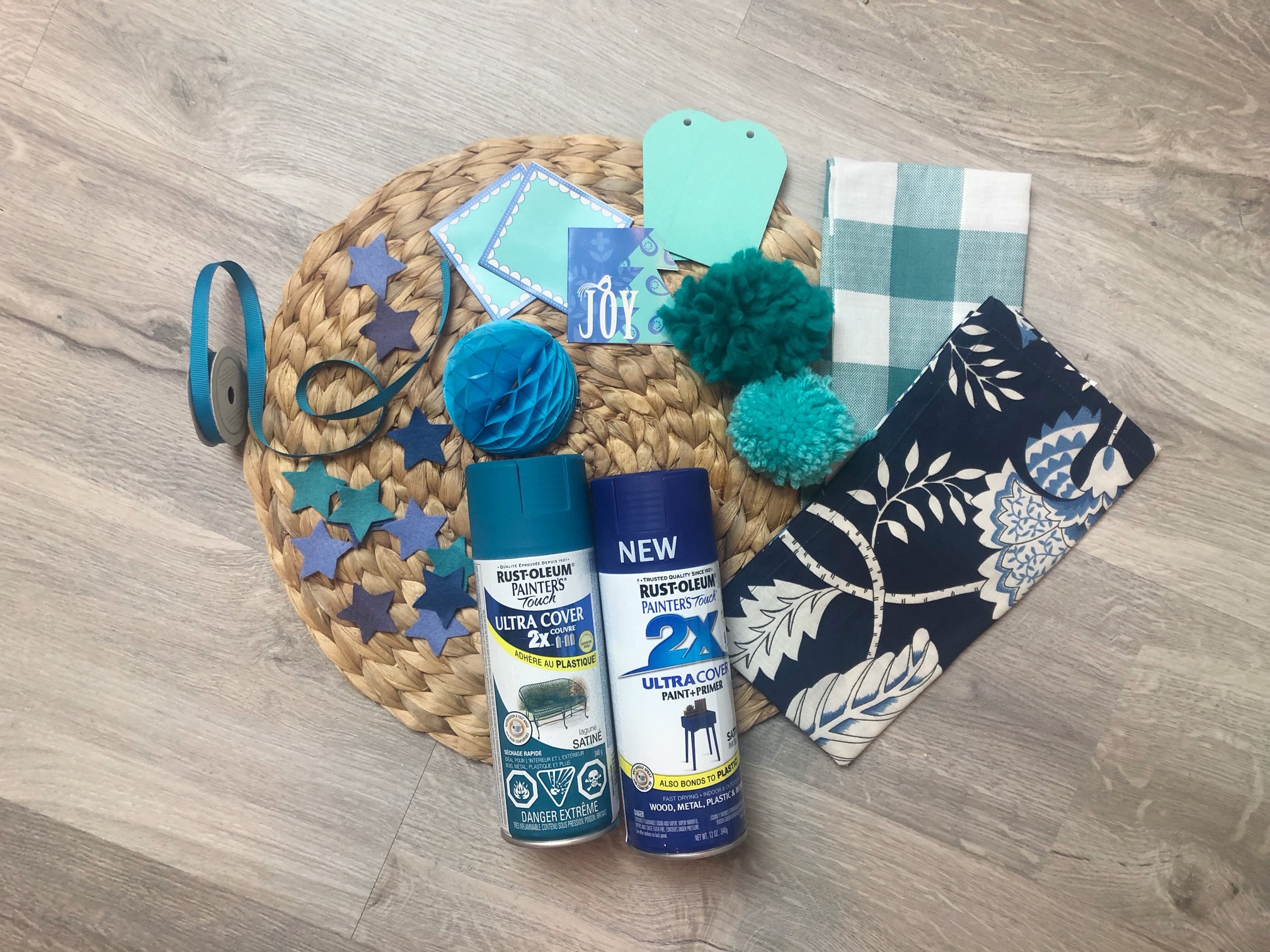 Orange or red are not colors used by me very often, but I do use many shades of pink and blue. I chose two shades of pink, blue and green plus a gold for all metallic items. Ocean Mist (light teal) is on the bin for my black and white items.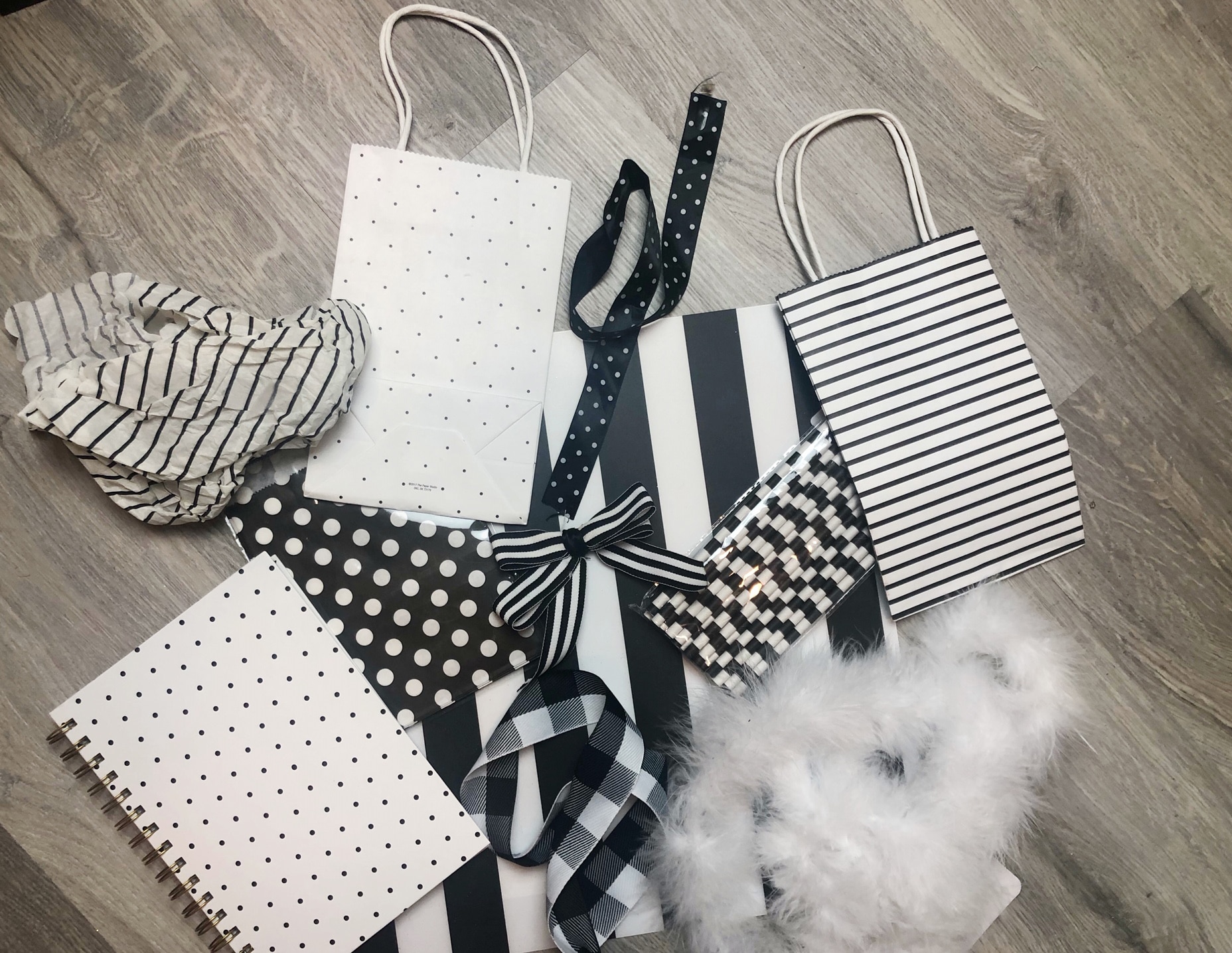 Feel free to be creative with colors and adjust for what works in your own space and style.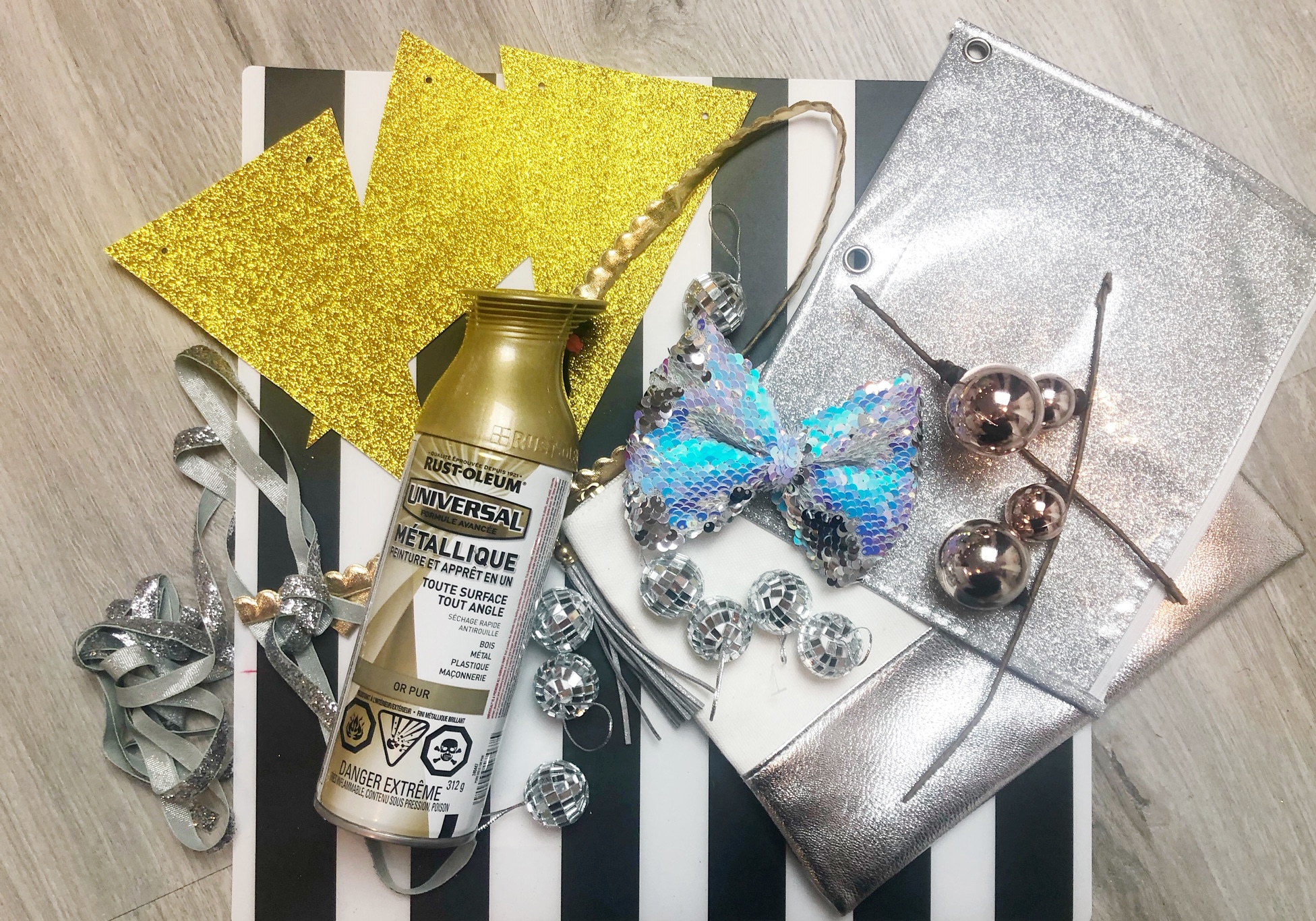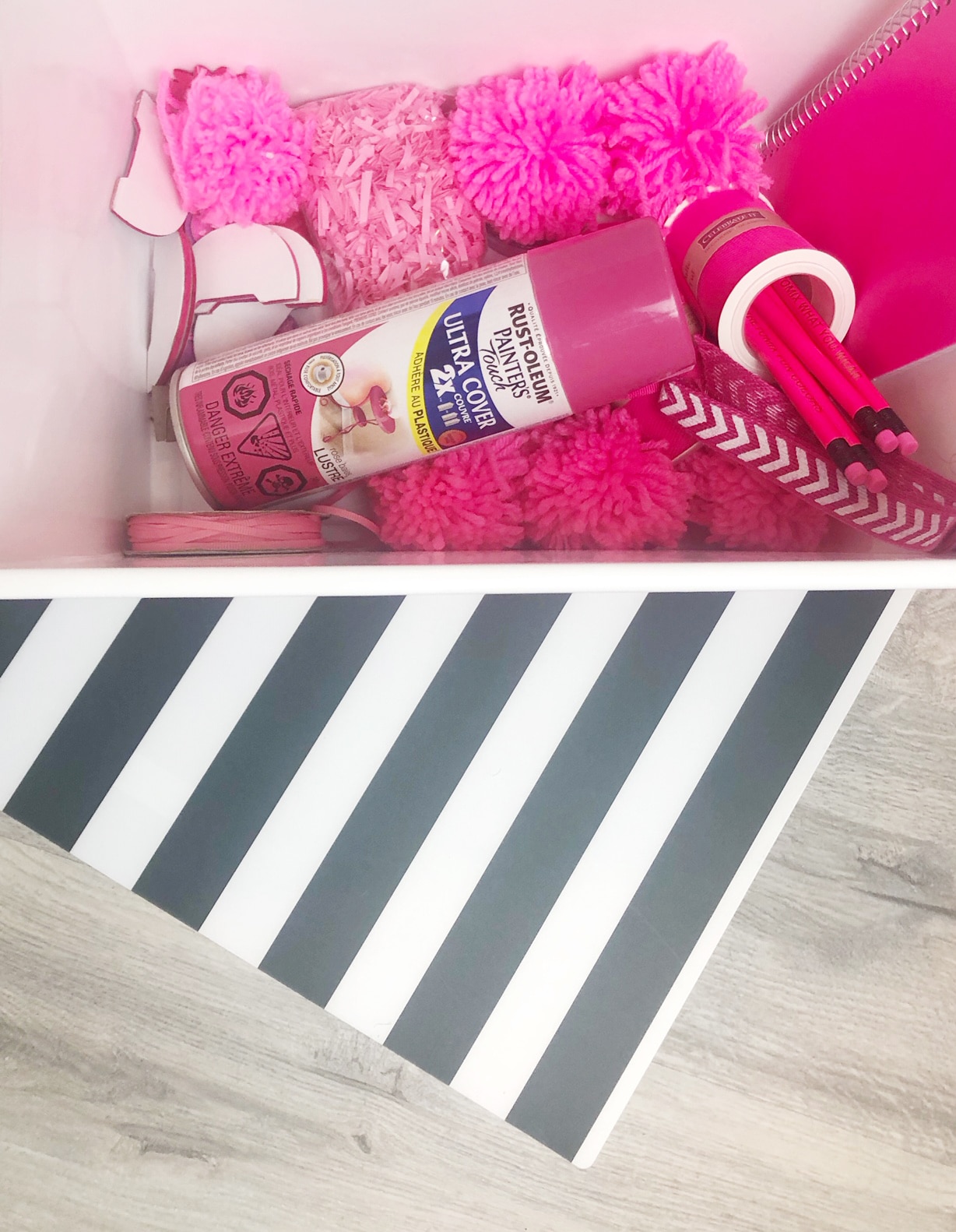 My favorite spray paint projects:
Color Block With Spray Paint
Print
How To Spray Paint Storage Bins
Start the organizing process with the same style of bins. I chose white containers that fit inside a cube storage shelf I already had. I wanted to add a portion of color to the bottom of each bin to show what color would be stored inside.
Equipment
Rust-Oleum Painter's Touch Ocean Mist

Rust-Oleum Painter's Touch Sun Yellow

Rust-Oleum Painter's Touch Coral

Rust-Oleum Painter's Touch Pink Peony

Rust-Oleum Painter's Touch Key Lime

Rust-Oleum Painter's Touch Vintage Teal
Materials
Storage Bins
Painters Tape
Spray Paint
Instructions
1. Prep bins – make sure they are clean and sticker free. If needed, wipe with Krud Kutter (my favorite de-sticker).

2. Tape the bins. Every bin had a few inches of paint area and was taped off with painters tape.

3. Cover the areas you don't want painted. I did a really wide painters tape, added a garbage bag over the top, and taped that on top of the tape. This was mostly to keep the spray from splattering where I didn't want it.

4. Spray the paint!

5. Remove tape and paint.

6. Fill the bins with all the pretty colored supplies you have!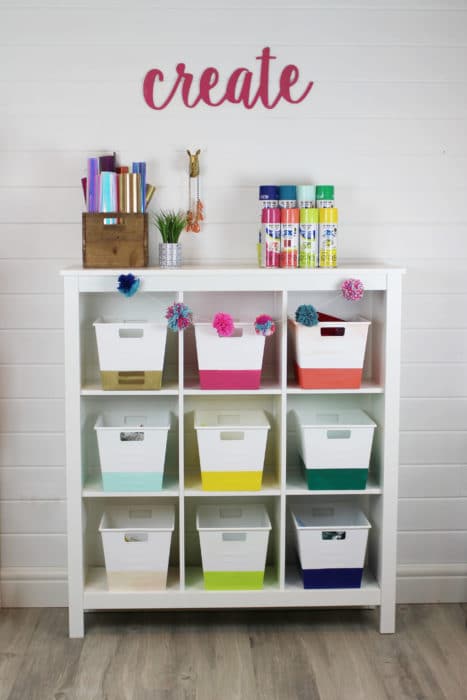 After your bins are painted you can start the fun of putting everything away. I never thought that sentence would come from my mouth. But there you go. It can be fun to organize your craft supplies!