Glass shower doors are probably not something you spend a lot of time looking at or thinking about. However, when it comes to looking at options for your own home renovation or building a new home there are a few things you might want to consider. Some glass shower doors have options that require changes to be made before the tile is in or affect what shower base you need so it is important to know what you would like before you begin construction.
When renovating a bathroom or building one from scratch, there are many options to consider when it comes to glass shower doors. First of all, do you want it to have a frame or be frameless?
Framed or Frameless?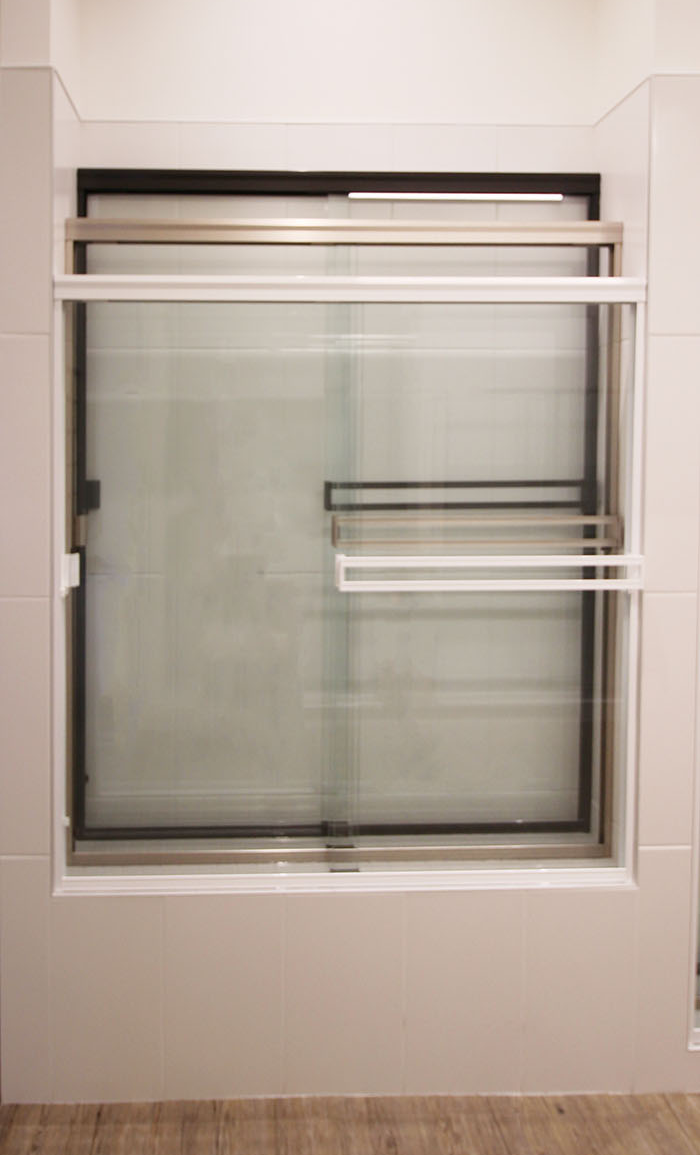 Framed Glass is the classic look for stand alone showers. The frame comes in a choice of a few finishes – typically white, polished chrome, brushed nickle, black, or oil rubbed bronze. Framed shower glass can be custom made or bought ready made in a big box store.
If you are in Calgary, Alberta (like me) I recommend Simple Spaces as a great resource for custom made glass doors, mirrors, and closet organizers. All showroom pictures in this post are taken there.
The same glass doors shown in different finishes – white, brushed chrome, and black. Which is your favorite?

A common glass shower door is a typical pivot shower door with a fixed panel and chrome frame, as shown above. Other door types can be rounded (for a corner shower stall installation) or bypass / sliding doors which are typically seen on a tub shower, but can also be used on a stand alone shower (like this cool barn door track).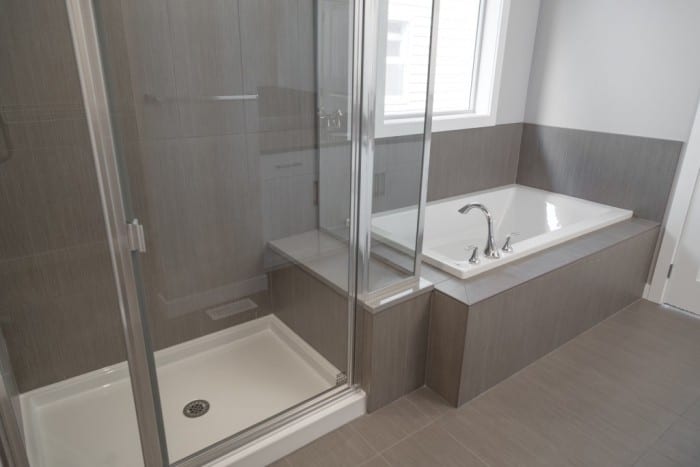 The look I am absolutely loving right now is the framed shower glass with mullions (the grids) to make the walls look like old factory windows. It has a very vintage industrial look but could mesh with so many interior home styles.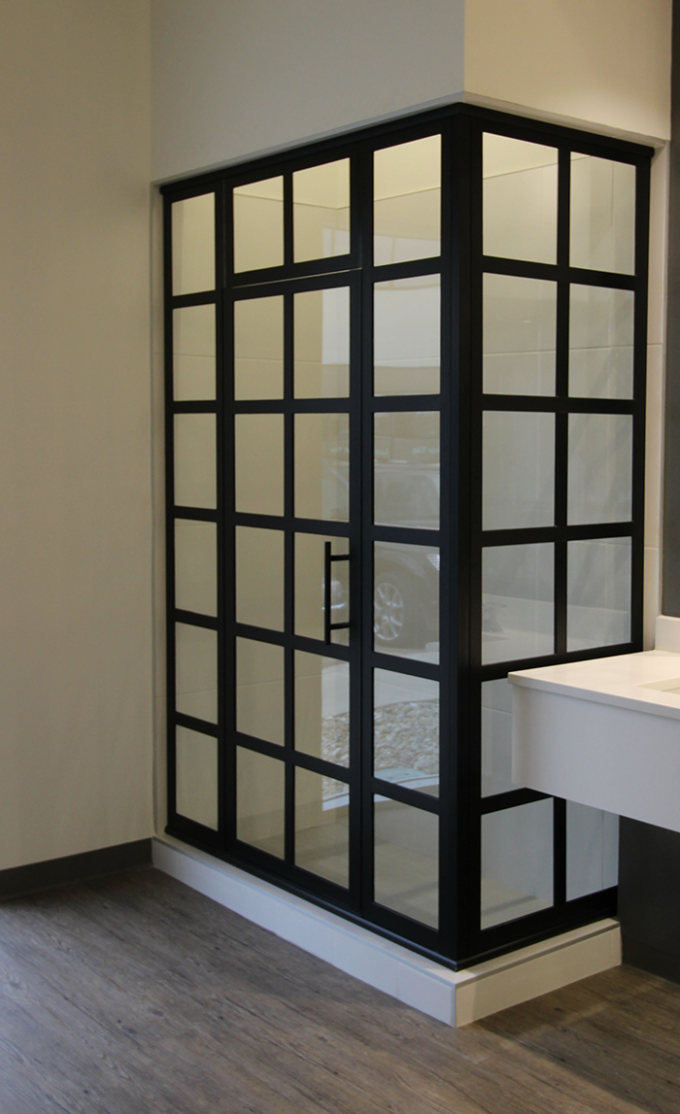 Frameless Showers
Frameless glass showers are the ultimate in high end luxury. The options are almost limitless for a frameless shower. The best option you can choose is a thicker glass. Frameless glass doors come in varying glass thickness. I love the heavier weight of a 10mm (thicker than the typical 5mm) glass.
Designer Tip: All frameless glass doors are custom made to your space. Measurements are taken after the tile is installed to ensure a perfect fit.
10mm glass doors require a tile shower base, not fiberglass, to accomodate the door hardware and heavier weight of the glass. Another important thing to note is that the tile is custom made to the shower so the manufacturer will take measurements after the tile is installed. This is critical for the most accurate fit. If you are renovating your bathroom and want to be able to have a functioning shower as soon as possible, you need to get the tile installed asap in order to get the glass templated and installed.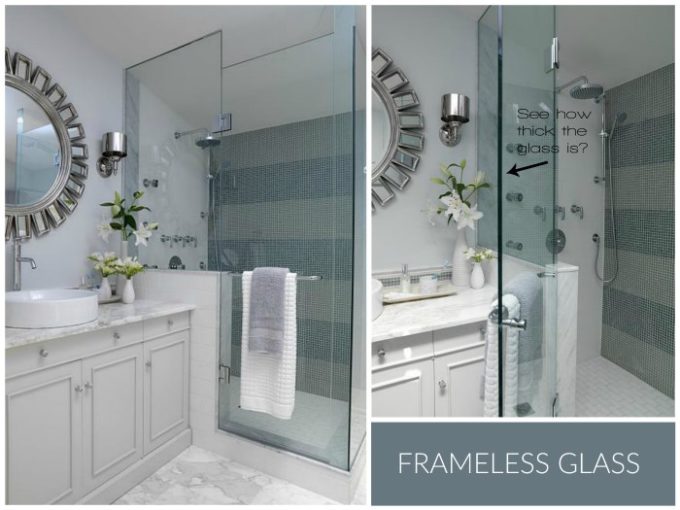 A frameless shower enclosure is the ulimate in luxury in terms of aesthetics and feel, which greatly adds to the value of your home. This would be a selling feature in any home I was looking at buying. Steam can be added to a shower but it will require a tile ceiling and glass all the way to the ceiling.
Glass Shower Door Hardware:
From simple to ornate, there are so many different options for your glass shower door harware. A simple circle cut into the glass is perfect for the minimalist design, or go for the impact with the large size bar.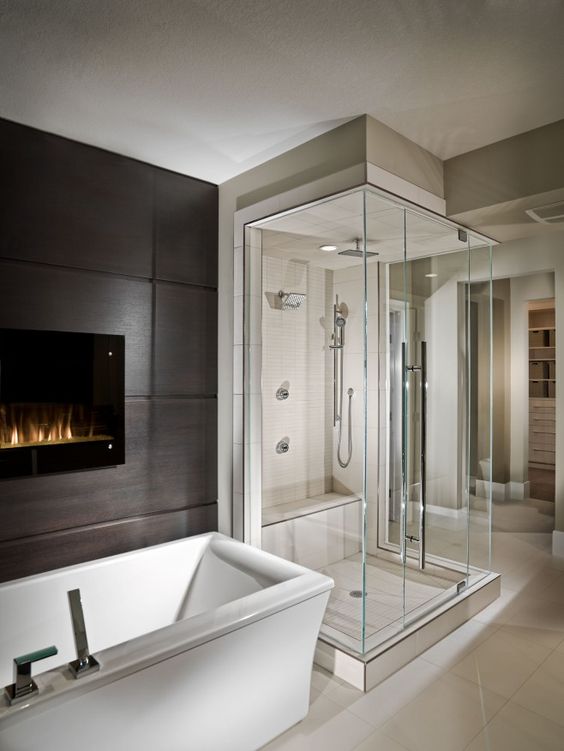 Glass Shower Checklist:
Framed or frameless?
Thickness of glass – 5mm, 8mm, or 10mm
Fiberglass or tile shower base?
Steam Shower?
Do you want a bench or ledge in the shower?
What kind of hardware do you want?
Do you require a towel holder on the door?
Inspiration -Here is 50+ pictures, inspiration and ideas for glass shower doors.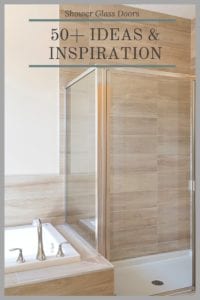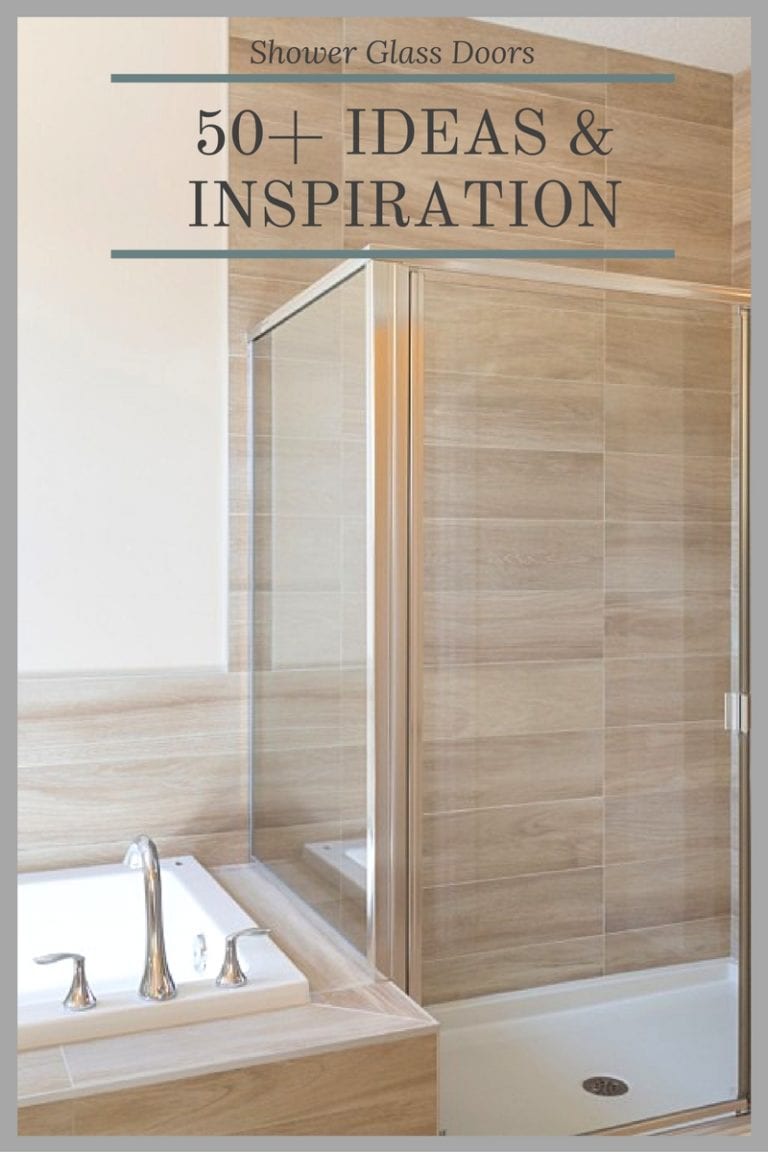 A special thank you to Simple Spaces for allowing me to take photos in their space.
Simple Spaces Display Centre
11550 40 Street SE,
Calgary, Alberta, Canada,
T2Z 4V6
Hours:
Monday to Thursday 8am – 4pm | Friday 8am – 2pm Saturday 9am – 3pm | Closed Sunday & Holidays
Happy Renovating!
Image Credits: 1, 4, 6, Photos taken by Brooke Berry at Simple Spaces showroom. 2 / 3 / 5 / 7 /