Are you looking for Peloton home gym ideas that are both functional and beautiful? Here are some inspirational photos and design ideas from real Peloton users.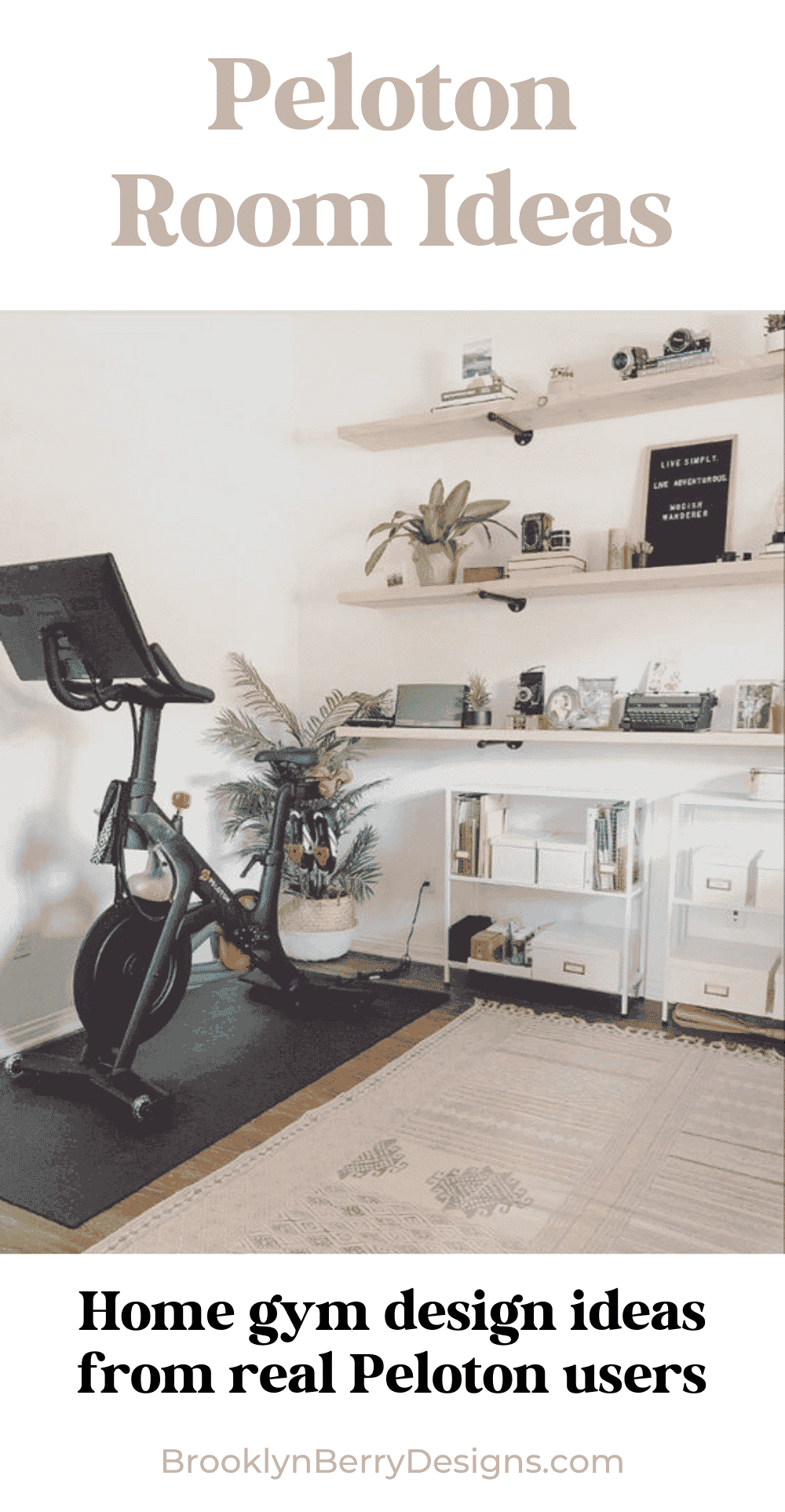 Last year I decided to bite the financial bullet and purchase a Peloton bike to be able to work out at home. The fun classes from the comfort of my own home are the perfect combination for this social person who lives where it is cold 90% of the year.
My friends and I would joke that once you buy a Peloton you drink the kool-aid and become a member of the cult. Funny enough, we all totally did. The amazing instructors feel like our friends. We quote them in our day to day life.
It is such a fun thing our friend group does together, and we even got our names shouted out by Cody Rigsby on our century ride (the 100th bike ride). I even have the video to prove it!
When bringing gym equipment into your home, you may wonder where it will fit and how to make the look beautiful. Whether you have a dedicated home gym or just want to have a stationary bike in your living room, you can have a great-looking workout space. Here are some ideas to get you started.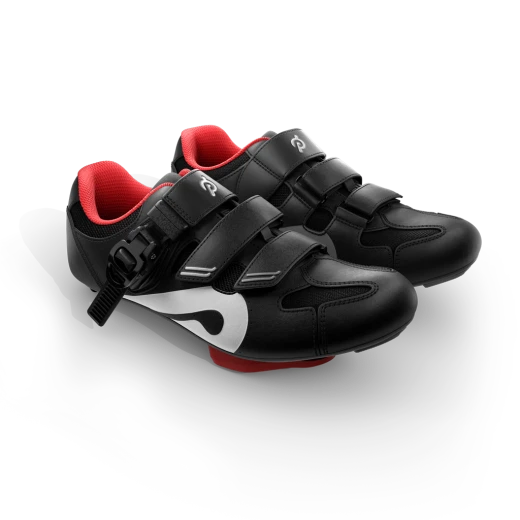 SAVE ON PELOTON!
Don't have a peloton yet? Try the app Free for 90 days with my guest pass!
Get $200 off accessories with a Peloton Bike, Bike+ or Tread order (perfect for your shoes, a mat, or heart rate monitor).
HOME GYM ESSENTIALS
Small Space Home Gym
If you have a shared space you may need to combine a peloton room with your home office or guest bedroom. Luckily the bike itself is the largest piece of equipment that you need. The most essential thing to have in your home gym area is clear floor space.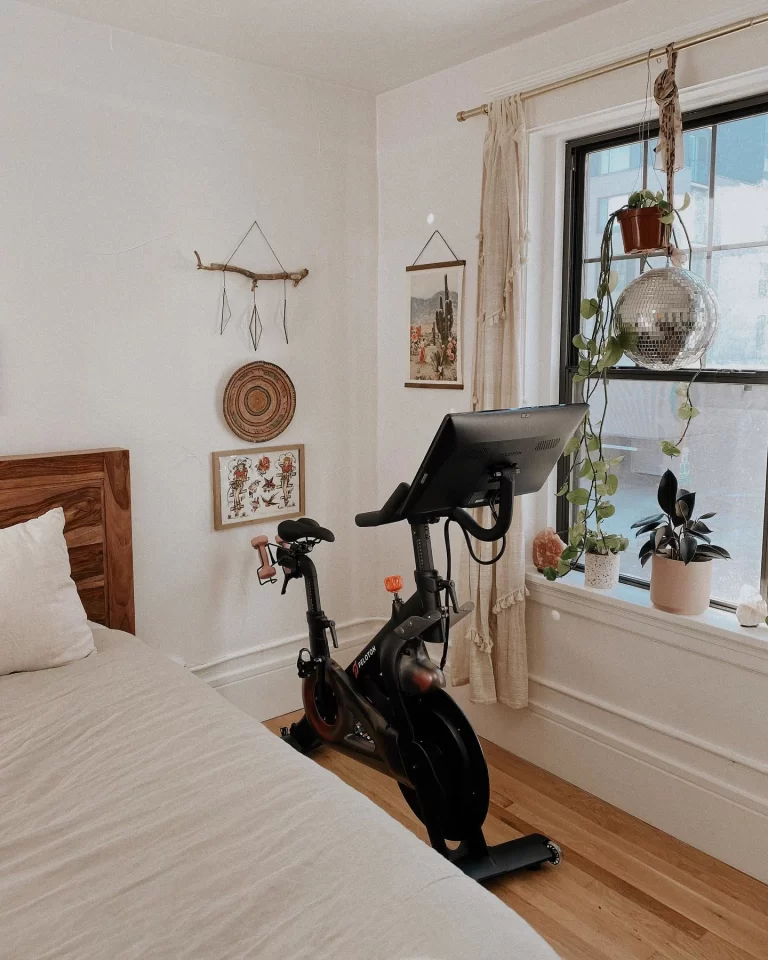 If you have carpet floors you will want a floor mat or yoga mat underneath your bike. Sweat happens, and you don't want it on your carpet. Wood and vinyl plank flooring are easier to clean, so a workout mat underneath is not needed.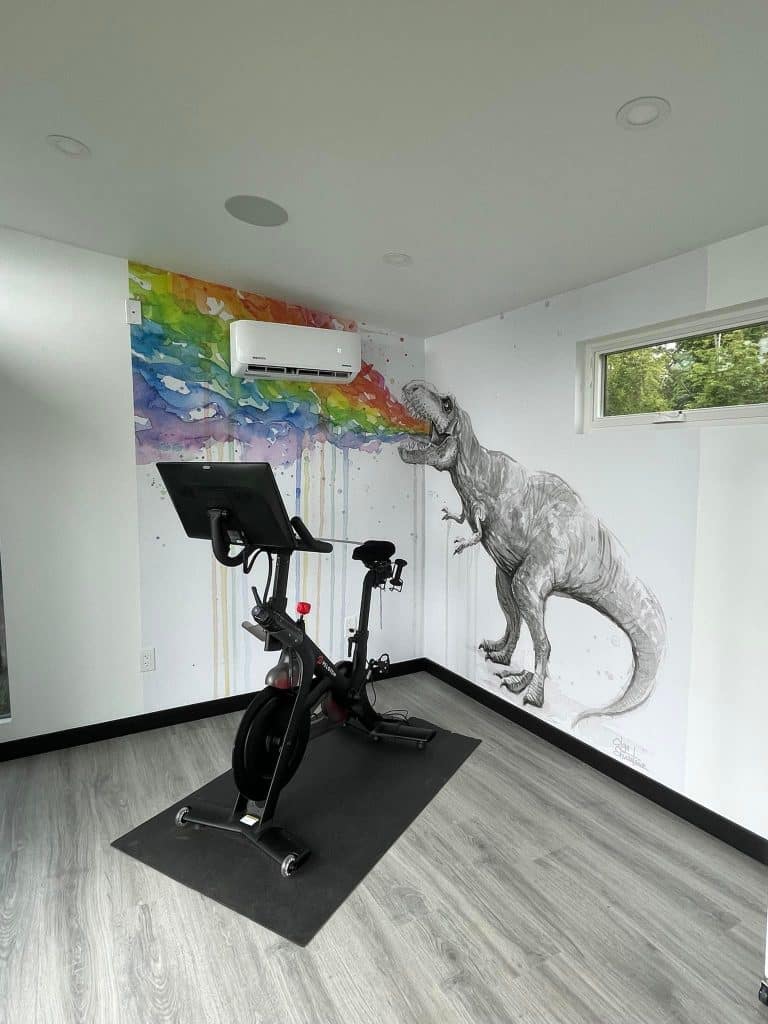 Make sure that if your bike is next to a wall that there is enough room to stretch your arms out to your side. Some of those on-demand workout classes need enough space to lift weights and extend them out to your side.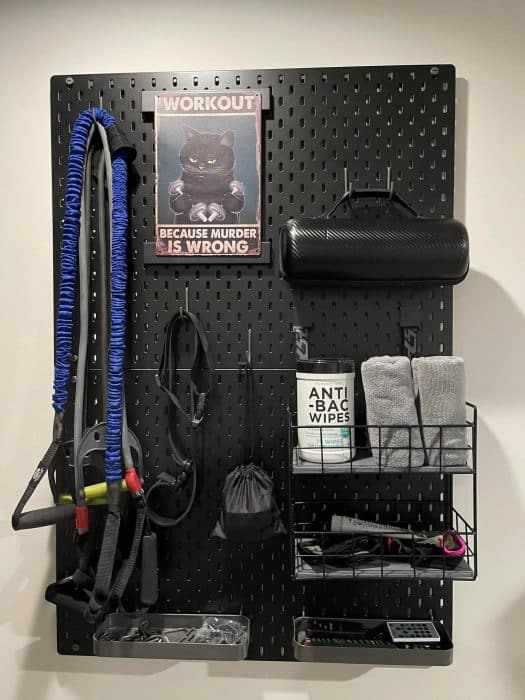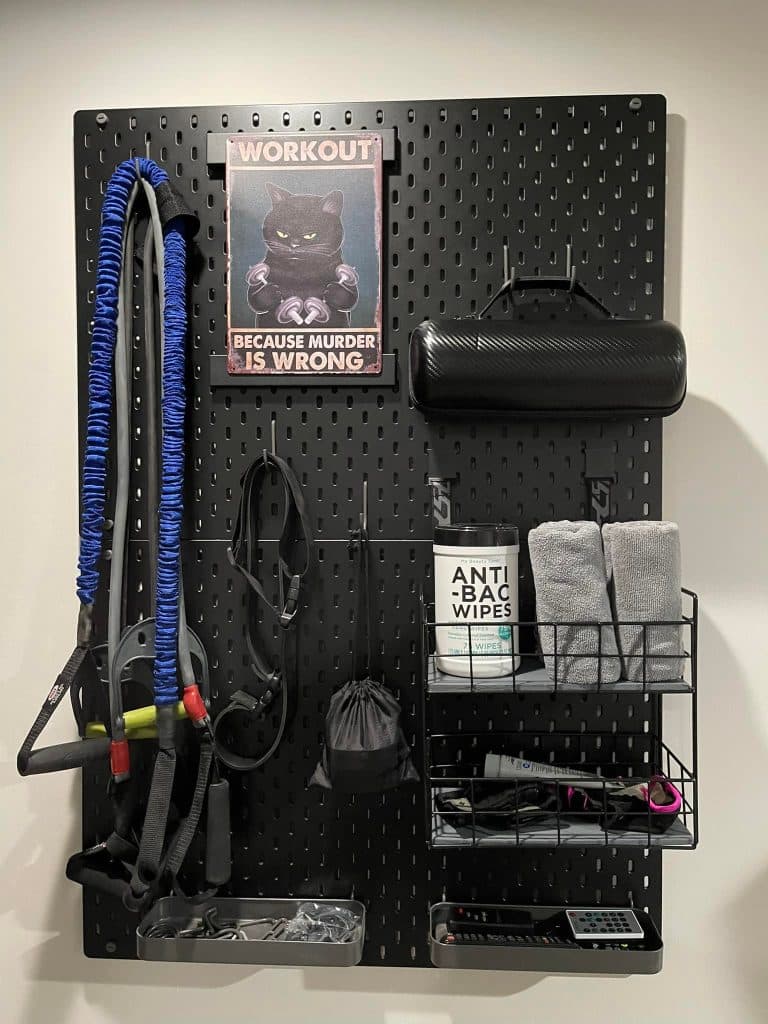 There are a few items that are nice to have close by. A wall-hung shelf (like this yoga mat holder) or a small storage cabinet can hold items such as your shoes, heart rate monitor, free weights, and some towels.
A full-length mirror is helpful to see your alignment and positioning while you ride. If you need a larger mirror I will share my trick in a bit.
Dedicated Home Gym
Setting up an extra space in to a home gym is great if you have more than one machine or share the room with someone else in your household. A spare bedroom or a small spare space in a larger room can be used as a dedicated area for at-home workouts.
Here are the the top items the best Peloton rooms have.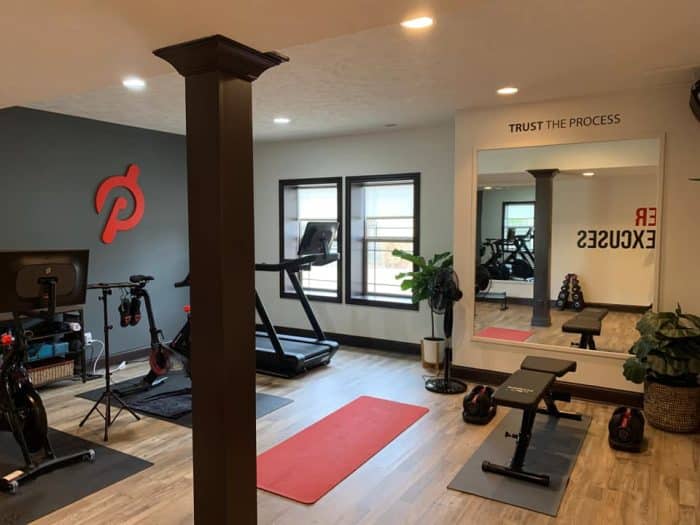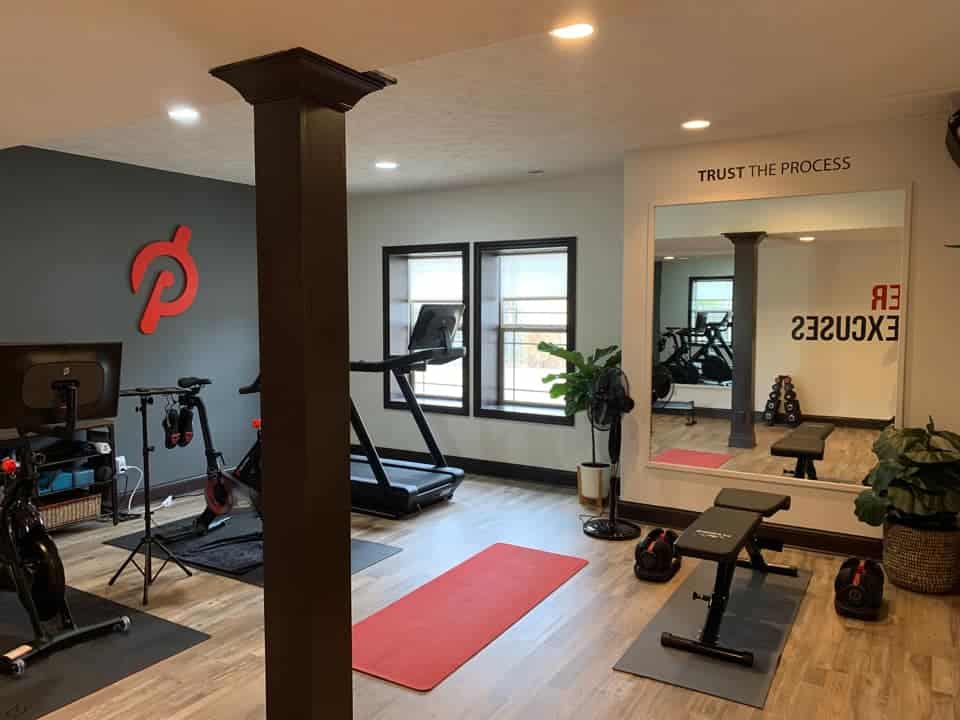 Storage
Again, storage is essential and a good idea is to have pretty looking storage.
Great options include a spot for foam rollers, resistance bands, jump ropes, yoga mats, rolled towels, and a Bluetooth speaker.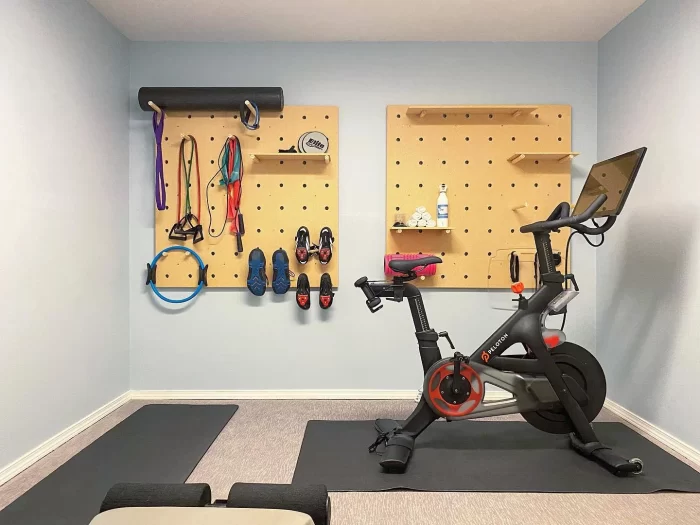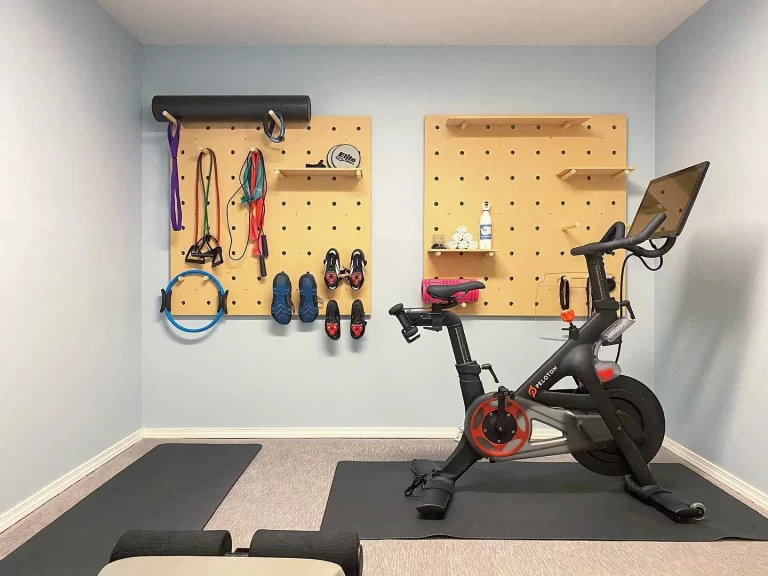 Natural light
When possible, be by natural light. I like to be riding my spin bike by the window where I can see all that's happening on my street. If you can't have natural light a well-lit space is just as good. Work with what you have.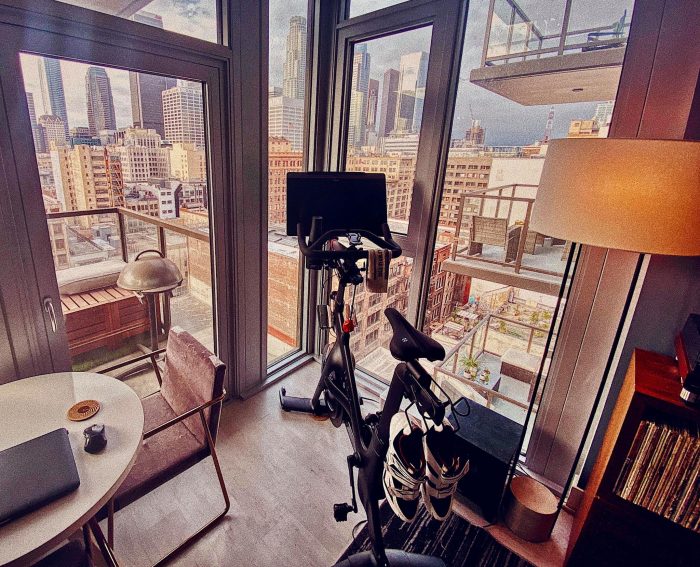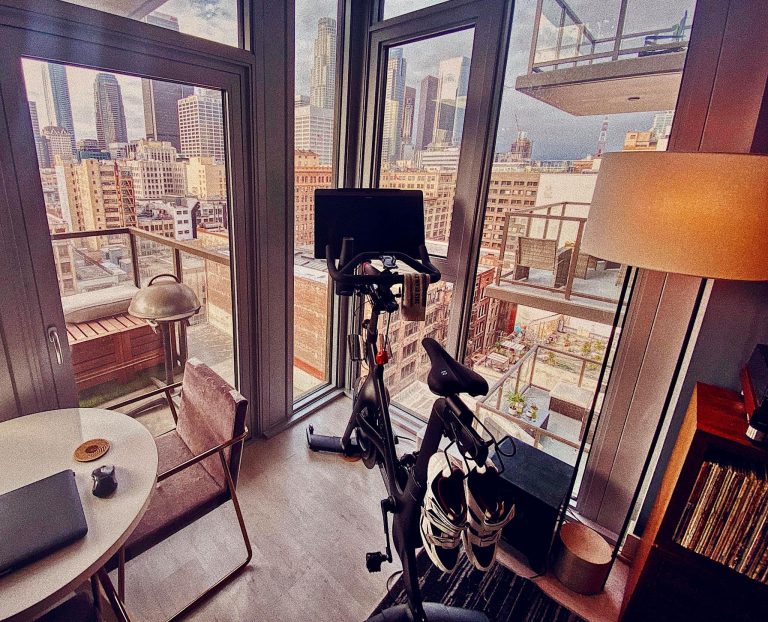 Stretching space.
Again, room to lay out a yoga mat and roll out on a foam roller.
Wall-mounted TV
Mirror your screen to a tv. The Peloton bike plus has a monitor that is able to swivel, but the basic bike does not. A wall mounted tv can be setup to mirror your bike screen, which is handy for live classes that combine riding and strength. You can also mirror a device for strength, yoga, and stretching classes available on the app.
Fans
Ceiling fans, box fans, and standing fans. Not only does it improve air quality, but you will also want to feel the breeze on your face.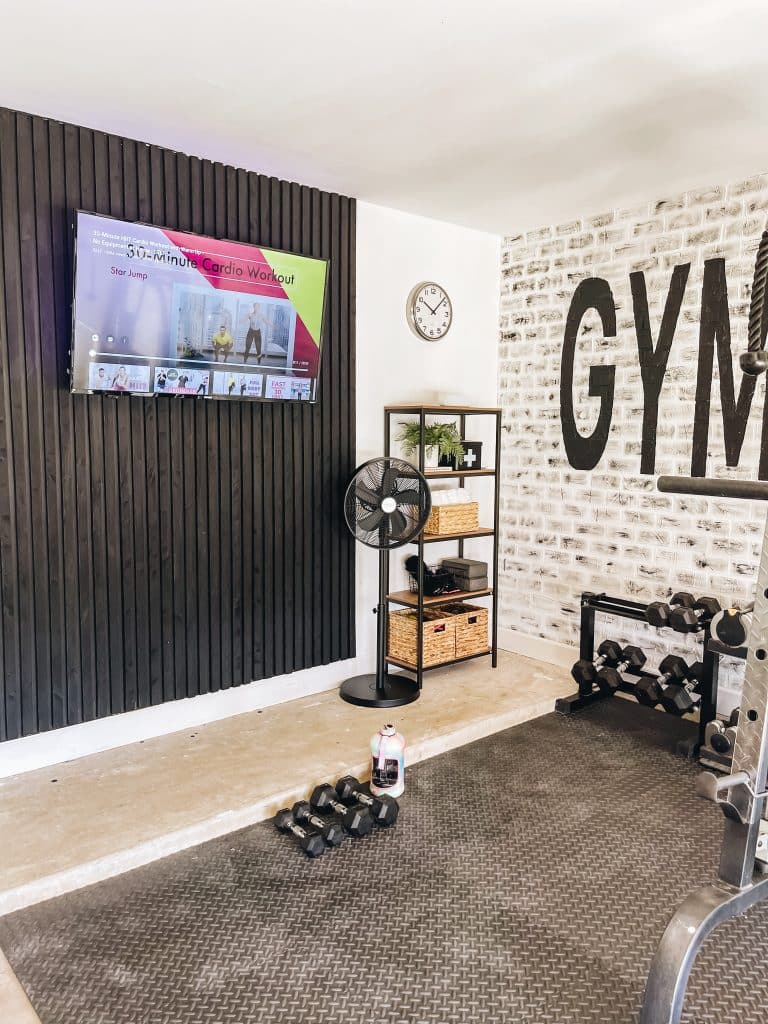 Check out this amazing garage home gym from Ashton. I love the wood feature wall behind her wall mounted tv. Also, the ever important standing fan!
Full-Length Mirrors
Lots of home gyms have wall-to-wall mirrors or oversized mirrors. These can be really expensive, so I wanted to share a small hack I see in many Peloton rooms. Save money by getting inexpensive over-the-door hanging mirrors from a big box store and hanging them together.
I have seen his done with framed mirrors and frameless.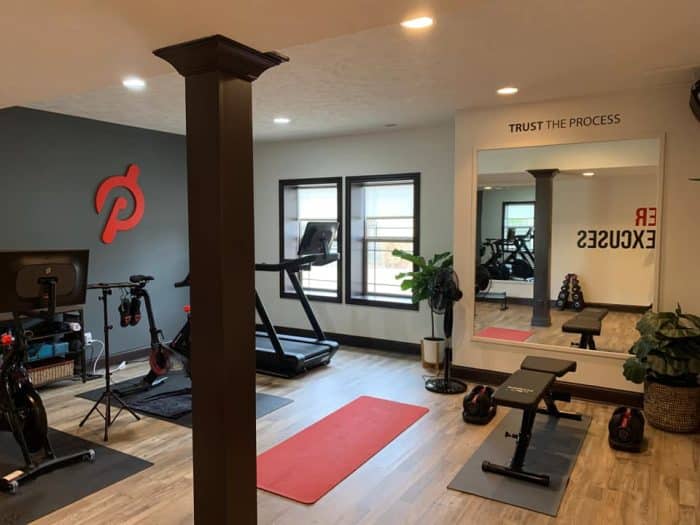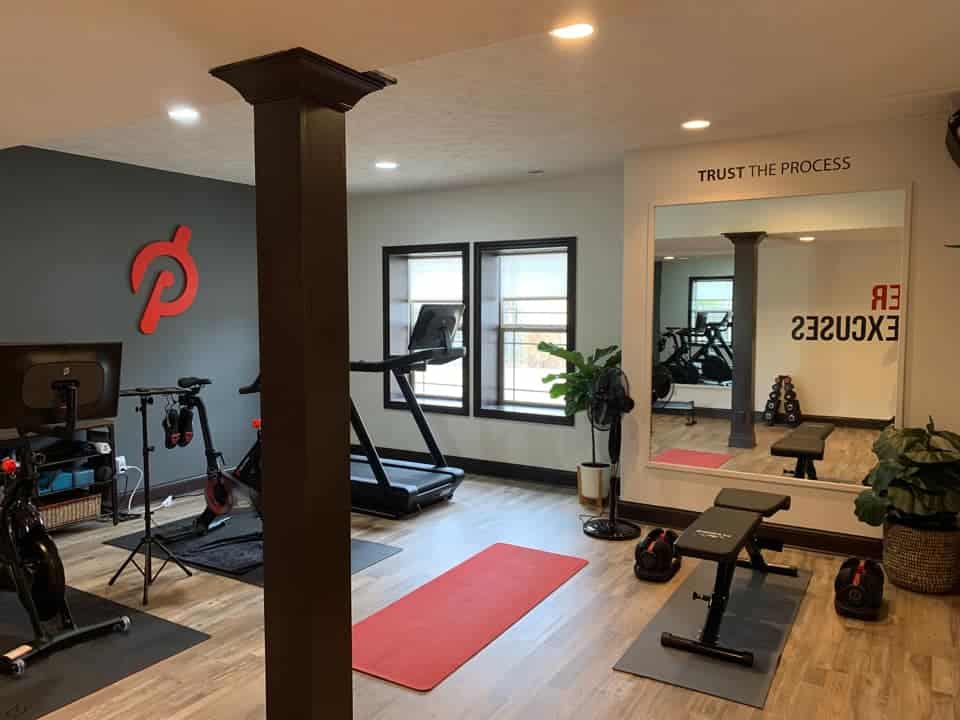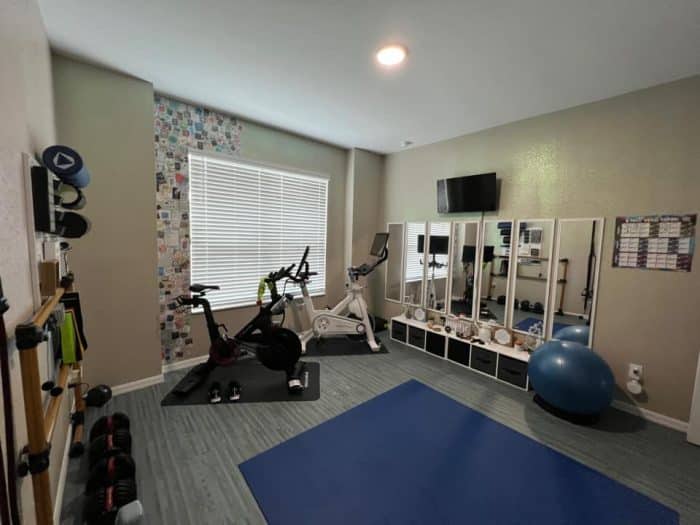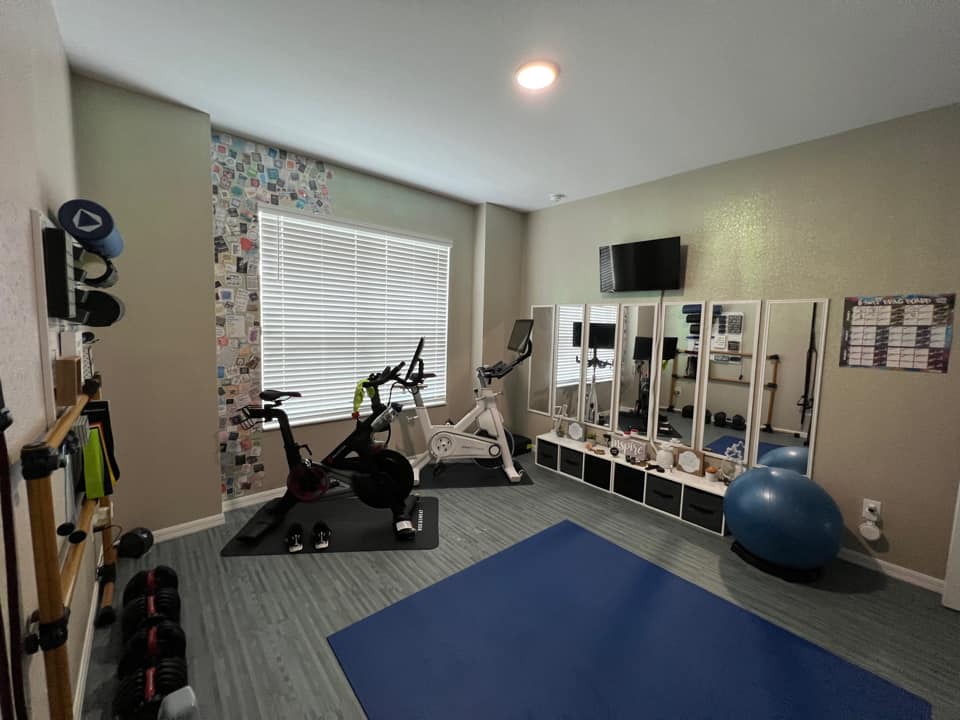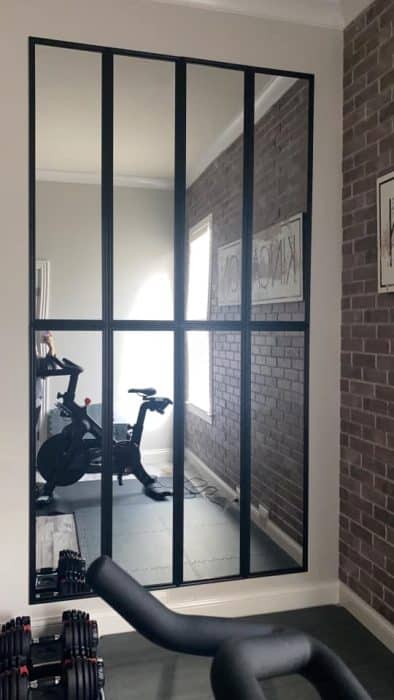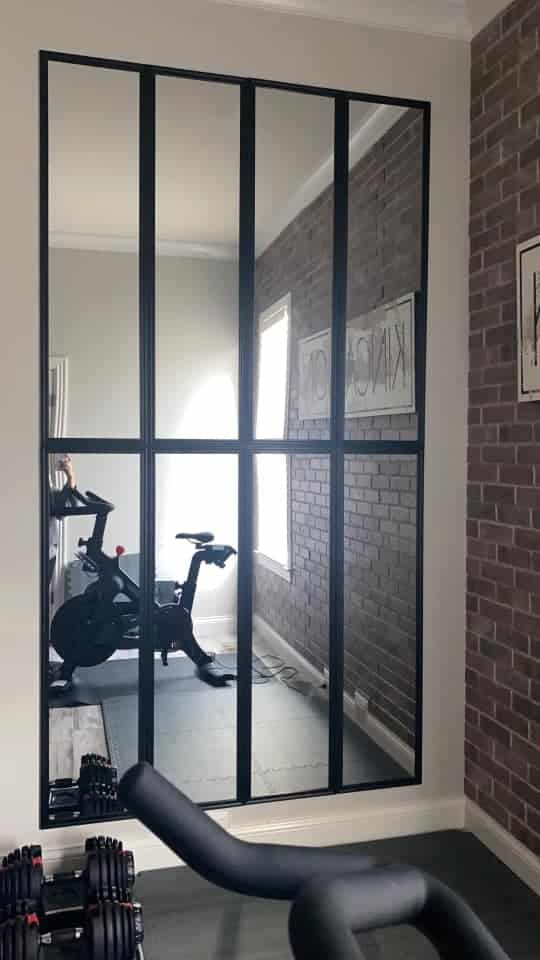 Wall art
Not only does it look cool, its motivating as well.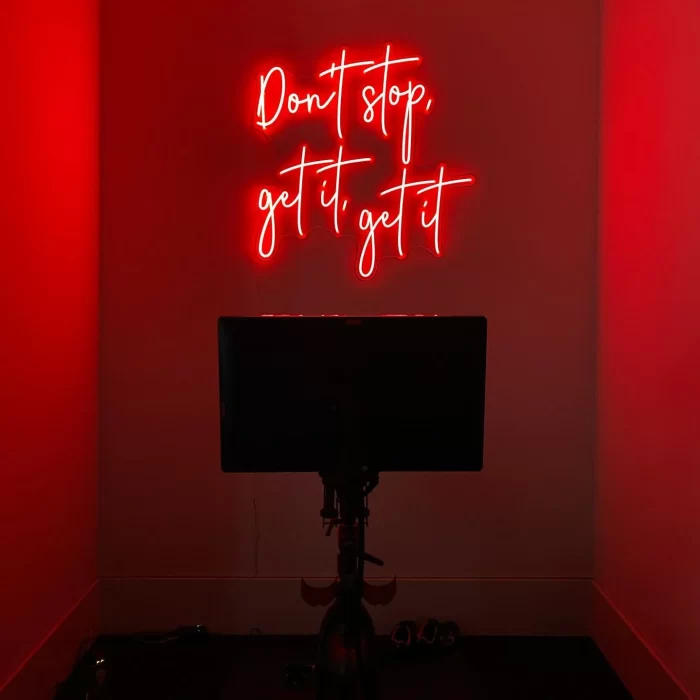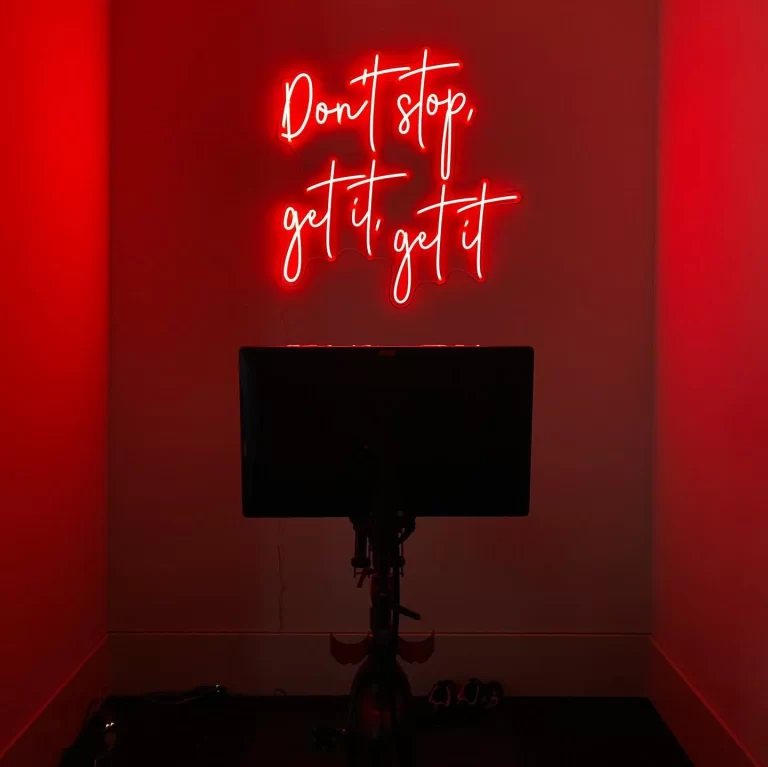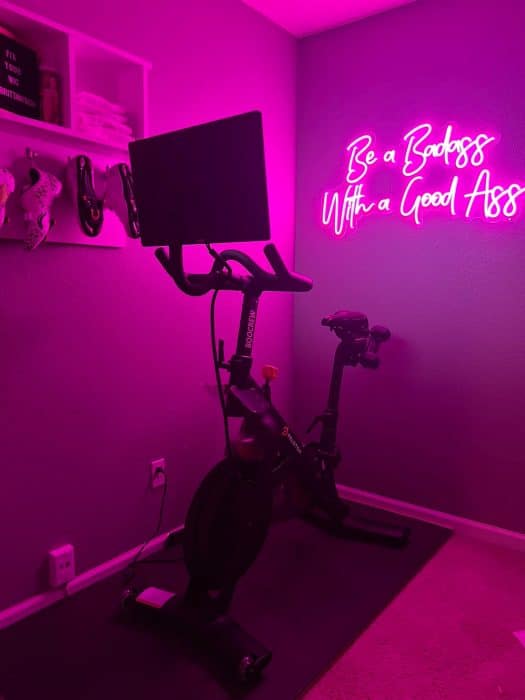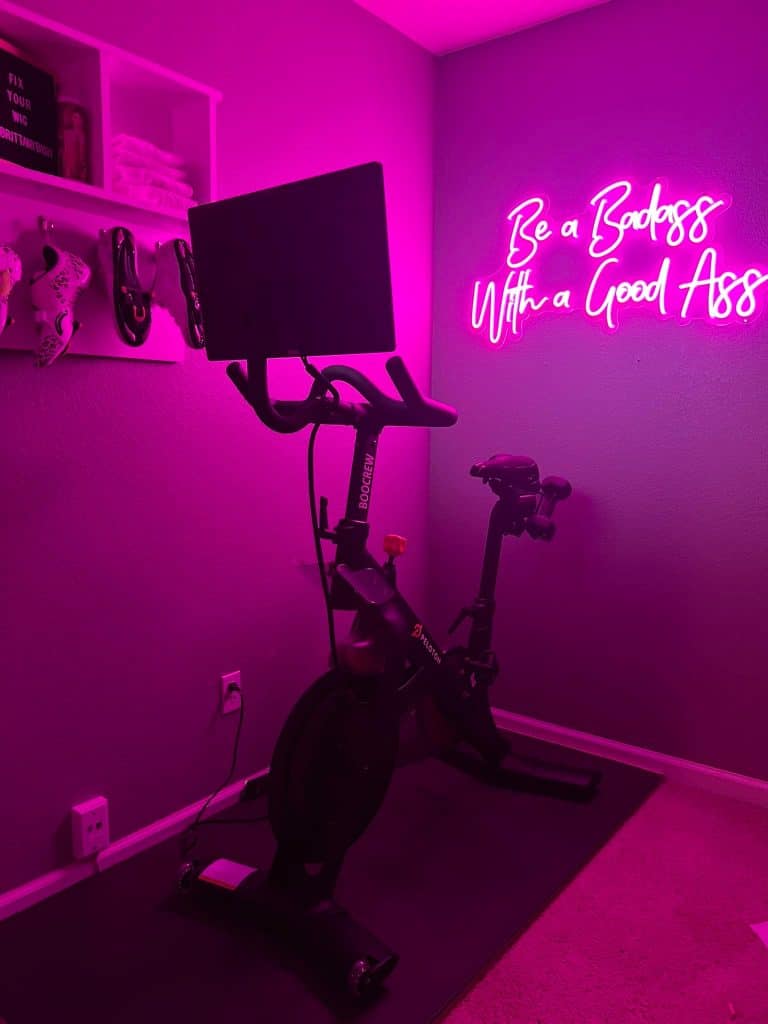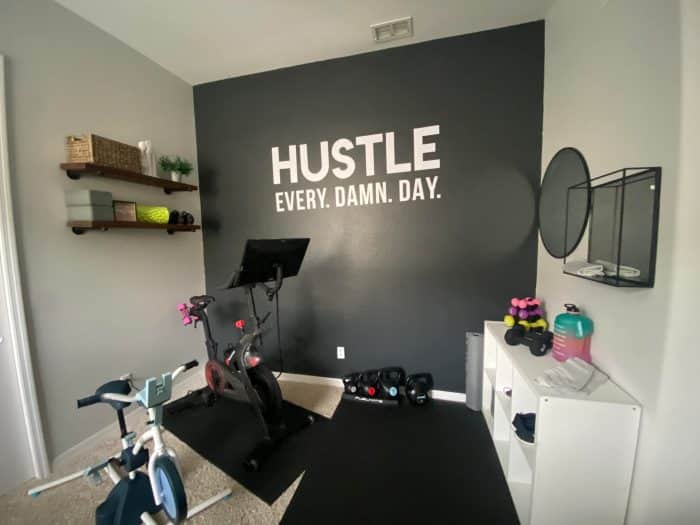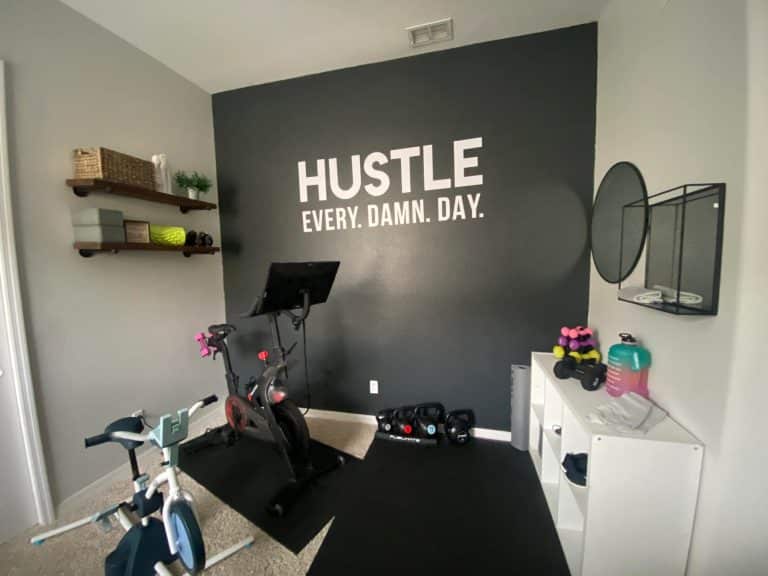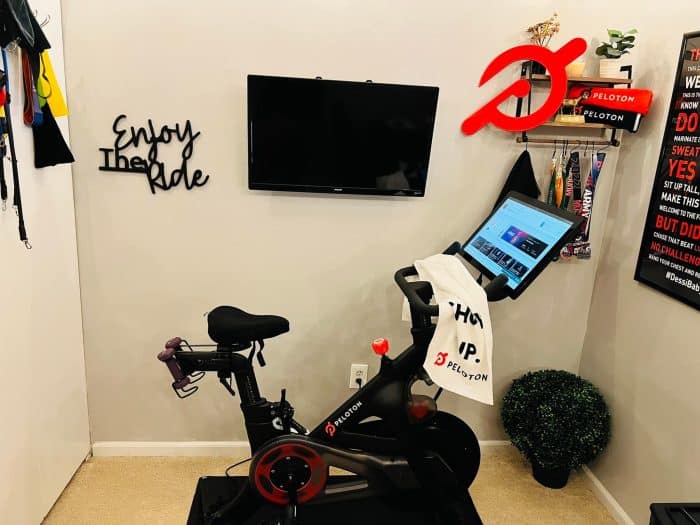 Peloton Room Ideas
Get some tips and inspiration on how to set up your home gym (no matter the size or space) to look good. Because a beautiful space helps you stay motivated to meet your fitness goals.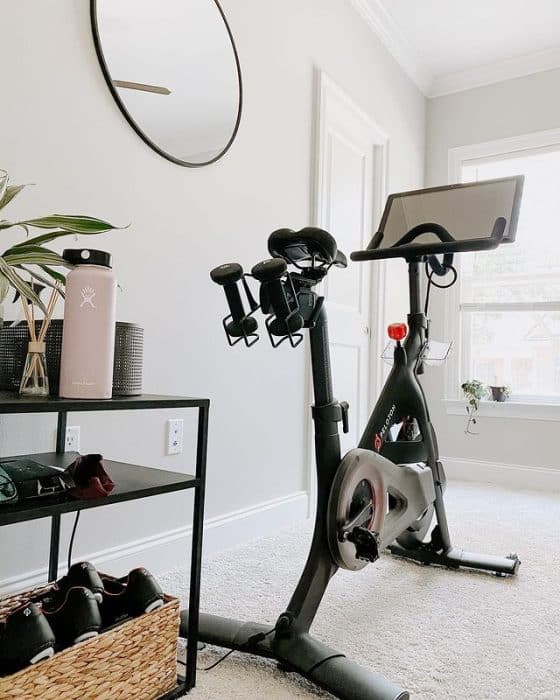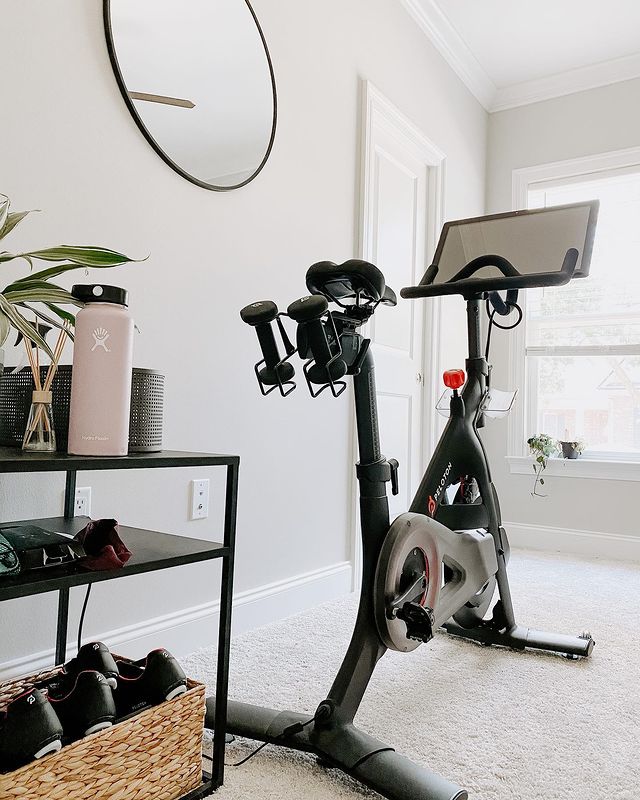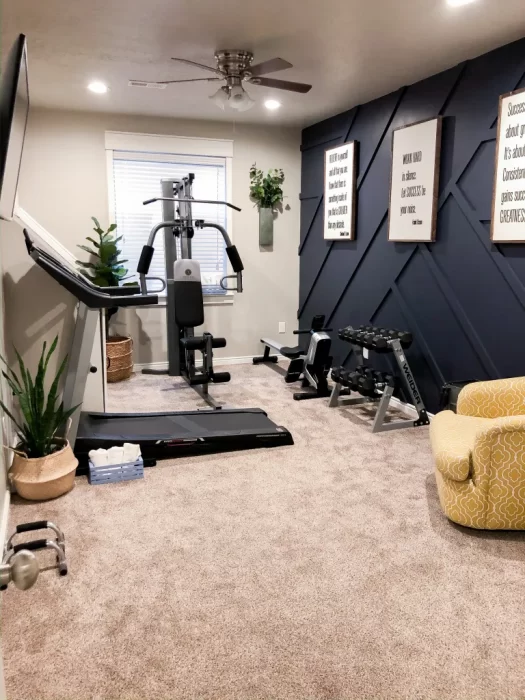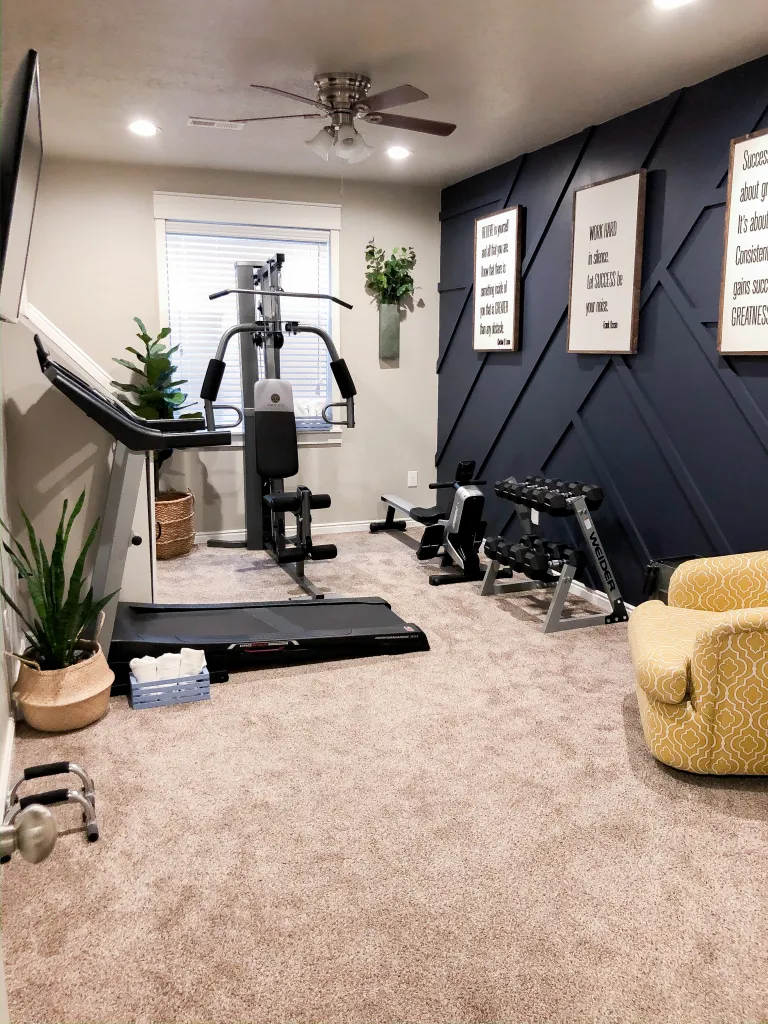 How cute is this home gym from City Girl Meets Farmboy. Check out her full workout room transformation.
This beautiful peloton room from Authenically Emmie would have me WANTING to workout just to spend time in this space!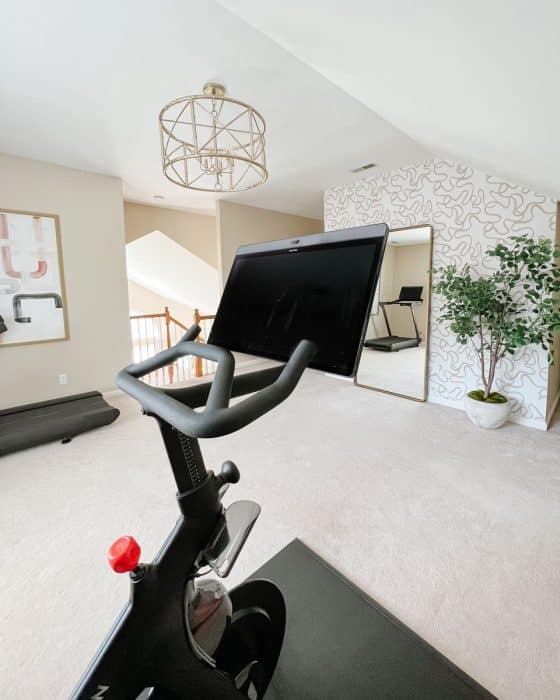 Look at these stunning peloton rooms to inspire your own workout space: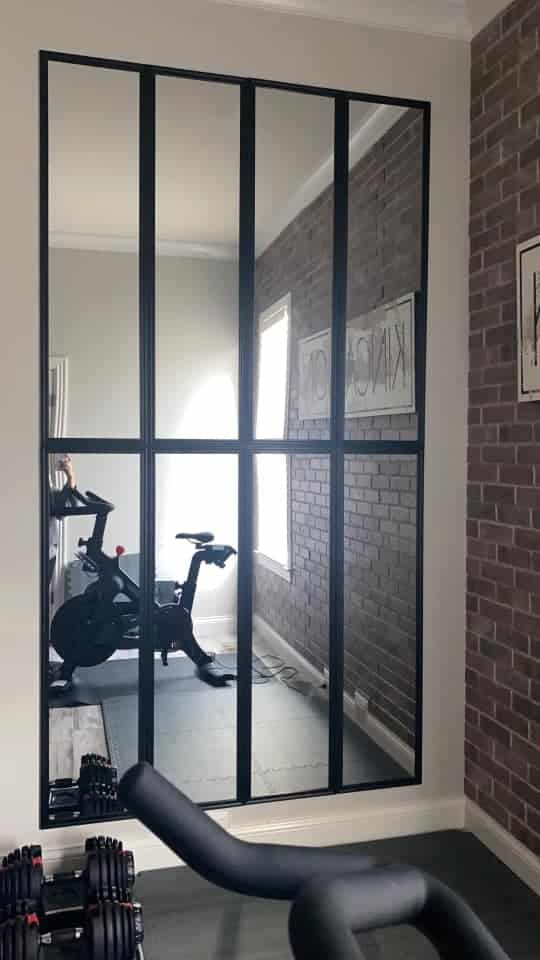 Looking for motivational quotes to use in your home gym? Get 12 free motivational SVG files here.