Reverse Canvas
Have you heard of reverse canvas? It's basically taking apart an inexpensive canvas from the craft or dollar store and using the wood frame inside. After taking the canvas off and adding your design, you reattach the canvas to the back of the frame. I love how easy it is, how cheap it is, and that it can be customized with paint and stain.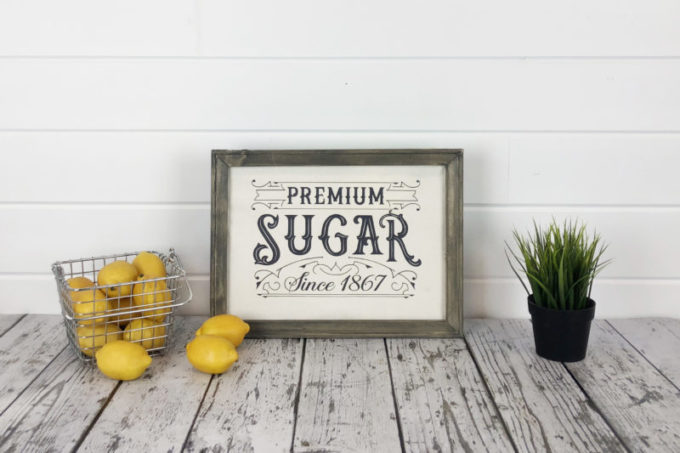 How to reverse your canvas:
Turn the canvas over and carefully remove the staples. I used a flat screwdriver and pliers, but if you have other tools on hand feel free to use them. They aren't wedged in there, so its simple to remove them.
Stain or paint your wood frame (I used Varathane wood stain in Carbon Gray for both frames below)
Cut out your design with Iron-On (or heat transfer) vinyl. Both of these designs are from Board and Batten Designs. The designs are so detailed and beautiful – I love the tiny cut outs in the letters SUGAR. I love the files I used and can't wait to try out more of her designs.
Trim the canvas with a razor blade or scissors so its the same size as thew frame without any overlap.
Attach the canvas to the back of the frame with staples or hot glue
Add a alligator clip to hang it onto a wall.
Which canvases to buy:
The Premium Sugar sign is with a canvas from Michaels. It has a more detailed edge. The Music Feeds The Soul sign is made with a canvas from Dollar Giant. This frame is completely flat and has a more modern look. Both look great I just wanted you to know there are a few profiles of canvas frames out there.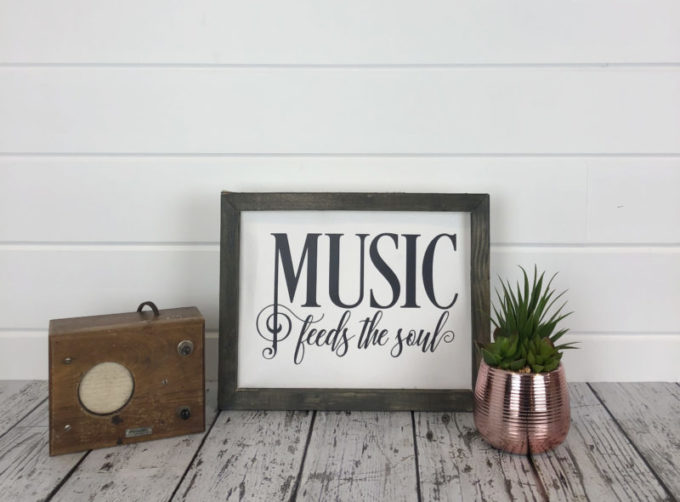 Pin For Later: