Adulting
There are some things that come with growing up that I would rather not particiate in. Preparing and paying taxes, having to clean up every single meal you have to make yourself, and deep cleaning the house and yard being at the top of my list. When it comes to spring clean up of the yard, I just couldn't motivate myself to care. My husband probably cares more than I do, but its an entire saturday away from all our other jobs to do around the house.
Summer is coming and its starting to be time to break out the barbeques, plan for patio furniture, and get out the sprinklers and fun summer toys. Is your lawn as ready for the parties as you are? Here is what I learned about spring work in getting your grass summer ready.
Spring Lawn Care Tips:
Aerate – this gives your lawn room to breathe, allowing nutrients to get into the grass roots. This needs to be done once a year, and spring is the ideal time.
Fertilize – the boost your yard needs to get the grass growing at its best.
Power Raking – removing the dead grass and thatch, power raking also promotes a thicker lawn and increases how effective fertilizers, watering, and pest controls.
A Landscaper in Calgary
When we saw Time Savers Landscaping in our neighborhood we asked them to stop by our house and give us a quote. It was really easy, and we opted for the Spring Cleanup package. It included power raking, aerating, debris cleanup and a fresh cut of the grass. A perfect fresh start to the spring. Luckily, they came the day after I had worked cutting back all the plants in my garden, so there was a few piles of dead branches, twigs, leaves, etc and I didn't have to worry about them getting cleared out.
Here is my sad yard the morning Time Savers Landscaping came: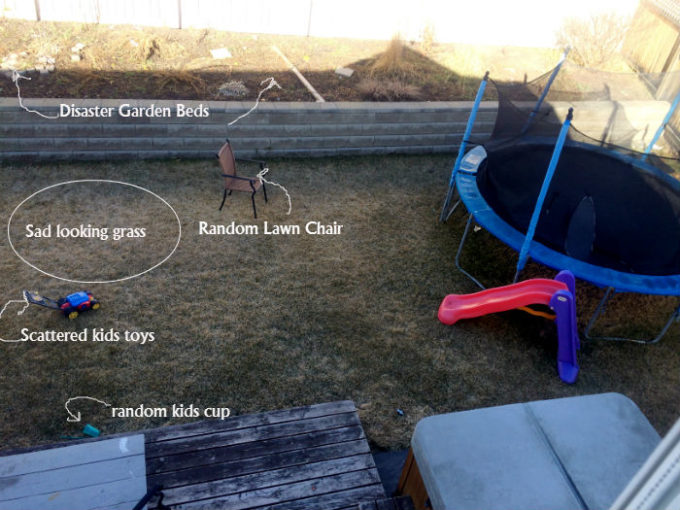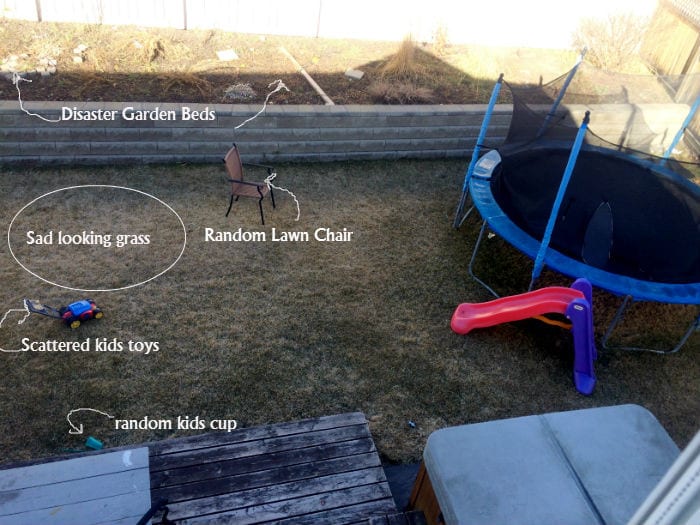 So after moving the random items, my biggest issues were the sad looking grass, the dead patch under the trampoline, and the piles of debris from the garden beds. I decided to go with their Spring Cleanup Package to get everything ready.
The Spring Cleanup Package includes:
Power raking
Aerating
Debris cleanup
Fresh cut
For all Calgary residents, check out Time Savers Landscaping for their spring cleanup and summer maintenance packages.
Time Savers Landscaping
Website: https://www.timesaverslandscaping.ca/
Phone: (403) 808-3285
Email: [email protected]
Facebook // Instagram