This is a sponsored post written by me on behalf of Cricut for Cricut. All opinions are 100% mine.
The Cricut Joy is the newest and smallest machine from the Cricut family. I got the chance to test it out, so today I am sharing a full review and feature list for you.
First Thoughts
When I first saw the Cricut Joy I was underwhelmed by the new, smaller machine. If a new machine were coming out, wouldn't it be amazing if it could cut bigger? After seeing how simple it is to use, small enough to transport, and its unique capabilities I soon realized how awesome this machine can be. The Cricut Joy is the machine that will not be in the craft room, but used all over the house.
Overview of Cricut Joy
First appearances – the machine has zero buttons on it. Not even a load / unload button – everything is controlled on the Cricut Design Space app. Set up was very simple: unwrap, plug in, and go.
Must Have Features Of Cricut Joy
Cutting Without A Mat
The coolest feature of the Cricut Joy is its ability to cut without a mat. This is something that competing brands have been able to do for a while and has often been requested. This is one less product to purchase and store in your craft room! The trade off is that you use more material to cut without a mat. Lucky for us, if you are in scrap busting mode, just use the cutting mat for your projects!
Small & Portable
The Cricut Joy's small size is its very best feature. It can fit inside a kitchen cabinet, cubby, anywhere! It can be stored easily in a convenient location so you can pull it out for a simple craft project right away! I plan on leaving this in my kids craft cupboard for homework projects and my own quick projects.
Long large projects
The Cricut Joy can cut designs up to 20 feet long! Because you can cut without a mat, you aren't limited by the size of the cutting mat. This is such a cool feature, and I am excited to design some banner and sign projects using this feature.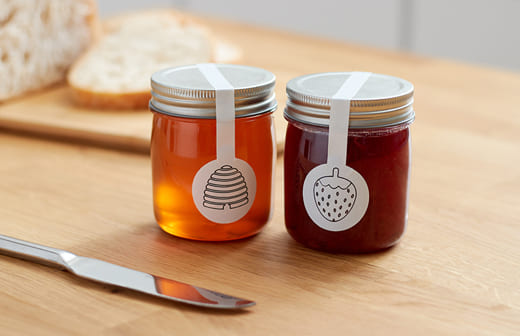 Cards and Labels
Fast and easy is my mantra with the Cricut Joy, and so what better to use it for than cards and labels! There is a special card mat that can cut designs from just the top section of a pre-made card. I love that I can make a last minute card quickly! Use the pen tools to write on labels and draw on cards.
Comparison to other machines
Get the Cricut Joy at Cricut.com
Click here for more Cricut project ideas!