Black and White Christmas Decor Ideas
Do you change your decorating each year? Even if you use most of the same ornaments and decor items, things get moved around and rearranged a bit differently. I have had the worst time deciding on decoratings for my tree this year. I am struggling with it feeling unique and inspiring, vs still feeling like Christmas.
I usually try to avoid searching other blogs and pinterest because my ideas tend to be more original without it, or someone else already did that and I get bummed about the idea I had, thinking I cant repeat what has already been done. However, sometimes people are so stinking creative, they have way better ideas than anything I could come up with. There is a reason why so many companies copy bloggers (whether knowingly or accidentaly via a supplier). They have the ideas before the items are in the store, and usually DIY it!
With so many inspiring ideas, I decided to round up my favorites and group them together by style or color scheme. Hopefully this is something that will help you when deciding on your Christmas Tree decorations this year, and I plan on adding to these lists as the years go on.
Black and White Christmas Decor
I love plain black, or black and white combined as a color scheme in general. However, when it comes to a dark green tree the black tends to dissapear against it. With the trend of white and flocked trees we have seen a lot more black and white Christmas Decorations the last few years.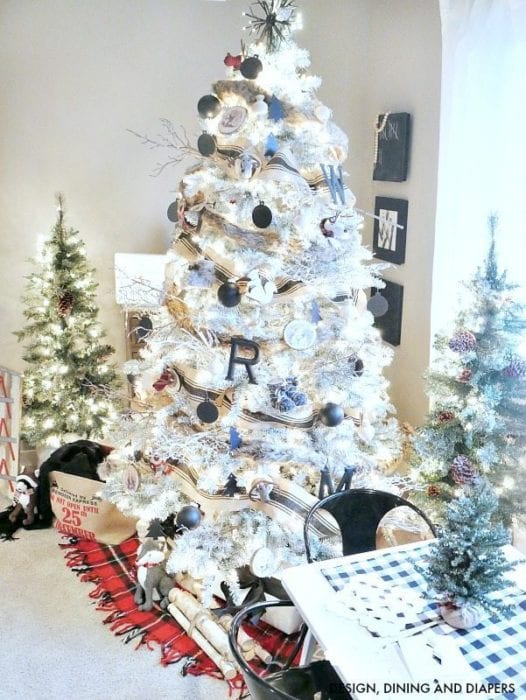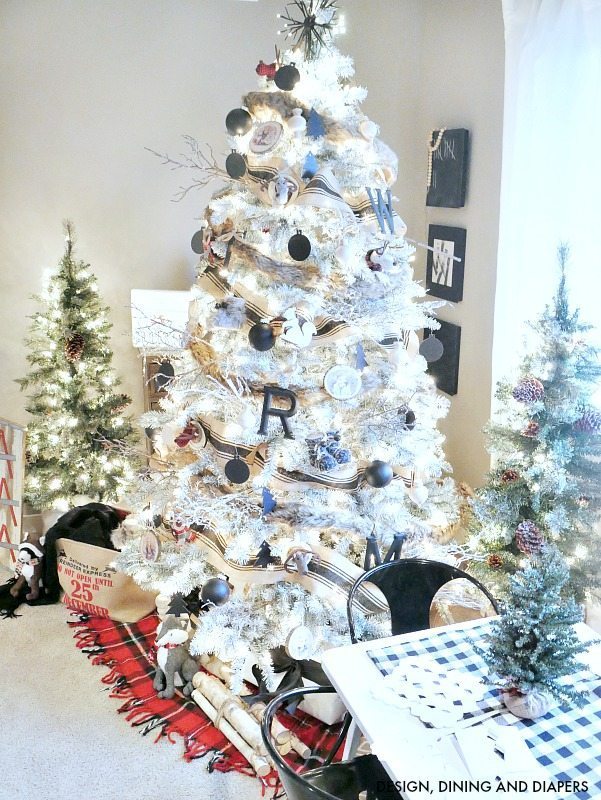 Taryn Whitaker decorated her white Christmas tree with a woodland theme. I love the burlap ribbon, fur ornaments, and wooden touches (See the details and pin from the original source here).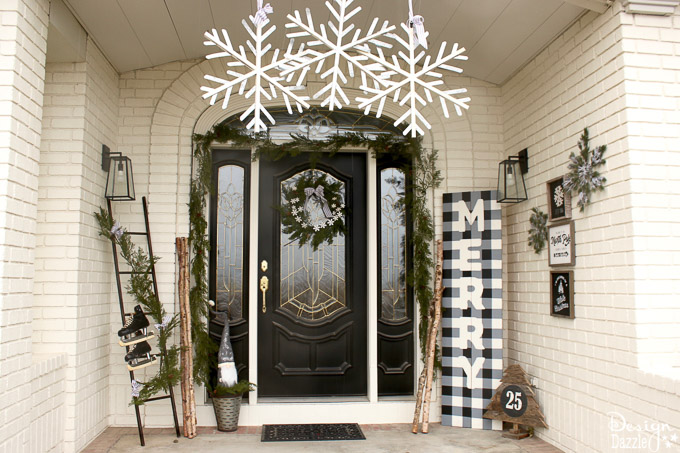 Extend the black and white decor outside the home. Toni from Design Dazzle has just the right balance of cute accents (love the black skates) while still looking modern and simple. See more pictures on her post here.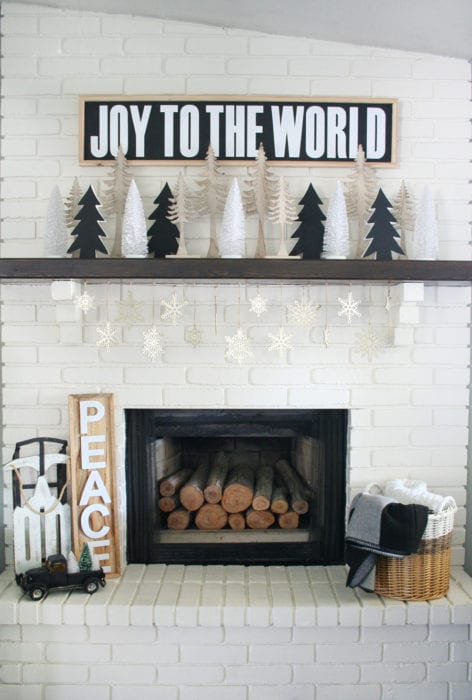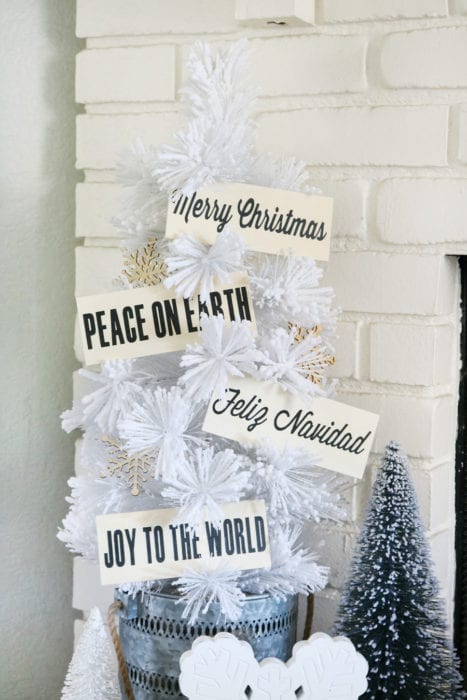 The Crafted Sparrow has a ton of really great black and white craft projects and home decor. Her black and white fireplace mantle is stunning, and she also has a great tutorial for wood sign ornaments.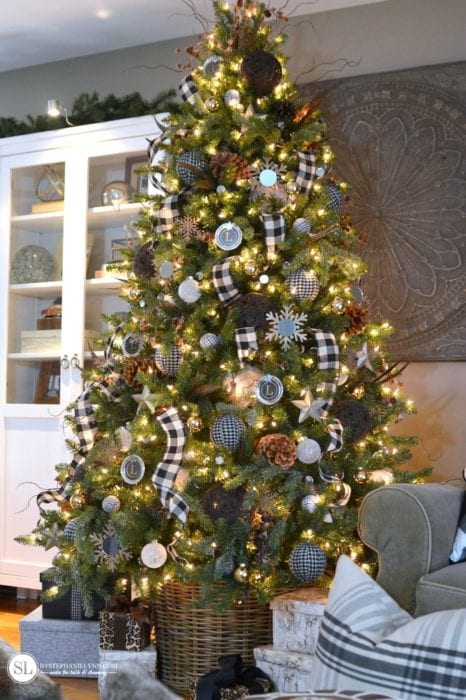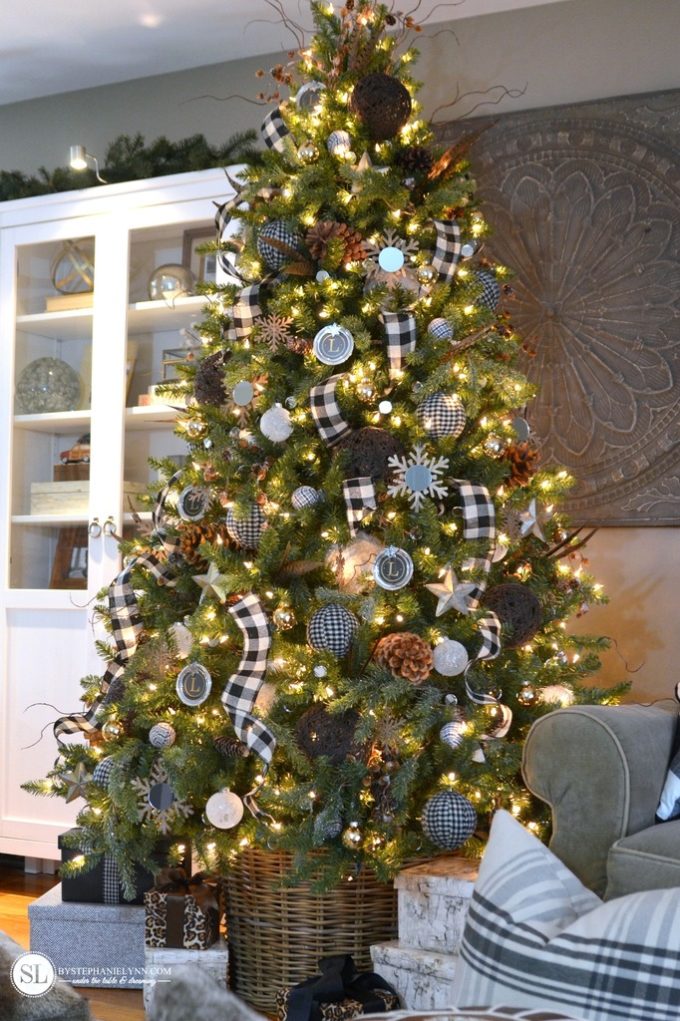 This classic green christmas tree look fantastic with black and white buffalo check ribbon woven throughout. The ornaments have different scales of patterns for a great overall look. Get all the details and more photos at ByStephanieLynn.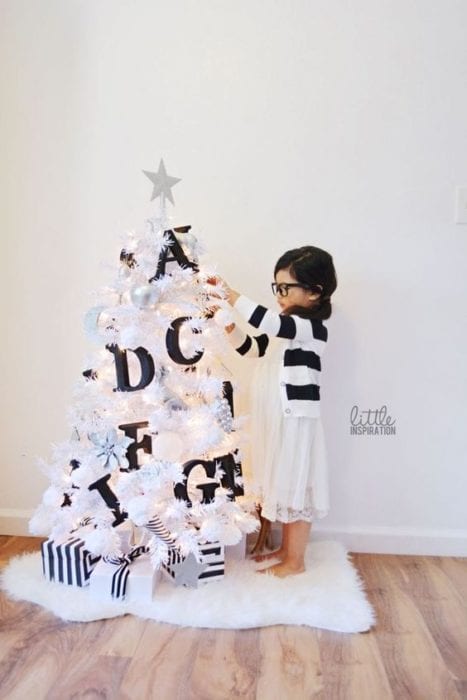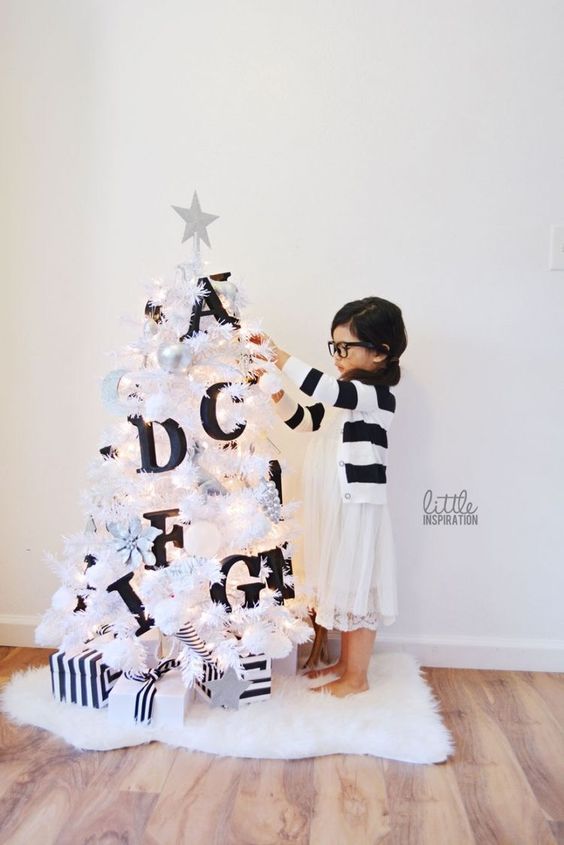 Do you want a bold looking tree that others are bound to remember? Be strict with your Black and white Christmas decor – as in black and white only. This white Christmas Tree has subtle silver stems, florals, and ornaments and instead of ornaments black letters hang inside the tree. What an adorable picture. See more pictures here, see how the same tree and ornaments were updated with more color here.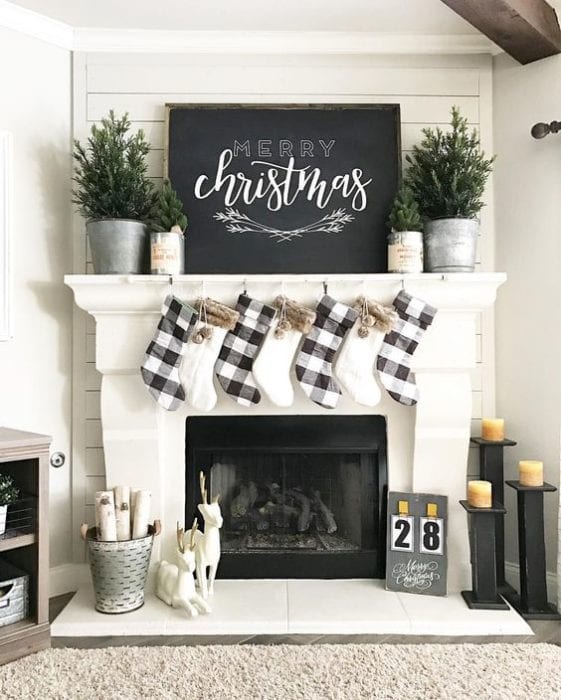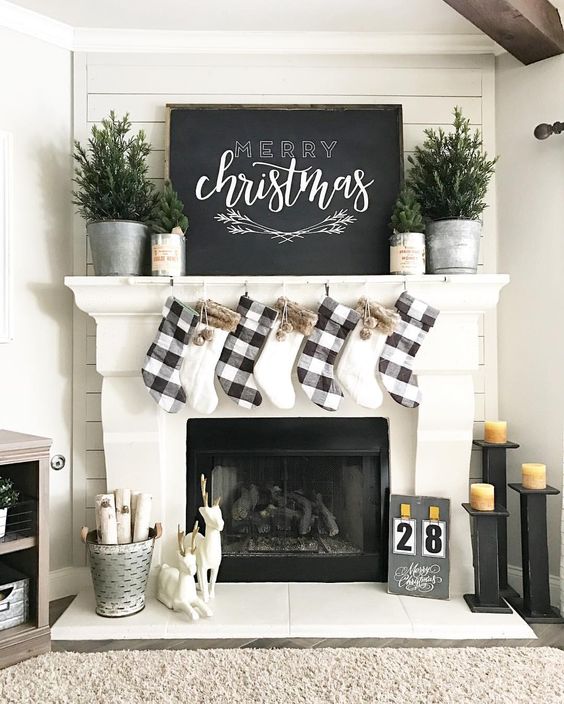 I originally saved this photo because it has a stunning corner fireplace (which I have numerous posts or corner fireplaces and pinterest idea boards for). If you like farmhouse style home decor, buffalo check, farmhouse signs, or just like this photo – check out @ourfauxfarmhouse on instagram.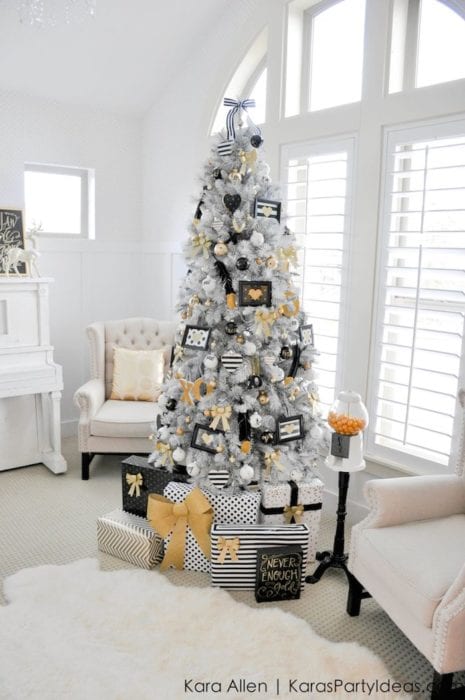 This Black white and gold Christmas Tree is adorable. I love the photo frames with graphic patterns (possibly pieces from the wrapping paper?) for an easy and inexpensive ornament that can be updated each year. This tree is from KarasPartyIdeas.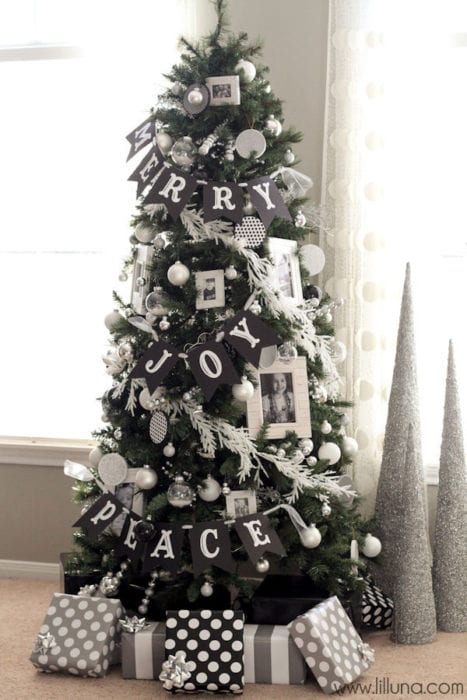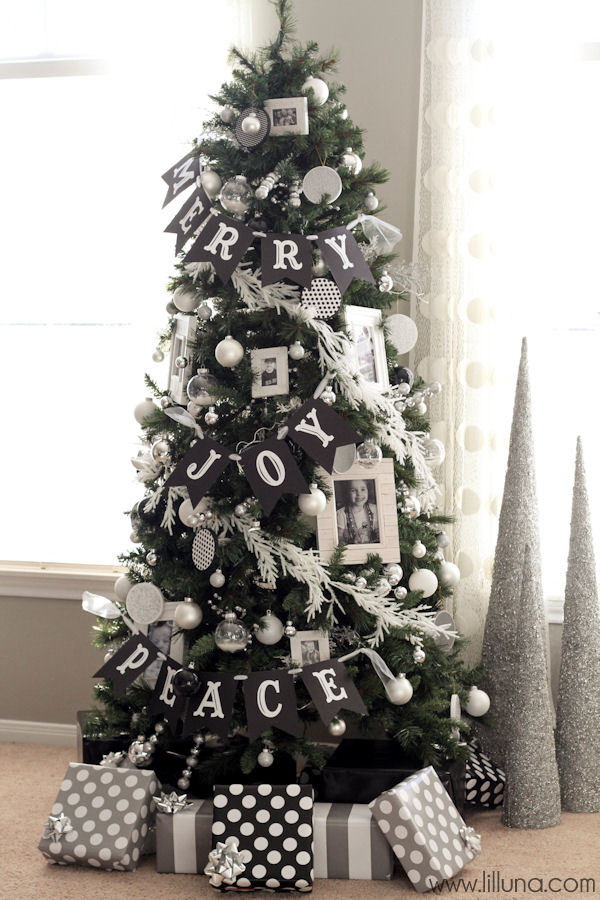 Picture frames and banner letters are a fun touch to this black and white christmas tree from Lil Luna's Michaels Dream Tree from 2014.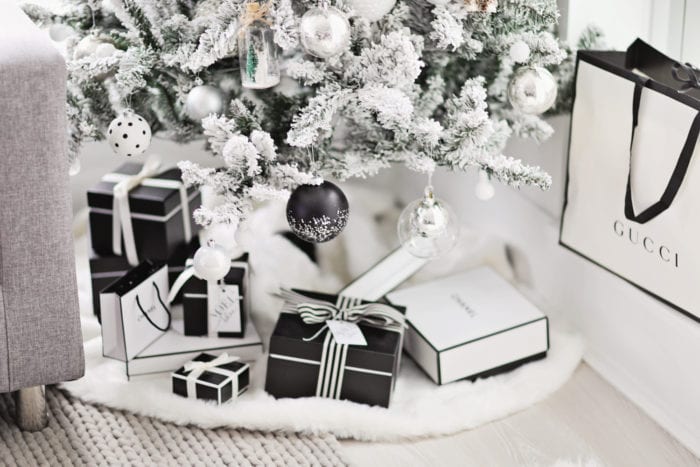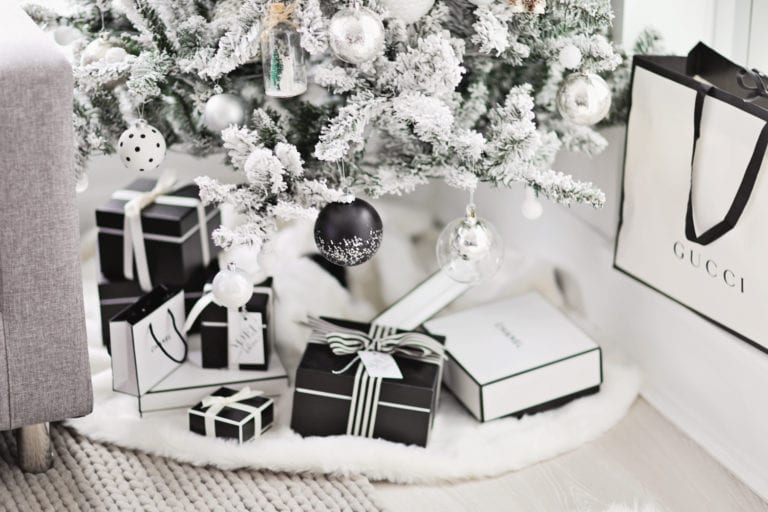 I love the packages matching the tree decor at Stephanie's tree.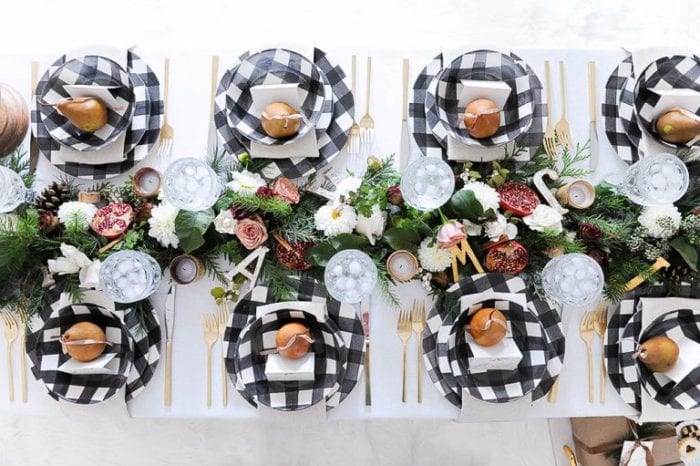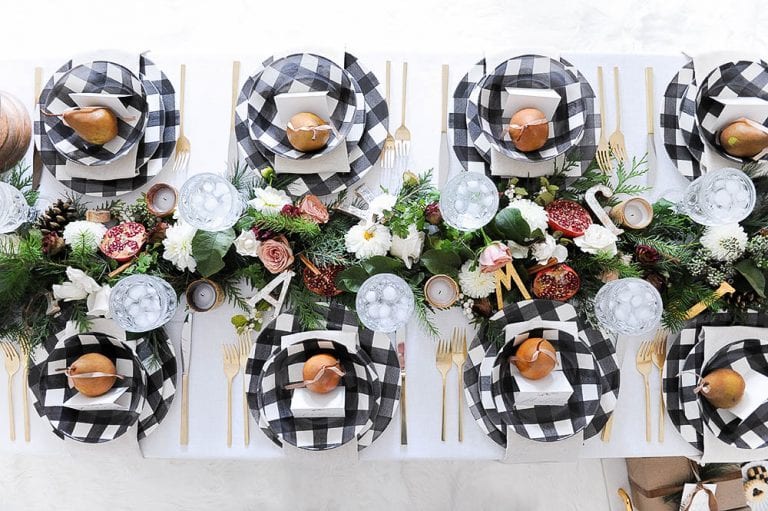 The buffalo check dishes are the highlight of this Christmas table setting (via Monika Hibbs).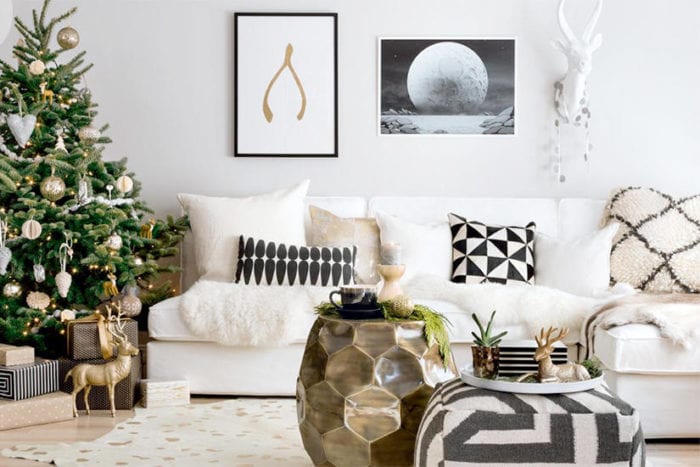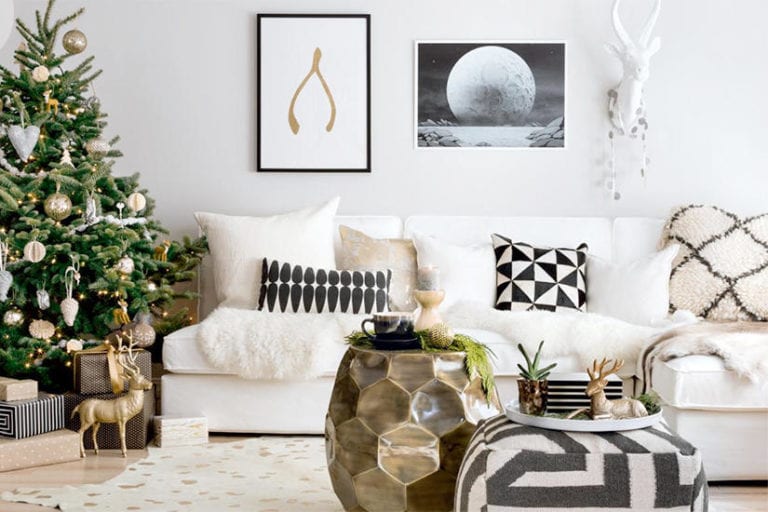 A modern, Scandi-chic Christmas home Via Style at Home.
Do you love black and white christmas decor?