Add some sparkle to your life with diamond painting! Grab a diamond painting kit and come here to learn the tips, tricks, tool accessories for the best diamond painting experience.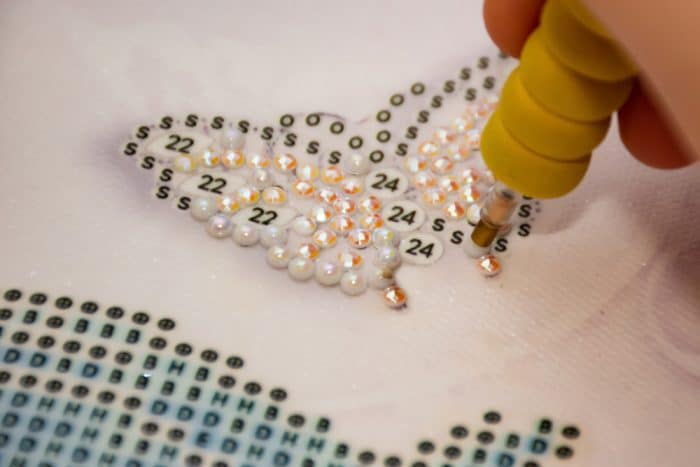 Diamond painting is a simple and fun project that requires a bit of focus, but not a high skill level. If you love puzzles, paint-by-number, or sticker-by-number projects you will love diamond art! Typically diamond painting kits will come with the basic tools needed to get started. If you want to take your diamond art to the next level or learn the best ways to complete the task, keep reading for all the best tips, tricks, and diamond painting accessories.
Check out my recommendations for the best diamond painting kits for kids!
Best Diamond Painting Tools
As with all craft projects, there are the essential diamond painting tools needed to get started, and then other diamond art accessories that just make your life easier. Nice to have, but not a must-have. Here are those tools!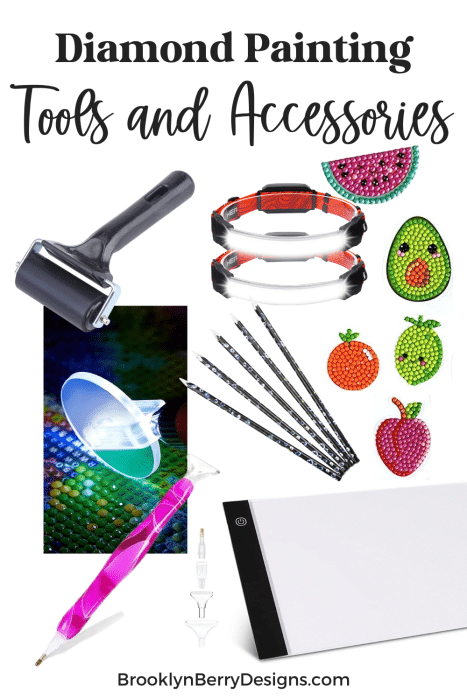 Diamond Pens
Drill pens are a standard included with every diamond painting kit. They are used to transfer the diamond drill from the tray to the canvas. There are better styles of pens with ergonomic handles that are more comfortable for your hand.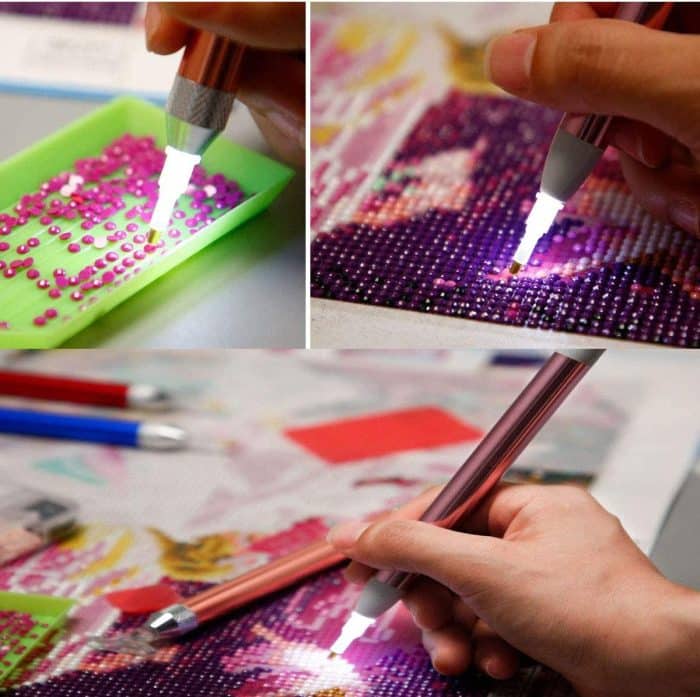 There are various interchangeable tips you can use that will apply groups of diamonds in a single motion. These can pick up 3, 5, or more diamond drills at a time, which is great for smaller areas that change colors more often.
A Diamond wax pen will speed up the process by skipping the need to add wax to your pen. Rather than having to grab diamond painting wax with your pen and then moving the diamond, you can just use this wax pen.
When it becomes dull after being used it can be sharpened like a pencil.
The wheel pick-up pen has adhesive on the wheel and is a great tool to apply diamonds in large areas in the same color.
Diamond Art Accessories
A light pad to place your canvas onto will illuminate your art from below. This makes it so much easier to see and so much easier on your eyes. Others prefer to use a headlamp with rechargeable batteries. Either way, lighting makes the difference!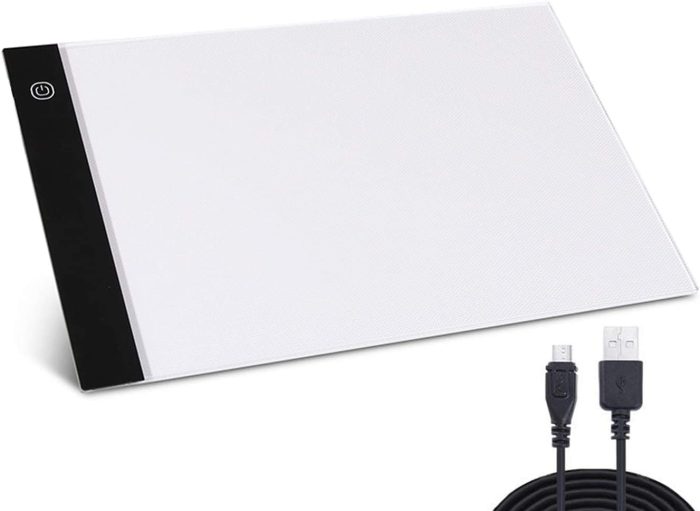 Diamond storage can make it easier to start and stop your project. The most basic organization idea is to keep your diamonds in tiny resealable bags and place them in egg cartons to keep them organized. Write the number on the bag with a sharpie.
Storage boxes with smaller containers are a great way to keep different colors of diamonds separated or keep the round drills in a different place than the square drills. Just getting started? Try Tictac containers!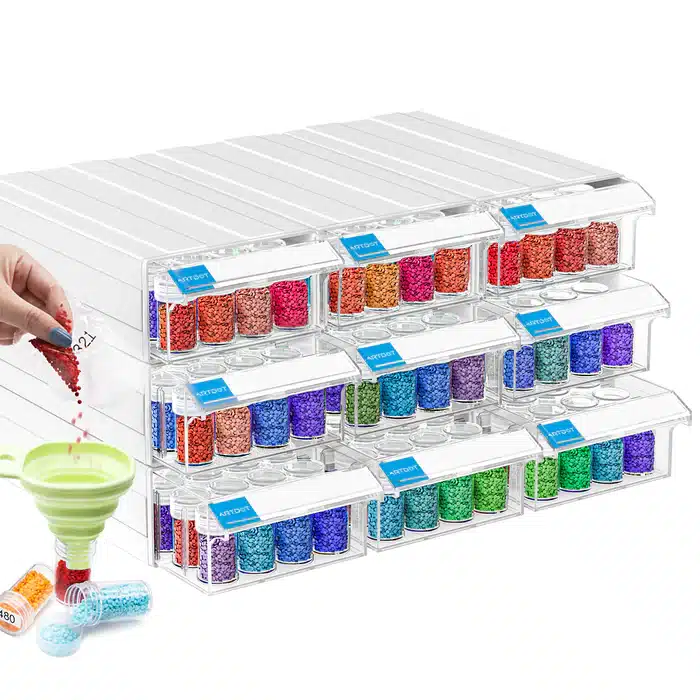 These stackable storage drawers are the best solution for leftover diamond drill storage. Each drawer opens to hold small round bottles. It comes with a collapsible funnel and labels so you are ready to organize as you go! The drawers also interlock on the top and bottom as well as the sides. It is genius!
Do you have lots of leftover diamond drills? Here are tons of ideas for what to do with leftover diamond painting beads!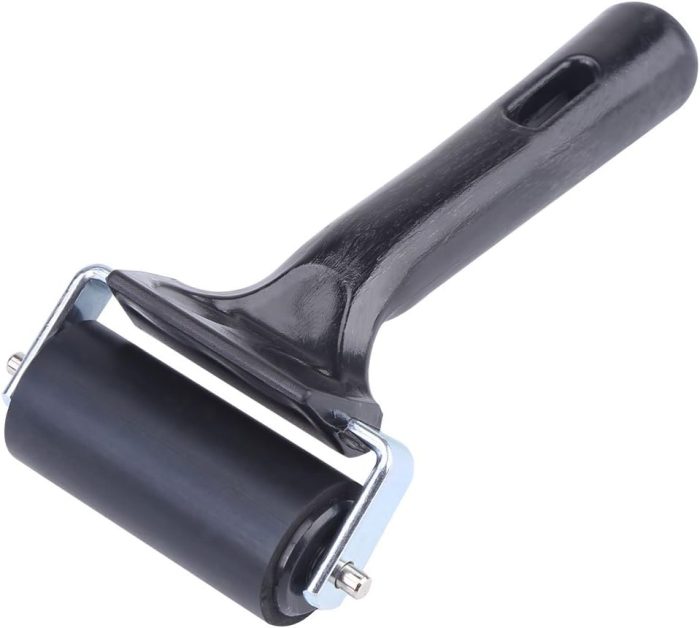 A roller tool or brayer can be used to roll over the finished diamond art projects to make sure there aren't any loose diamonds to fall out later on. A friend mentioned she places her canvas between two pieces of cardboard and puts it under her mattress overnight. That works too!
Tricks and Tips
Don't have a dedicated craft table? Use a cutting board as a flat surface for your canvas. You can tape it down to the cutting board and move it as needed.
I find a tilting table is best to work on my diamond projects as it can be adjusted and tilted which helps prevent shoulder and neck pain.
Check out all my favorite diamond art tools and accessories in my Amazon storefront!
Use a bulletin board and pin the canvas to it. It has a raised border so any loose diamonds stay on the board. It also makes it easy to move from your project from one place to another.
Glue or tape one diamond next to the symbol key on the canvas. Sometimes you have a surprise missing number and you don't have the bags left. This makes it easier to search your leftover pile for the exact correct color!
Check out ArtDot for some great diamond painting kits including my favorite sticker set! USE CODE BERRY to save 10% off your order!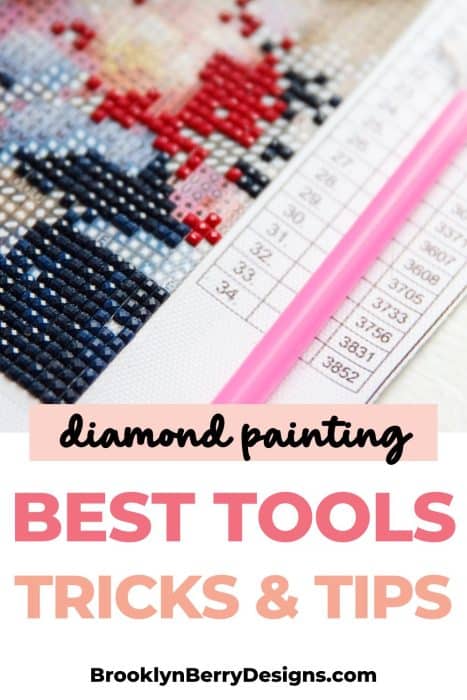 Happy Crafting!