My Awesome DIY Tote Bag
I love the excitement of a new project on my list, but often times my lack of detail makes a less than perfect final project. On spring break I ventured to Idaho with all the boys to spend some time at Grandmas house. While the weather was less than ideal, the sewing was perfect. Some supplies came in the mail from Crosscut Sewing and I am so happy with my DIY tote bag I was literally squealing with joy.
How To Make A DIY Tote Bag
There is an awesome tutorial on the Crosscut Sewing Co Blog showing instructions to sew your own tote bag. To begin, you need to select a canvas fabric for the outside of the bag and a cotton for the lining. I chose the Merryweather Canvas in Merry Hatch Mineral from Birch. The lining is Bee Backgrounds in Crossstitch Gray by Lori Holt for Riley Blake (both are available on Crosscut Sewing Co).
Materials Needed:
Tutorial (here)
Exterior Fabric -(2) 19" wide x 15.5" high
Lining fabric – (2) 19" wide x 15.5" high
Pocket Fabric – (1) 15" wide x 6" high
Fusible Fleece – (2) 18" wide x 15" high
Shape Flex – (2) 18" wide x 15" high (the fusible fleece and shape flex will use smaller pieces, so if you already have some on hand, scraps could work perfect)
Magnet closure, leather straps and attachments (here)
Why This DIY Tote Bag Makes Me Happy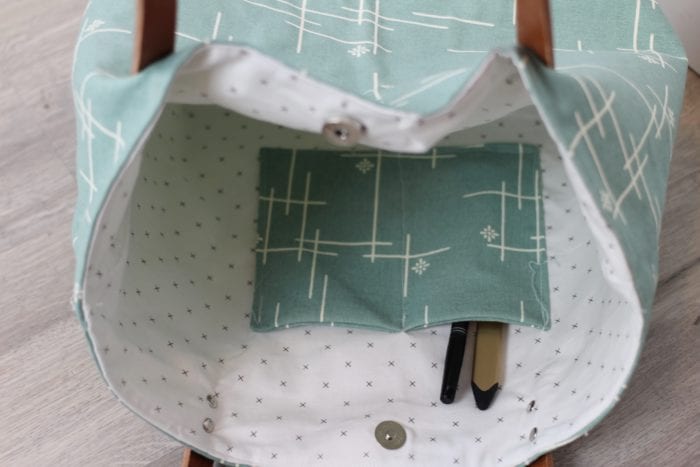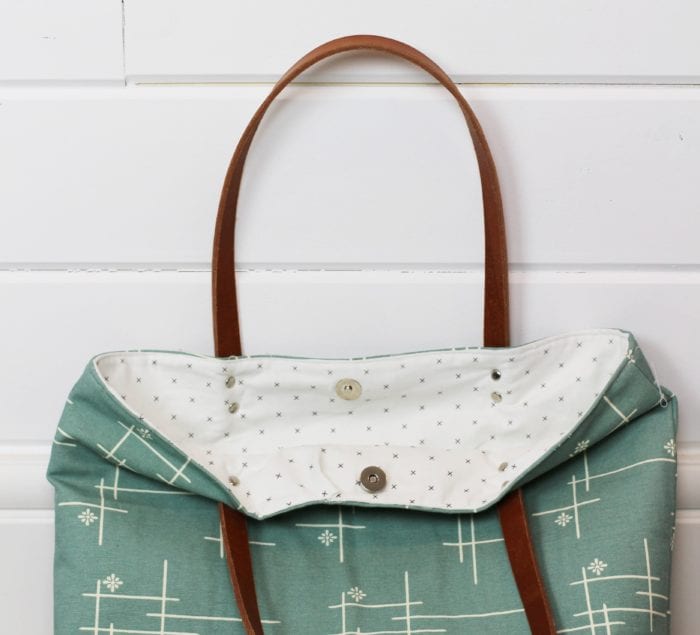 I haven't sewn a lot with fusible fleece or shape flex / wonderunder. The quality difference this makes is amazing. The bag feels more heavy duty and high quality. The hardware for the magnet closure and leather handles are great details that again make it feel nice (or high quality, legit, however you want to explain that I feel like a big deal, haha). Lastly, the instructions were very detailed. I knew I had to sew the pocket together before I atached the sides together. My aunt, Grandma, and mom were shocked that I could easily go upstairs to the sewing room and come down with an adorable tote bag. If it weren't for the hammering to get the rivets in for the handles they probabaly wouldn't have even known I was up there! I was so proud of myself for making this bag – it is going to be my summer carry all for books and taking on my bike. Yay!
*Crosscut Sewing Co. is a fabric shop and sewing studio located in Melrose, MA. They offer a variety of fabrics and sewing supplies for quilting, craft projects, accessories, and clothing. This is not a sponsored post, but I was sent the materials to make this project. All opinions and joyful jumping are mine!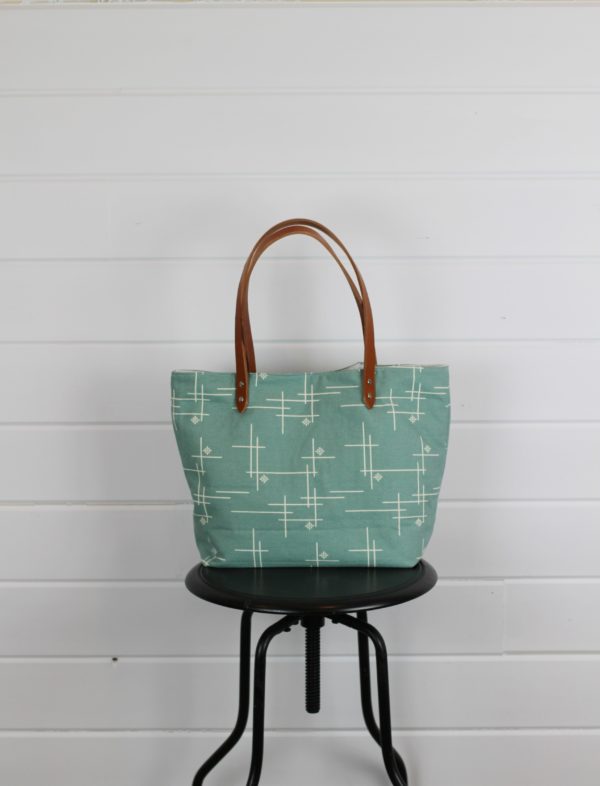 Pin for later: