If you love making friendship bracelets, you will love this collection of Easy Kumihimo Bracelet Patterns. This simple braiding technique can be used to make bracelets, anklets, lanyards, necklaces, or keychains!
What is Kumihimo?
Kumihimo is an ancient japanese form of braiding. Its name translates to gathering of threads. This braiding technique is done by weaving cords together to create a thicker rope. Kumihimo braids have recently been used with yarn or embroidery thread to make friendship bracelets. These fun bracelets are great to make while camping or on the go because the disc helps you set your project down and come back to it as you please!
These fabulous kumihimo patterns can range in difficulty from very basic and easy, to very intricate with beads and detailed braid patterns. Lets get started with the most basic and I'll show you how to level up from there. Gather your favorite yarn or embroidery thread in various colors and lets get crafting kumihimo bracelets.
Kumihimo Supplies Needed:
Kumihimo Disc
Kumihimo Cord or embroidery thread
Seed Beads (optional)
Scissors
Learn to make your own DIY round disk here.
Beginner Kumihimo Bracelet Tutorials
The easiest DIY friendship bracelet to teach to young kids is the 7 Strand Jellyfish Bracelet (get the tutorial here). The supplies needed are likely what you have in your home. You can use a scrap piece of cardboard, a recycled lid, or a store bought disc.
Hot tip: Use yarn to make these beginner kumihimo tutorials work up even faster.
8 Strand Bracelet Pattern
The next easiest woven bracelet pattern is the 8 Strand Kumihimo Bracelet – (get the setup tutorial here). Again, this bracelet is pretty simple to make but it does require a 32 slot loom. These style of discs or looms are still easily found at any craft store, usually in the same aisle as the embroidery thread.
All you need to create a beautiful 8-cord Kumihimo design is a Kumihimo disk, eight strands of rattail cord, and these patterns! What I love the most about the 8 Strand kumihimo bracelet is that you can make so many different patterns of bracelets just by changing the colors in your set of cords.
12 Easy Patterns for Kumihimo Bracelets
Pattern 1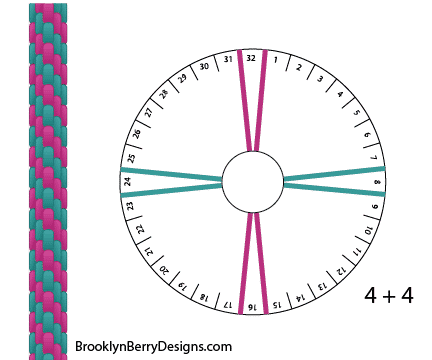 This spiral pattern is made with 4 strands of one color and 4 strands of a second color. They are separated into groups with 2 strands of the same color and alternating colors.
Pattern 2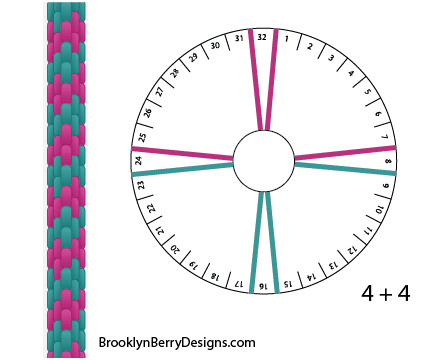 Using the same number of strands and colors but moving the strands of each color together gives a thicker banding on the finished bracelet.
Pattern 3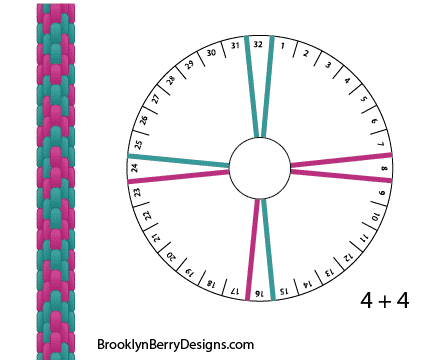 Again, this pattern uses 4 strands of each color, but has tone turquoise thread moved between the other color.
Pattern 4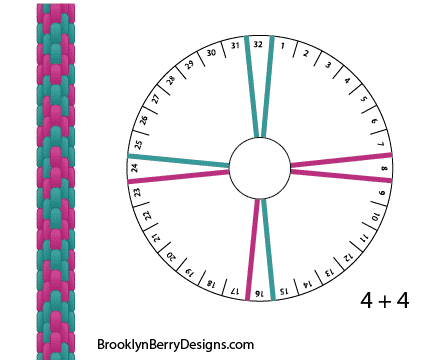 Yet another example of using 4 strands of each color but the setup pattern is different.
Pattern 5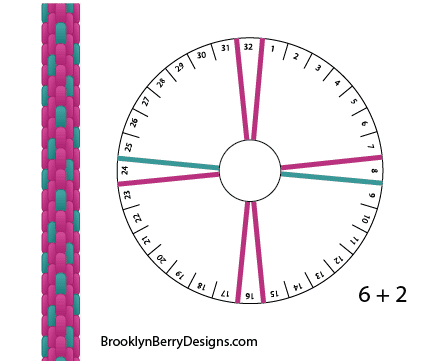 This next pattern uses 6 strands of the first color and 2 strands of the second color.
Pattern 6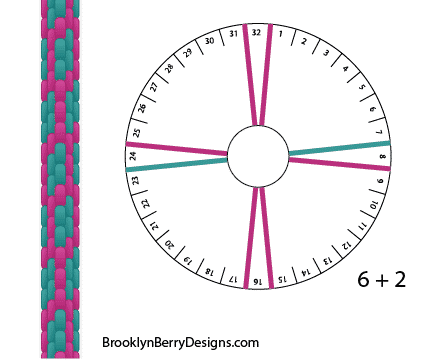 This pattern also uses 6 strands of the first color and 2 strands of the second color. The set up makes a fun pattern that isn't the typical spiral design.
Pattern 7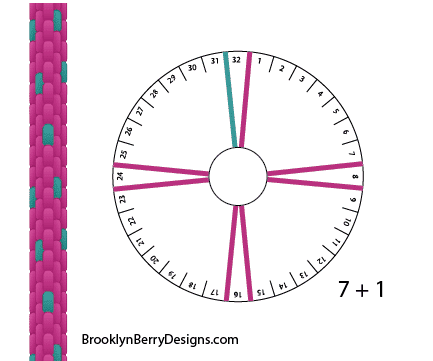 Use 7 strands of 1 color and 1 strand of a second color.
Pattern 8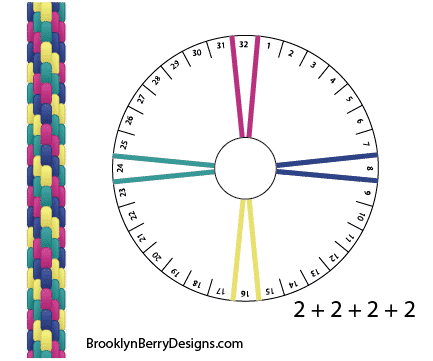 This bracelet pattern uses 2 strands of 4 different colors. The colors are set together.
Pattern 9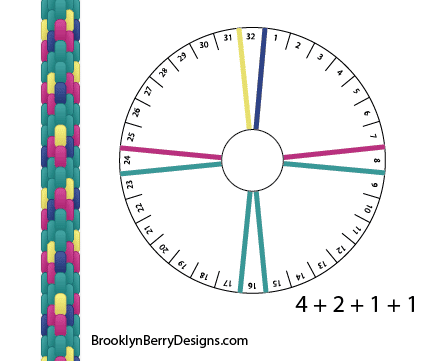 4 Strands of one color, 2 of a second color, 1 of a third color and 1 of a 4th color.
Pattern 10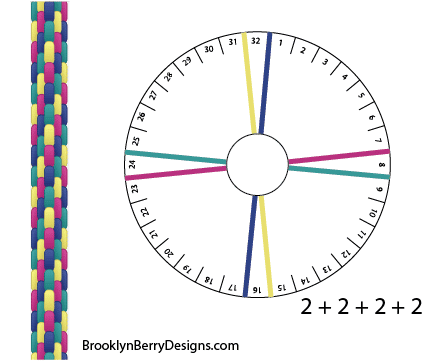 Another pattern with 4 different colors, but each color is placed individually, not grouped together.
Pattern 11
This pattern uses 4 different colors, but places the groups of colors in the opposite direction.
Pattern 12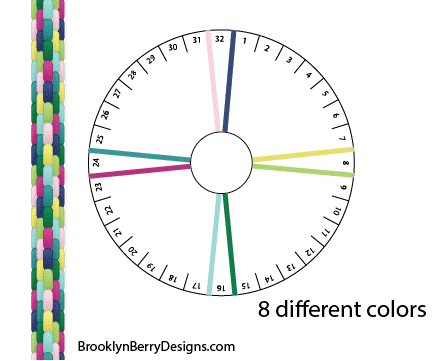 Use a variety of colors with 8 different strands of yarn. This is a great idea to use up your stash but also makes a beautiful braided bracelet.
If you would like to print out these patterns, I have a printable PDF pattern ebook available in my shop.
Looking for more advanced kumihimo patterns?
Related: 20+ summer crafts for teens
If you love this post I would appreciate if you could pin it to your favorite pinterest board!
Pin this: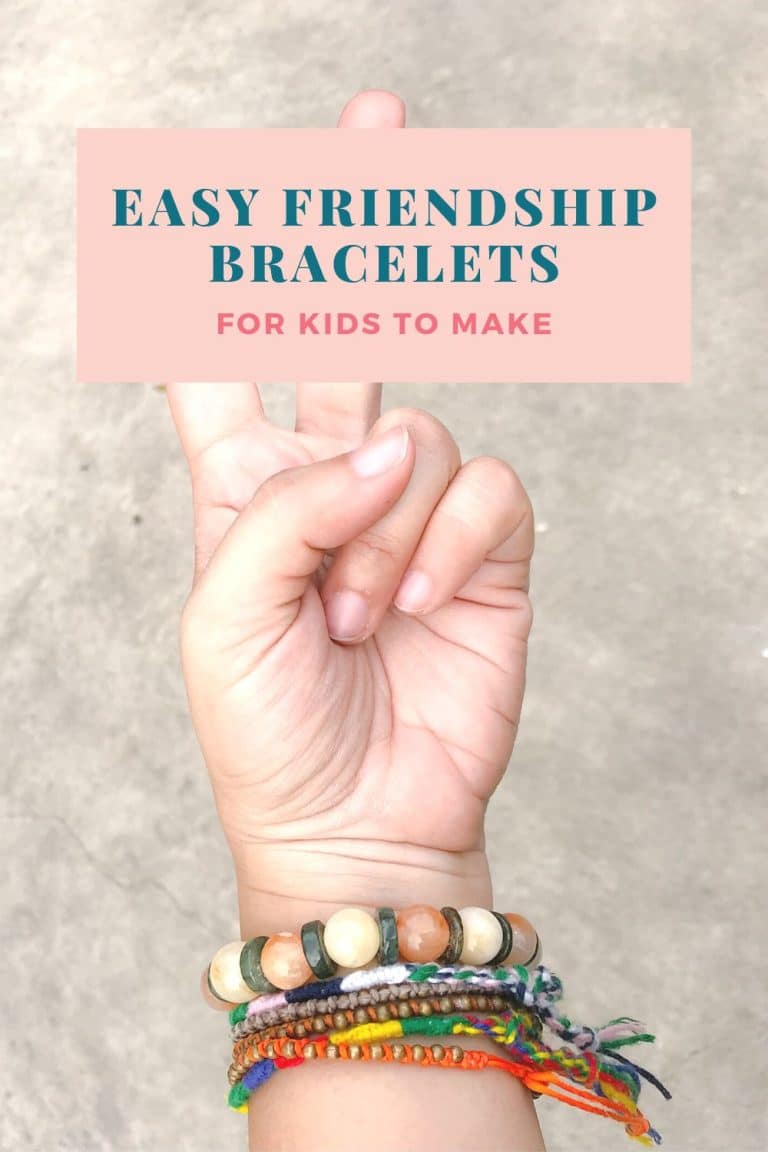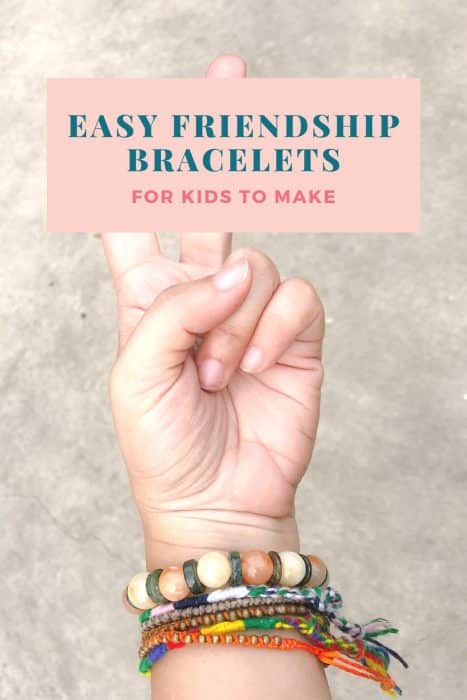 Please feel free to share images of your finished bracelets! Send me a picture of tag me on instagram!