Whether you are going on vacation or staying close to home, these fun and easy summer crafts for teens will keep them busy and happy!
Helping Kids Of All Ages Become Makers
Summer vacation is the best time in a childs life. These unscheduled days are made to be filled with nostalgic activities. Some days need some easy crafts that can be brought with you. Other summer days are made for learning a new skill. These fun crafts and art projects will not only keep kids entertained, they will gain confidence with the new skills they gain. If you are lucky these fun projects won't just fill a summer day, it will last a lifetime.
Craft Projects For Teen Girls
There is nothing more nostalgic than making friendship bracelets or tye die shirts with friends. If you have been looking for a new hobby to try, the summer months are the perfect time to start. Starting out with easier projects allows you to master the skill and then add your own twist by making it in different ways. These DIY projects are a great way to use basic craft supplies you likely already have around the house or easily found at a local store.
Love kids crafts? Check out Easy Friendship Bracelets For Kids
DIY Projects For Teens
Cool crafts for older kids is to begin using molds to make concrete projects. These DIY Terrazzo Concrete Book Ends from Fall For DIY would look great in your home. Grab different colors of spray paint and a concrete mix to get started.
Make your own candles in small mason jars – this easy project would make great gifts for friends birthdays! Check out these Easy DIY Pineapple Candles from Happiness is Homemade.
Learn to make your own lip balm with this easy tutorial for Summer Sunburst Lip Tint DIY from Soap Queen.
Make your own crazy straws for the whole family! A great idea for a less messy activity. DIY Crazy Straws from Aww Sam.
Decorate your room with your own art. Get step by step instructions for this Summer Washi Tape Art from The Crafted Sparrow. This project uses a Cricut Explore but can also be made with a printable template and an exacto knife.
Related: More Cricut crafts
Get the acrylic paint out for these DIY Donut Bracelet from Oh My Creative. This is a great project that can be adapted in many ways.
These Coastal Wood Slice Coasters from Crafts by Amanda are a fun idea to use natural materials in your projects.
What other ways could you use these DIY Flower Wire Bookmarks from Frugal Mom Eh? I see them decorating indoor house plants!
Grab an old popsicle mold and some popsicle sticks to make some Homemade Fruity Popsicle Soap. Grab the instructions from Atta Girl Says. Don't have a popsicle mold? Other storage containers or ice trays would work as well.
A fun activity that makes a great photo prop! Make your own DIY Pompom Beach Towel with this tutorial from Lovely Indeed.
Break out the mod podge for some Simple DIY Flower Pot Summer Project from Mod Podge Rocks.
Customize your own shoes with on your summer break with these DIY Fabric Covered Sneakers from Creatively Beth.
An intermediate sewing project – Pineapple Drawstring Backpack from Make It & Love It.
Let your creativy run wild with some Simple Painted Pots from Alice and Lois
Project Ideas To Include Younger Kids
DIY Rainbow Bath Bombs from Made In A Pinch
DIY Dreamcatcher from Crafts By Courtney
This DIY Marcrame Rainbow is easy with just a few craft supplies. Younger kids may need help with the glue gun, but you could use school glue as an option. You could use any yarn, embroidery thread, and wire for a macrame inspired boho look.
So satisfying – gather and paint some rocks, or try out melted crayon rocks.
Crafts To Wear
Everyone will compliment this little project – DIY Tassel Earrings from Made with HAPPY
A project to take on the go – make these DIY Beaded Friendship Bracelets from Hello, Wonderful.
Learn to make DIY Paracord Bracelets
Love tassels? These Fringe Sandals from The Heathered Nest are so much fun.
Learn about essential oils or just enjoy the good scents with this diffuser necklace.
Those who like to color will love Shrink Plastic earrings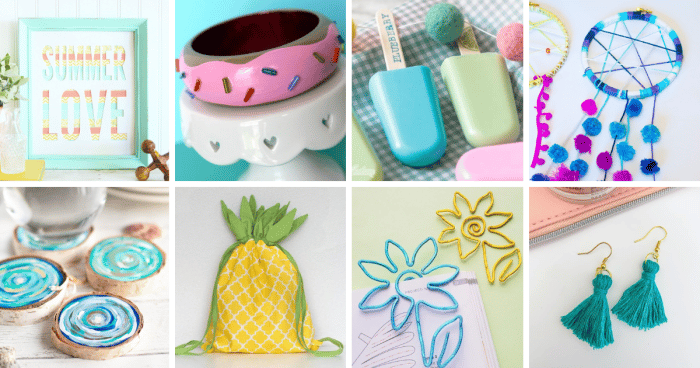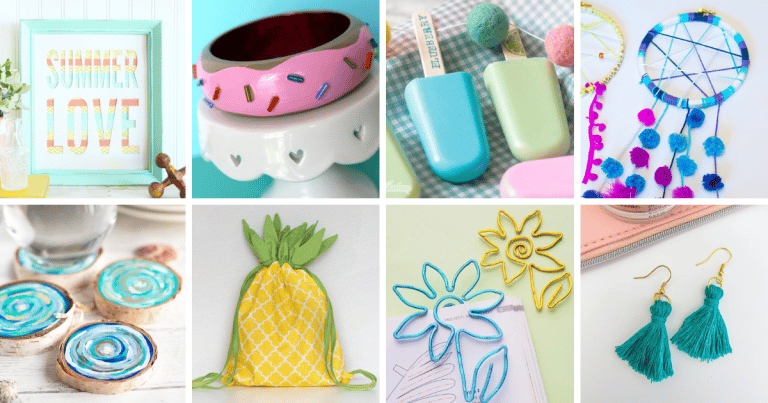 Which project would you make first?