Want to learn how to make a kumihimo bracelet? Grab some yarn in your favorite 7 different colors, a DY kuimihimo disc, and get crafting!
If you are looking for an easy pattern to use for friendship bracelets, the kumihimo braid is a great project to start with. My kids always call these Jellyfish Bracelets because the strings hanging remind them of jellyfish! Here is the easy way to start making braided kumihimo braclets.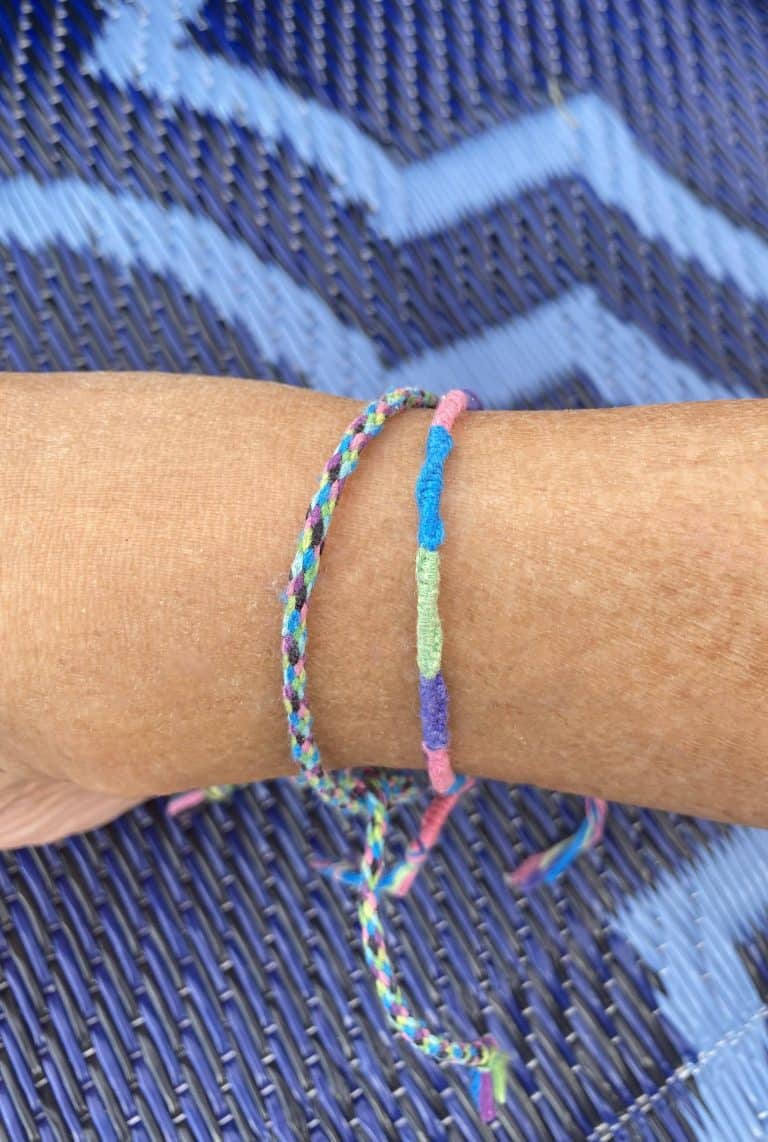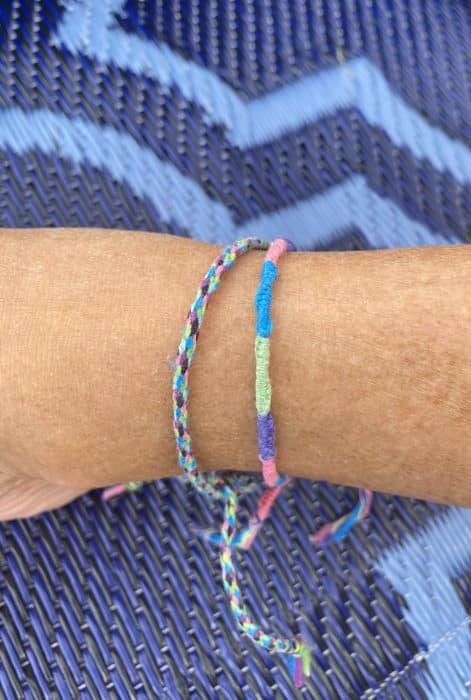 What Is A Kumihimo Bracelet?
Kumihimo is the Japanese word for "gathered thread". The verb kumu means to braid
and the noun himo is a cord. This braiding technique forms a rope style bracelet. It is tied on a loom that can be either round or square, depending on the kumihimo bracelet patterns you are using.
Making kumihimo or Jellyfish Bracelets is a great activity in the classroom. I find it works best for grades 3 and up as a quiet activity after students finish their work, or as a craft club or indoor recess activity. This 7 strand braid is perfect for beginners because it can be stopped and started without losing your place. The loom will keep your strands in place so you know just which step you need to start with after a break in crafting.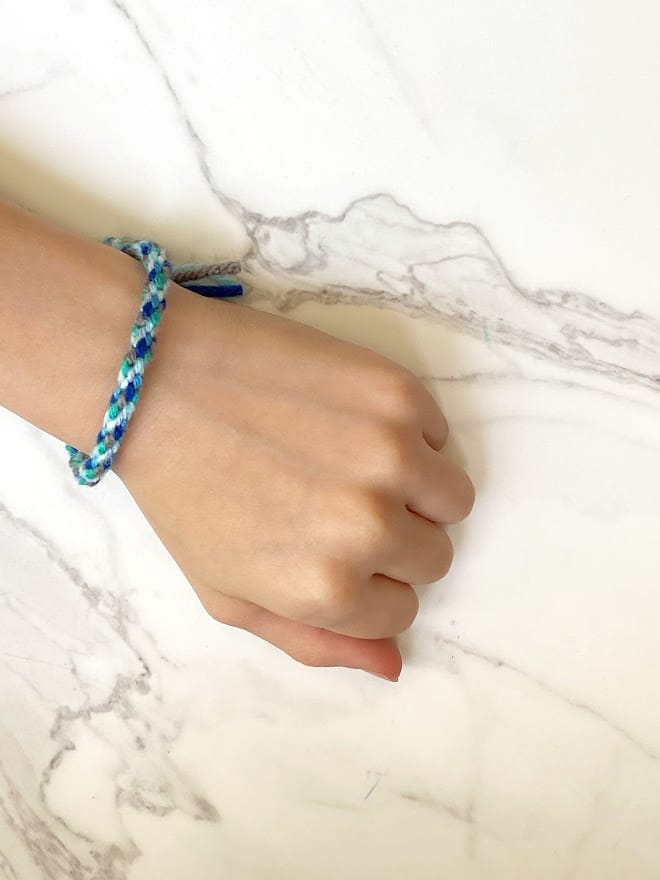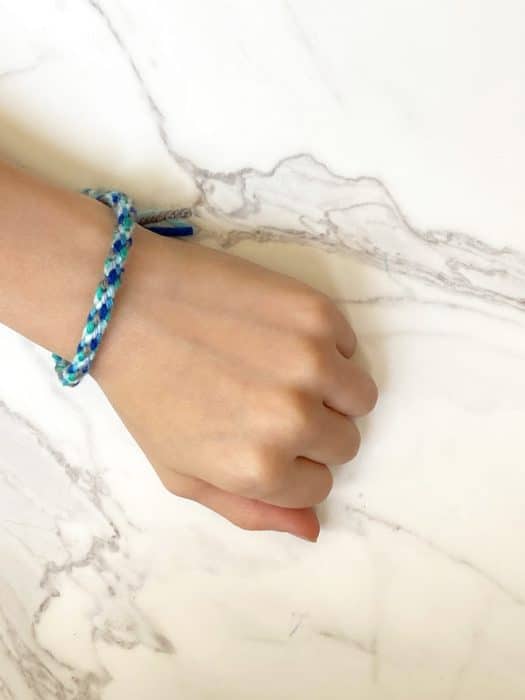 Get more craft ideas: 25 Fun And Easy Summer Crafts For Teens
HOW TO MAKE A KUMIHIMO BRACELET
Kumihimo Supplies
Satin cords, embroidery thread, yarn, etc.
Bobbins (optional for extra long length)
Sharp scissors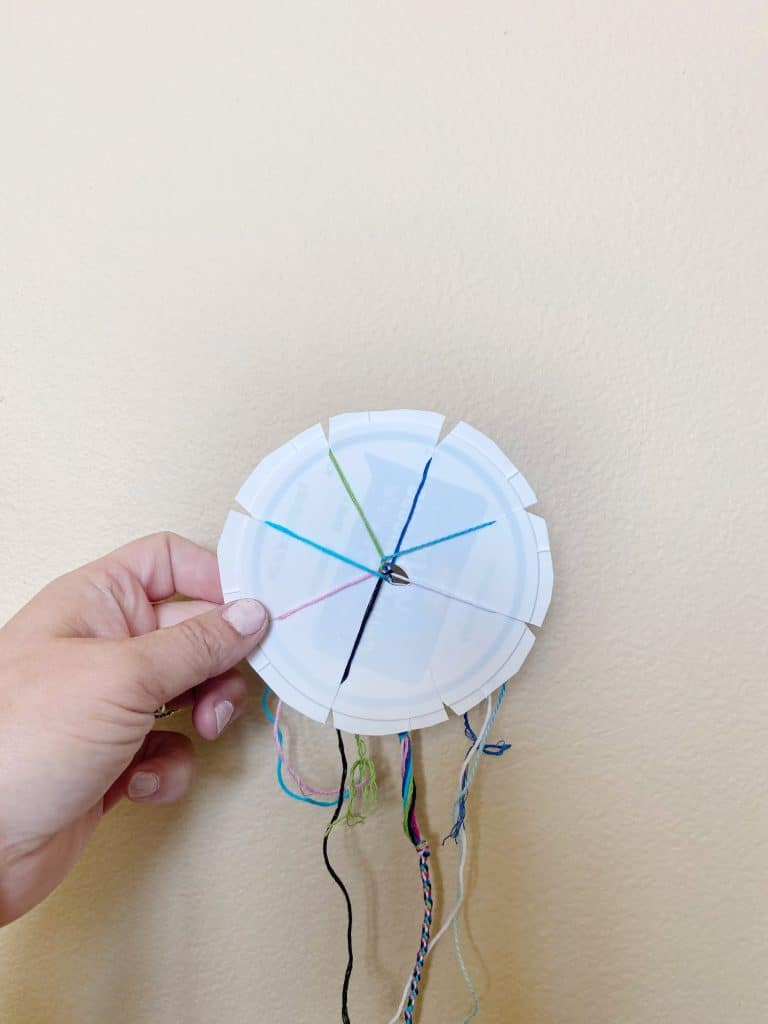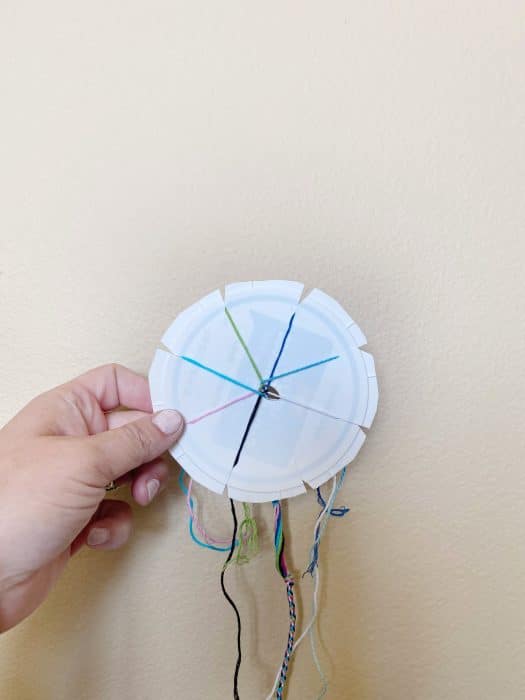 Kumihimo Cord Options
If younger kids (like my 7 year old) are making bracelets I recommend using basic craft yarn. Because yarn is thicker the bracelet works up much faster than embroidery thread. I find any embroidery thread works well for, but does take longer to progress.
Another option for a faster embroidery thread bracelet is to double up your strands of thread. This technically makes it a 14 strand bracelet, but you treat it just like a 7 strand. This just makes a thicker braid that works up a bit faster.
DIY Kumihimo Disc
What makes this kumihimo project so easy is that you can use so many different discs. I have found a kumihimo foam disk at the dollar store near me, as well as a craft store. You can also make a disc from cardboard, a container lid, or from a paper plate.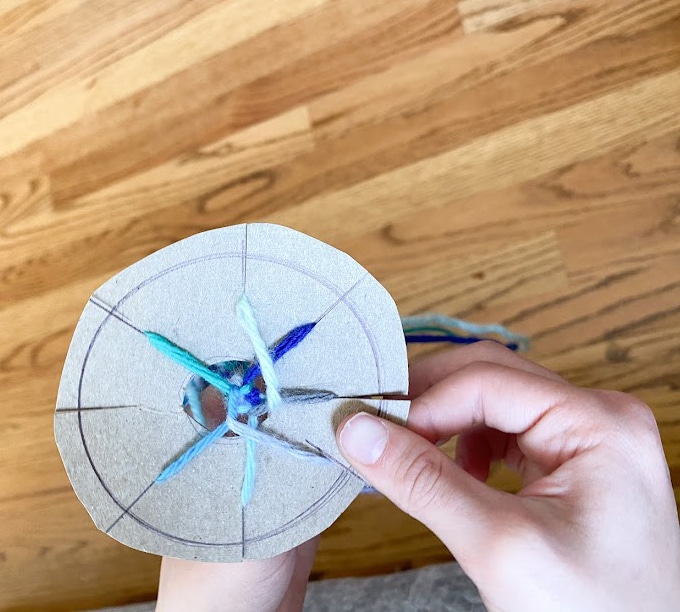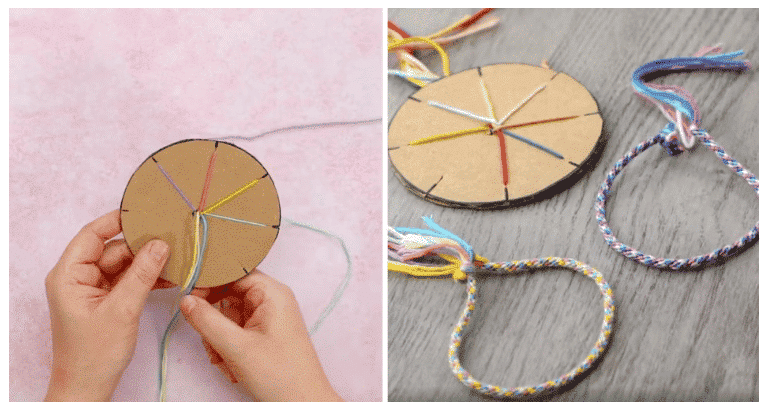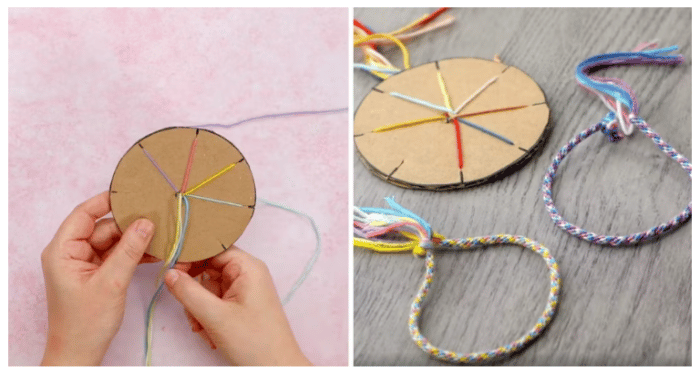 For this beginner "Jellyfish Bracelet" you don't need any numbers or dots.
Trace a circle onto a piece of cardboard. Cut out the circle and cut 8 small slits evenly spaced around the edge. Use a pencil to poke a hole into the center of the circle.
• Use your pen or pencil to poke a hole through the center of the circle
How To Make The Bracelet
Gather 7 strands of embroidery floss in the colors of your choice. Cut each of the solid colors to 20″ long strands for an adult size and 16″ for kids.
Knot the strands together leaving a tail and place the knot into the center hole of the round disc.
Place one piece of thread into each slot leaving one slot empty. Turn the disc so that the blank slot is in front of you.
Count 3 spaces and take that strand and move it to the empty slot in front of you. Rotate the disc so the blank slot is in front of you again.
Repeat over and over again.
Run your fingers through the handing threads every so often to keep them from getting tangled.
When you have reached the desired length tie the ends into a knot and finish the way you like best.
Finishing options include adding clasps, gluing end caps with a clasp, or just tie it into a knot!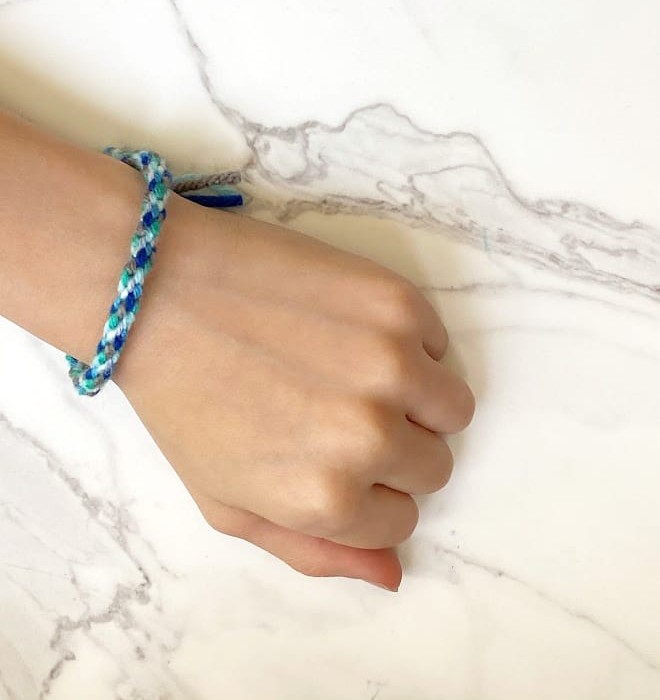 Jellyfish Kumihimo Bracelet
A simple friendship bracelet for kids to make using simple materials and a DIY loom.
Check It Out
Have you ever made a Jellyfish friendship bracelet? I would love to see your creations!
Pin for later: