What tools and accessories do I need to use a Cricut and how much do they cost?
If you are anything like me, parting with your money is painful. The Cricut machine can be a significant investment, so you may only want the bare essentials for accessories and tools to use. Like all things, there are must have items, and must be nice items so I thought I would share what tools I really like to have around and explain what they do.
Most machines will arrive with a cutting mat and a pen inside the box. When I first got my machine, I didn't have any accessories. I used a toothpick or a fork to pull the tiny pieces of vinyl from my cut designs. I also used an old plastic card from a rewards program to smooth out any air bubbles from my vinyl. However, once I got the basic tool set I was shocked at how much easier it was to complete my projects. Also, as you expand into other materials to cut and use for your project there are different tools you might like to have.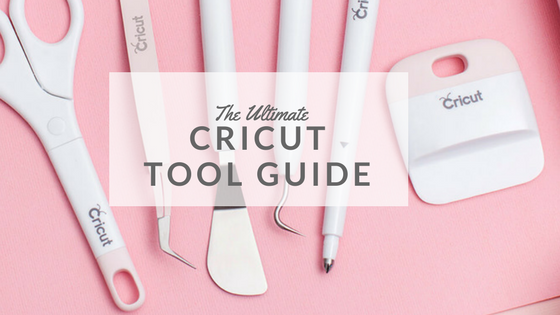 What do the tools do?
Weeder Tool – This looks like a dental instrument but it is the best tool ever. It is great to remove tiny pieces of vinyl.
Scraper – smooths vinyl, removes air bubbles, easily cleans cutting mats. I use this most when I cut paper and cardstock and lots of littlepieces of paper remain on the mat. I could easily hand pick them off but the scraper tool is so quick and saves your fingers from being stabbed under the nails with sharp paper corners (ouch!)
Tweezers – this set is different in that it pinches to open, and when released it stays closed. This tool has many random uses in our house – it holds materials together while hot gluing. When my son sucked up a sock in the vacuum I needed something skinny that could also hold on to the sock to pull it out. Cricut tweezers to the rescue! Those things are remarkably useful.
Scoring tool – this is used in the A cartridge for accessories. If you are making cards, valentines, or anything with cardstock that would need a fold the scoring tool is needed.
Transfer Tape – This is used for vinyl and is the best tool for professional looking projects. Its basically acts like a giant sticker to stick the vinyl to and transfer your design onto the final surface. This keeps all the pieces spaced the same as when you cut them. A tutorial will be shared soon on how to use transfer tape.
Bright Pad – this is one of the newest products from Cricut. It is very thin, light and, of course, bright! It makes wedding thick glitter iron-on vinyl so much easier. If I have a really intricut design I like to sit on the couch with the family and work on my project beside them.
Easy Press – Again another brand new product from Cricut that I got to experiment with while at a Cricut event. This little tool can have consistent heat so will work much better than an clothing iron to keep the vinyl on the actual shirt after washing.
My Cricut Tool Recommendations
There are some great tools to make your crafting life easier. When friends ask about machine recommendations I always recommend the bundle packages. There are a few choices, but a package with some cutting materials, a few cutting mats, and a tool set will give you everything you need to get up and running. Also, the prices are better than buying each item individually. Its nice to have everything with you to experiment with when you open your machine and put it to good use.
Product Links
If you buy anything through the affiliate links in this post, I earn a small comission of the sale – at no cost to you! Thank you for supporting this site.