How is the holiday shopping going? Do you have everyone checked off your list? I have to admit, the hardest person to shop for is my husband. He tends to pickup whatever he needs or wants throughout the year. Also, he is big time into fly fishing, which I know nothing about. So I wouldn't have a clue as to what to get him for fishing unless he picked it out himself. While gift cards are a great option, sometimes its nice to have something under the tree.
After discussing with my husband, dad and brothers I have a few gift suggestions for your man that are bound to go over well. As always, feel free to leave me a recommendation or thoughts in the comments and share on social and tag your loved ones for hints!
In case you've missed any gift guides, you can find them all HERE now!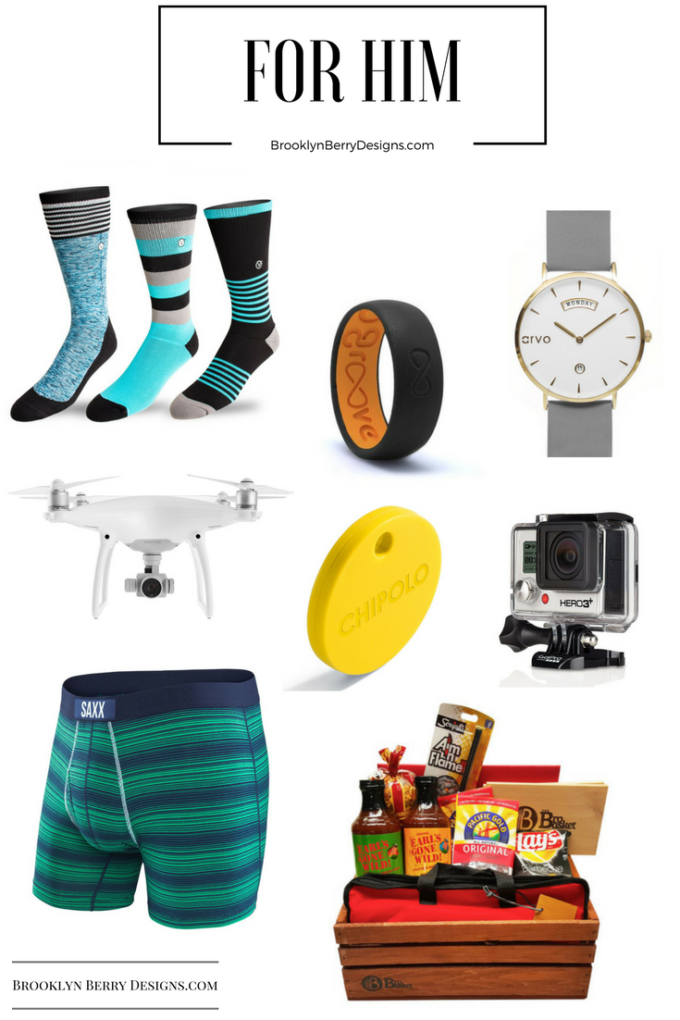 Vybe Socks – Patterned socks are a thing right now. Even men who wear suits daily enjoy this little punch of pattern and color. These socks specifically I like because they are really soft and the soles feel cushiony. After trying to steal them too many times I finally ordered myself a set. $23.99 on Amazon.
Groove rings – If your man doesn't wear a ring because of dangers in his job or hobbies you should look at the Groove Ring. This silicone ring is breathable and flexible with a thin design and low profile. Because it isn't bulky it won't snag, also preventing your finger from snagging on objects. Safe and stylish! Check out all the colors and sizes at Groovelife.co $29.95
Arvo Watch – I am into having an actual watch these days. Its a stylish and functional accessory I didn't know I needed until I started wearing a fitbit, which I used as a watch. Arvo watches look really modern and the bands are interchangeable. Perfect for worn out band replacement or to customize it to your own style. Available at Arvowear.com and Arvo Watch
Drone Phantom 4– For any outdoor enthusiast or photographer the Phantom 4 drone is the best of the best. The Phantom 3 is a more reasonable price at $499. This flying drone has a built-in camera to get amazing aerial footage. Both models are able to be controlled via phone or ipad. The biggest difference I can see between the models is the range it can fly. This
Chipolo Pro – Because everybody loses their keys within eyesite all the time. The Chipolo has the loudest ring of any bluetooth tracker (I have tried others and you can hardly hear them, so this is important) and comes in colors to match your style or blend in to be discreet. Water resistant and maintenance free. $25 on Chiplo.com
Go Pro Hero 5– Again – great photography equipment for any outdoor adventurer. The Hero 5 is already waterproof and has voice commands. Because watching the video is almost as good as being there in the first place. $399.
Saxx – because cute underwear makes all the difference. My husband requested these, and we have a similar style for our sons (who look so adorable in them).
Bro Basket – stop the boring gifts with BroBasket – a custom made basket that can arrive in a wooden crate or metal bin. Perfect for dads, brothers, or friends. Pre-made packages give you a great starting point which you can customize or start completely from scratch.
Looking for more ideas? Check out 2017's gift guide for men here.