Glowforge Tool List To Make Your Life Easier
Are you a new Glowforge owner? New to lasering and looking for helpful tools? Here is my ever expanding, ultimate list of glowforge tools to make your laser cutting life easier.
GLOWFORGE TOOLS OF THE TRADE
When I first ordered my Glowforge Basic I wanted to get supplies ordered so that once the machine arrived I was ready to get working with it. Using the materials that come with your machine, there were still a few Glowforge Tools that I wished I had known about right away. These things are not mandatory, but for sure make the process more seamless.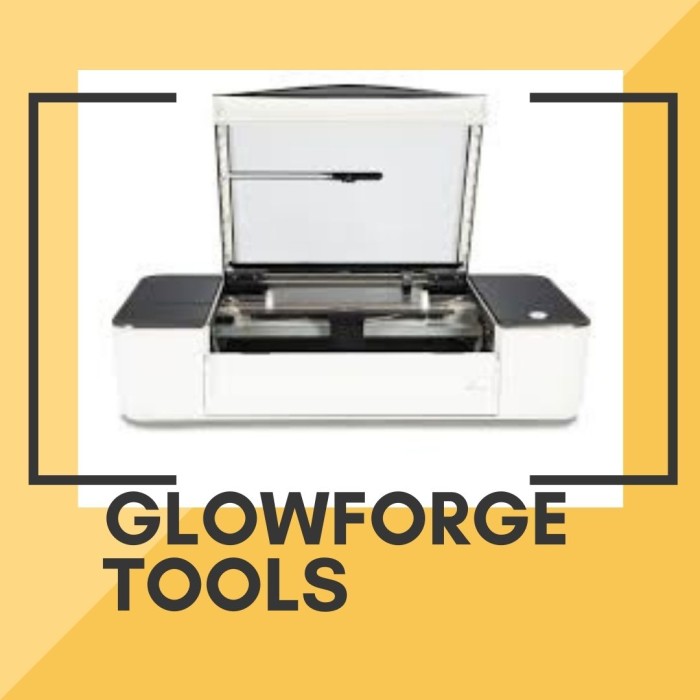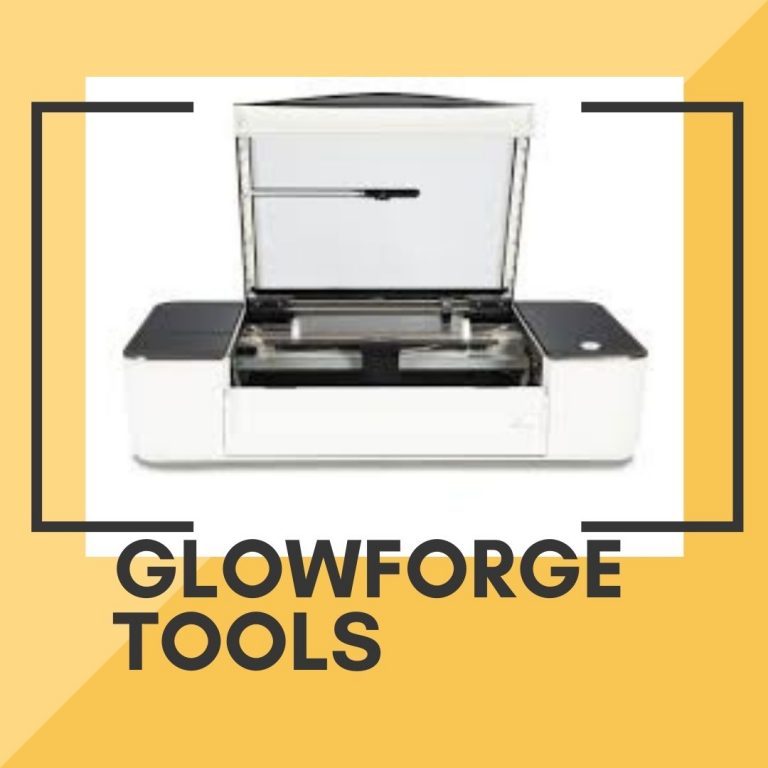 Inline Fan
Installing an inline fan will reduce the noise and smell while using the Glowforge. It was the first thing I ordered after completing the first projects on my machine. I chose a 6″ for the increased power, but it required a reducer. It was pretty easy to set up, but just know that it will require a bit of work to get it working.
Honeycomb pins
Honeycomb pins are a genius invention that somebody designed and shared in the community forums. These T shaped pins can push down into the honeycomb tray and will hold down the materials you are cutting. This is an amazing solution for any wood boards that are warped. Cutting them from the project board that comes with your machine and they will fit perfectly! I cut some out of another wood scrap piece and they were too thick to fit into the holes in the crumb tray. I have seen some 3D printed versions on etsy, and am debating cutting some with acrylic for more durability.
Masking
Masking is masking tape roll that covers your wood or acrylic to prevent black burn marks. Proofgrade materials come already masked, so when buying materials from other places you will need to add masking yourself. For those coming from the vinyl cutting (cricut or silhouette) world, the same transfer tape works great. Avoid the plastic kind, go for something like this paper transfer tape.
Brayer, Scraper, Credit Card
Use a brayer or an old gift card to rub the masking tape onto your wood and make sure its sticks really well.
Weeding Tool
I use this tool that looks like a dental pick for my vinyl projects, and it works just as good for pulling up the edges of masking from your projects. A flat razor blade also helps to save your fingernails after peeling small pieces of masking off more than a couple cut pieces.
Digital Calipers
Digital calipers will tell you the exact thickness of your materials. This will help if you are designing anything 3D or making a project that stands up. The exact thickness is also great to know for correct engraving heights.
Magnets
The crumb tray is metal, so magnets work great to hold materials down. They are especially helpful when working with cardstock or lighter materials. Make sure the magnets are placed in an area that isn't going to be cut or engraved!
Sanding Blocks
Sometimes when removing your cut pieces from the board there will be a spot that doesn't cut all the way through. Its usually small enough that you can push it out with your hands, but you will want to sand that piece smooth. Sanding blocks are always great to have on hand.
Adhesives
Wood Glue (I prefer the wood gorilla glue)
Super Glue for Acrylic
3M sheet – can be applied to the material before cutting – great for thin pieces where you don't want glue to seep out.
Cleaning Supplies
Lens cleaning wipes – to clean cameras, lens, and windows.
Canned air to dust out any small parts
Lint free cloth and rubbing alcohol to wipe down any surfaces


Looking for more Glowforge Tutorials and projects? Check out my FAQ questions to ask before you buy!
Are there any glowforge tools you love that aren't on my list? Let me know!