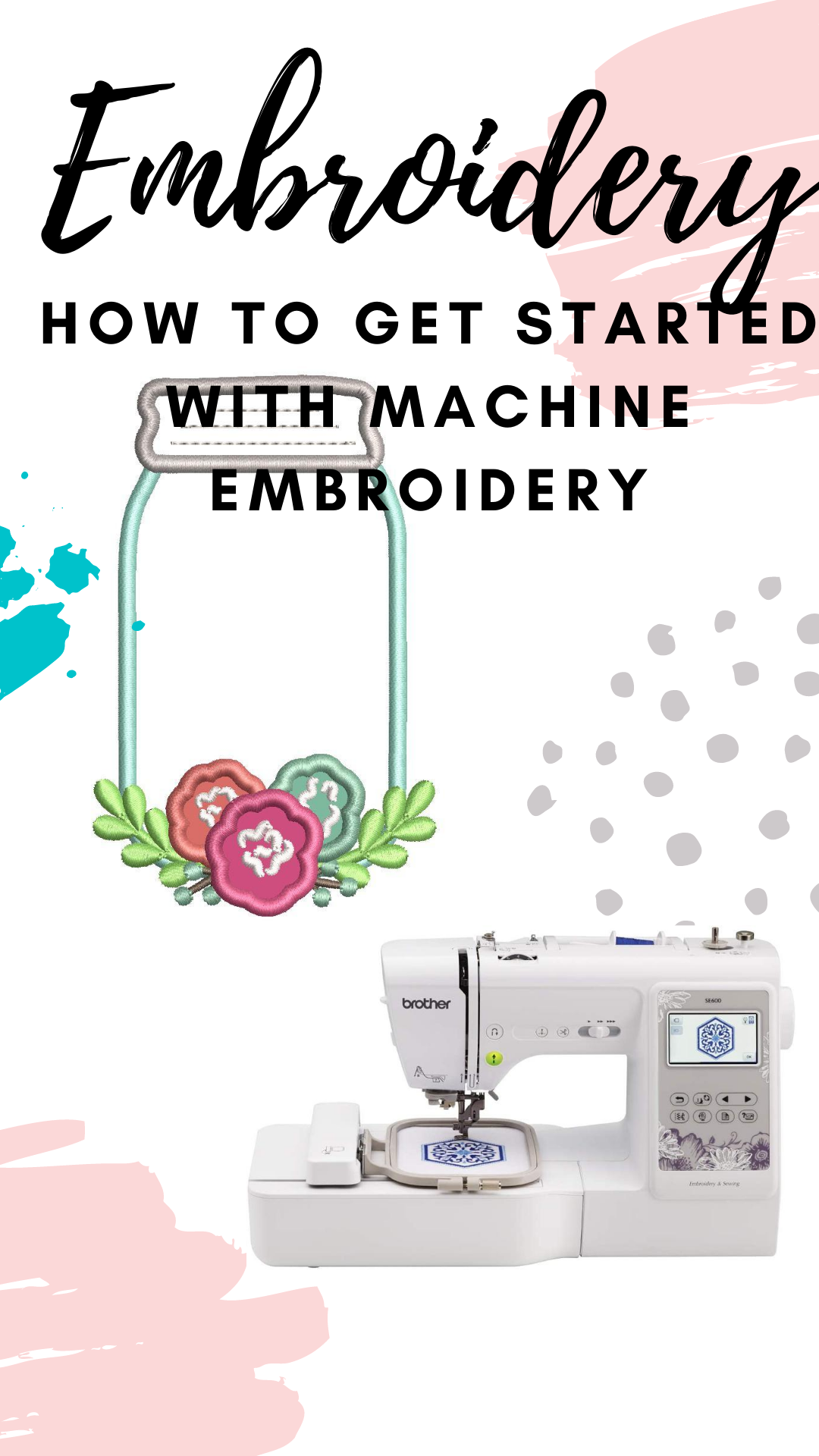 Are you just getting started with machine embroidery? Are you looking to build a library of designs to get started with? Today I am sharing some great resources for beginner embroidery crafters.
Growing up my Grandma was an expert at using her regular sewing machine to embroider towels. Every grand kid, great grand kid and now even some great great grand kids all have towels with their own names on them. I have always wanted to learn her embroidery skills – she has taught me her skilled embroidery ways but I have yet to take the plunge on her freehand skills.
Getting Started With Embroidery
I recently got the chance to try a friends sewing machine that has an embroidery tool all in one. The machine I used was the Brother SE600 which I think is a great machine to get started with – it has an embroidery size of 4″ x 4″.
There are a lot of larger, faster, and more expensive machines out there. This is simply the one I was able to use and from my own experience a great way to get started with machine embroidery.
It was really fun to learn how to applique a simple design onto a hand towel. Basically we had a simple design cut from fabric and the machine was able to sew around the edges of the design and add a border with a wider stitch called a satin stitch.
While working on this first project I unfortunatley didn't get a chance to take great photos. I didn't know I would love it this much! Thankfully, I was able to find a great tutorial that is very detailed, and got permission to share it with you!
How To Applique On An Embroidery Machine – a tutorial from Thats What Che Said.
How To Save Money While First Starting Machine Embroidery
There are a lot of costs in starting up including the machine itself, threads, and blank items to embroider. A great way to practice and build up your skills without a large investment is to start a collection of free and inexpensive embroidery designs.
Are you looking to eventually design your own projects? If you just got your very first embroidery machine you may not be ready to take the plunge and purchase a design program yet. A great way to begin is to purchase embroidery designs and learn what makes a good design as a user.
Supplies Needed to get started with machine embroidery:
Where to purchase embroidery designs:
So many cute embroidery designs are out there for you to use in your projects. Since that very first project I have been searching for and saving some designs for my future projects. I may have jumped deep down the embroidery rabbit hole.
Here are my favorite places to purchase embroidery designs:
After purchasing an embroidery design file, you will need to transfer the files to your machine. Each brand of machine will have their specific type of file that it prefers. Make sure to know this file type and ensure it is included in the designs that you purchase.
After downloading you will have to unzip the file and transfer it from your computer to your embroidery machine.
Depending on the machine you have, the process of transferring the files is relatively the same. Cheryl from Thats What Che Said has a great tutorial to walk you through how to transfer files from your computer to your embroidery machine. If you have a different machine you may need to read the instruction manual or search some Youtube tutorials to get you started. Sorry!
Machine Embroidery Project Ideas
Now that you have all the basics of getting started with machine embroidery – is there anything else you are wondering? I would love to know if there is anything I have missed. Also, once I get my own embroidery machine I will start adding more tutorials and how-to type posts for you! I can't wait to become more like my sweet grandma and embroider towels for my kids, grand kids, and all of their friends for years to come.
Pin this post for later: