JUMPING ON THE PLANE
Our family made the bold choice to take a trip to Mexico, leaving the morning after we booked our tickets. We threw planning to the wind in exchange for saving some major cash – the only way we could convince ourselves to take all 3 of our boys to the beach.
(See my tips on how to enjoy mexico with 3 year olds here).
The best day that we had on our vacation was spent at Xel-ha. After previously visiting Xcaret, we were excited for more adventures that came along with our admission to Xel-ha.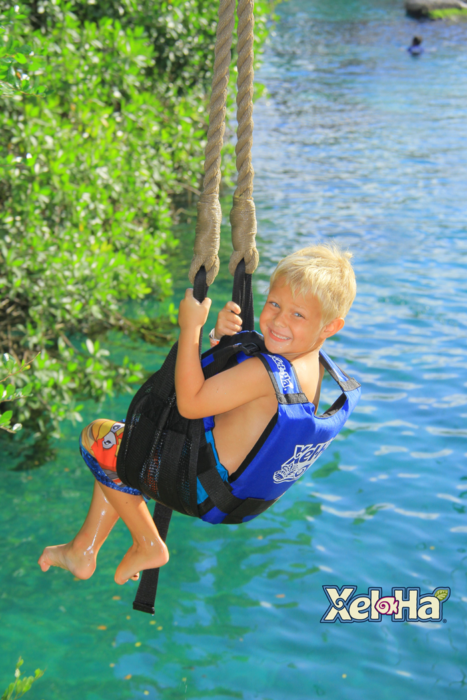 XEL-HA
Xel-ha (pronounced Shell-Ha) is a natural park where the fresh sea water meets the salty ocean water. There is plenty of amazing sites to see and activities to do. From snorkeling, to zip lines, to lounging in a hammock this place truly is paradise.
Xel-ha is an all inclusive resort, so your meals, lockers, towels, and snorkel equipment are included in your admission, so your biggest concern is if you should bike or take the bus to the top of the river.
XEL-HA TIPS & TRICKS
Spring for the photo pass. You can scan your bracelet at 10-15 places around the park, as well as there being photographers around the park. You get the best views available, and the photos all go onto a jump drive at the end of the day. All 3 of our wrist bands worked, so we could do group or separate photos as needed.
Get photos with the animals first thing. At the end of the day when we were walking around the birds were off duty for the day.
You can ride bikes or take the bus to the beginning of the river. The little kids got rides and Jett rode bikes. He still talks about riding bikes in Mexico, it was so fun.
As a family travelling with kids, we didn't get to do all of the activities that are offered, but we easily filled the entire day. If you have older kids I would highly recommend more snorkeling (including someone taking underwater photos), swinging off the rope swing, and the cliff jumping.
Moms Favorite Thing: not having to haul wet towels anywhere, and the zip lines.
Dads Favorite Thing: Riding bikes to the river top, the all inclusive.
Jetts (5) favorite Thing: the zip lines and the tree house
Jager & Boston's (3) Favorite Thing: The children's park and the tree house
XEL-HA CONTACT INFORMATION:
Xel-Há, Quintana Roo MÉXICO, C.P. 77780
Phone: 1-888-922-7381 Toll Free from Canada
Cost: $79.00 per adults, 50% off ages 5-12, FREE for ages 4 and under
Hours: Open 365 days a year from 8:30am – 7:00pm
Website: www.xelha.com