I am dreaming of navy cabinets in a future home, some day. The issue becomes having enough natural light to have that room feel bright and not gloomy. Here is an inspiration board of what I dream of being a big fancy butlers pantry. Navy cabinets, floral wallpaper, brushed brass / rubbed gold faucets, and a geometric patterned rug as a runner. In terms of accessories it is essential to make the area your own. All thats needed is a cutting board. Cutting boards are a must-have kitchen accessory.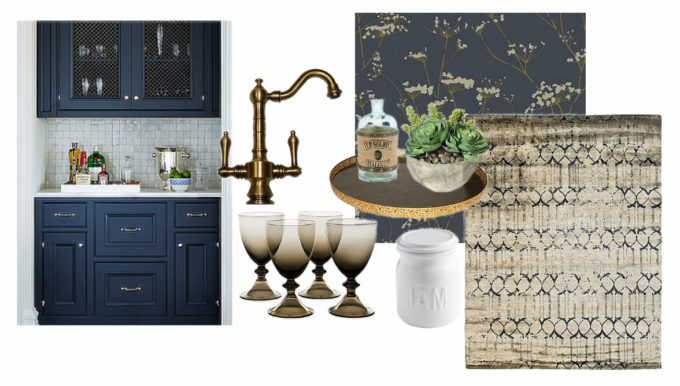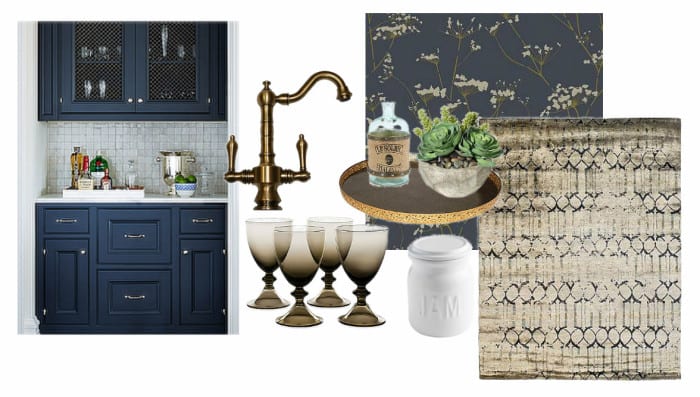 Designing a room is like putting together an outfit. There are basic pieces, statement pieces, and accessories. When it comes to smaller rooms, the rug can become the statement piece or the classic item that sets the tone. Patterned rugs are such a fun item to add to a room, and geometric patterns are showing up everywhere. I was searching for pattern ideas from Kalaty Rug and was excited to see that they are all handmade and mostly hand knotted. I really liked a couple rugs and thought I would share them with you.
If you are looking for something specific and not finding it, Kalaty offers a custom color rug service and custom sizes. They also have faster lead times so you don't have to wait forever to see your custom designed beauty in your home. Want more inspiration? Like Kalaty Rug on Facebook, Follow @Kalatyrug on Twitter, and Follow Kalaty on Pinterest.
"This is a sponsored campaign with Mums the Word Network and Kalaty Rug. All opinions are my own."