I am loving everything floral and succulents these days, and while my plants tend to be pretty hardy in the back yard, I wanted to experiment with the paper flowers I have seen all over. I decided to make over a lamp shade and add some greenery, leaves, and flowers for a simple and girly touch to my office. This paper flower lamp shade was fairly easy to make (a one night project) so get your netflix shows lined up, grab some mod podge and a glue gun, and get to work.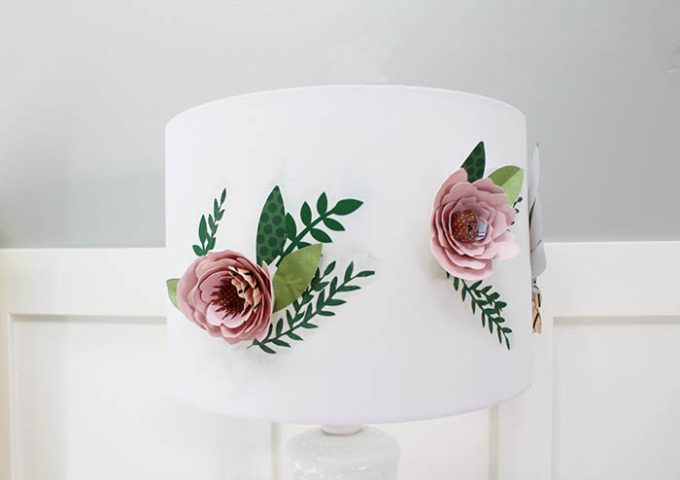 To make this paper flower lamp shade you will need:
Assorted paper leaves. I cut mine out using my cricut explore but you could also use any die cut machine or even freehand some leaves with scissors.
Paper flowers – again, I cut out the petals using the cricut explore. You could also use a die cut machine or free hand it. The paper flowers definitely had a learning curve – I would suggest making a few and experimenting with the style you like first.
Hot Glue Gun – I made the mistake of trying to make my flowers with white glue. While it worked, they took forever to dry and was totally not necessary. A glue gun is the perfect tool for gluing paper flowers together.
Mod Podge – used as both an adhesive and a sealer.
Foam Brush
Directions:
I would start out with making the paper flowers. If making them on the cricut, be sure to cute twice (after it cuts the whole thing out, have it go over the same lines again). Mine didn't cut all the way through my thicker cardstock so I ended up having to go back with scissors to clean up the edges. It was a pain. Also. Only cut out the items needed for one flower at a time. I thought I would save so much time and paper by cutting my paper flower leaves all together, but it just made it more confusing.
Like I mentioned above – assemble the flowers using hot glue, NOT white glue. You just need something that will dry fast and hold the flower together.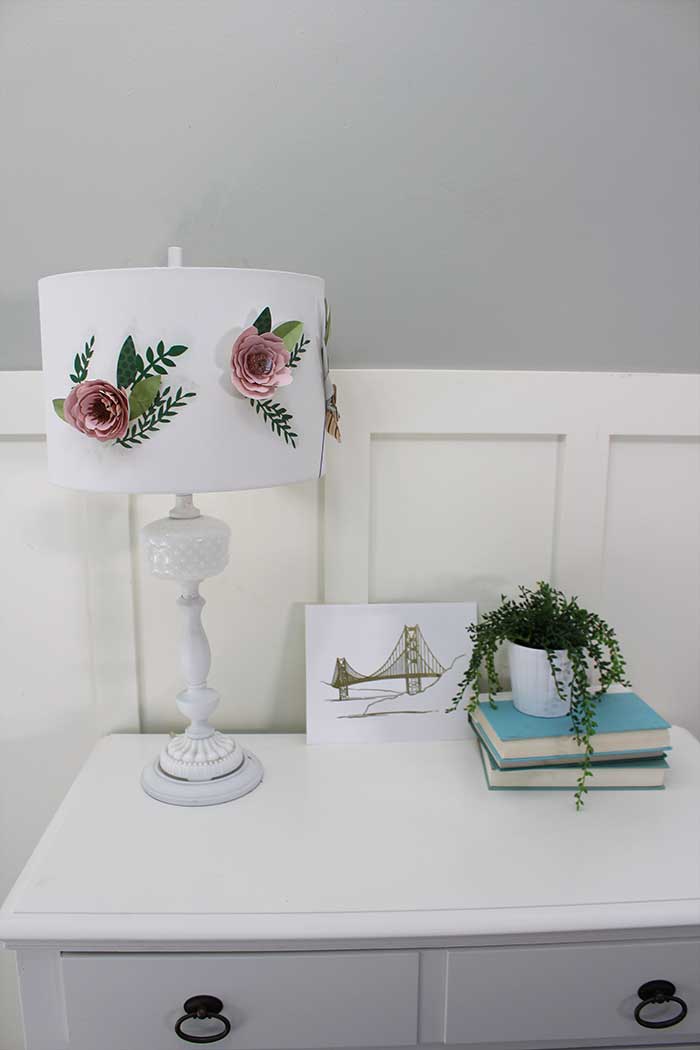 Attach leaves to your surface (the lampshade in this case) using mod podge. I applied it to both the shade and to the paper and let it sit for a minute before adhering. When all of the leaves are on, I went back and used the mod podge to cover the paper. I am not sure if it was necessary but it made it feel more finished to me.
Attach flowers with hot glue.
Sit back and admire your work!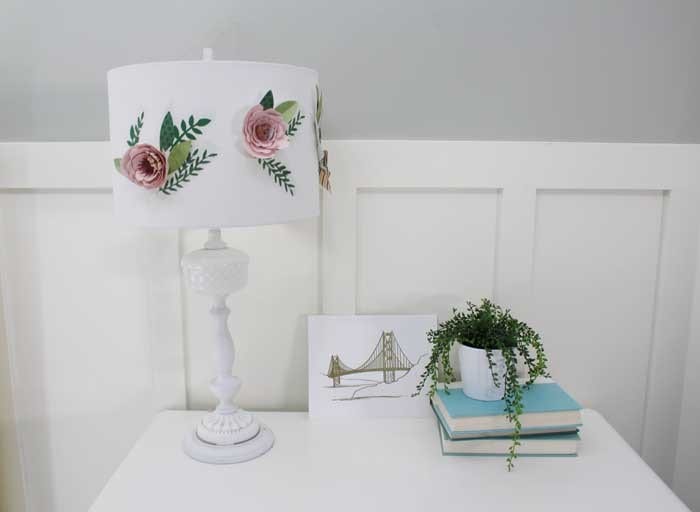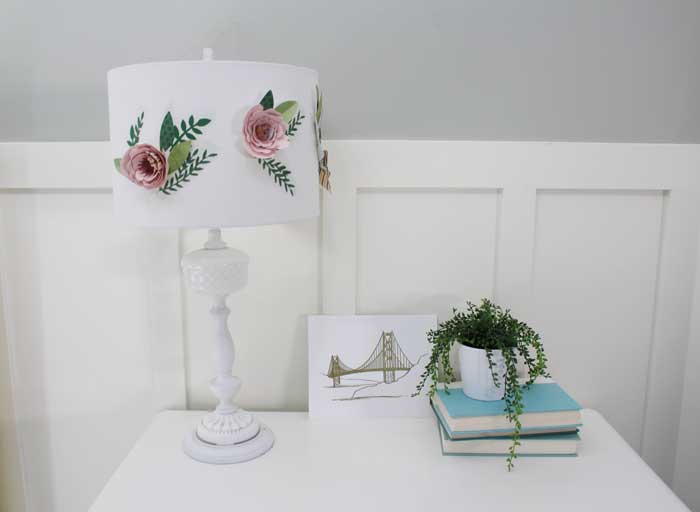 Now it's time to see the rest of the DIY Mod Podge project ideas from my Canadian blogging friends!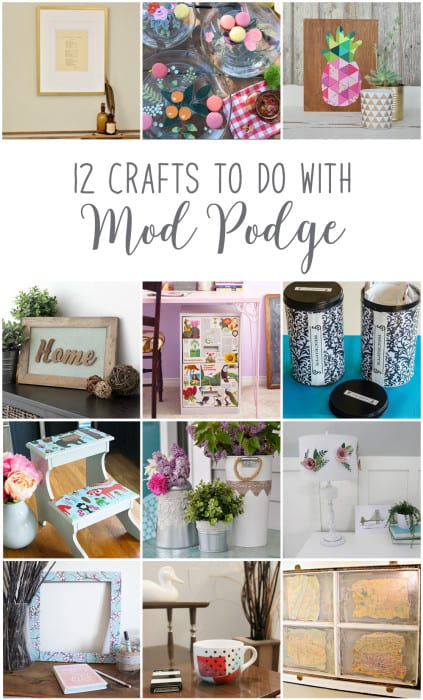 From the top left, they are:
How To Use Mod Podge – A Beginner's Story from Vin'yet Etc.
Painted Florals on Glassware from PMQ for Two
Geometric Pineapple Art from Life Is A Party
DIY "Home" Wood Sign from Love Create Celebrate
DIY Filing Cabinet Makeover Using Vintage Book Pages from Woman in Real Life
Handy DIY Two Month Receipt Organizer from Time with Thea
Decoupage Foot Stool from Fresh Crush
Make Lace Decoupaged Garden Containers from The DIY Mommy
Paper Flower Lamp Shade from Brooklyn Berry Designs
Easily Upcycled Photo Frames from Sustain My Craft Habit
Kate Spade-Inspired Mug from Mommyzoid
Window Map Art from New House New Home
Check out all of the awesome projects on instagram with #12monthsofdiy #maymodpodge and be sure to share your own projects to be featured and win a prize package of mod podge!