Pirate Birthday Party Ideas
Today I am the mother of a 4-year-old. I can't believe time has passed by so fast. I am grateful everyday that I have such a fun and cute kid. We started with a treasure map party invitation, which started our theme. Do you have a birthday party coming up soon? If you have a pirate loving child and are looking to plan a party, here are some ideas for throwing your own pirate party.


A pirate says RRRRRRRRRRRRR!
We decided to forgo the traditional birthday cake in exchange for some awesome cupcakes, as per the birthday boys wishes. I found a cupcake kit at Winners (Canada's version of TJ Max) and added them to store-bought cupcakes. I used a decorative box that was in the donate pile and revived it into a treasure box. The bottom of the box is filled with a black sweater to help it look full, and I just brought out the dress up jewelry and mardi-gras beads to make it look really full of treasure.
I spent the morning making eye patches for all the kids to dress up, but when it came for party time, nobody wanted to wear them! The swords are from the dollar store, and serve dual purpose of entertainment and take home gift / loot bags. I didn't plan a lot of activities, just cupcakes, jumping on the tramp with the swords, and presents. Everybody had fun, including the non stressed parents, which is always a win in my books!




Check out these adorable pirate party supplies:
[one-third-first]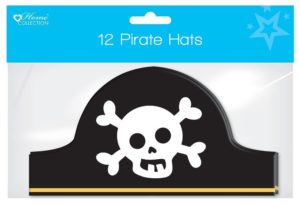 Pirate Party Hats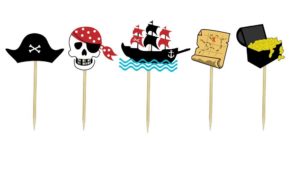 Pirate Cupcake Toppers [/one-third-first]
[one-third]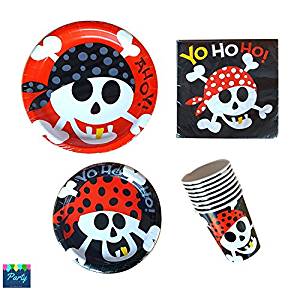 Pirate Plates, Napkins, Cups
Classic Bandanas [/one-third]
[one-third]

Plastic treasure coins [/one-third]
Looking for more birthday party ideas? Check out my other birthday party ideas here.
Pin for later: