Star Wars Birthday Party Decor
My friend Chelsea is so incredibly talented and a DIY girl after my own heart. When I saw her son's Star Wars birthday party I begged her to share the pictures of the party setup.
A lot of the decorations she made on her own, but I was able to find similar tutorials and free printables online.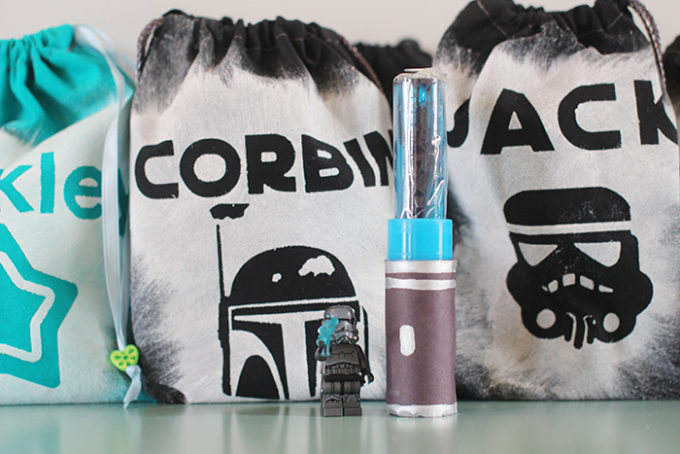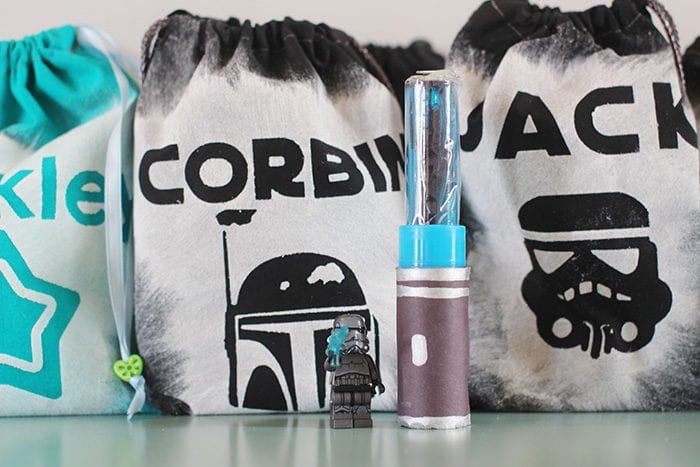 Filled with fun Star Wars props and characters, creative sweets and awesome balloon creations; this star wars birthday celebration is a party game changer, that will surely help defeat the Dark Side, once and for all!
Party details from this awesome birthday party:
Light Saber pull out invitations
Star Wars themed food labels
Light Saber Napkins
R2D2 Cups
Awesome Darth Vader and Storm Trooper props standing guard over the Death Star dessert table
Star Wars character balloon table centerpieces
Cupcakes topped with fondant Star Wars character toppers
Death Star place mats with light saber utensil packs
And last, but not least a fabulous Star Wars themed birthday cake!
Invitations: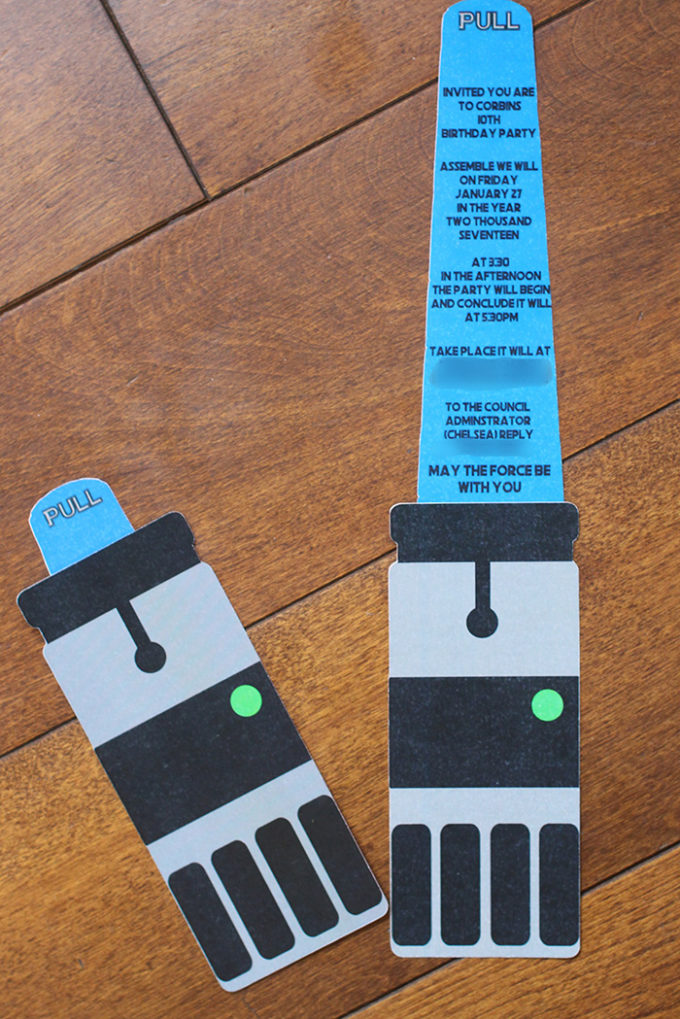 The light saber invitations pull out of the handle to share all the awesome party details.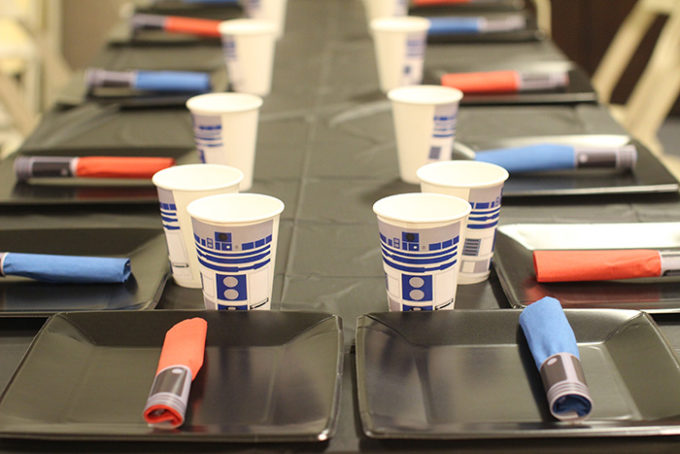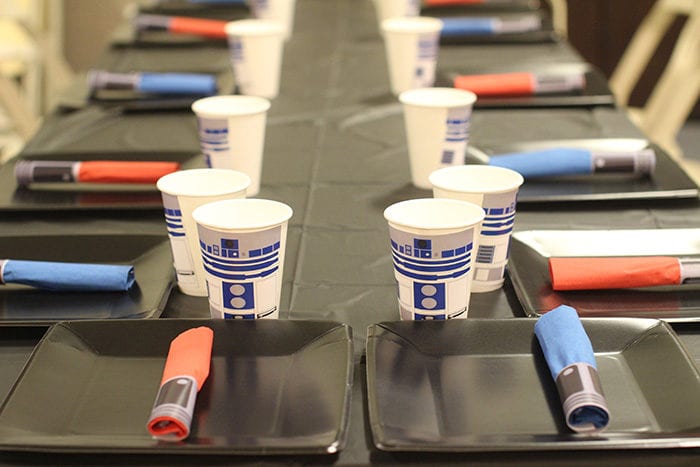 Food and Decor:
These cute R2D2 cups make were inspired by this tutorial. Instead of ordering the plastic cups, she used paper and the printable cup wrapper fit perfectly.
The light saber napkins were an easy paper project that adds lot to the table decor (get the full tutorial and the file for the light saber handles here).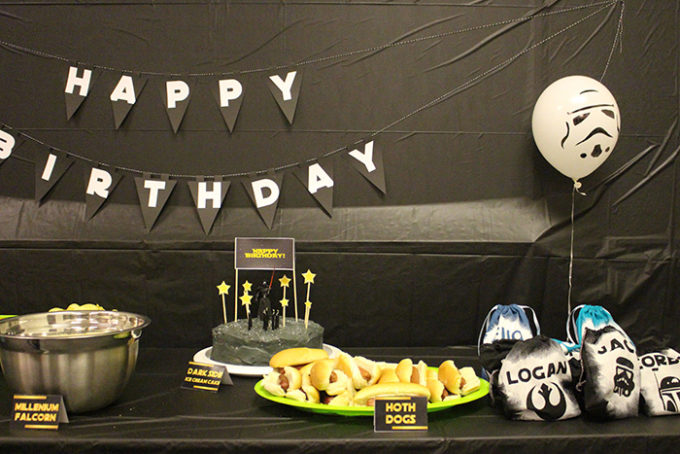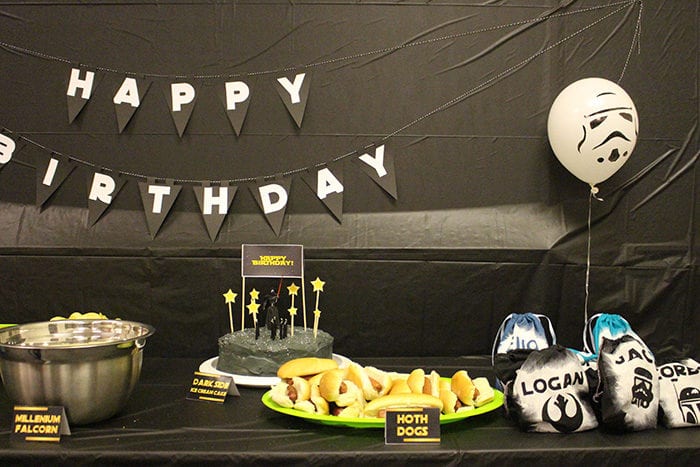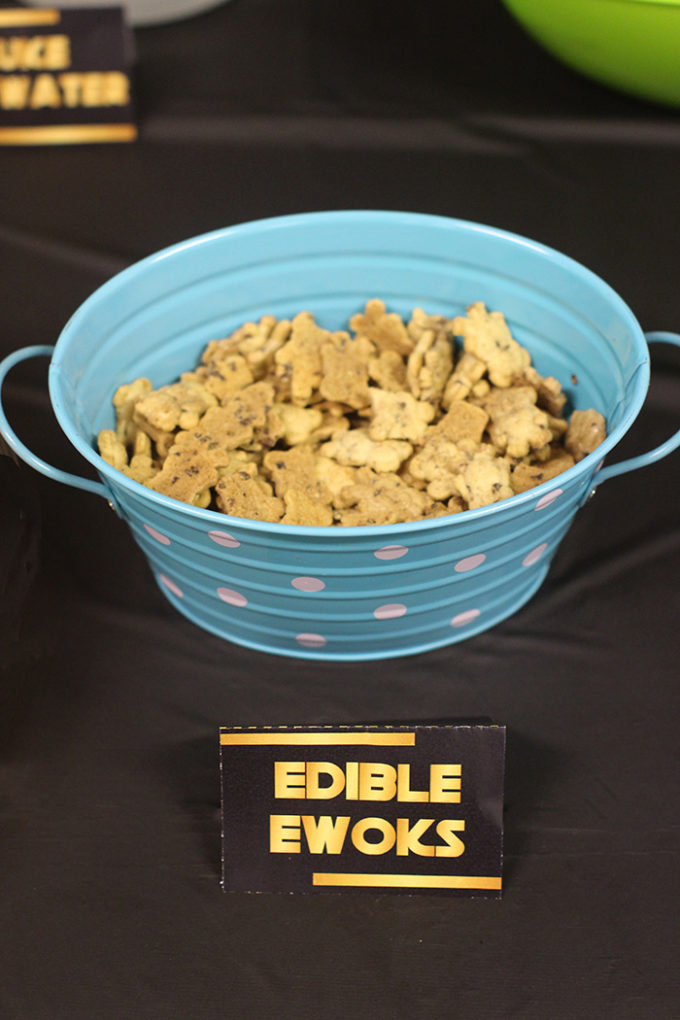 Lookling for even more star wars ideas? Check out these star wars shirts with a free SVG file!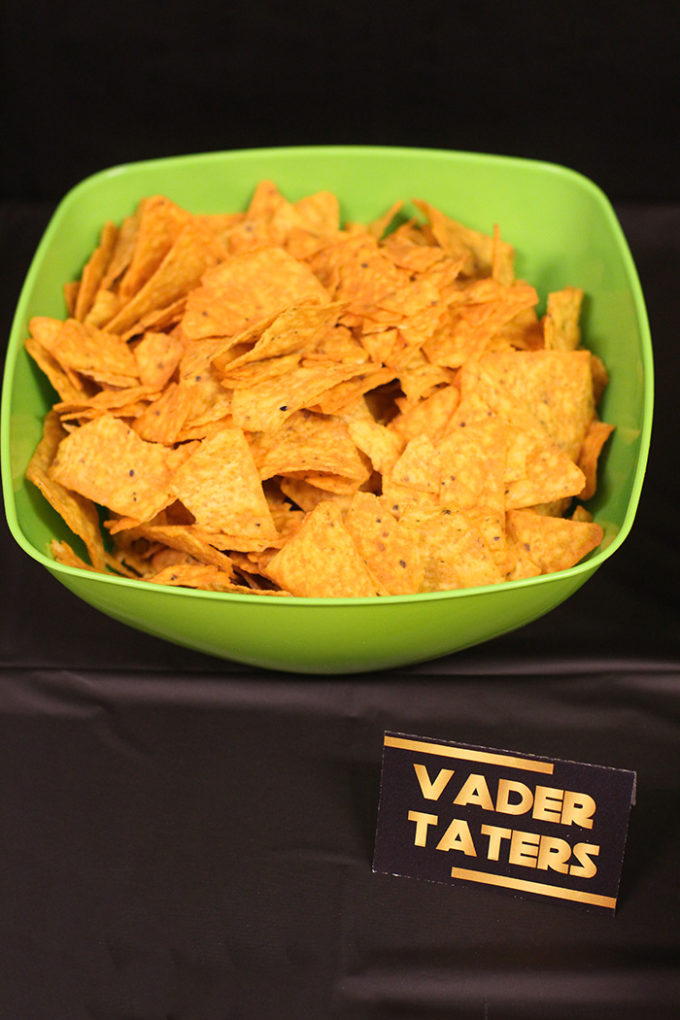 The happy birthday banner was made on the silhouette along with the food cards, although there are lots of those online as well. (The free printable labels from Over The Big Moon are adorable)
The kids made light sabers out of pool noodles and duct tape and then we played all sorts of games with them. The storm trooper balloons were made with a storm trooper template (find the file here) and drawn on with a sharpie.
Activities: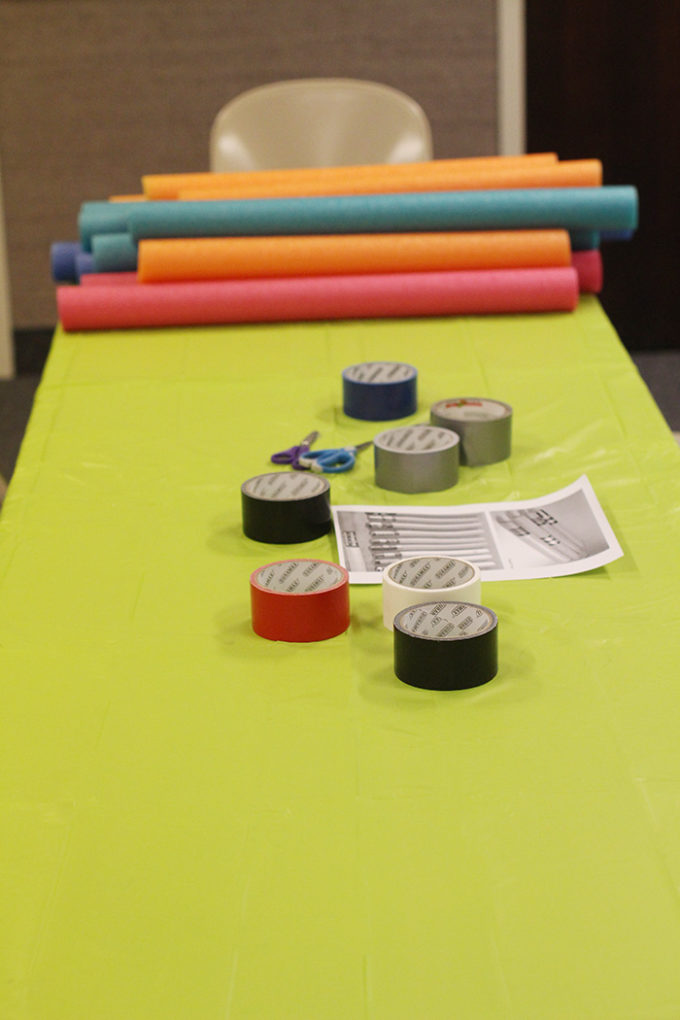 The kids made their own light sabres with pool noodles and duct tape. The light sabers were the hit of the party, and they played a few different games with them. A wooden beam was placed on 3 smaller boards to make a plank for them to battle on.
Star Wars Birthday Party Loot Bags:
The drawstring loot bags were sewn by mom. She used a vinyl cutting machine to make stencils and cut them out on freezer paper. After ironing on the freezer paper to the bags, use fabric paint (puffy) to paint around the stencil.
Push up pops become light sabers with a black construction paper and a silver sharpie. They also got a little star wars lego guy for their loot bags.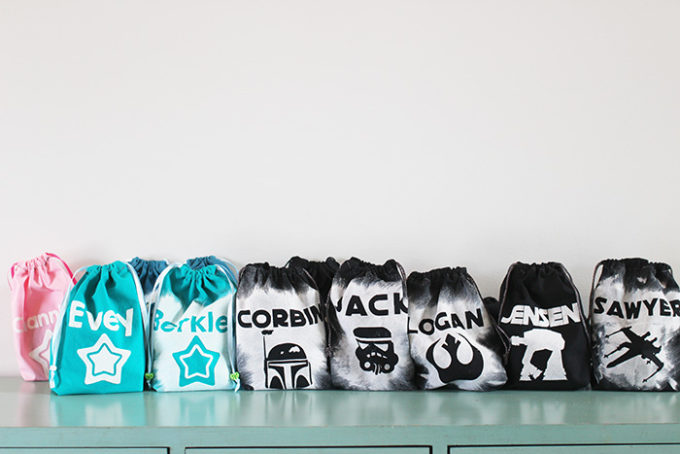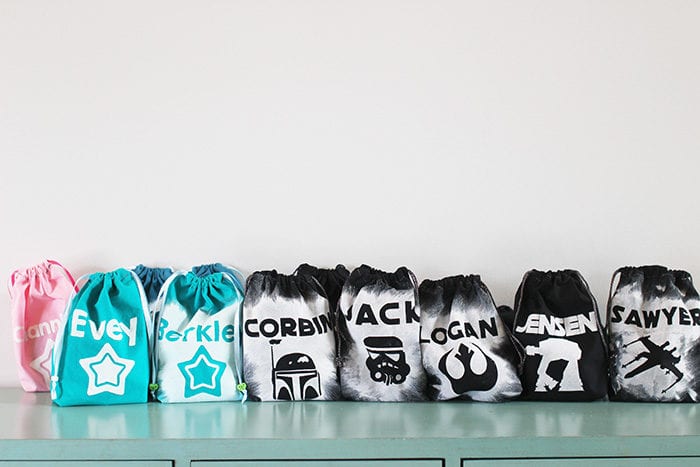 Do you love birthday parties? Did you know Netflix now has characters sing happy birthday to your kids? See the details here.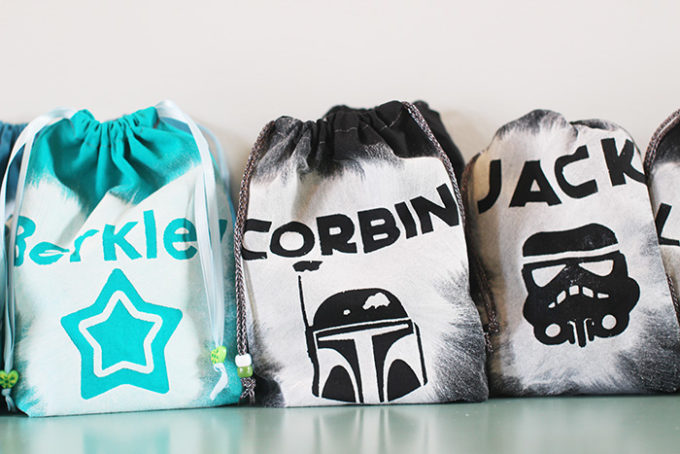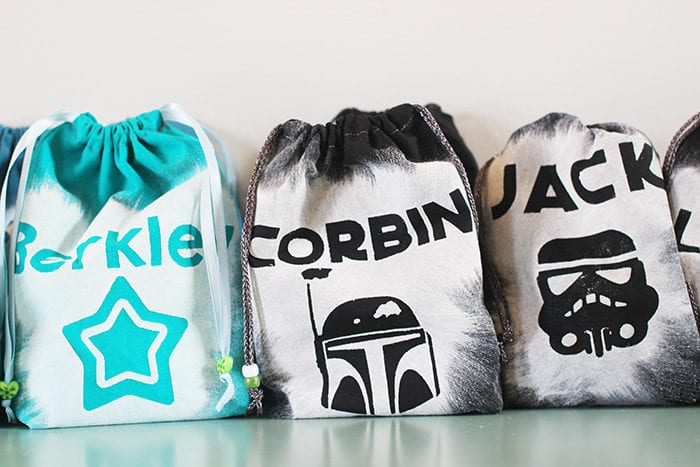 Looking for some simple theme ideas? I have lots of birthday party ideas you can see here.
Pin for later: