Keep track of every family members special occasions and never forget a friends birthday again with this undated printable birthday calendar!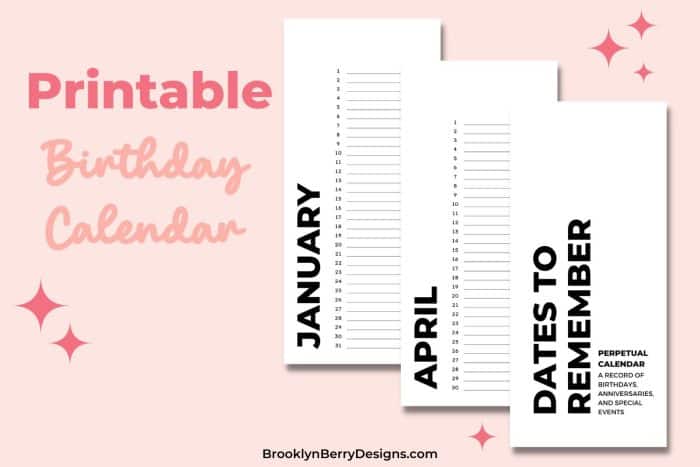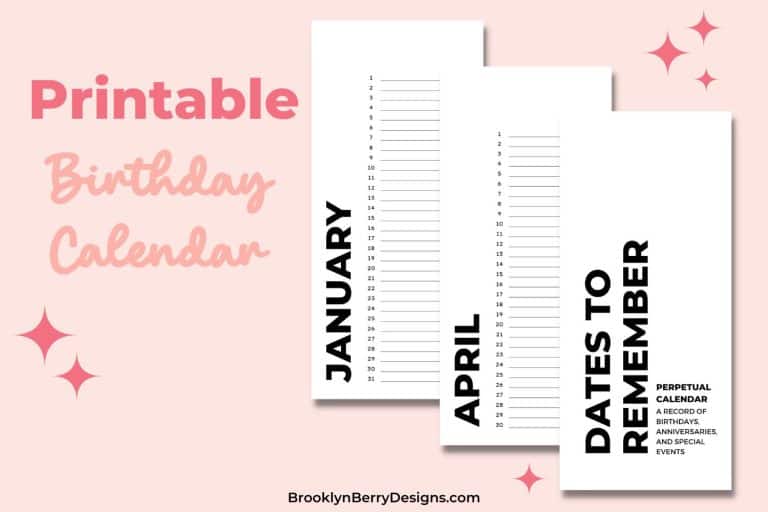 Make it easy to keep track of birthdays and special occasions with this birthday calendar, also known as a perpetual calendar, to reuse year after year! This is a great way to save you from having to rewrite each special date every year onto a new calendar!
Even with a digital planner, google calendar and all things digital, I still love having a physical monthly calendar for my birthday list.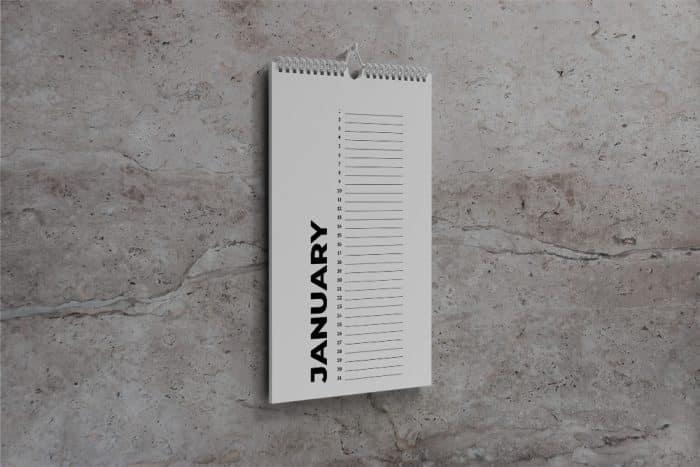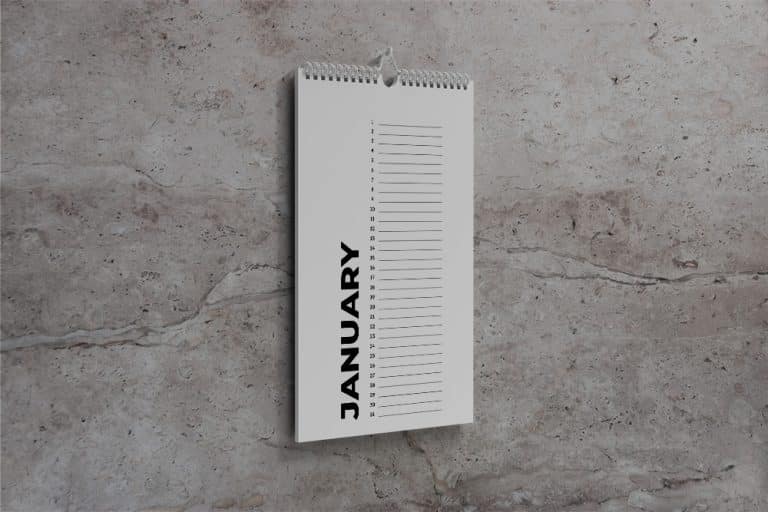 Why I designed this printable birthday calendar
Growing up my Grandma always had a large calendar hung on the wall with each member of the family's birthdays and important dates listed. The calendar I remember the most was made from a canvas material. Over the years new additions to the family were written in with a sharpie.
My grandma is now 91 years old and has many grandkids, great grandchildren and even great, great grandchildren. As the years have gone on, I loved seeing my cousins, their kids, and now even their grandkids' birthdays all listed on a large calendar. Thats a lot of important birthdays to remember and keep track of.
What I didn't love was the different colors of permanent marker used and the mish mash style of it being added to not in order. It makes sense why it ended up that way and the birthday calendar served a very practical function but I wanted to give her a better designed option.
My best solution for an organized birthday calendar became a perpetual calendar.
What is a perpetual calendar?
The perpetual calendar has one month listed per page, with the months of the year at the top of each page and the days of the month numbered down the page. There are plenty of spaces to list a person's name on the number associated with their birthday. If you write smaller there would be enough space for two names.
Perpetual calendars only include the month and list of days. Because there are no days of the week listed, this calendar can be used year after year.
How To Use A Birthday Calendar
With this printable perpetual calendar, I can quickly glance at the month and see if anyone has a birthday coming up. The first thing I do when I flip to a new month is glance over the month for any birthday reminders. I can plan ahead for gifts, birthday cards, or birthday cake. You could choose to keep your calendar for family birthdays only or include the birthdays of your friends as well! The good news is you can do whatever works for you and which birthday reminder you want!
Hang your birthday calendar where the whole family can see it and you will see it often.
Hang your perpetual calendar on a wall, above your desk, on the family bulletin or command center or somewhere you'll see it every day!
Other Ways To Use Free Birthday Calendars
Include other important events. Anniversaries are great to include as well as any special day you want to include.
Rather than birthdays, use the calendar to write down when bills are due
Keep track of expenses that don't occur regularly each month
Track a cleaning schedule or schedule deep cleaning tasks throughout the year.
Teachers could use this to keep track of classroom birthdays too!
Free Printable Birthday Calendar Template
This calendar is designed to print onto 8.5×11 inch paper or cardstock. There are 12 single sheets of paper in total.
Feel free to download and print as many copies of the printable birthday calendar as you would like. This calendar is intended for personal use only, so please do not share the files in any way. Its a free digital product, so just send a link to this blog post to your friends to download themselves!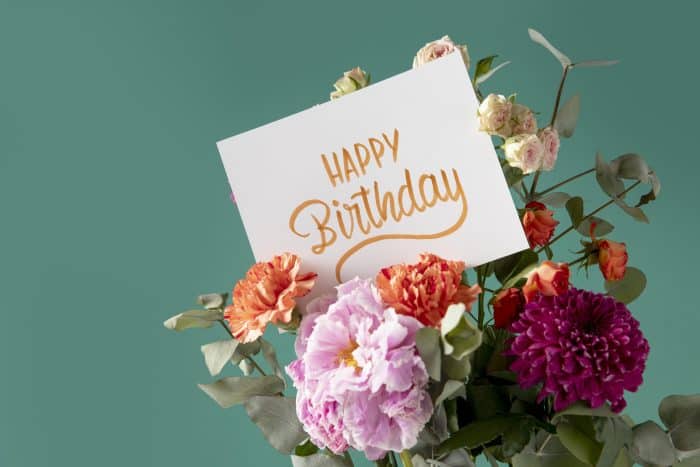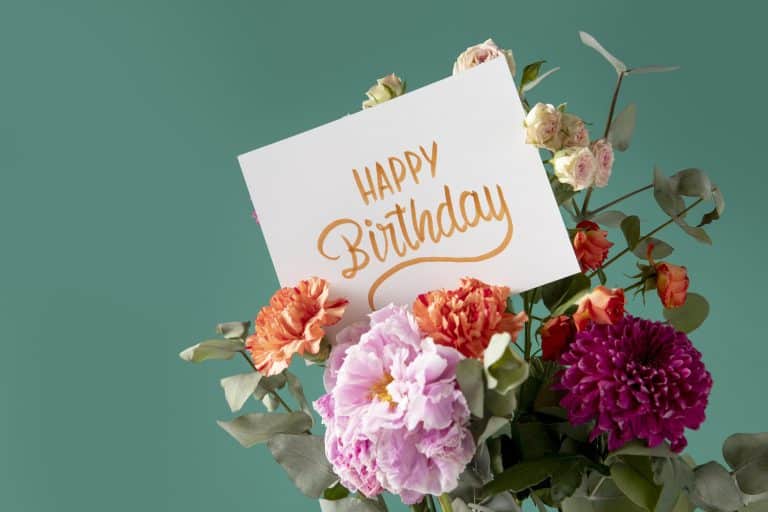 How To Print Your Printable Birthday Calendar
Free printable files are fpr my email subscribers. Enter your email into the box at the very end of this post. You will see a smaller image of the file you are wanting to download in the box itself.
If you are already subscribed still enter in your informaion. Don't worry! It won't subscribe you twice, it just notifies me to send you this specific file.
Check your email where I will send you the file. It should arrive within a few minutes, so be sure to check your spam folders.
The email will have a DOWNLOAD NOW button and the file will download automatically when you hit that button. Open the file – it will be in pdf format
Go to File – Print.
How To Assemble Your Printable Birthday Calendar
Print the document onto heavy card stock paper. Trim each page and use a hole punch to place a hole on the top center of each single page. Hang it from a nail, pin, string, literally any way you wish!
Another option would be to upload the file to an online or local print shop to get it printed and spiral bound for you.
Makes a great christmas gift for family members.
Blank calendar templates
Download The Printable Birthday Calendar
To get the free printable enter your name and email address in the form below and click the GET IT NOW button. I'll send the printable file straight to your inbox.
Terms and Conditions:
By downloading this free printable you are signing up for my e-newsletter and you'll be notified when I release new free printable files.
This printable is for personal use or classroom use only.
This file can be used in part or in whole for your personal projects.
Digital reselling, sharing, and redistributing of the files is NOT allowed. If you would like to share, please direct friends to the original blog post where you found this.
To save this idea for later, pin it to your favorite pinterest board!