There are many different ways to store vinyl, and the best solution to your storage problems may depend on the size of your collection and the amount of space you have available. Here are 25 clever cricut vinyl storage ideas and solutions to use for cricut vinyl to complete your craft room organization.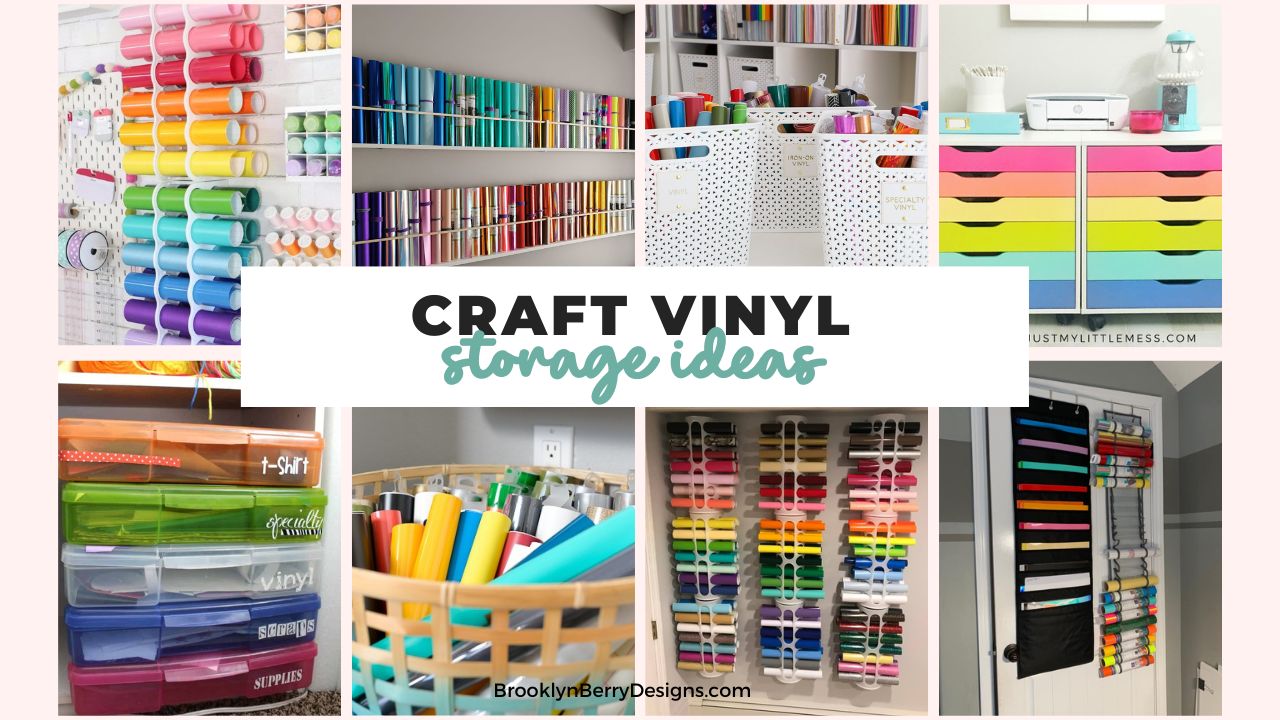 If you are setting up a craft room, you are probably wondering what is the best way to store your vinyl? You may not have much space or just want to maximize your craft room space to be the most functional for you. Here are the best cricut vinyl storage ideas that will help you transform a craft room that works for you, on any budget and for any space.
Have small scraps or odd shaped pieces of vinyl you need to store? We will share ideas to store rolls of vinyl, sheets, and even smaller cuts and scraps of vinyl.
Vinyl comes in various different types, as well as colors and patterns. When organizing vinyl you may need space to store rolls of vinyl, sheets, and even smaller cuts and scraps of vinyl. There are different ideas that will work differently depending on what your needs are.
Today I will share what has worked for me, not worked for me, and some ideas from other crafters. Because we all know when you have a specific space issue every idea is helpful!
Ideas For Storing Vinyl Rolls
If you're looking for a way to organize your Cricut vinyl, here are some ideas that could help you get started:
Plastic Boxes
Boxes are the easiest way to store vintyl rolls. Any box will do, a cardboard box, a basket, anything you have will work. For me, I found the clear plastic boxes to be my favorite. I like to see the rolls and it keeps them protected from dust and dirt.
Choose a box with a lid if you are going to be stacking them on top of each other. Clear boxes make it easy to see what is in them without opening each box up. Stackable clear shoe boxes are a great option for rolls of vinyl stored on their sides. Depending on how many rolls you have, a separate box can be used for adhesive vinyl and another for heat transfer vinyl.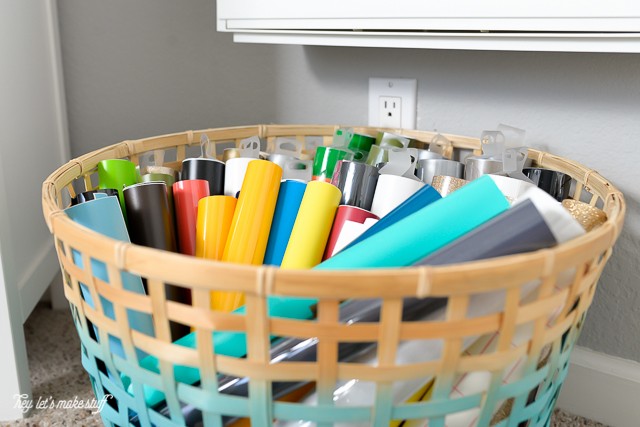 Rolling Cart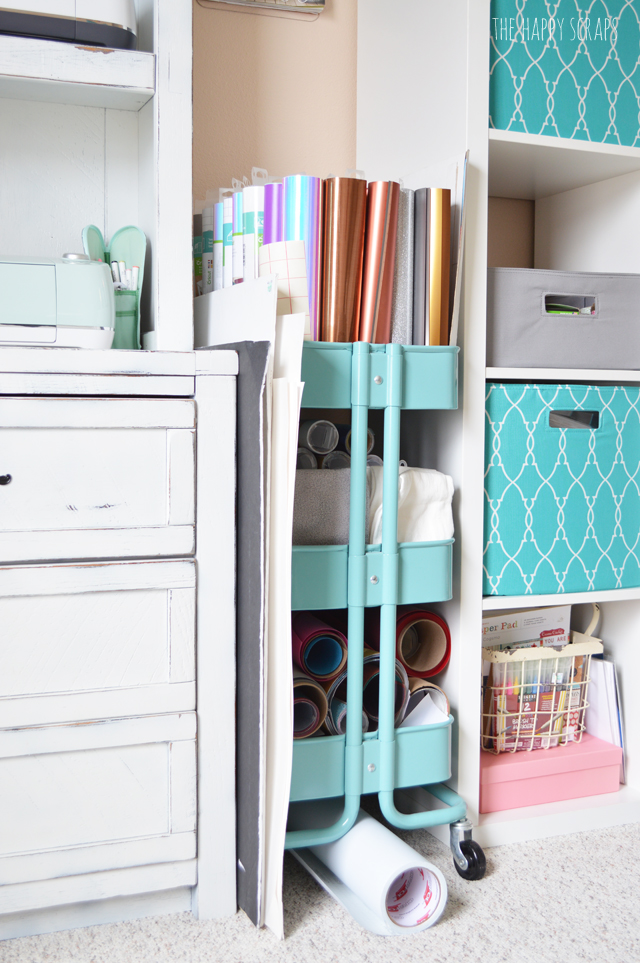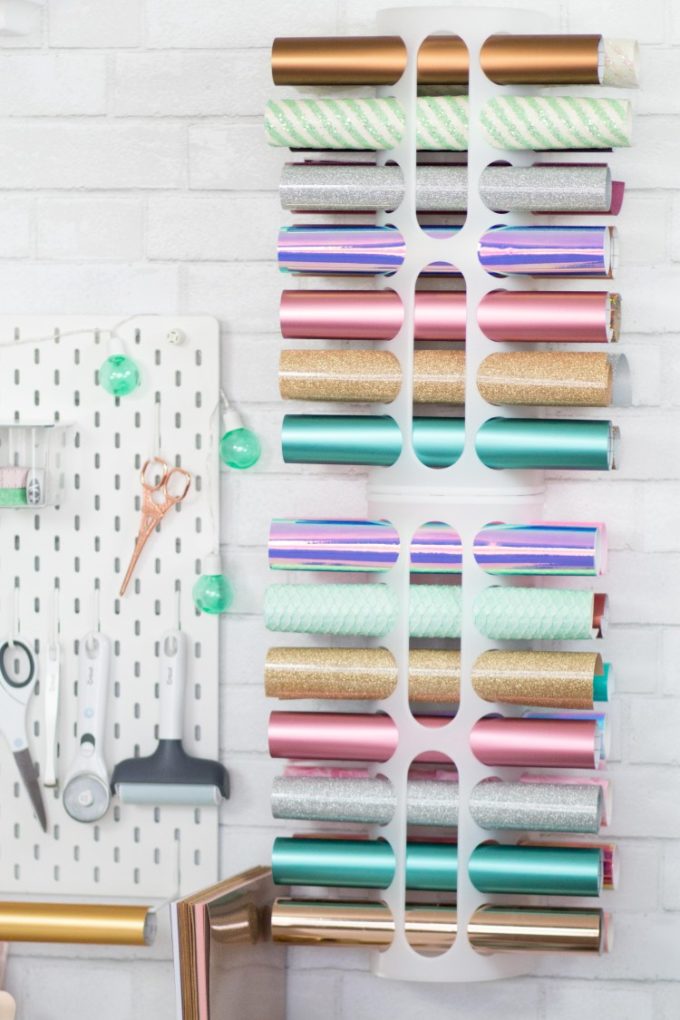 Ikea Plastic Bag Holders
The ikea plastic bag dispensers are one of the most popular cricut vinyl storage idea on the internet. The good news is that these plastic bag holders are cheap! Typically from ikea, these are an inexpesive option to store vinyl on a wall where you will see it.
In my experience I don't like that I had to unroll the vinyl from the original cardboard roll in order for it to fit into the holes. They look pretty if you are using vinyl rolls as a way to decorate your craft room. However, when it comes to actually using the vinyl rolls once you cut from the roll it no longer looks pretty.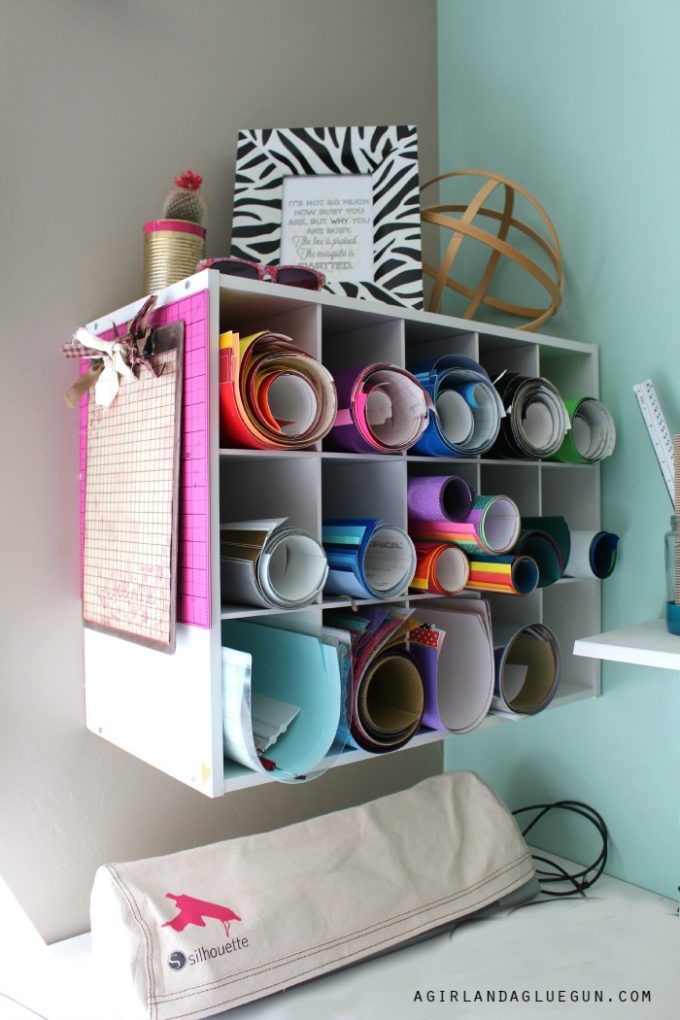 Shoe Rack
Repurpose a shoe rack. You can use a shoe rack to store your vinyl rolls, with each pocket holding a different color or size of vinyl. This is a great way to keep your vinyl neatly organized and easy to access.
Over The Door Vinyl Hanger
This is a storage solution that works great for small spaces. It takes advantage of the space behind your door and only requires you to unpack and fill the container. If the hooks prevent your door from closing you can use the option with a strap to hang from a wall hook or another door hook that works in your space. I have seen this style of hanger placed on a curtain rod on a wall as well.
DIY Storage Unit
Another great way to take advantage of the skinny space between the door and the wall by is by building a skinny shelf. If you have basic tool skills, this DIY wall shalf is made from scrap wood and dowels. Its the perfect solution for crafters with a lot of vinyl rolls they want to see and use often.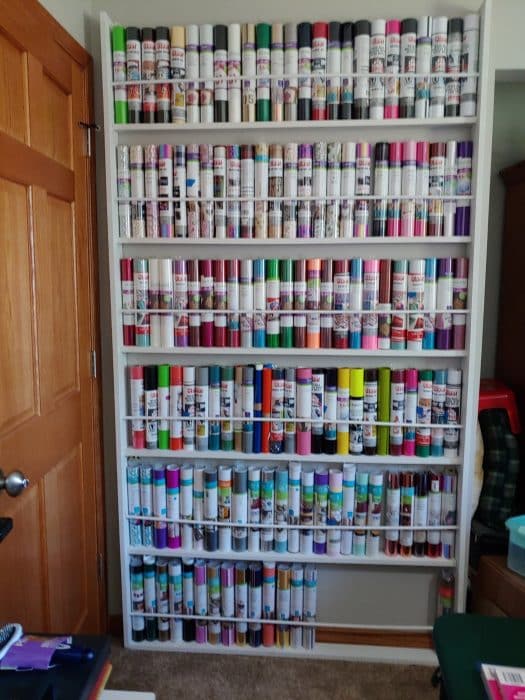 Wire Baskets
Wire Baskets can be used for rolls of all sizes. Sort vinyl by color for a pretty visual effect in your craft space.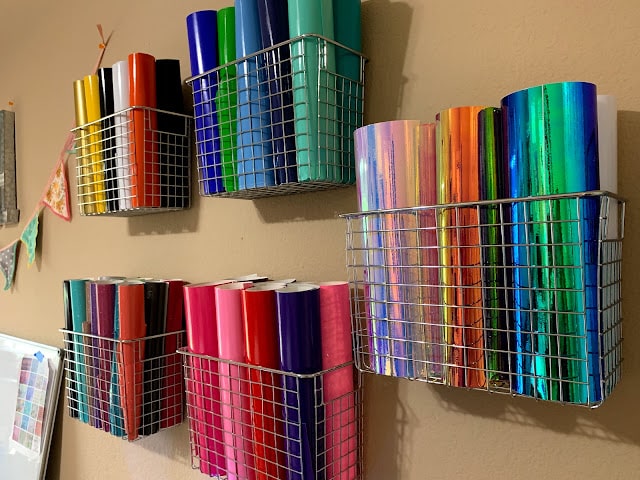 Pro tip: Use a slap bracelet, elastic, or paperclip to keep opened rolls contained.
PVC Pipes
Adding PVC pipes inside any bookshelf to make the most of every inch of storage space. If you have many colors you pull from often this a great way to sort vinyl without it getting damaged or creased.The pipes keep everything in its space without the stack coming tumbling down every time you pull a roll out!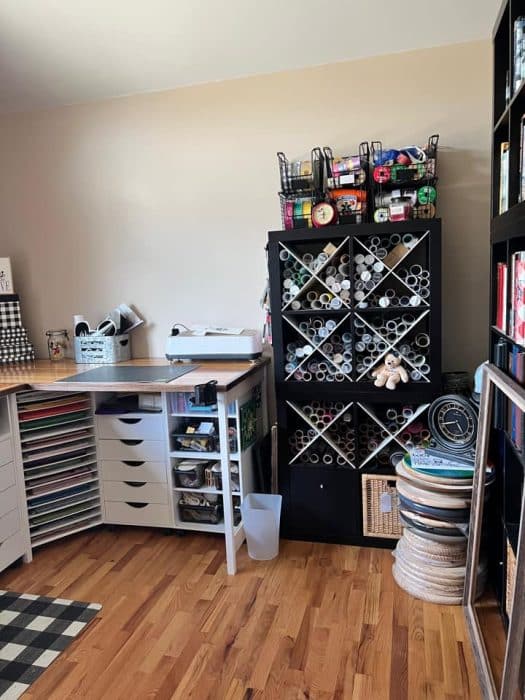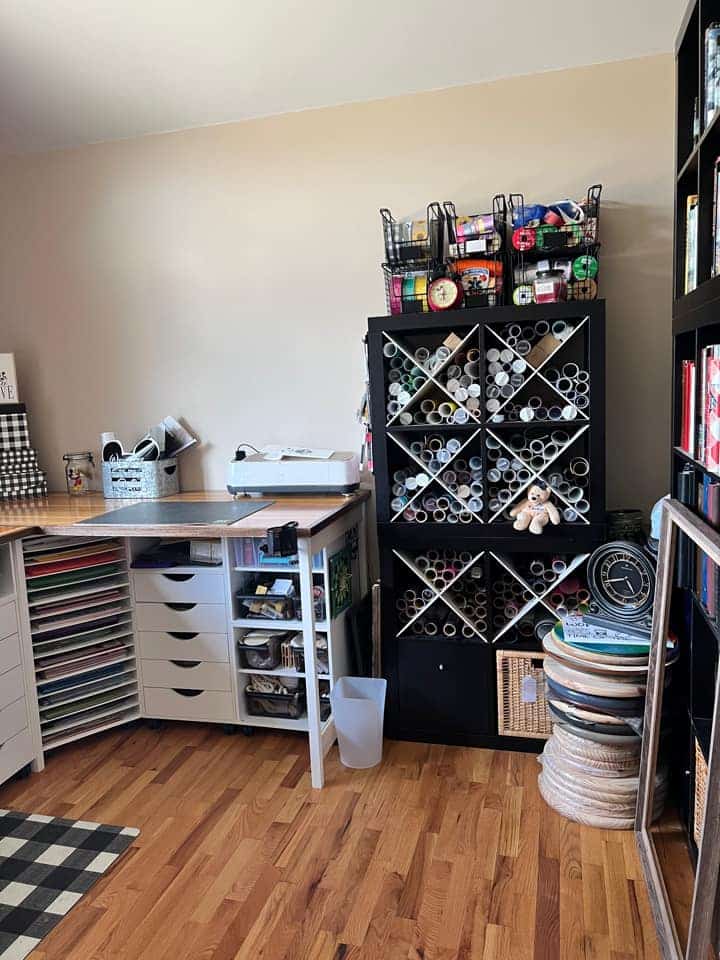 Wine Racks
Two different wine rack inserts are available for the ikea kallax storage cabinet. One divides the cube into 9 level compartments and the other is an x pattern. Both are very popular in cricut craft rooms.
Smart Vinyl
Smart vinyl has wider rolls than standard vinyl. I like to keep my vinyl rolls inside their original boxes and stack them together inside my shelving.
Ideas For Storing Vinyl Sheets
Sheets of vinyl are best stored laying flat. It tends to take up much less space once you take it off the cardboard, which is great! An added bonus is that when it lays flat you avoids any wrinkles.
Magazine Holders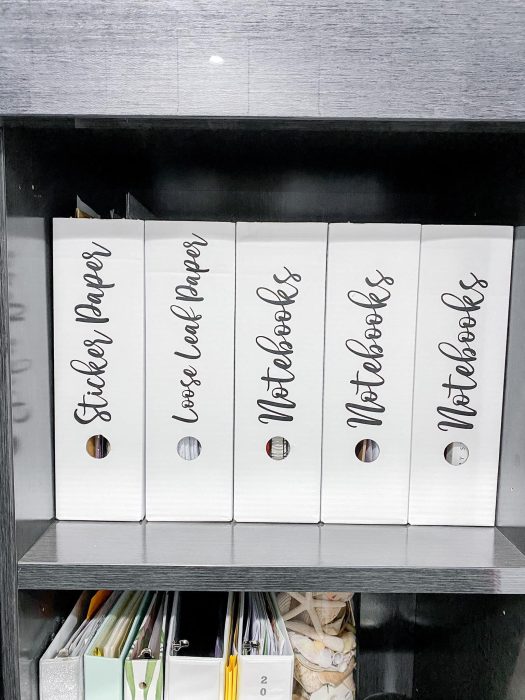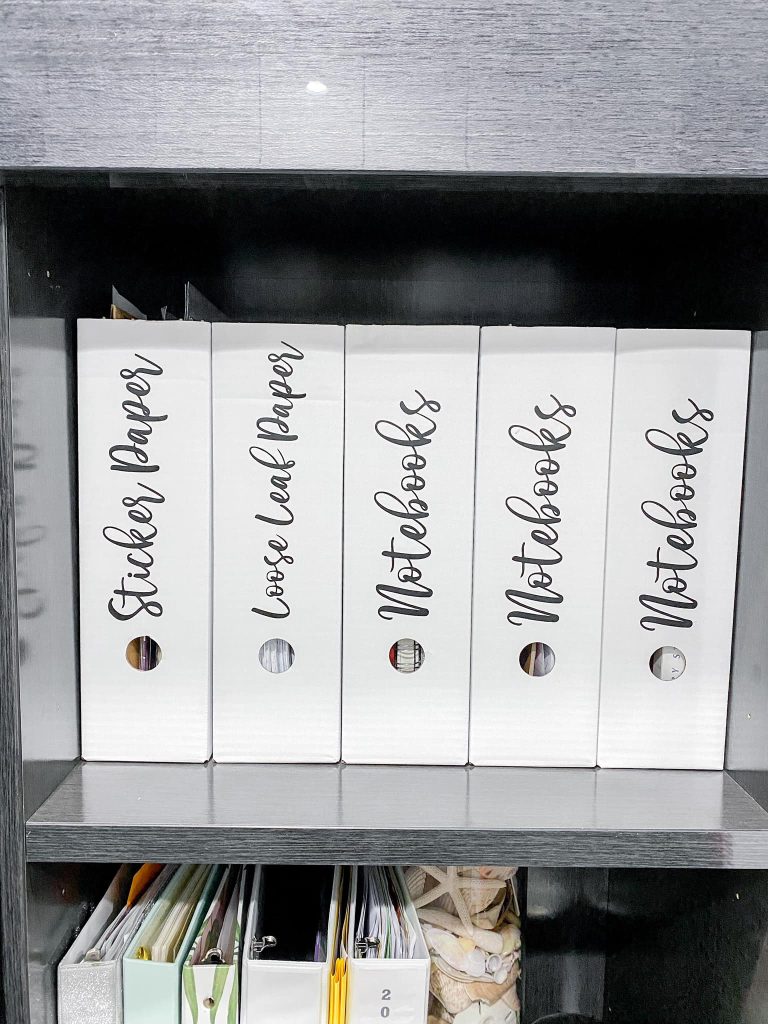 Magazine holders are perfect for storing vinyl sheets. You can label each one with the type of vinyl it contains to keep everything organized.
Wide Set Of Drawers
The set of drawers from the Alex collection is one of my favorite cricut storage ideas. The shorter drawers are the perfect size for vinyl sheets but are also big enough to fit vinyl rolls on cardboard tubes. Customize your drawers by painting them in fun colors or adding vinyl labels to each drawer. I like to use the top drawer to hold my cricut mats, transfer tape, cricut pens, and any other tools and accessories I need easy access to.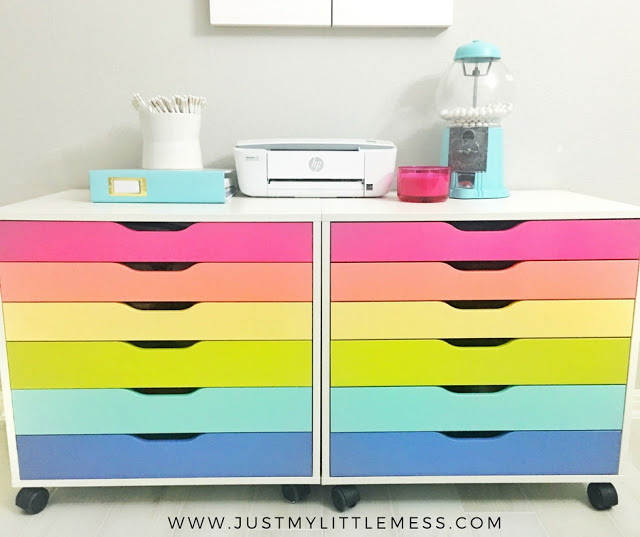 Vinyl Scrap Storage
Keeping vinyl scraps is a great idea, as long as you have a way to find those scraps when you need them!
Plastic Scrapbooking Boxes
These 12 x 12 box containers are my go to scrap storage solution. The boxes themselves fit the full width of a vinyl roll and they fit inside my paper storage shelving. I have three boxes for cardstock, iron on, and regular vinyl scrap pieces.
Anytime I cut vinyl I will slice off the cut piece and leave a clean straight cut on the roll. The remaining piece is trimmed and put into the box. Typically I don't sort these by color I just shove them all inside the box.
Whenever I need a smaller piece of material I always just bring out this box to see what I have that would work.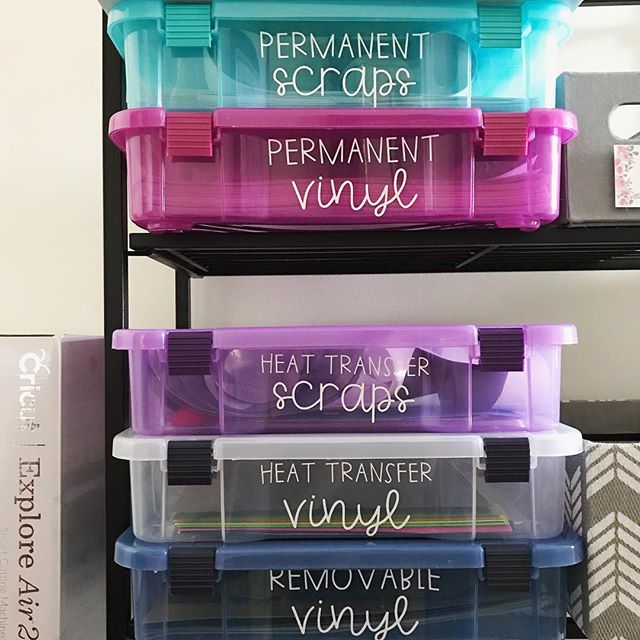 As an added bonus – you can make labels for your boxes with your Cricut and vinyl scraps!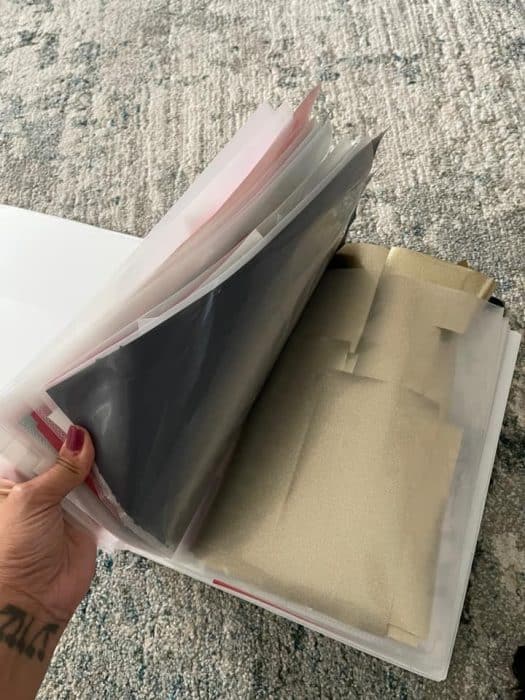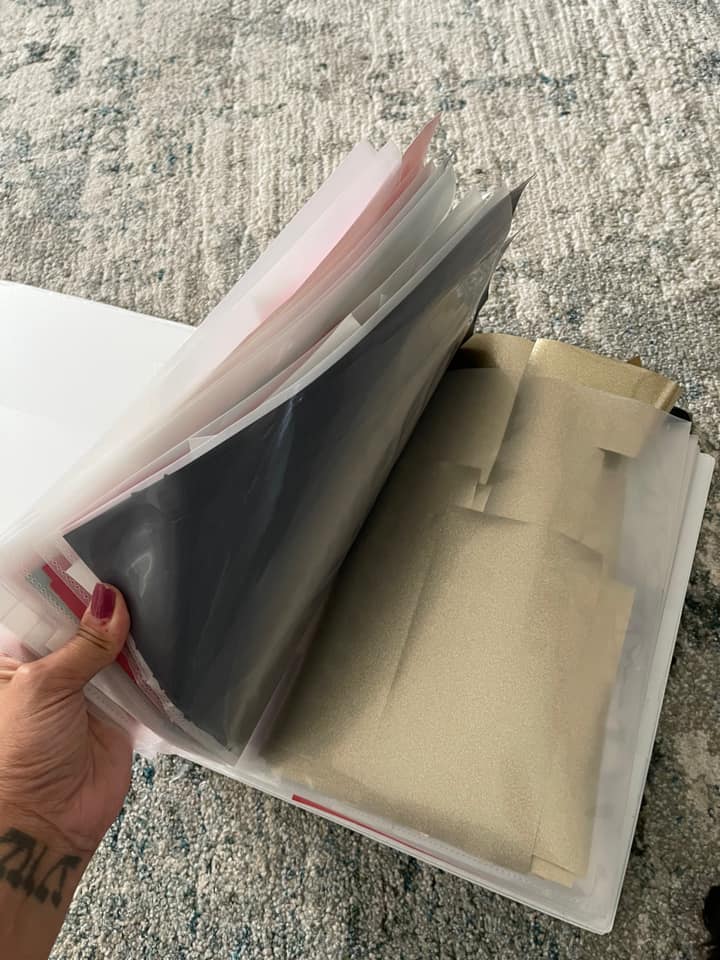 Art portfolio
These portfolio books are great for keeping scraps organized. Use a page to contain scraps of each color, and easily flip through to see what you have on hand.
Binder
A simple and inexpensive binder with sheet protectors is another option. I recommend getting the thicker sheet protectors as they tend to be less slippery. You don't want your vinyl pieces falling out and having to sort them all again.
File Folders
Again, a simple solution. Less effective if you are a person that needs to see what you have in order to use it.
Craft Room Inspiration
Looking for more craft room ideas? Just getting started? Check out all my favorite craft room tours and craft room inspiration here.
My favorite craft storage items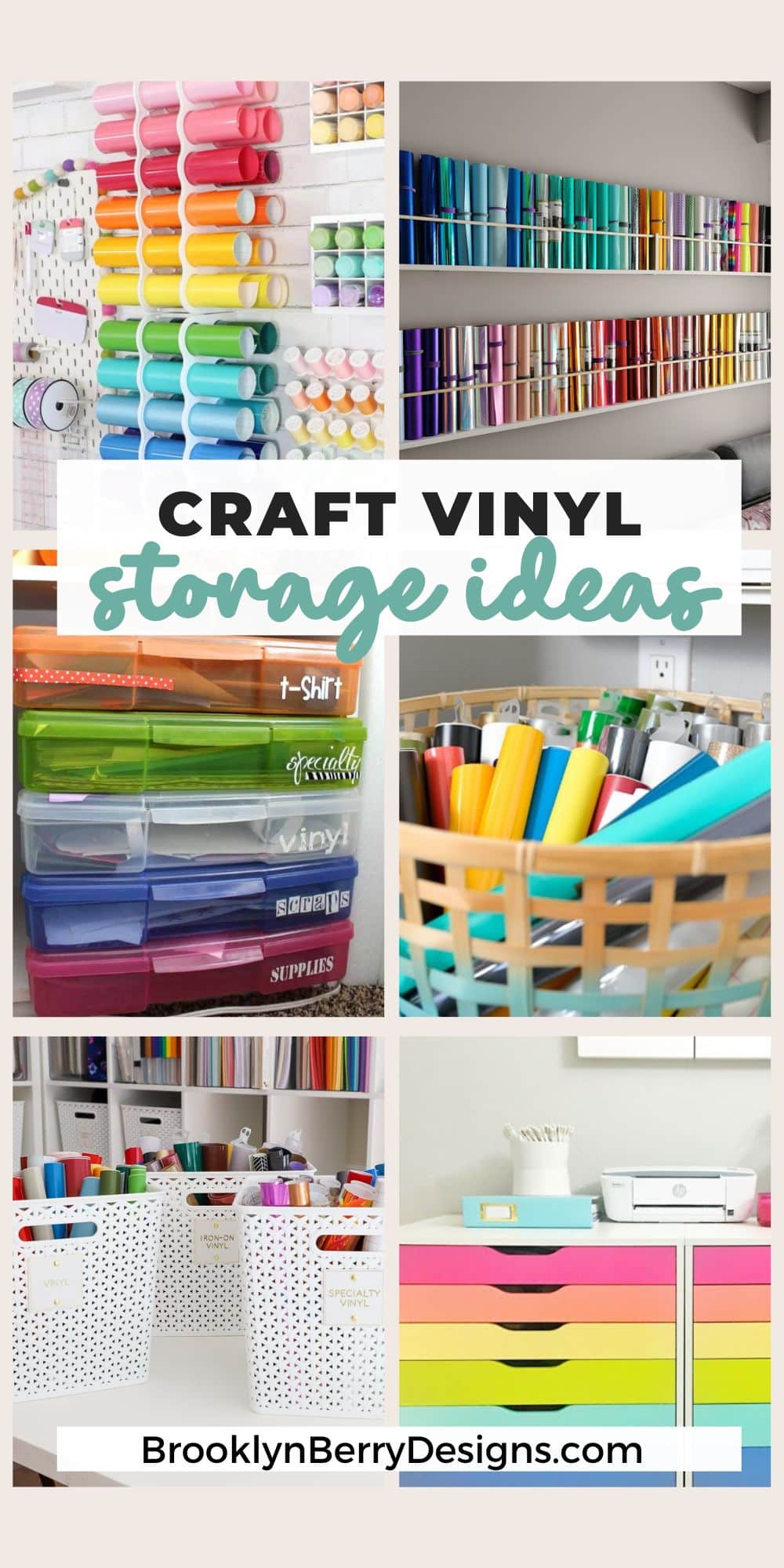 Happy Crafting!