Alright, let me start out by saying I am sorry for the less than stellar photos on this. I taught a craft class for a group of 8 people to make a Christ focused scripture advent calendar and wanted to share the groups projects, and the directions for those who took it home as a kit or may have some remaining parts to finish.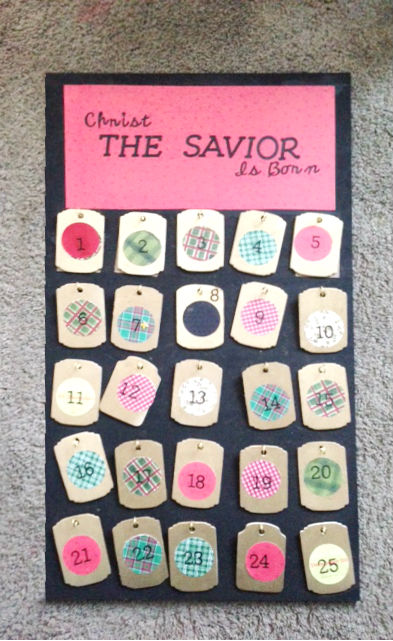 Tags with numbers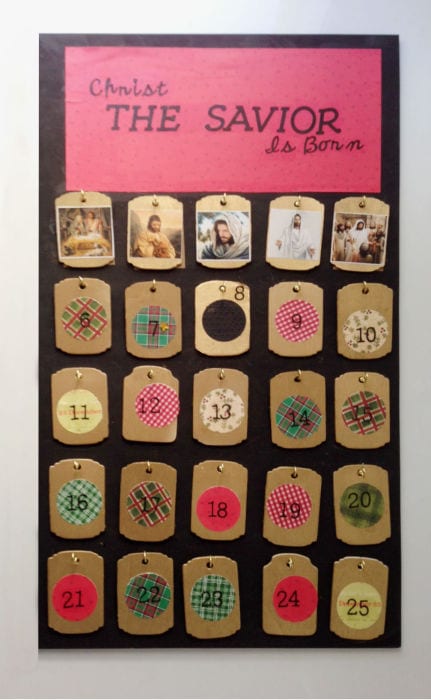 showing the back of the 5 tags
Materials Needed:
Hardy board, MDF, plywood, any other material of your choice. Cut to 12 inches wide, and 21 inches tall.
Wood tags. I bought these at Michael's for $0.49 each.
Optional: paper tags of craft paper – cut using my cricut
Various patterned papers
number stickers – I cut these out of vinyl using my cricut
Photos for the back of the tags – I have included the images I used for my tags – telling stories of Christ, including corresponding scriptures. They are sized for a 4×6 and I printed them at my local 1 hour photo lab.
Paint – craft paint, spray paint
Picture hangers
Hooks or finish nails
Tools Needed:
Directions:
Cut the board to size. You can use a table saw (the husband used our ryobi table saw but you could also have it cut for you at home depot). Save the remnant piece to add some dimension to the title board.
Paint Your Board – For the sample board I used chalk board paint so I could write different activities on the back of the board. For the class I bought some chalk board sticker paper to attach to the back.
Paint the wooden tags – we spray painted them so they dried faster. Any paint would work.
Cut out patterned paper in desired shape. Use a circle (or square) punch to make it easier. Cut out patterned paper for the title board.
Trim the pictures for the back of the tags.
Attach numbers to tags, attach title to title board.
Attach pictures to the back of the tags
Glue shapes to tags with Mod Podge. Glue paper to title board.
Line up tags and attach the nails and title board.
Step back and admire your work!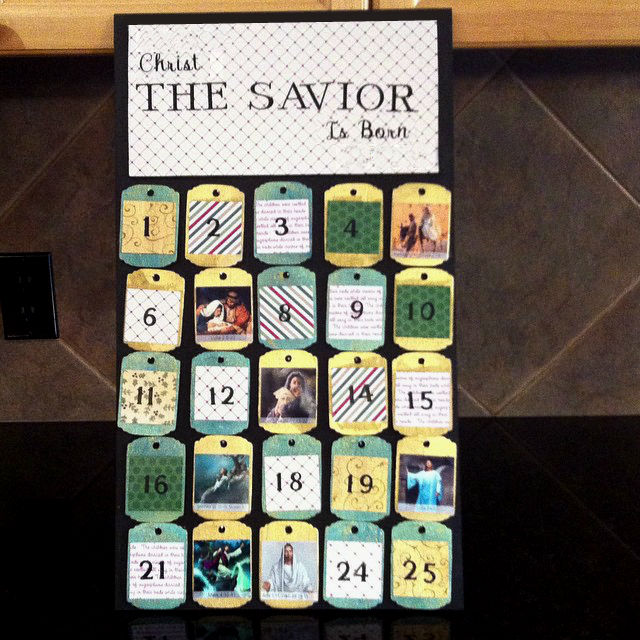 Title- https://us.cricut.com/design#/canvas/project/22278072
Tags: https://us.cricut.com/design/#/canvas/project/22111435
Photos:
because you need 25, I just attached some extra photos for the last sheet. I doubled them up to save money on printing. Feel free to do whatever you like for the last print.