Are you looking for a fun activity to do with the kids this St. Patrick's Day? Get into the magical festivities with this free printable St. Patricks Day Scavenger Hunt. 8 clues will lead them throughout the home, and you can choose your own treasure for the end!
Its easy to make a small holiday into a magical day without a lot of effort. Just grab the printable clue cards at the bottom of this post and grab some small items to be your treasure!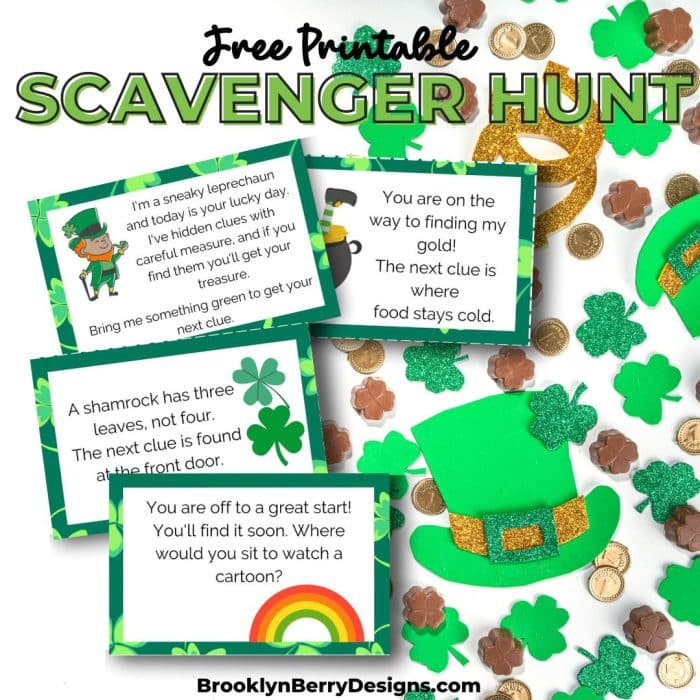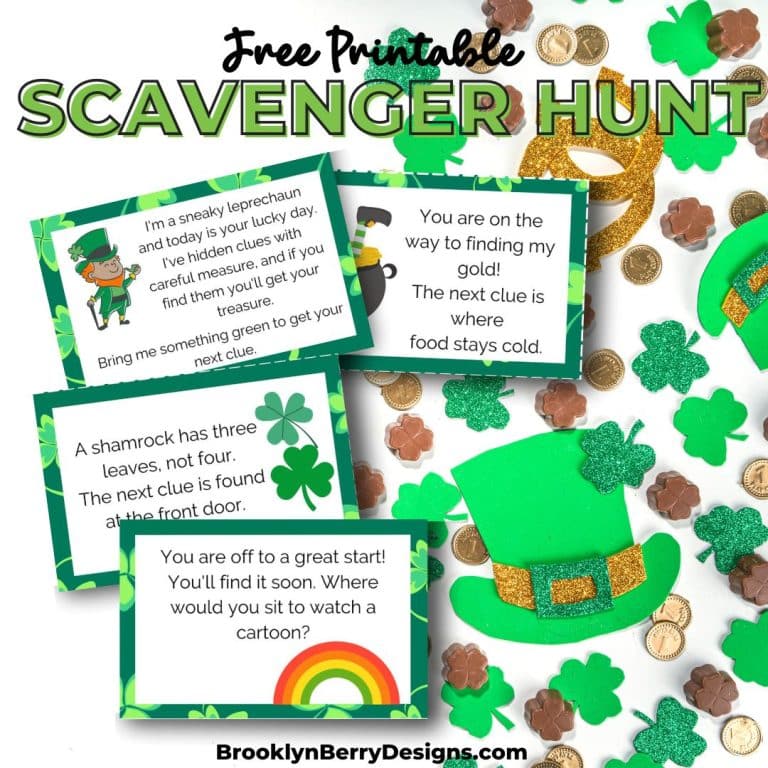 Celebrating St. Patrick's Day
Our family doesn't go all out to celebrate these small holidays, but I find my boys always love small games like this, so why not make it fun for them?
The object of the game is to find the pot of gold. The first clue is from a sneaky leprechaun who gives them the quest and sends them on their way.
How To Set Up This Scavenger Hunt
How To Set Up A Scavenger Hunt
Print out the clues

First thing, get the PDF by entering your email in the box at the end of the post. Check the image in the box – you know you are in the right place when the image is of the St. Patricks Day Cards. Enter your email and I will send you the file right to your inbox

Cut out each card

Print out the page of clues and cut each one out. A paper slicer makes this fast and easy! If you wanted to reuse these year after year, just laminate them!

Hide each clue

Set aside the first clue and place the other cards around the house in their locations. This is a great way to adjust the difficulty of the hunt. Is the clue in plain sight or hidden underneath something? The challenge is in your hands!

Each clue is made to be found inside your house. They are generic enough that every home will have these places, such as where you keep your socks. Where you go to get clean (bathroom). Where the food stays cold (refridgerator). The front door.

Place Your Treasure

Grab a small container and fill it with whatever prizes you want to be your treasure. Favorite treats, candy, lucky coins, or even a St. Patrick's Day Shirt. I always find amazing things at Dollar Tree and Dollarama (for my Canadians).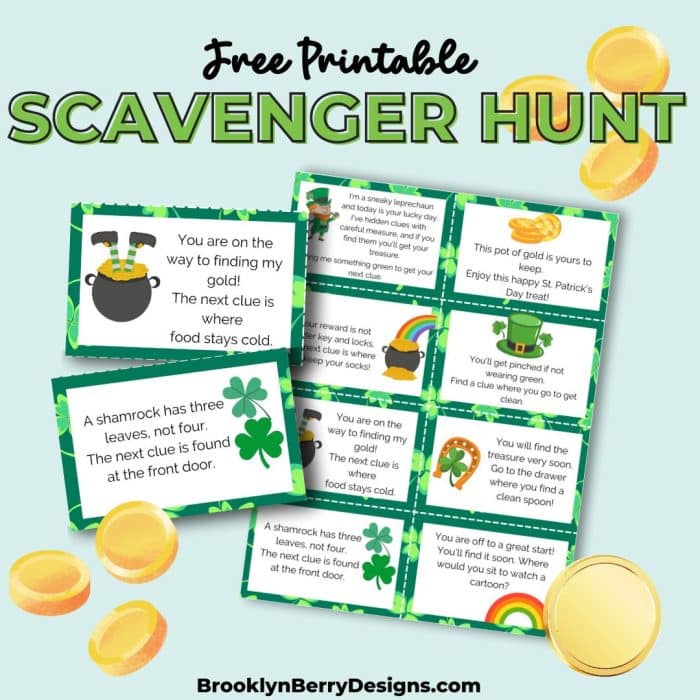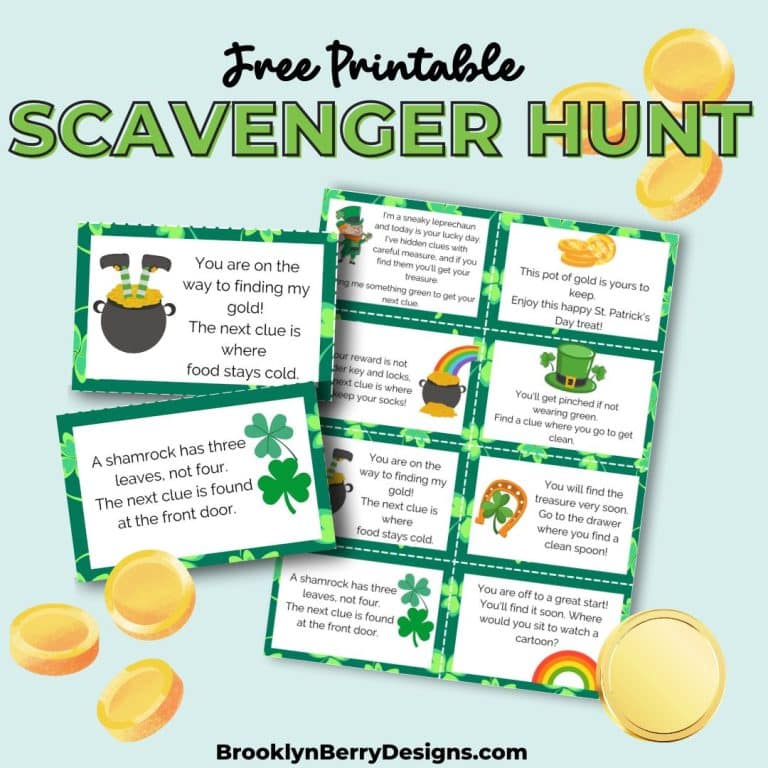 Printing Tips and Essentials
St. Patrick's Day Scavenger Hunt Treasure Ideas
Here are just a few of my favorite St. Patrick's Day treasure ideas to put at the end of the hunt! I've included a couple of bigger ideas as well as some smaller ones in case, like with this football scavenger hunt, you want to play with a larger group of kids at once! Or you could make it even more challenging and add this roll a rainbow game at the end (to win their prize) instead!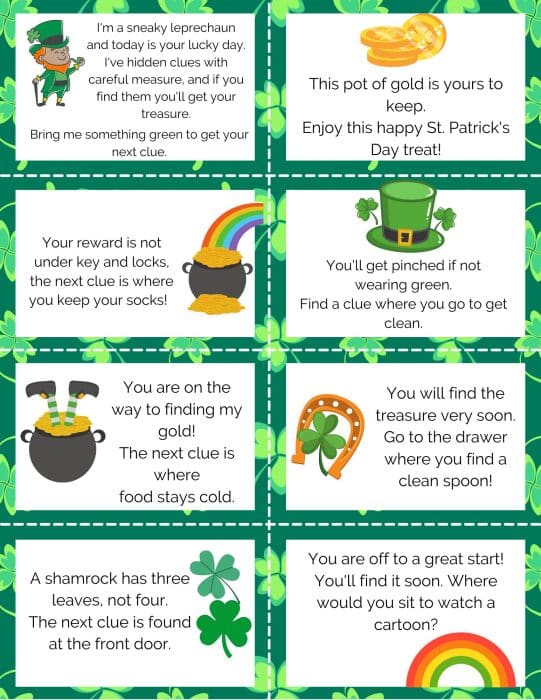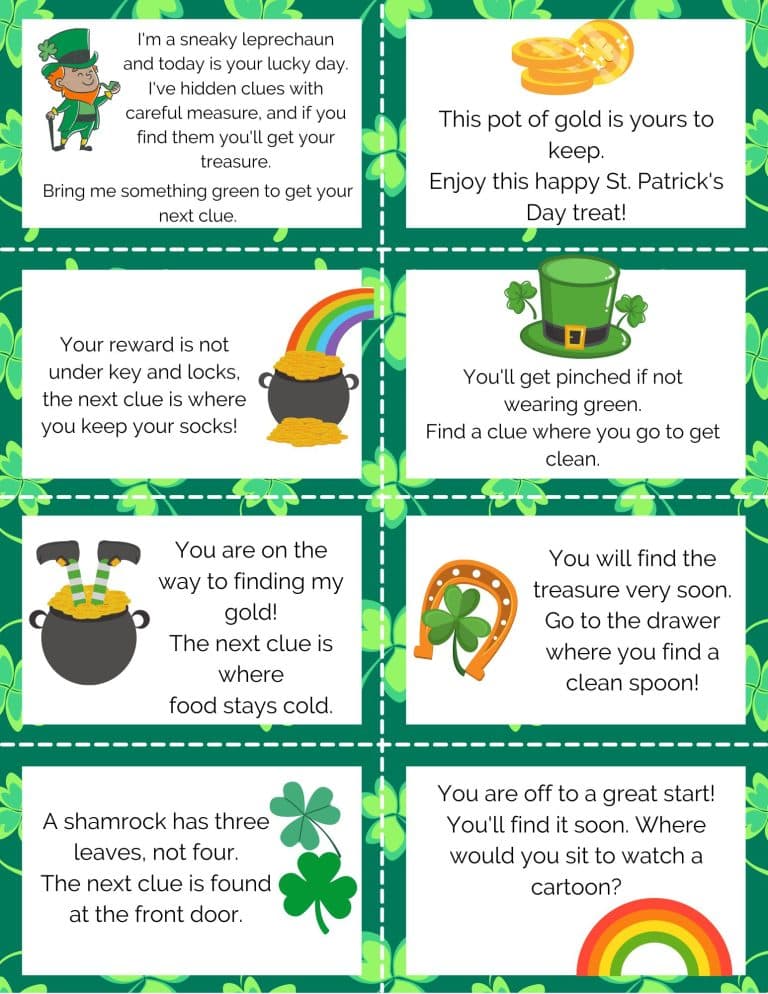 More St. Patrick's Printables
Here is a collection of free printables for St. Patrick's Day. Banners, gift tags, bag toppers, scavenger hunts, coloring pages, and games!
Please click each link to head to the site and blog post that contains the FREE printable file. Each blog has its own slightly different way to download the files, but once you get the hang of it you will be downloading free files easy peasy.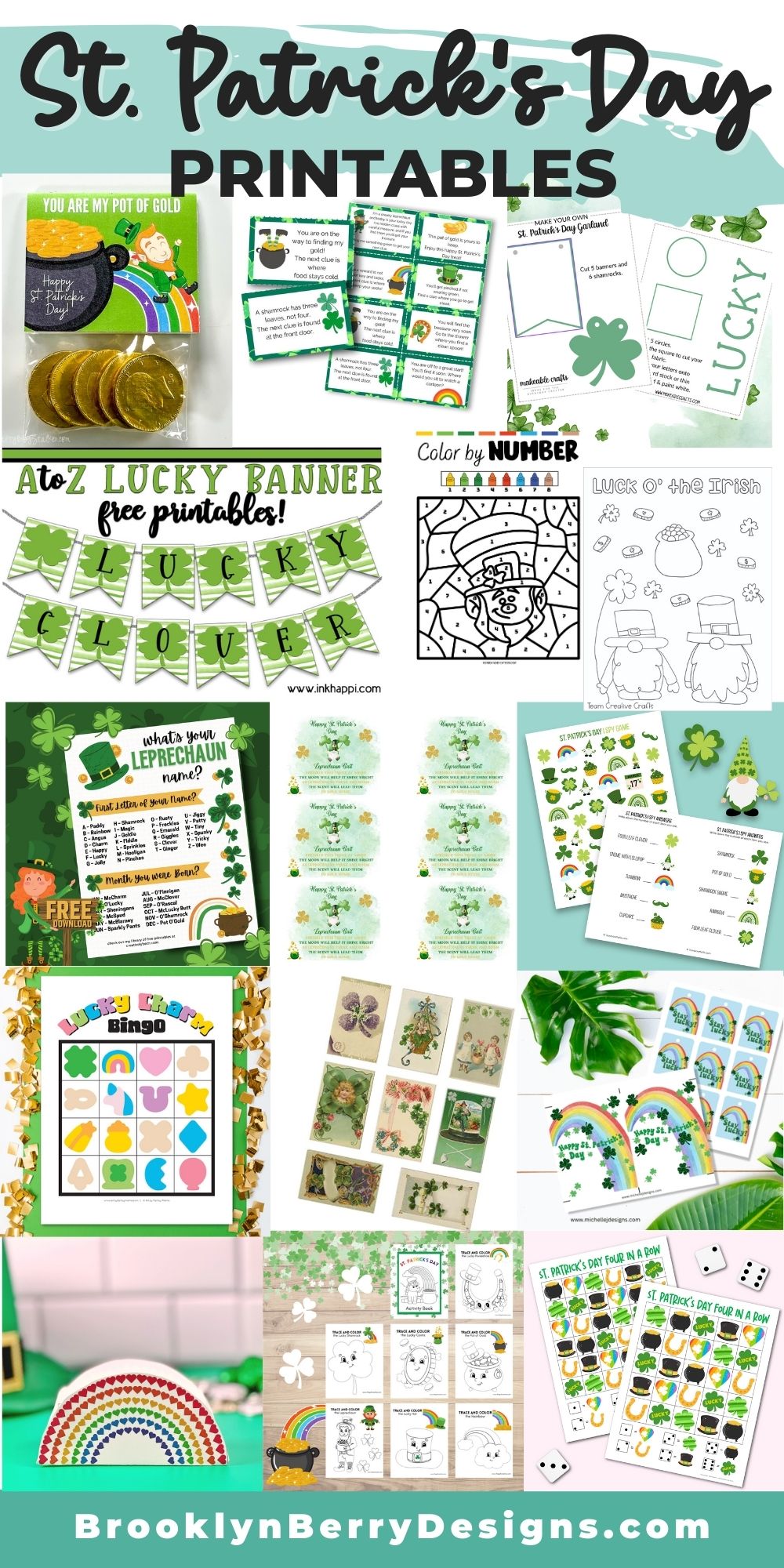 Save this idea and pin it for later: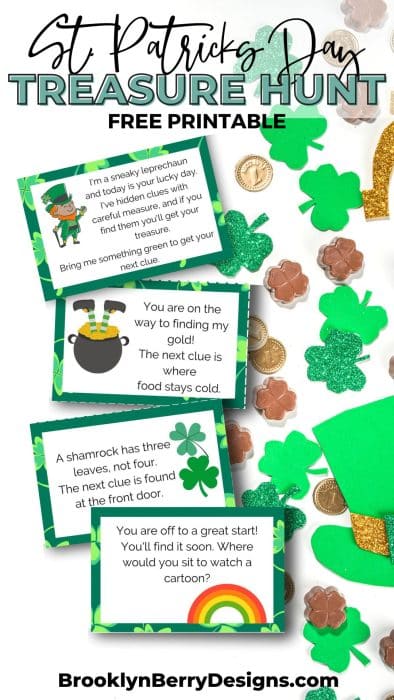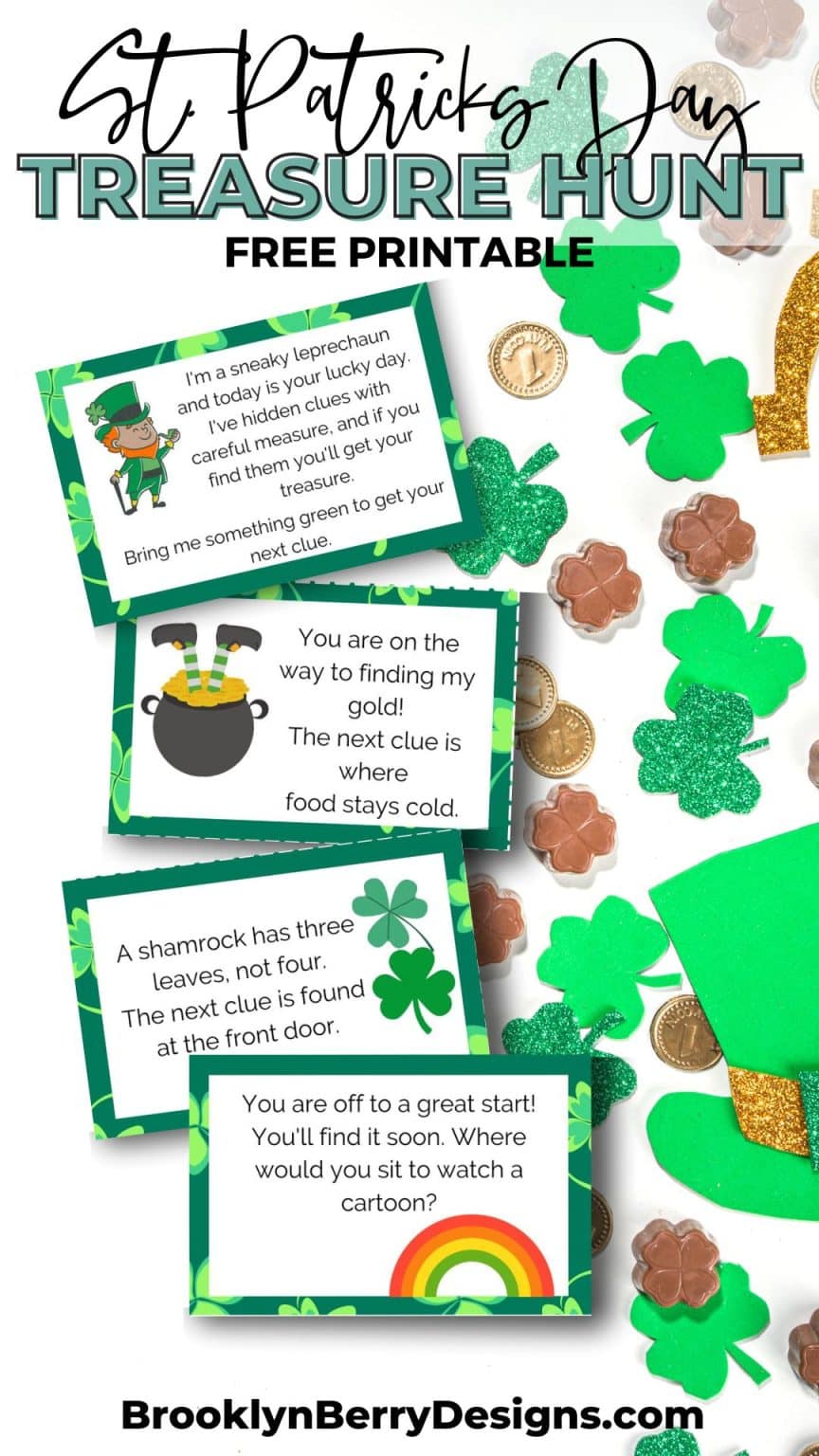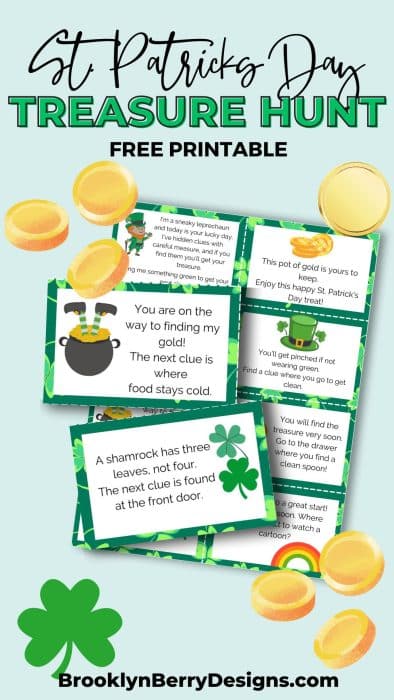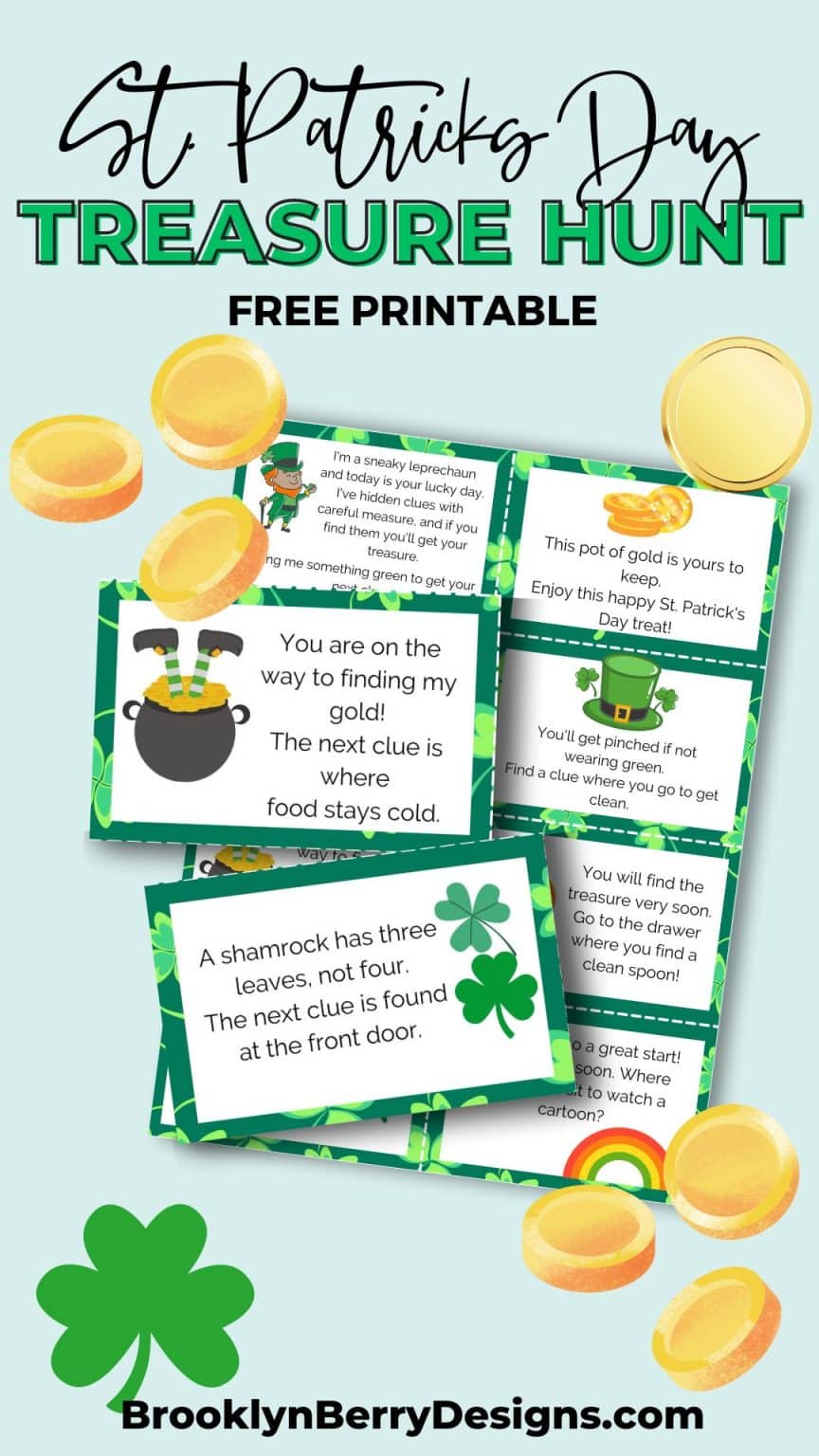 To get the free printable enter your name and email address in the form below and click the GET IT NOW button. I'll send the printable file straight to your inbox.
Terms and Conditions:
By downloading this free printable you are signing up for my e-newsletter and you'll be notified when I release new free printable files.
This printable is for personal use or classroom use only.
This file can be used in part or in whole for your personal projects.
Digital reselling, sharing, and redistributing of the files is NOT allowed. If you would like to share, please direct friends to the original blog post where you found this.