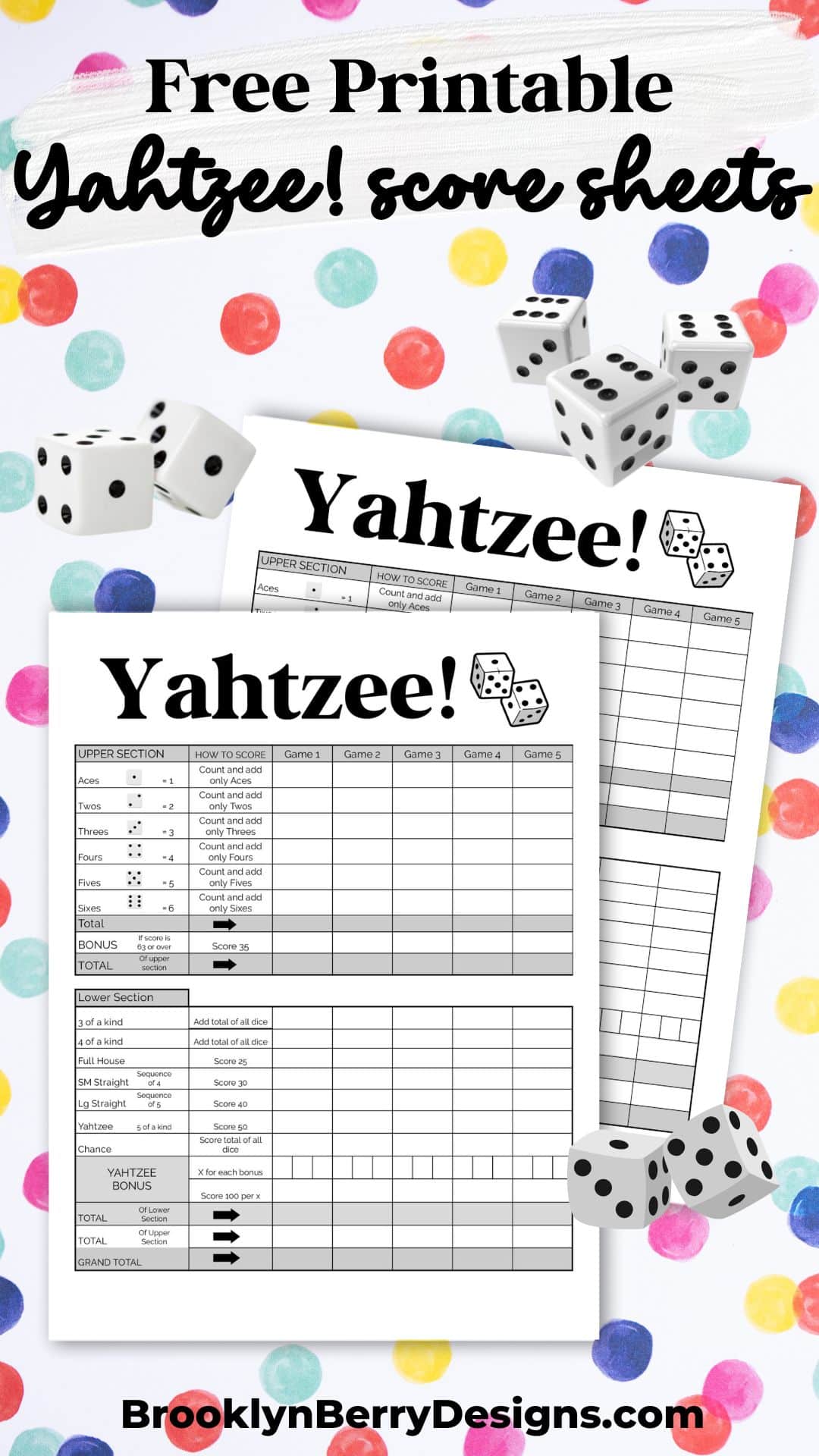 There is nothing worse than breaking out the Yahtzee box to find it has no blank score cards left! Never have that issue again with your own free Yahtzee Score Card Printable!
Making Learning Fun
Do you love playing board games? Anyone else love Yahtzee? I love playing dice games with my kids because they are secretly learning so much! Games are such a fun way to learn math skills, recognizing symbols, and so much more. There is even an entire group of homeschoolers that share game suggestions based on the skills leaned while playing.
Yahtzee is a fun game to build math skills. My third grader came home from school telling me all about this game and how he played it at school.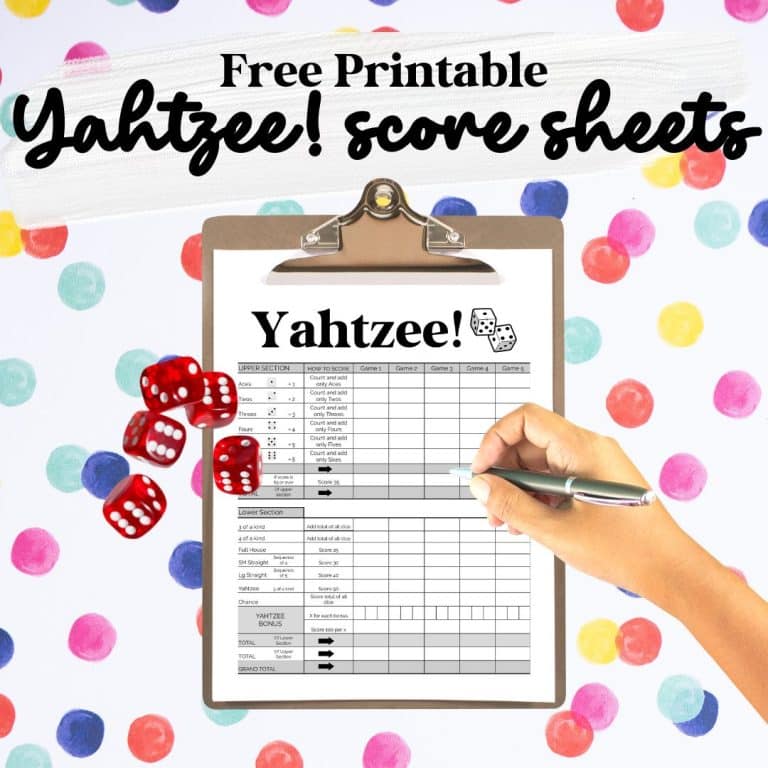 Now you can play Yahtzee any time you want! The game time never has to end when you have a copy of your own printable Yahtzee score sheet.
Looking for a fun backyard game for the summer? Get some oversized dice (or make your own!) and play some yardzee!
The Official Rules Of Yahtzee
The main objective of the game is to get the highest score with only five dice to make certain combinations to earn them.The game sounds intimidating when explaining the rules, but its really easy once you get the hang out it.
Yahtzee can be played with one player, but can also be played with any number of players.
Materials Needed To Play Yahtzee
Each player needs a score sheet and a pencil or just something to write with. You will also need 5 dice for the group.
To determine which player starts the game, everyone rolls the dice. The player with the highest total goes first. The turns then go in clockwise order.
How To Play Yahtzee
The first player rolls all five dice. Depending on what you rolled, you can set aside any dice you are keeping and roll the remaining dice. Each player can roll up to three times per turn to place a score on your sheet.
When you are finished rolling, you have to place a score in one of the boxes on the score sheet, even it is 0. You are allowed to stop and record your score on the first or second roll. After you fill in the box your turn is over.
You want to get the highest score for each of the categories listed on the sheet.
The game ends when each player has filled in each of the 13 boxes. Each player adds their score and bonus scores, and the person with the highest total score wins.
About The Yahtzee Score Card
The yahtzee score card is broken down into two sections.
Upper section
To score in the upper section, add only the dice you rolled with the same number you are trying for.
Aces (ones) score is the total of your aces only
Twos is the total scores your twos only
Threes is the total scores your threes only
Fours is the total scores your fours only
Fives is the total scores your fives only
Sixes is the total scores your sizes only
For example, if you rolled the dice combination shown below. You could add a total of 9 points in the threes box. Totalling your twos, you could also write a score of 2 in the twos box, or write 4 in the fours box.
This is an either or situation. Obviously the 3's would be the highest score, of those three options.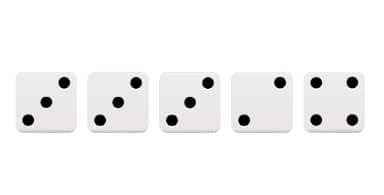 If you score a total of at least 63 points, you will earn a 35 point bonus. The score of 63 is determined by rolling at least three of each number, but you can get the total from ANY combination.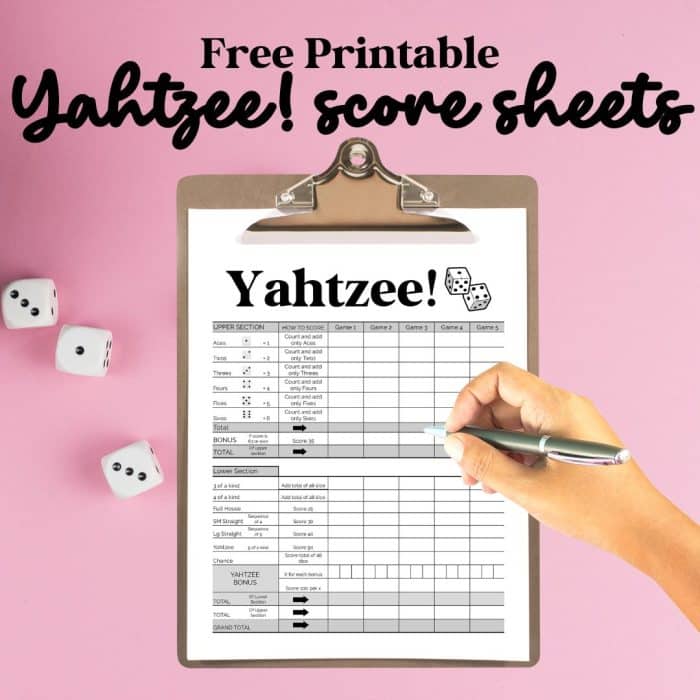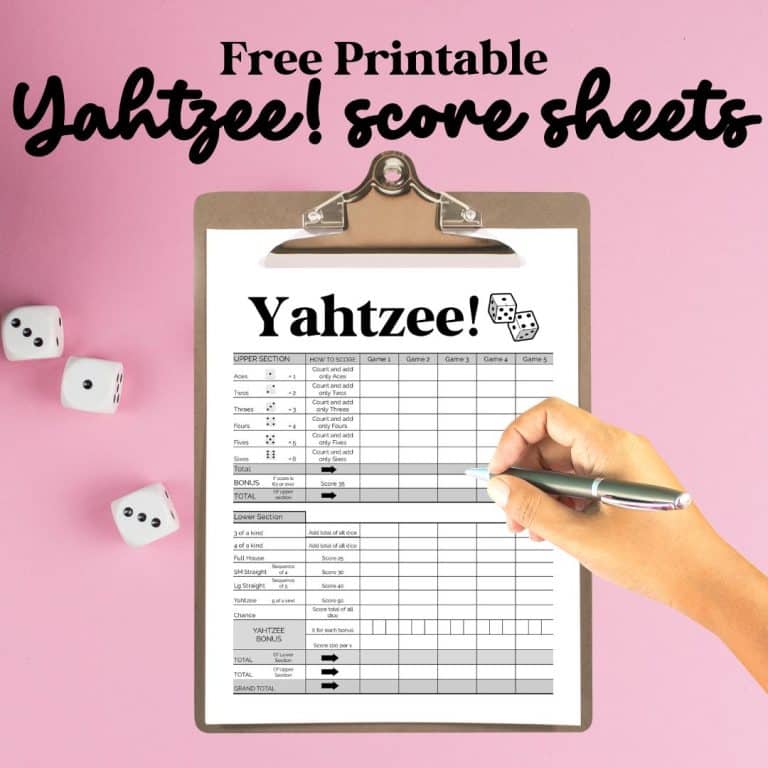 Lower Section
The lower section of the score card has more complicated roll types such as three of a kind, four of a kind, full house, small straight, large straight, chance, and yahtzee.
Three-of-a-Kind – When you have three dice with the same value. The total of all five dice are counted into that squares total.
Four-of-a-Kind – When a players rolls four dice of the same value. Every dice in the total of 5 are counted into the score.
Full House – Three dice of the same value, and two of another kind. Score is worth 25 points. Example would be 3 aces and 2 sixes.
Small Straight – Four dice in a row – such as 1, 2, 3, and 4. Or 3, 4, 5 and 6. Score is worth 30 points.
Large Straight – Five dice in a row – one though five or two through six. Score is worth 40 points.
Yahtzee – The ultimate category. 5 of a kind, this rare roll is worth 50 points.
Chance – Any roll can be used in this section. Just total all 5 dice that are rolled.
Bonus Scores
There are two bonus sections that can make or break your yahtzee game. Adding your grand total at the end, there is a 35 point bonus for completing all of the upper section.
Is this too complicated for your group? Check out these free printable bingo cards!
Printing Essentials
Tips for winning the game of yahtzee
Save the Chance category as long as possible. If you have a particularly bad combination of dice, try filling in the aces box or the yahtzee box to avoid losing point.
Three of a kind – try to keep double 3s, double 4s, 5s, or 6s for higher scores. Use double 1s and twos for the aces and twos category, or possibly the full house category.
Want to save this for later? Pin it to your favorite pinterest board! Here are some images to pin: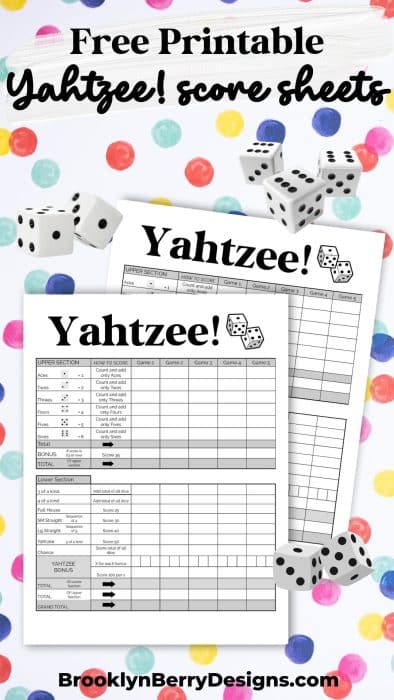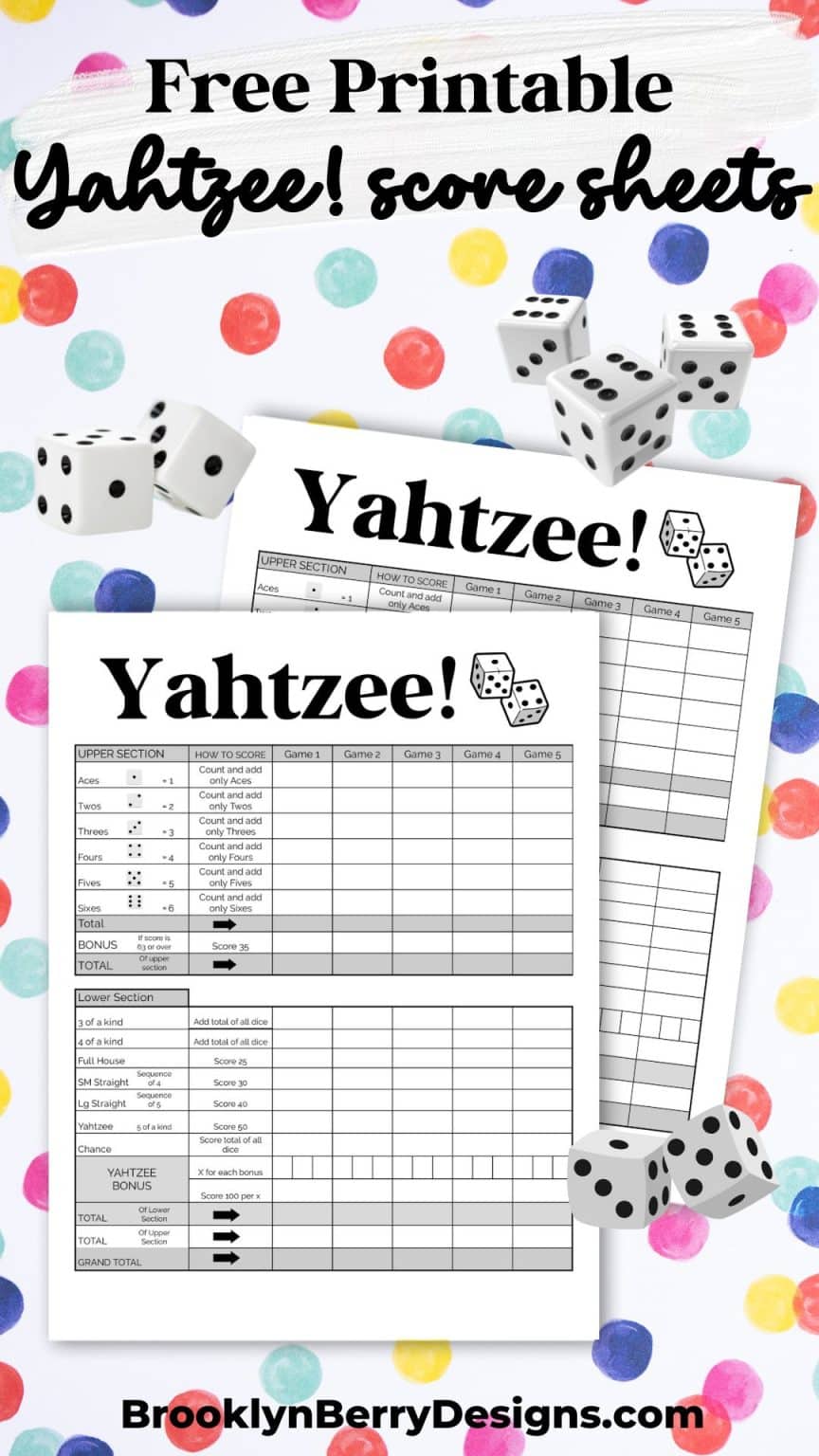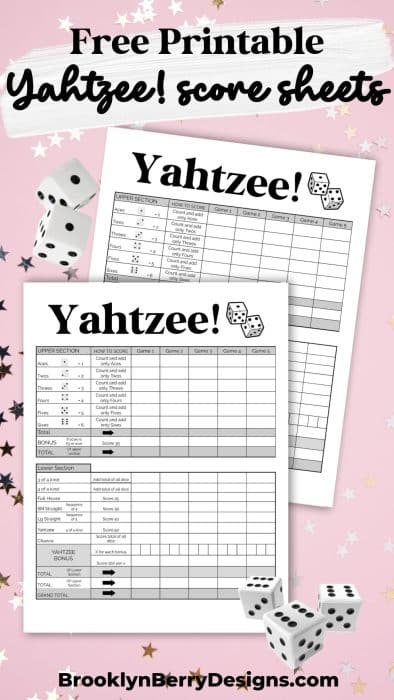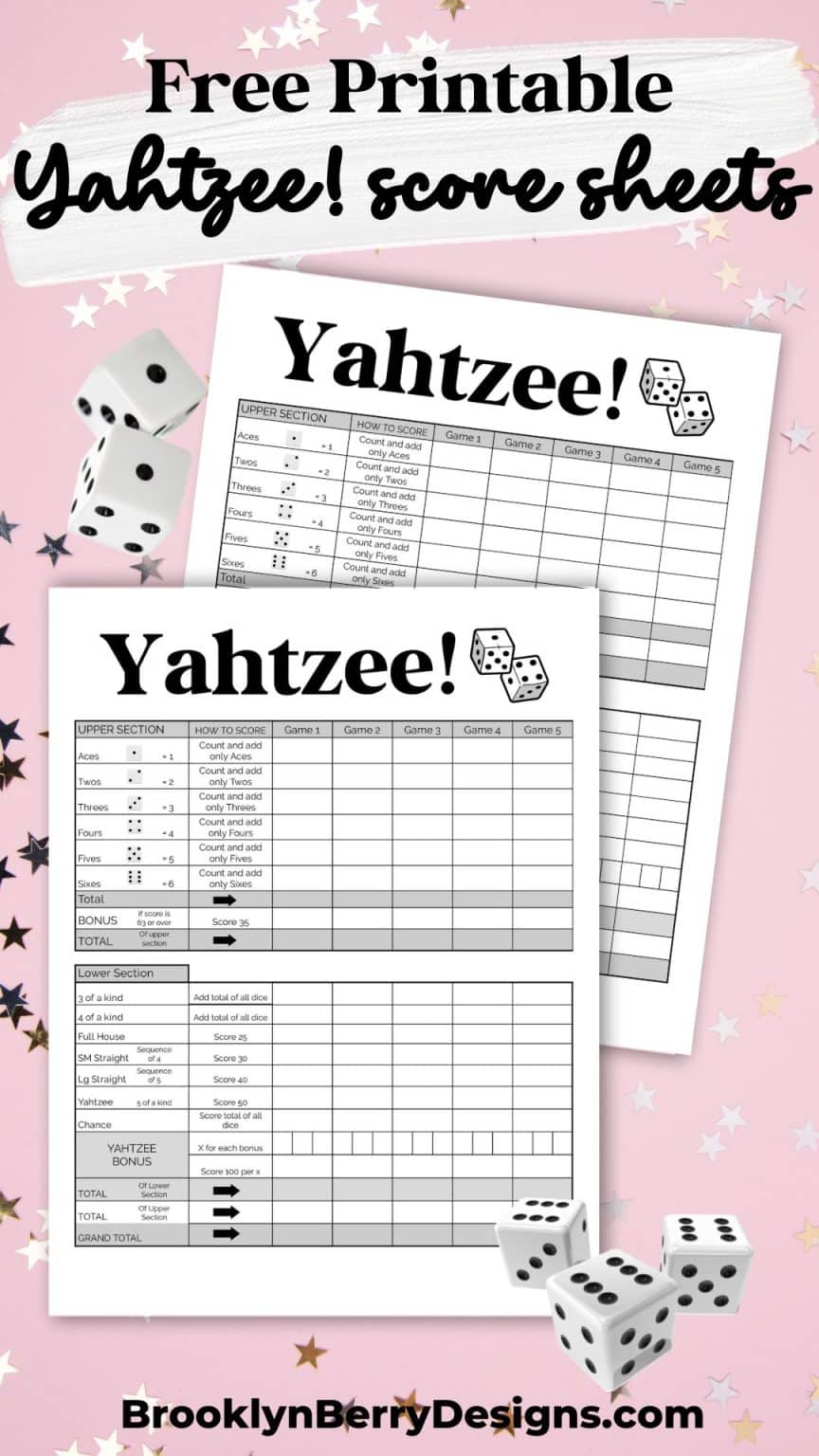 Download Yahtzee Score Cards
Enter your email in the box below and I will send the files in pdf format straight to your inbox. The PDF files include a one per page large size as well as a two per page smaller size score sheet.
These yahtzee scorecards have enough space for 5 rounds of the game.
To get the free printable enter your name and email address in the form below and click the GET IT NOW button. I'll send the printable file straight to your inbox.
Terms and Conditions:
By downloading this free printable you are signing up for my e-newsletter and you'll be notified when I release new free printable files.
This printable is for personal use or classroom use only.
This file can be used in part or in whole for your personal projects.
Digital reselling, sharing, and redistributing of the files is NOT allowed. If you would like to share, please direct friends to the original blog post where you found this.