Tips and Tricks to Slipcovering a Chair

I love a re-upholstery done right. I also love to find the cheater loop hole version. You know, the short cut! I inherited these chairs from my moms basement. They were purchased from Ethan Allen when I was in grade 7. Picture dark purple walls, green ottoman, and a purple floral sectional. Amazing at the time, but horribly trendy and now dated. The chairs have managed to stand up to me, my brothers, and all of our high school hot tub parties. They are still in great condition. They didn't, however, hot up all that well to my lack of cleaning up babies puke stains.
Where To Find Cheap Fabric
There are two identical chairs, and they have been in my basement for 3 years since we moved in. About 2 years ago, I found that some of Ikea's fabrics were a bit thicker, more like an
upholstery fabric
or even
home decor fabric
you would find in a fabric store, only MUCH less $$. I figured this was my best bet to experiment. I started to cut some fabric and figure out how to make it work. I think I chose the absolute hardest chair to begin on, because the curve of the back was ridiculous. So I started on the inside arm and then quit.
Tip #1: Start with a square chair, or no sloped arms.
Obviously I did not do that. Hahaha.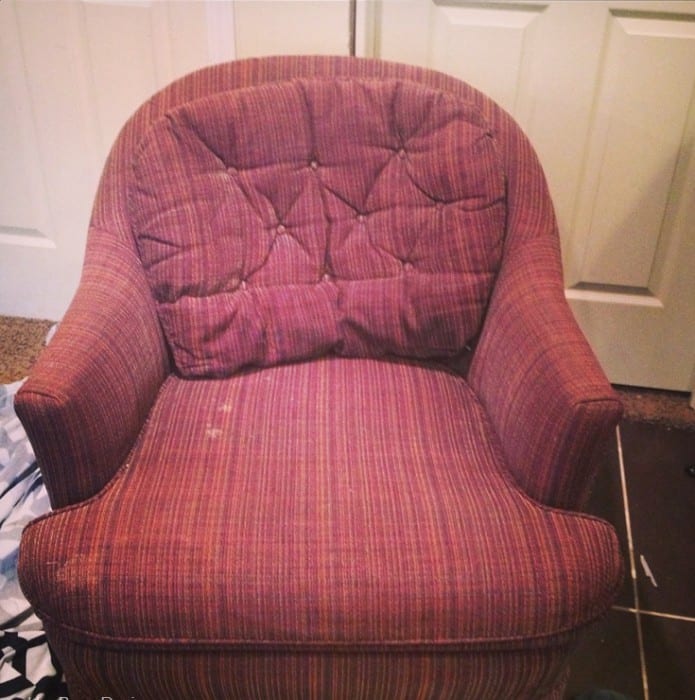 Before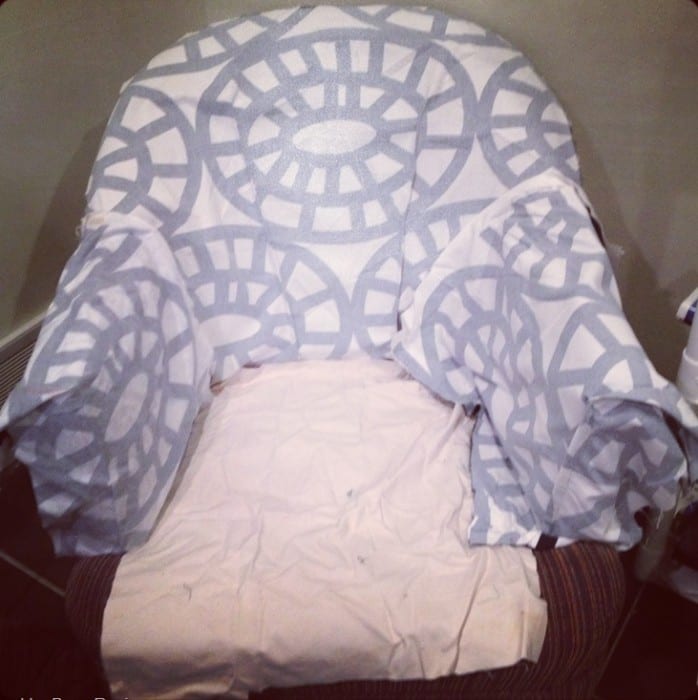 During
I started on the back piece. It had the hardest shape to work with. My biggest help was looking at the seams on the chair already. I then moved to the arms. I used a scrap white twill fabric for the seat because I knew I would have a seat cushion on top, and wanted to have as much fabric as possible.
Slipcovering Shortcuts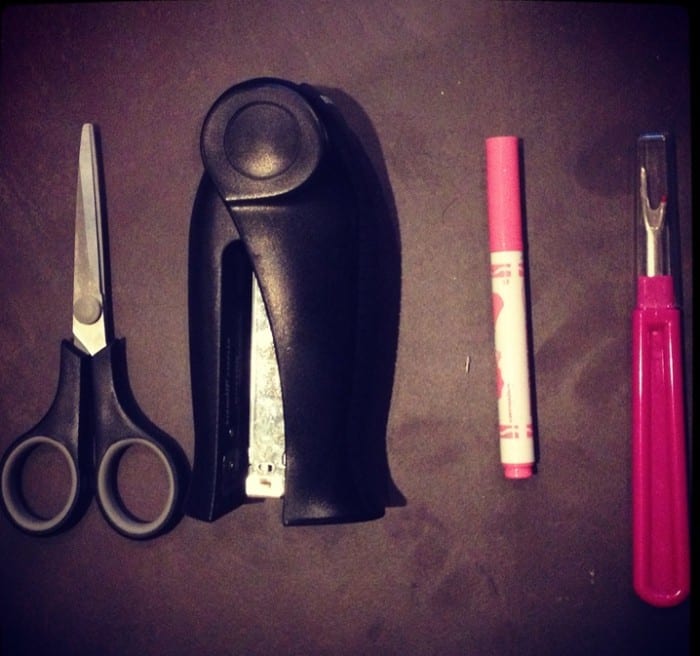 My Tools
My secret trick? The Stapler. Not the heavy duty staple gun, but just a regular cheap plain-jane household stapler. I stapled the fabric together and then drew on the curves with a washable marker.
Why It Works
I found when trying to get the arms in place (and working with my kids in the room) the pins kept slipping. I couldn't get them as close as I wanted to ensure a tight fitting slip cover, and I was getting frustrated. I was also frustrated because the babies kept shaking out my pins onto the floor, and I didn't want them getting hurt.
I kept dreaming of a machine you could sew with that worked like a clamp. You could pinch it where you wanted it, and it would sew as you go. Then Voila, the stapler came into mind. I could just hold the fabric how I wanted, and the staples worked easier than pins, stayed in while I took the cover off the chair and moved to my sewing machine, and the were easy to remove after I was finished sewing.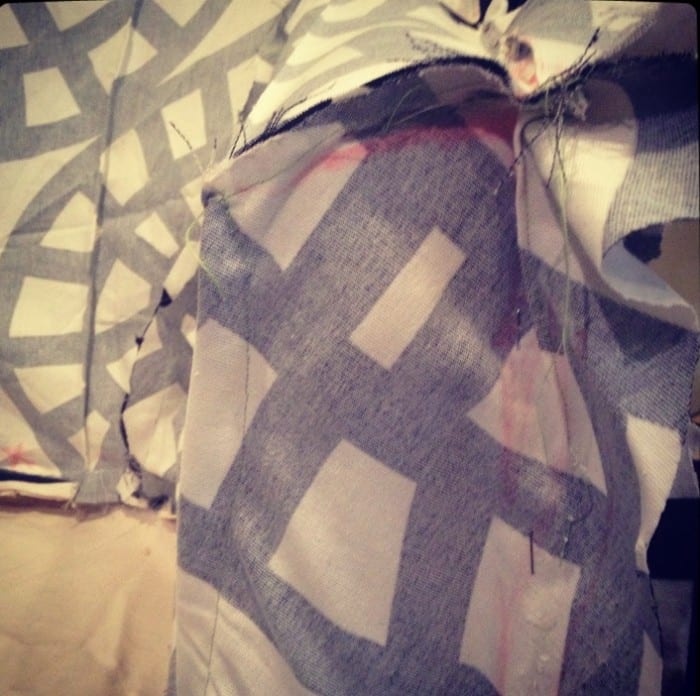 My other trick? Washable marker. Here is a close up of my trying to figure out the angle on the arm seam. Pinning was not working, so I got out the marker, then the stapler. Worked like a charm. I used a kids marker, but if I were to do it again I would use a
vanishing ink marker
to avoid washing the slipcover again. (again, lazy).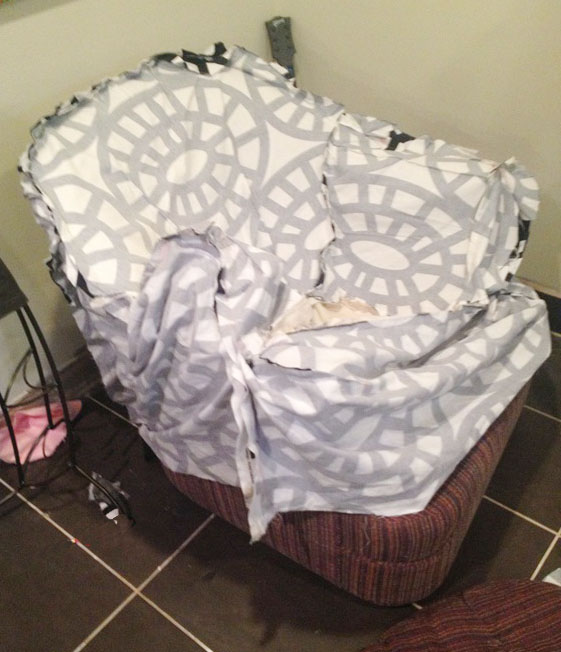 When I got to this point I thought this slipcover wouldn't fit because the back of the chair is so much wider at the top, and tapers to the bottom. The bottom part of the cover would be too narrow to fit over the arms.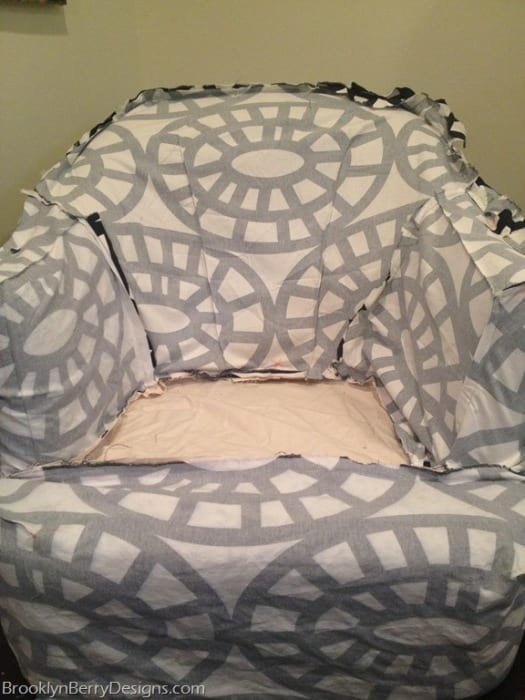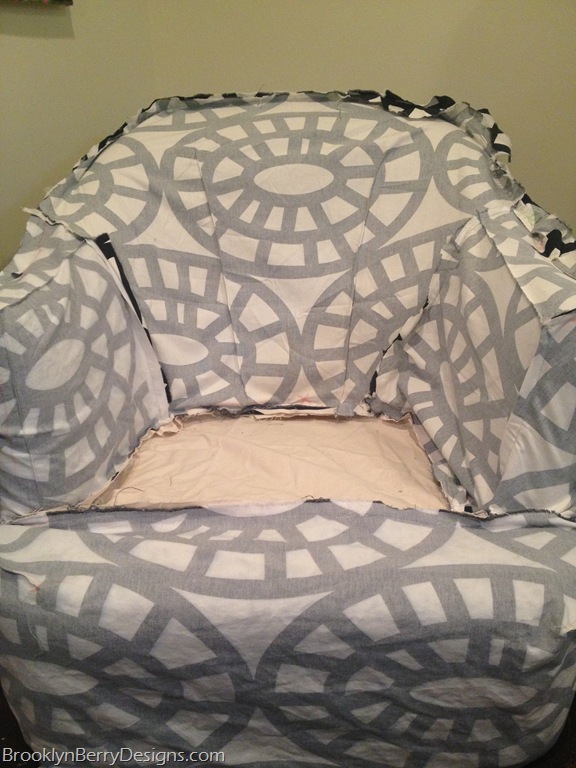 I was wrong. It fit.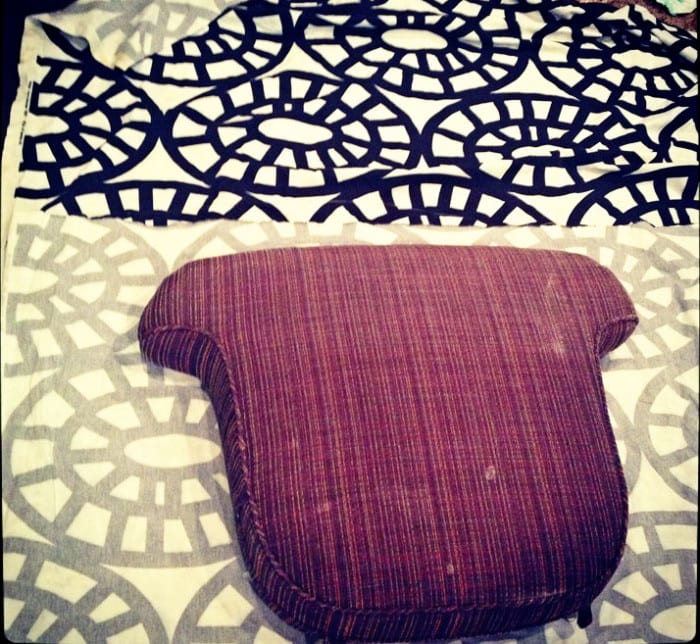 On to the cushion. I debated if I should zip the cover off or leave it on. For now, its on. I may decide to remove it later.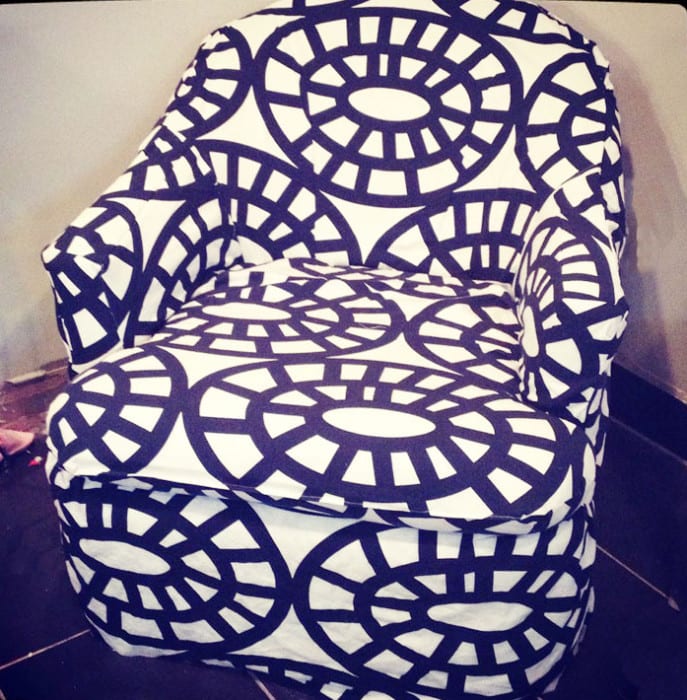 Here is the after. Ish. More like a progress shot.
This is where I started jumping up and down in excitement. I was so happy it looked half decent.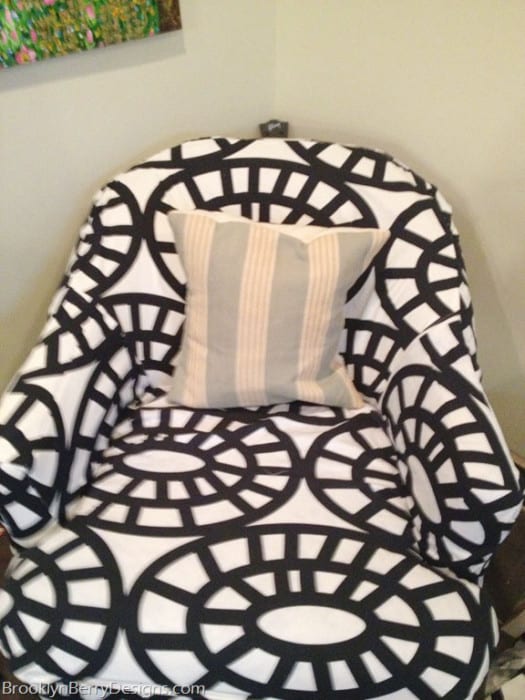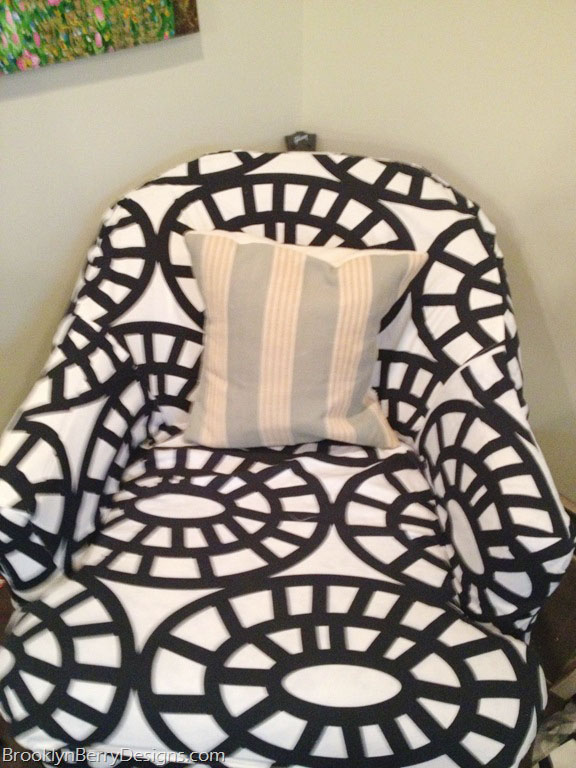 I am not keeping this pillow here, but I think it needs some sort of funky color and large size throw pillow for the back. I still have the original back pillow I could recover, but something about this fabric is screaming out for something funky to go with it. This was a test the size picture.
So this isn't really a before and after, more a before and during. I still have the other chair to finish, but since I have a bit more knowledge, hopefully I will finish it faster than 2 years. Haha.
Any cool pillows you think the chair needs? I will start working on the other chair soon… Maybe.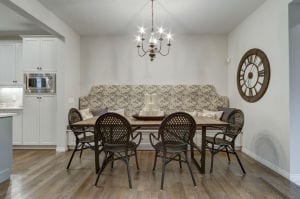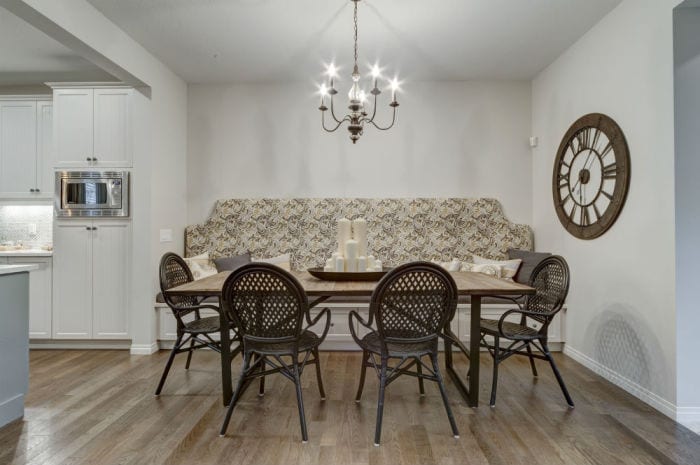 **If you are interested in other upholstery projects, check out the vintage chair I rescued from the dumpster, and the button tufted couch too.