Your bathroom is a place where you can go to relax; a haven away from the chaos of life. As you relax in the tub take a look around you. Are you happy with your décor, or would you love a bathroom makeover? Taking onboard the latest tile trends is a great way of making a change.
It's a way of getting a fresh vibe without having to invest in a whole new bathroom. Change your colors or you styles to make your room pop.
via
One color, different sizes
If you'd like an overall color scheme to purvey a sense of relaxation you can still vary the design by mixing the shapes and textures of the tiles that you use. To bring a little variety to the decoration chose a tile color that complements rather than matches your paintwork.
Go metallic
It's durable and has a modern vibe, and metal gives a clean and sharp look to your bathroom. You may not want a shiny appearance that has a tendency to show off a lot of fingerprints; that's fine because these classy tiles are also available in a matt finish. You can choose different metals too; copper has a more rustic feel for traditional style with a modern touch whereas stainless steel has a totally contemporary edge. You can see more here www.abltilecentre.com.au.
White is the color
It never really goes off trend for bathroom decoration; white isn't going to disappear as a popular choice anytime soon. If a plain white room is a little too stark and antiseptic feeling then you can offset it with a background of wood. Use a warm shade and it gives a feeling of warmth to your bathing space. You don't have to use actual wood either; you can invest in some popular wood textured tiles.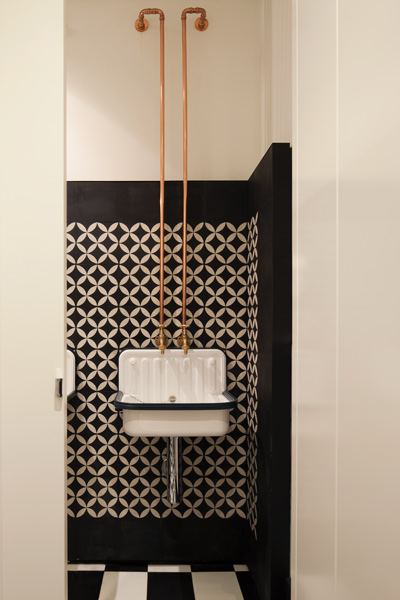 via
Black is popular too
One of the latest trends is to offset pale colors in a bathroom with a splash of black. Tubs and accessories in the color are gaining in popularity, as are tile combinations. If you don't want to make your bathroom dark don't worry, just use a splash of black tiles amongst a white panorama.
Go for texture
As well as wood, tiles have been designed to reflect other textures including brick and concrete. It's all about using what you may regard as external texturing to create a contemporary interior design.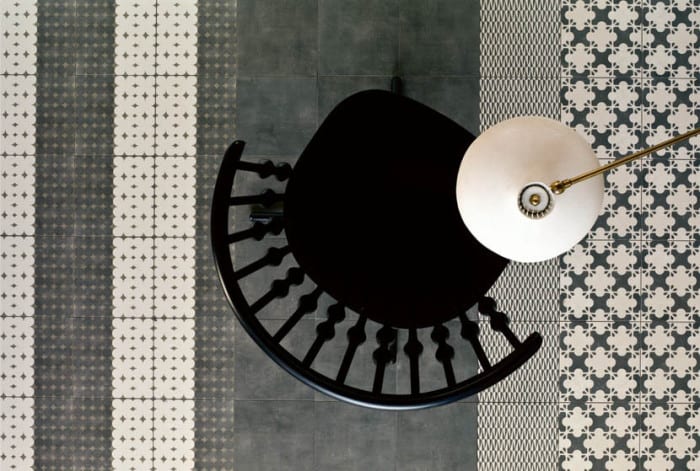 Mix your patterns
From large free flowing designs to smaller more intricate patterns, there's a trend for mixing and matching. If you have a floor filled with bold patterns then you can opt for something more delicate on the walls. Be creative and put your own stamp on your relaxation space. Be careful though, remember that you have to live with the design on a daily basis. If you go with a look that's too intense and overpowering it may seem novel and quirky at first but it may become less easy on the eye as time progresses.
Give your bathroom a memorable 2014 look with any of these effective design ideas.