The Twins Nursery
Designing for a twins room was a hard concept. We have an older son, so we already had one of everything. We invested in a nice crib and dresser, assuming it would be passed down a few kids. Needing two cribs never entered my mind. Do they need two cribs? I planned on them sharing for a while, but I wanted the room set up so I wouldn't be planning a nursery rearrangement with three kids. I knew it wouldn't ever happen. However this room was going to end up, it had to be done before they were born.
Before
This is what this room looked like when we were doing the home inspection. The previous owners stole the jeep light and left us with this crappy $12 home depot light, but I am not sure what I want to see in here yet, so it hasn't changed.
After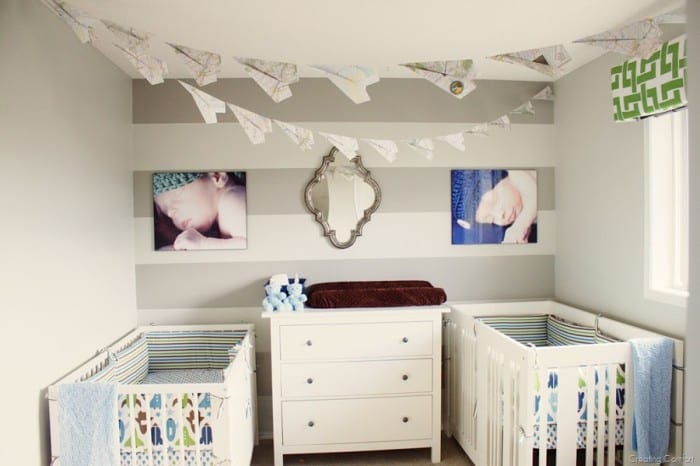 The crib on the right the crib I picked out to use for all of my babies. I figured it was worth the investment (the matching dresser and hutch are now in Jett's room). I didn't want to spend that amount of money on another crib I wouldn't need again in 2 years. I found a somewhat similar crib from Ikea and both turn into toddler beds for future use.


This is the same rocking chair I refinished to use in Jett's room. The signs are of their names and birth stats that a NICU nurse made for each of my boys. The end table is an Eileen Grey Smoking Table which is perfect for storing a bottle and holds a lamp and clock (so we can remember the times of the middle of the night feedings, Bleh).
** I updated the twins' nursery to big boy beds. I didn't change a ton, but feel free to check out the updated twins big boy room **
** Here is what the babys room looks like now that we had a fourth boy!**