Putting Spring in Your (Home's) Step
If your home needs a makeover but you don't have the time or money to redecorate, fear not. You can
give a spring lift
to your home furniture and interior décor with just a few small changes. The first thing to do is to give everything a good clean and get rid of the clutter. Then you can add some fresh spring style to your home in these three easy ways.
Give Your Furniture a Face Lift
If your kitchen, dining room and living room furniture are looking tired, give them a facelift with a coat of paint. You don't need to paint everything — having accent pieces amongst natural wood or matching sets is a terrific way to bestow some extra character on a room. Preparation is essential to achieve a professional-looking finish. Clean the piece, fill holes with wood filler, and sand with sandpaper before you paint. White and cream are popular colors for spring to bring some light and brightness to your home. To create an aged effect you can distress the paint.
Create a Feature Wall
If you're fed up of staring at the same old walls, add a feature to mix things up without having to completely redecorate. Depending on the time and money you have available there are several options. You can choose embossed, luxury wallpaper or a solid block of colored paint for your feature wall. Equally, you can set up a collection of picture or photo frames. Photo frames are an excellent way to spruce up an otherwise plain room. Customize the frames with paint or fabric, and display warm images of your family and landscapes to evoke memories of happy days.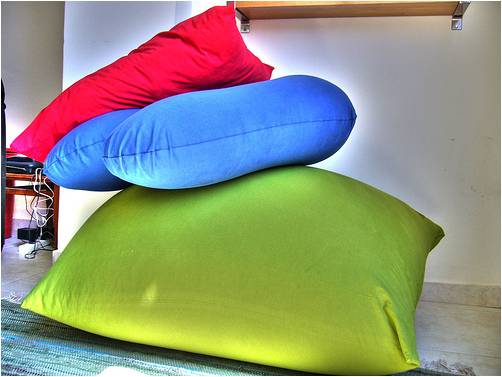 Freshen Up with Fabrics
Is the house feeling dark, drab, and depressing? Brighten it up with some new fabrics. The key thing is to get your color scheme right. Make a mood board with samples of fabrics to create the right look and achieve the desired effect. Mismatched, colorful cushion covers are a great way to inject personality into a living room. Likewise, soft-toned throws and rugs to replace patterned furnishings will infuse the room with a sense of calm and tranquility. Best of all, you can buy these items at little cost and totally transform your room.
With these simple alterations you could turn your home around this spring with little effort and without having to pay out too much. Do you have any simple spring decorating tips? Have you recently brought spring fresh to your room with a few small changes?
Image by urish, used under Creative Commons license.