Do you feel like school uniforms and fashion can't coexist? I am here to show you otherwise. Yes, a polo shirt and khakis can have you feeling like a cashier at Target. However, with a few tips to style school uniforms, you can feel confident showing off your stylish side while still maintaining your school's dress code policy. Only use these tips if you want to feel fashionable at your otherwise unfashionable school.
10 Ways To Style School Uniforms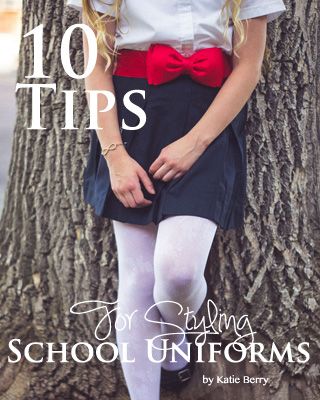 Style your hair. Even the strictest of school uniform policies will allow variation in hair styles. A sleek, high ponytail can look very chic when paired with a blazer and riding boots. A messy bun can add some oomph to a blouse and skirt. And don't forget those hair accessories. Adding a vintage inspired bow is simply adorable and you can channel that prep school look with a cute headband.
SHOES! From ballet flats to riding boots the possibilities are endless. Adding some moccasins can give your uniform a boho feel. Some cute Converse or Keds can add spunk to an otherwise boring uniform. Rain boots?! I DIE! You might have to change out of them in the school building, but wearing rain boots on a rainy day is a great way to show off your personal style.
Mix and match the basics. Seriously, do you have any idea how many styles of white blouses there are? More than I can count, even in the cotton variety. Even the basic white, button up blouse has different collar options like the Peter Pan collar or the pointy collar. The basic pleated skirt comes in a variety of styles as well. Buy a polo, a blouse, a skirt, a pair of skinny jeans, a cardigan, a sweater, and a blazer to mix and match and you will have endless options.
Wear the least popular uniform choice. For example, if most students are wearing polo shirts, go for a blouse. If no one wears the school plaid, wear a plaid skirt. Wearing the least popular uniform choice allows you to stand out while still honoring the rules.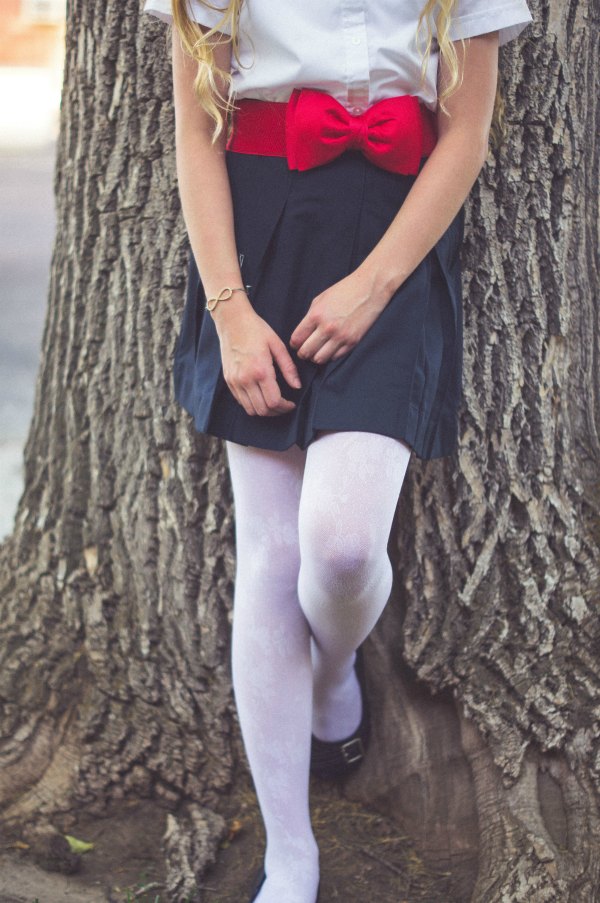 Wide Pleat Skirt // Shirt // Belt
(only $9!)
Add a POP of color. One of my favorite ways of dressing up a uniform is to add a pop of color. If your school dress code policy limits color options for accessories, I would pick your most pop-worthy color and use it to accent neutral colors. For example, if your school uniform colors are red, white, and blue with navy or khaki bottoms, here is what I would do. Wear a white blouse with a navy pleated skirt, a red pair of tights and a red bow in your hair. That red will really POP against the neutral white and navy.
It's the fit that counts. If your school is among those that issues unisex polo shirts, you could be drowning in white cotton. Having your uniform clothing tailored to fit will make a HUGE difference in your appearance. Try tying a knot in the back of your polo shirt and wear a blazer over it to hide the knot. A more fitted polo shirt is definitely more feminine. Or hem your skirt to just above the knee. This will definitely help all you shorter girls out there.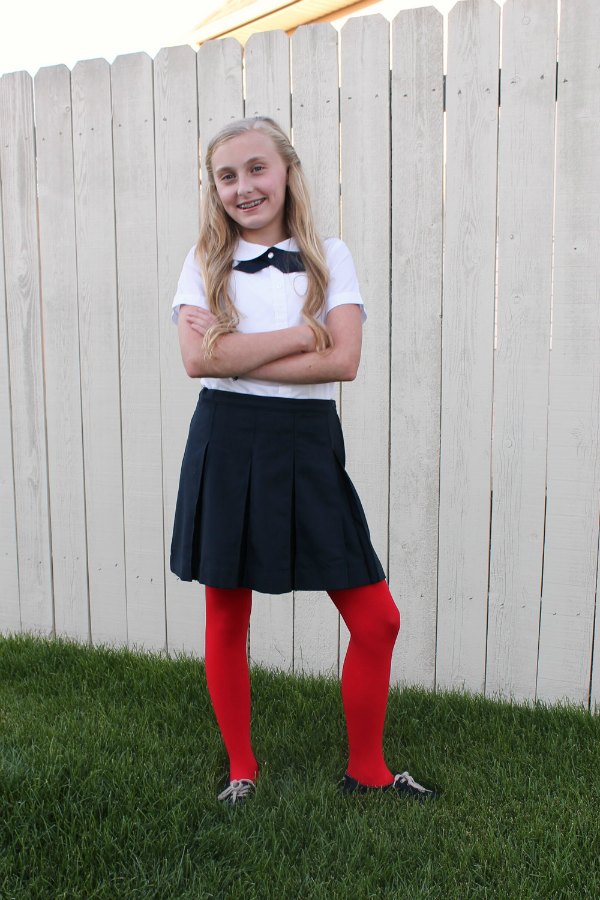 Shirt // Cross Tie // Wide Pleat Skirt // Similar Pleated Skirt // Tights //
Tights and socks. Not only practical in the winter months, adding a cute pair of tights can seriously alter an entire outfit. We Love Colors are an online boutique specializing in selling tights in over 50 different colors! My daughter has the red pair to wear with her school uniform and when I say these tights are opaque, I mean opaque. Pick the most pop-worthy color allowed at your school, and wear tights in that color with neutral uniform staples. Furthermore, socks have been having a major fashion moment as of late. Knee highs are a classic uniform staple and can be worn over tights when the weather turns cold. Wear a frilly pair of ankle socks with your ballet flats for a sweet look sure to turn heads.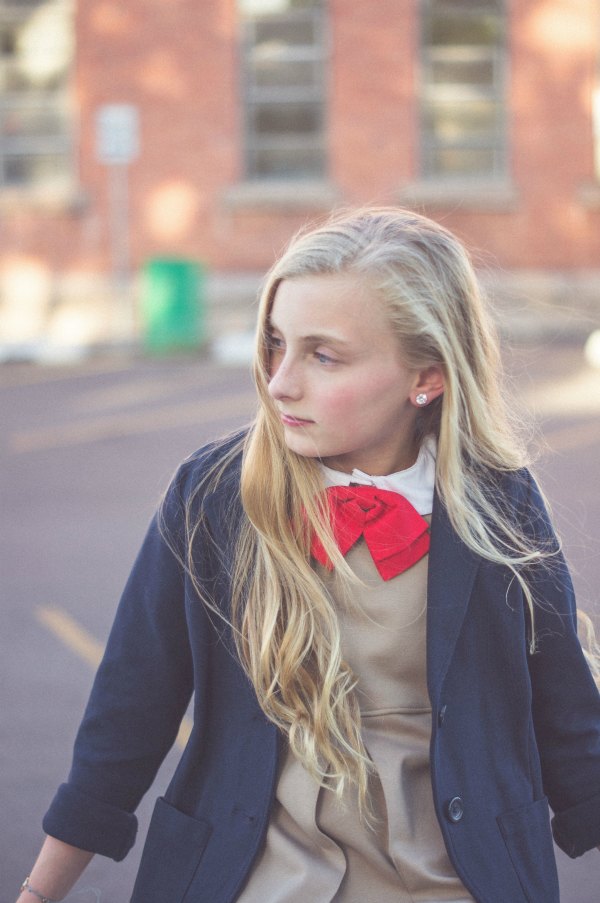 Dress // Dress // Shirt // Cross Tie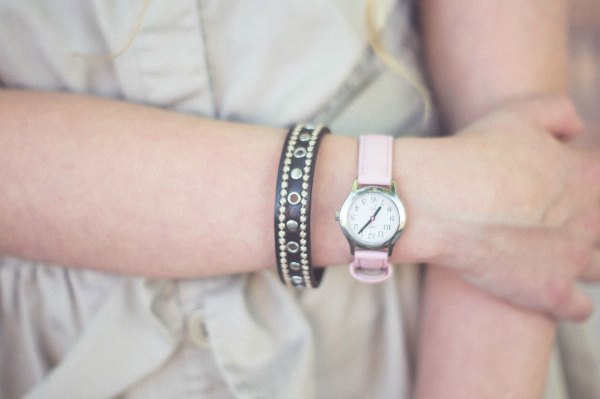 Neckties and Jewelry. Think that neckties are for overweight business men? Not anymore! Neckties come in a variety of styles and can add a little class to your uniform. While a crossover tie is traditional to the school girl uniform, try a few other styles as well. A floppy bowtie is adorable, and the Kentucky Colonel tie is uber fashion forward. A general rule to follow is to always wear feminine pieces with masculine ones. So, when wearing a necktie, it is perhaps best to pair it with a blouse or skirt. Don't forget jewelry either! Your uniform look wouldn't be complete without a cute pair of stud earrings or your favorite leather watch.Outerwear is a great way to display your personal style while walking into school or eating lunch on the front steps. Try ditching the old ski coat for a more modern pea coat or trench. Bonus points if the coat is in a bright color. Also, play around with different jackets in the fall and spring. Motorcycle jackets are all the rage this fall and would look adorbs with your pleated skirt and maryjanes.
Sport a cute backpack. Backpacks are another way to showcase your unique side. A satchel looks very scholarly while a floral backpack suites the girly girl. Adorn your basic backpack with assorted pins to create a look worthy of an A+ in style. Backpacks are another way to showcase your unique side. A satchel looks very scholarly while a floral backpack suites the girly girl. Adorn your basic backpack with assorted pins to create a look worthy of an A+ in style. Now that you have the tips, incorporate them into your favorite school uniform looks. Here are a few of our favorite school uniform styles to get the ball rolling.
* Don't forget to check out our tips on ways to save on school uniforms!
Are you looking for school uniforms? Here are some deals from our favorite places to shop for school uniforms and accessories: