Oasis Water Park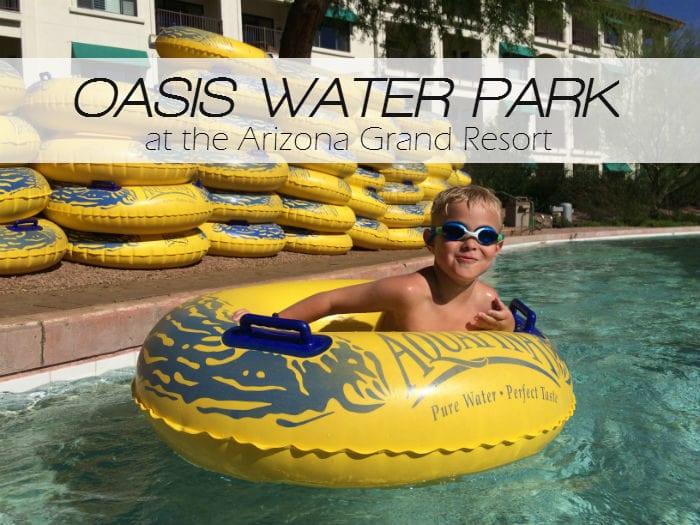 This family of cold Canadians were used to seeing wave pools indoors, but the outdoor pool that made waves was pretty mind blowing to the 6 and 3 year old boys. The Arizona Grand Resort has a large water park called The Oasis. In addition to the large heated wave pool there is a regular pool, toddler /shallow pool, lazy river, and large water slides.
The toddler pool is where I finally taught my timid 6 year old to finally put his face in the water. We had tried a few different sets of goggles, and learned there is a big trial and error process to finding the right fit (this pair was our winner). This shallow pool was perfect for our family to play in. The smaller kids splashed around wearing their puddle jumpers and the older one gained confidence to look for his pool toys underwater! It was a really proud moment for this mom!
While the water slides are this moms ultimate favorite thing, these tall slides have a height restriction so the kids couldn't slide. Of all the water parks we went to, this was my husbands favorite. I think this resort would be perfect for families with kids ages 7 and up so that everyone could enjoy each feature of the pool. Our family had lots of fun here and easily spent the entire day here!
" template="/home/broojatj/public_html/wp-content/plugins/nextgen-gallery/products/photocrati_nextgen/modules/ngglegacy/view/gallery.php" order_by="sortorder" order_direction="ASC" returns="included" maximum_entity_count="500"]
Resort Information:
(602) 438-9000
8000 S Arizona Grand Parkway
Phoenix, Arizona 85044
arizonagrandresort.com