When we first looked at our house while in the purchasing process, we decided that the bathroom needed to be renovated as soon as possible. The tile in the showers was a white 4×4 and while its neutral color was not repulsive, the grout was peeling away. I was worried about water leaking behind the walls and into the drywall. NOT a good sign. I figured it would be one of the bathroom reno plans for year one projects on the house.
Well, fast forward 5 years and we still haven't touched the tile. My husband swears that its fine, and nothing is leaking behind the walls. I think he might have a surprise when he removes it. Regardless, we are moving forward with the renovations. I decided that waiting for him to get it done just wasn't going to happen, so we hired someone to do the big stuff like tiling and plumbing.
Here is the plan I have so far. There will be two tiny stages to this renovation. First, the vanity. I have already replaced the light fixture. I will keep the existing tile floors, paint the existing cabinet, but replace the one piece cultured marble countertop / sink combo. I hate those things, and consider them one of the few features that instantly make it look old and dated. This is the look I am going for: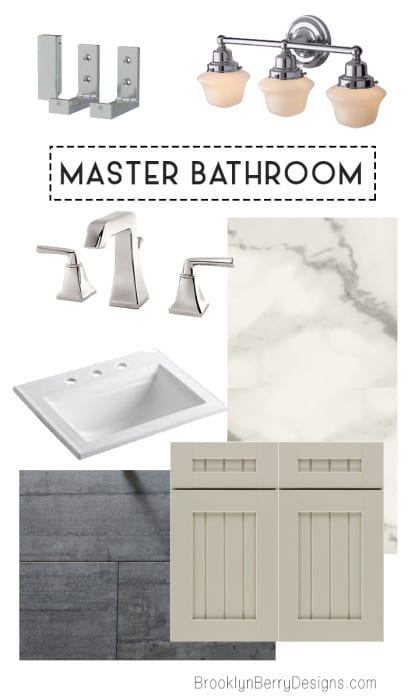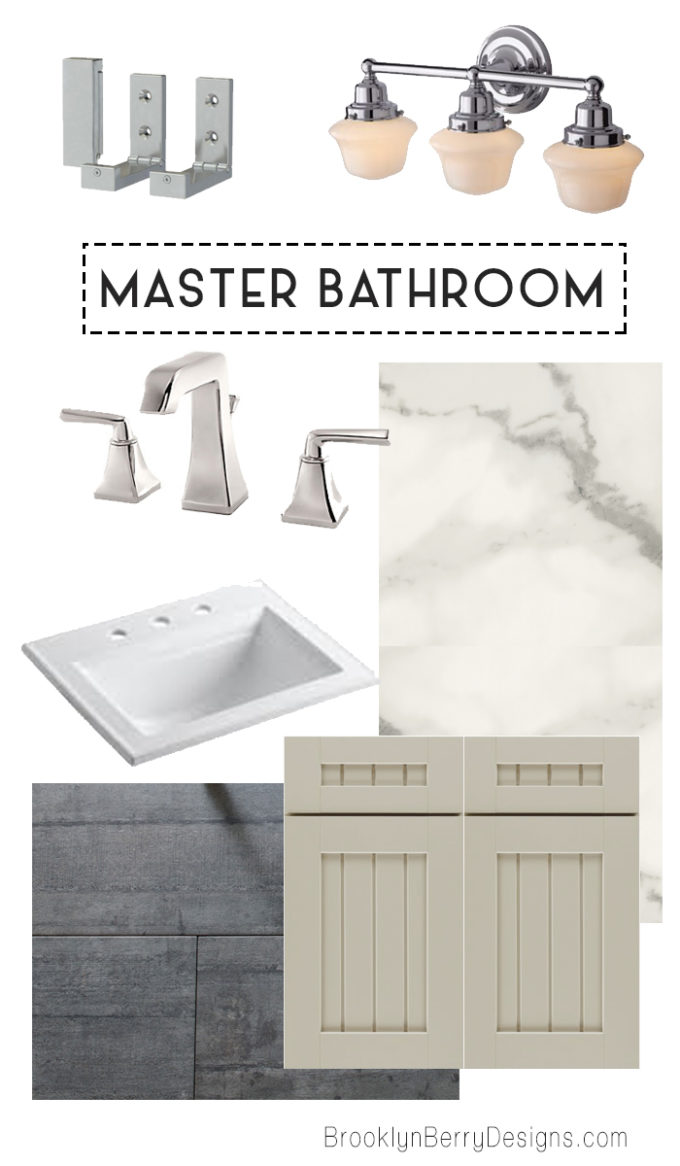 Tile floors: Existing (similar)
Sink: Kohler Memoir
Faucet: Park Avenue by Price Pfister
Countertops: Formica FX180 Calcutta Marble Etchings finish
I am planning on using laminate countertops for a few reasons. They are cost effective, our house isn't large enough to warrant a ceasarstone counter in the bathroom. Plus, a simple laminate counter is WAY nicer than what we had before. I hope it will still look really elegant and a better quality than a ready made counter you can buy in a store with a couple small upgrades. First, by using a nicer pattern with a etched finish. The FX180 is a new product that has a true to life scaled pattern. Meaning, instead of it being a 4″ square pattern that gets repeated, they take the image of an entire slab of stone so it looks like actual marble. I also chose the etched finish so its not a flat glossy surface, but rather has some slight etchings to make it look more like stone. The edges of the surface itself will also be built up, so the entire thing looks thicker and more substantial.
Phew! That is a lot of talk on countertops, but overall I am really excited to see it all come together. I love a good design project!