Hey everyone! Today's gift guide is for all the readers in your life. Books for everybody! Whether they read non-stop or just a book a year, there is bound to be something they will enjoy on this list. When I was in university I had to promise my mom that I wouldn't read any books until my finals were over (she worried I would never study). I spend my entire Christmas break reading as many books as I could fit in. Even those who don't read often will enjoy having something to relax with during their days off work coming up. As usual, I will leave a link to Canadian shops separately (listed in brackets after the first link, just to make life easier for my fellow Canadian shoppers). Once again, if you like this please share it!
Also, in case you've missed any gift guides, you can find them all HERE now!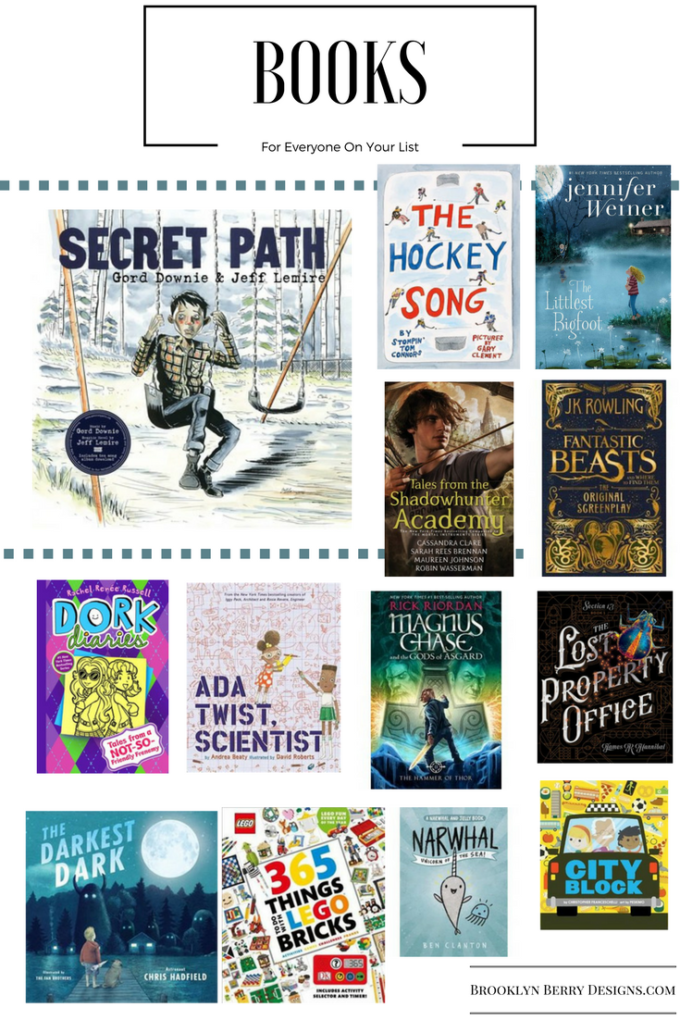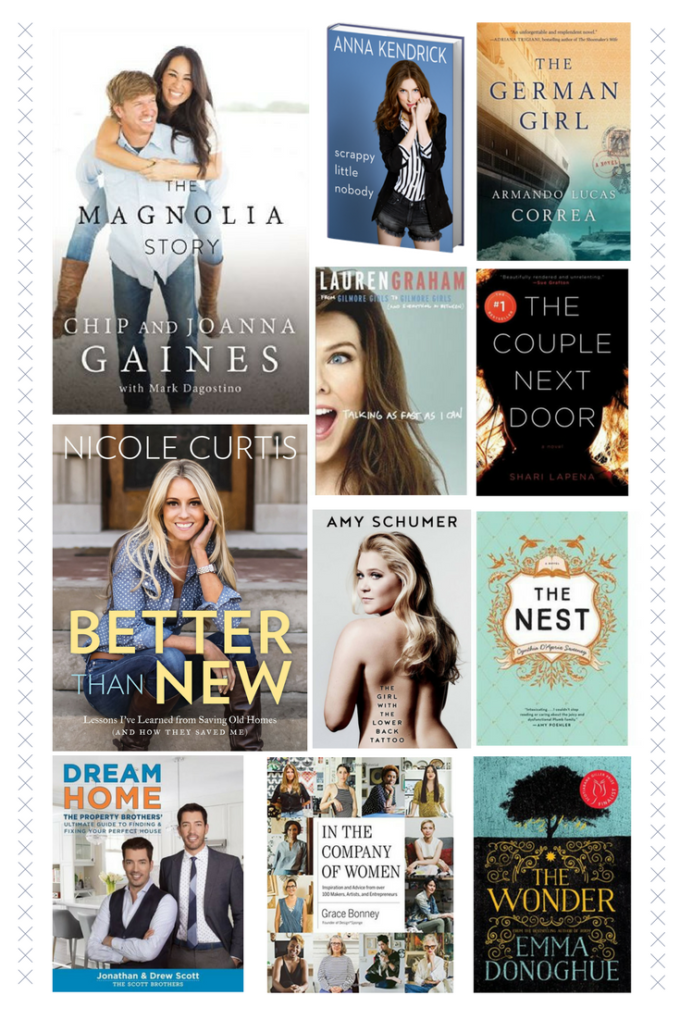 Secret Path – a ten song album by Gord Downie with a graphic novel by illustrator Jeff Lemire. It tells the story of Chanie "Charlie" Wenjack, a twelve-year-old boy who died in flight from the Cecilia Jeffrey Indian Residential School fifty years ago. Secret Path acknowledges a dark part of Canada's history—the long suppressed mistreatment of Indigenous children and families by the residential school system—with the hope of starting our country on a road to reconciliation. Proceeds from Secret Path will be donated to The Gord Downie Secret Path Fund for Truth and Reconciliation via The National Centre for Truth and Reconciliation (NCTR) at The University of Manitoba. Available on Amazon.ca, Indigo, Barnes & Noble.
The Hockey Song – I can't read the line "the best game you can name" without breaking into song. For any Canadians, you surely know The Hockey Song. Share your nostalgic team pride with your family in this illustrated book for all ages telling the story of a community that gathers together over a shinny game on an outdoor rink.
The Littlest Bigfoot – The first young adult book from a favorite author of mine Jennifer Weiner. A great story about feeling vulnerable, not feeling like you belong, and friendship. I wrote an entire review on this book here. Get it on Amazon Amazon.ca, Indigo, B&N.
Tales From The Shadowhunter Academy – bestselling collection of short stories chronicling the adventures of Simon Lewis as he trains to become a Shadowhunter is now available in print for the first time. Get it on Amazon, Amazon.ca, Indigo, B&N.
Fantastic Beasts and Where To Find Them – When Magizoologist Newt Scamander arrives in New York, he intends his stay to be just a brief stopover. However, when his magical case is misplaced and some of Newt's fantastic beasts escape, it spells trouble for everyone. Inspired by the original Hogwarts textbook by Newt Scamander, Fantastic Beasts and Where to Find Them: The Original Screenplay marks the screenwriting debut of J.K. Rowling, author of the beloved and internationally bestselling Harry Potter books. A feat of imagination and showcasing a cast of remarkable characters, this is epic, adventure-packed storytelling at its very best. Buy it on Amazon, or Indigo.
Dork Diaries 11: Tales From A Not So Friendly Frenemy – It's a frenemy showdown in the eleventh installment in the blockbuster #1 New York Times bestselling Dork Diaries series! Get it on Amazon or Indigo.
Ada Twist, Scientist – I couldn't have loved the creators first book, Rosie Revere, Engineer, more. This is a book I would be proud to see kids reading. Its smart, and cute, with girls as the hero. She isn't just pretty, Ada Twist is on a mission to use science to understand her world. Order it on amazon or pick it up at Indigo.
The Lost Property Office – ames R. Hannibal presents a thrilling adventure through history, complete with mysteries, secret items, codes, and a touch of magic in this stunning middle grade debut.

The Darkest Dark – Written by real-life astronaut Chris Hadfield, this story is inspired by his real life fear of the dark. For a child who dreams of being an astronaught and exploring hte universe, the fear of the dark could hold him back. Wathcing the moon landing leads him to learn that space is the darkest dark, which is beautiful and exciting. $8.99 on Amazon (Indigo)
365 Things To Build With Lego – Use the piles of legos in bins and actually make something fun. Instructions always help the creations go on and on. I love building with lego and my twins are just getting into it. This book is for them, but really for me. $21 Amazon (Indigo)
Narwhal – The unicorn of the sea. Join Narwhal and Jelly as they discover the whole wide ocean together. A cute book about friendship and working together. Amazon (Indigo)
City Block – Cityblock explores city life in an exciting and unique way, from up in a high-rise building to down in the subway. Divided into three sections—things that go, things to see, and things to eat—it features 24 different aspects of city living.. Amazon (Indigo)
The Magnolia Story – What's the secret to their success? And is Chip actually that funny in real life? By renovating homes in Waco, Texas, and changing lives in such an engaging way, Chip and Joanna have become more than just the stars of Fixer Upper, they have become America's new best friends. Amazon
Scrappy Little Nobody from Anna Kendrick. I pretty much love her brain. She is so witty and funny, so a book from her is bound to be amazing, right? – Amazon
The Girl With The Lower Back Tattoo