If you are looking for gift ideas for women you have come to the right place. No matter the holiday or event, I am here to share some favorite items that I have personally tried and tested. Have a product you would like to see here? Let's talk about it and send me an email.
Shopping For Women Gift Ideas
Hey Friends! Who here thinks that women are the hardest people to buy gifts for? Personally, I love when friends share a great product they LOVED with me. Whether a cheap and cheerful item you were surprised at its quality or a high priced splurge item that was worth every penny, I share them all.
Listed here includes some of my favorite things, or.. luxuries I would love to have. I hope this gives you a few ideas for your mom, sister, mother in law, or awesome co-worker who deserves a little something extra. I will include a link to a separate Canadian source as necessary (listed in brackets after the first link, just to make life easier for my fellow Canadian shoppers).
Last Minute Gifts
With two day shipping you can still "plan ahead"
Tile Key Tracker – Do you wish your car keys, wallet, or anything else had a tracker or could ring like the findmyphone app? This little device can attach to a keychain or to any item you don't want to lose – like a bike, laptop, backpack or purse. Use the Tile app to ring your Tile Mate when it's within 200 feet. When outside of Bluetooth range, use the Tile app to view your Tile's most recent location or enlist the safe and anonymous help of the Tile Network.
Fitbit Charge (CDN) – I love my Fitbit Charge but the new Alta is slimmer, more discreet looking and has interchangable bands. Since the bands are what always wear out on mine, this feature not only wins design points, it also wins in function. I loooooove the blush color leather. And the rose gold on black.
Kobo Aura (CDN) – As an avid reader, I love both a physical book and an e-reader for different reasons. As anyone who has moved recently can tell you, its better to have fiction and any quick reads on e-book and design and coffee table books in physical form. If you read more than a couple books a year you will appreciate the ebook form. The Kobo aura has a comfort light for reading in bed, and has a waterproof version for beach or poolside readers. The price point is great starting at just $129.
Volupsa Candle – I am pretty sensitive to smells. Meaning, I will like it for a second then it gives me a headache. Or it smells good for a while and then smells really fake. When I worked at Anthropologie many years ago they had this candle burning ALL the time when the store was open and I fell in love with it. The scent is called Saijo Persimmon and I love it in this pink tin, although it comes in a glass jar as well. Its available at Anthro, Amazon, and Indigo.
The Comfy Blanket Sweater – It is seriously the most comfortable lounge wear ever. I got one in pink because I knew all of my sons would want to steal it. My nephew said it best with "its like sweat pants… for your body" we love this cozy comfy sweater (or blanket, whatever you want to call it).
Home Gifts
Pampering / Self Care Gifts
weekly local flower delivery
house cleaning
gift card to the garden center
weekend away with best friend
a weekend or night away (alone)
massage
pedicure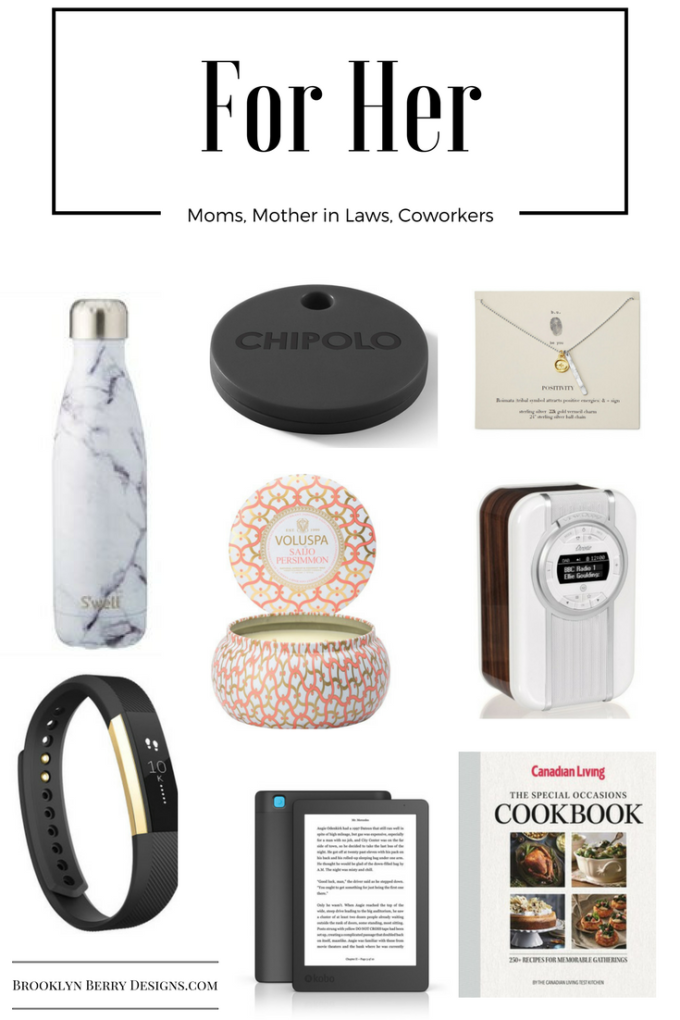 Is there something you really want to see on this list? I would love to know! Leave me a comment or send me an email and I will check it out.
Need to send a subtle hint? Feel free to share this post, drop a link to your facebook. Whatever you need to do in order to not so subtly give your man some ideas.