Hey everyone! Today's gift guide is new home owners. Chances are a new homeowner would be young and is pretty tech savvy, so I called this the Tech New Home Owner. Whether it is a brand new built home or a project with full renovations, there are always a few upgrades you would love to add to your home. Here are some great gifts that any new home owner would love to have.
Also, in case you've missed any gift guides, you can find them all HERE now!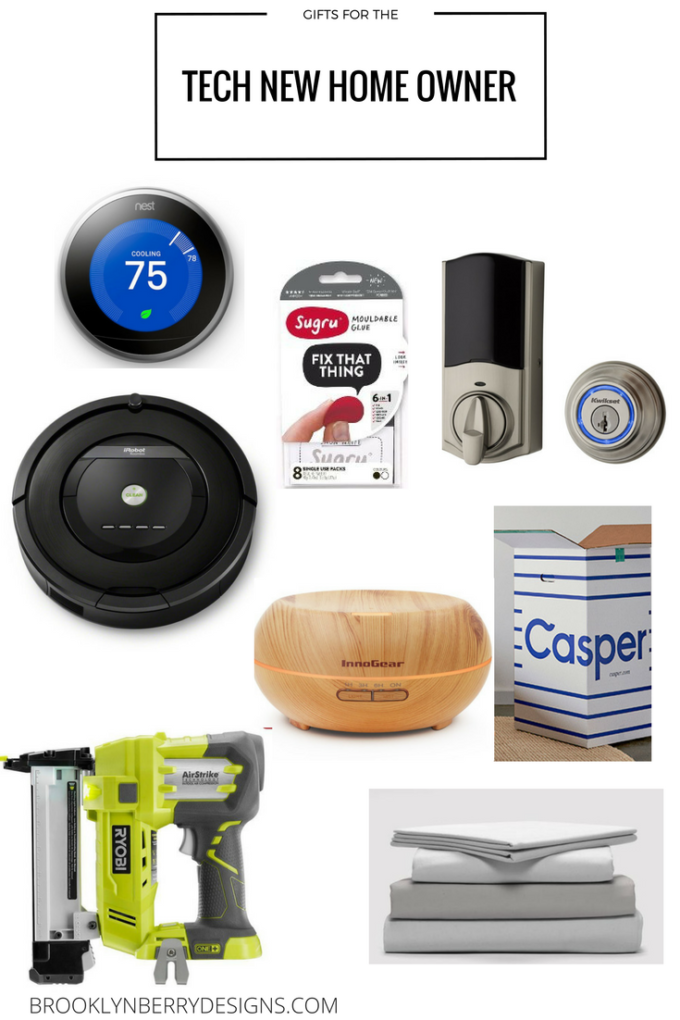 The Nest: Not only is it a cool looking thermostat, it saves energy and provides information for all of us nerds who love seeing just how much energy you use at different times of the day. $249 Available at home stores and Amazon.
Sugru: Fix that thing. Fix anything. Picture play dough that can be formed into any shape and will dry into a solid waterproof piece. Fix a broken iPhone cord. Make pot lid holders. Fix the fridge shelf piece that broke when you cleaned it out. There are so many hacks you can do with Sugru. $11 for a 3-pack.
Kwikset – Your smart phone is now your key. Touch to open convenience and sleek design. For any airbnb or rental owners the eKey access function allows you to send access via phone and monitor lock history. Available at home stores and Amazon, $229.
iRobot Roomba– Don't you wish your house could clean itself? This would be a great splurge present for any home owner, but could also work for mother's day, fathers day, etc. Bonus entertainment – small dogs and cats love to go along for a ride. Trust me, its worth it. $599 on iRobot.
Diffuser – I have ordered a few off amazon because they are so much less than the store in our mall. I have been thrilled every time (a diffuser in every room of the house!) and everyone asks me about it. If you want your new home to smell like a spa, if you like essential oils and appreciate the benefits it brings to you, or are just curious, try it out. This one is from innogear and I have also ordered a few from the brand Diffuser .
Casper mattress – You should replace your mattress every 7 years. Which seems like plenty of time, but a mattress isn't something you think about often. Mattress shopping is about as painful as car shopping while having a tooth pulled. Have you ever ordered a mattress online? Casper has a universally well-loved mattress that ships direct to your home in a compact box. Unpack and watch it expand. If you don't love it, you can return it within 100 nights and return shipping is free. Use THIS LINK to get $65 off your purchase of a mattress from Casper.
Ryobi One+ Airstrike – This is the best tool to have for any beginning handyman or handywoman. Whether attaching baseboard and trim or building furniture, this tool makes it so easy. Its light weight and doesn't require an air compressor. The airstrike uses the same battery as the ryobi drill. I ended up buying a drill set because it was cheaper than buying an extra battery and charger. So really, a drill set and airstrike together would be awesome. $140 at Home Depot for the tool only. $149 for the drill set (which is cheaper than the batteries, so it's basically getting the drills for free).