The Cricut Explore Air 2 is the perfect gift for the crafter, blogger, or creative person in your life. Anyone who reads this blog regularly knows I love my Cricut explore machine. I wanted to take some time to share why it makes a great gift for the crafters in your life and to share my thoughts on the new machine and share my Cricut Explore Air 2 Review.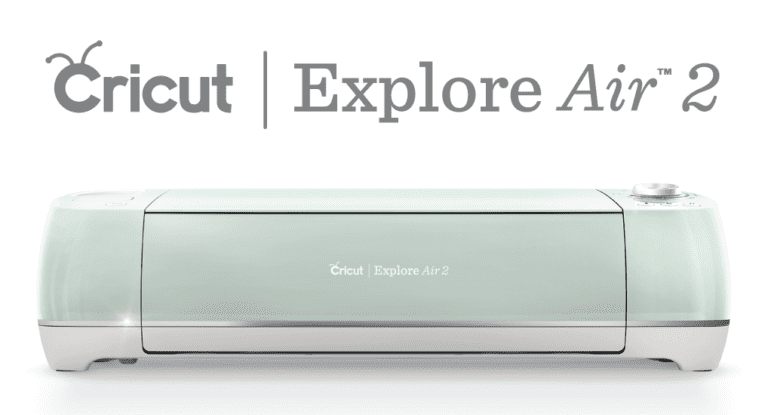 What does a Cricut Machine Do?
The cricut machines are tools that can cut out custom shapes and designs. Many materials can be cut, including paper, vinyl, fabric, felt, leather, and chip board. You can also use a score tool and marker for even more customization. So many great projects are made and it will surprise you how many ways its used. From crafts to home decor, or even model building and fishing projects (yes, my husband will use it to make his own flies) the possibilities are limitless.
Cricut Explore
I have only used the Cricut explore models, which are the newer versions that do not require cartridges. You use a web based program called Cricut Design Space™ to design your project using simple shapes or the entire library of images or make it now projects. There are a lot of free images, you can buy individual shapes, or you can get unlimited access to images and projects with Cricut Access which is $7.99 a month.

Cricut Explore Air 2
The Cricut Explore Air 2 is the newest machine. It connects via bluetooth so you can design and cut from an iphone or ipad (hence the Air). The Cricut Explore Air 2 looks beautiful in all of its new colors. The mint is my favorite, and what I have. The Air 2 can also cuts up to 2x faster than previous models so you can create your projects even faster. If you have ever needed to cut out the same thing many many times, this new feature will be the best thing that every happened to you. Just select fast mode when you are ready to send your design to the mat.
I have a cricut, now what? If you have a cricut but are to scared to use it (I know there are some of you out there and I felt the same way) I made a little video to show you how to turn it on, use design space with a simple shape, and cut it out. I made this before I saw the even better video from Cricut. However, check it out anyways:
I hope that helps you when shopping for vinyl cutting machines. Be sure to look at all my cricut projects I have made so far!
This is a sponsored conversation written by me on behalf of Cricut. The opinions and text are all mine.