Hey friends! Welcome to my Christmas home tour. Christmas decorating time has arrived in full force everywhere. Our house has hit it about 70% because this summer we decided we have outgrown this house and need to move. I love moving, I love change, and am all excited about it. So excited that I rented a storage unit and began packing my every earthly posession and stuffing it in there. The problem with that is that our home has a couple small large projects that require more muscle than mine. Bathrooms shower surrounds needed tile and the basement floors needed fixed (you can see the real time progress of that project on my instagram). Needless to say I thought we wouldn't need our Christmas items until we were in a new house. Ah how naive I was. So, we are currently renovating and decorating all at the same time. With the kids running throughout it. Good times!
I may have made three different trips to the storage unit to hunt for a box with something special in it. I got so many beautiful glass ornaments from Balsam Hill last year that are all wrapped individually in a flat box, and 3 boxes go into a larger box. Its organized together and easy to grab, so they were the first thing up.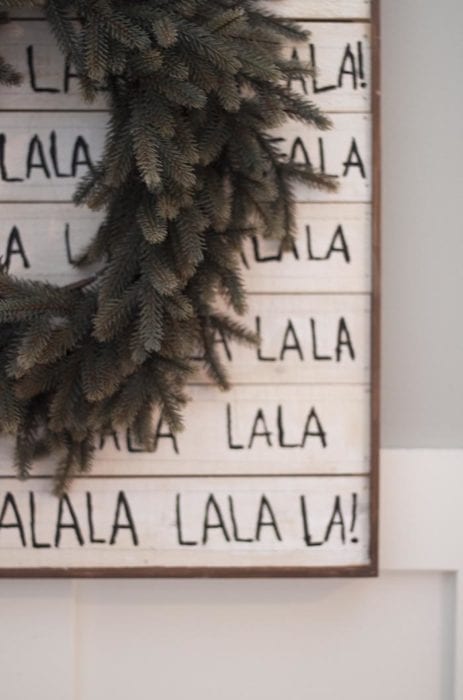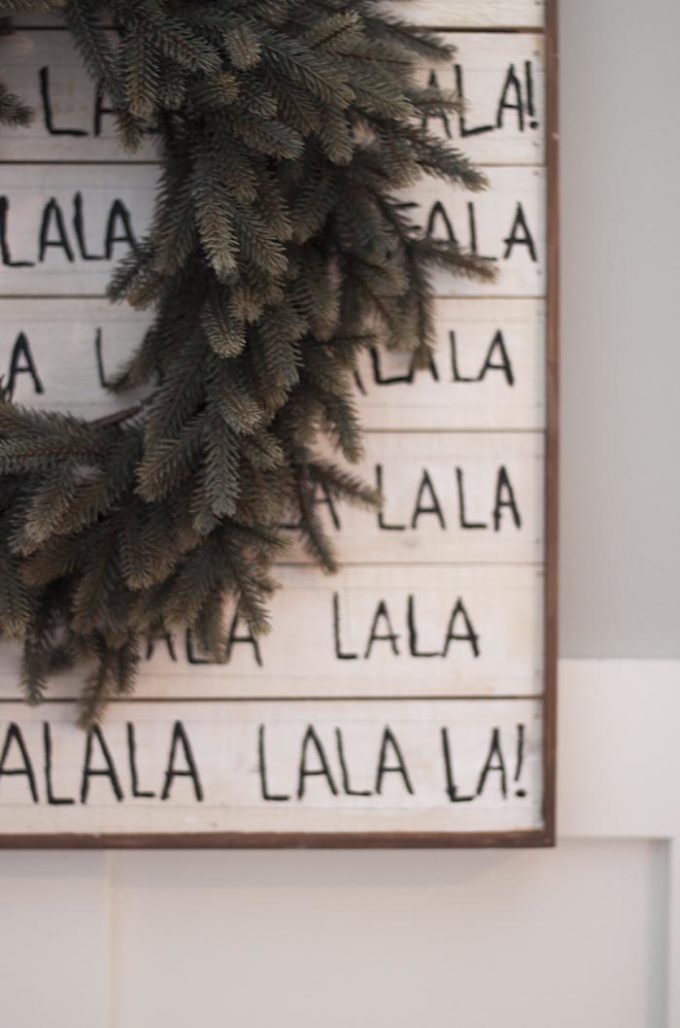 Right as you walk in the front door you see our narrow but bright entry where I hung my Falala sign that used to be on the mantle (here is the tutorial).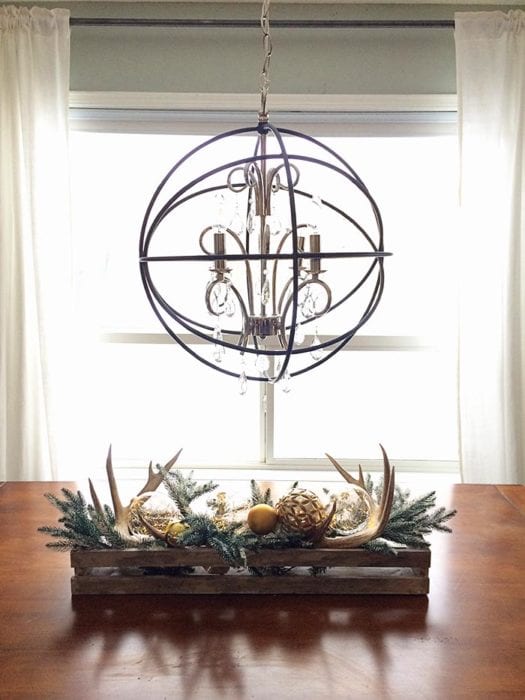 I made this simple box at a craft night with some girl friends and I love it. I had intentions of filling it with fresh greens but the two stores I looked were sold out time got away from me. AH! I decided to add some antlers and ornaments in top it all off. Do you see the clear bulbs with the fairy lights? I love them so much and have some on the tree and a couple other places. All the fairy lights!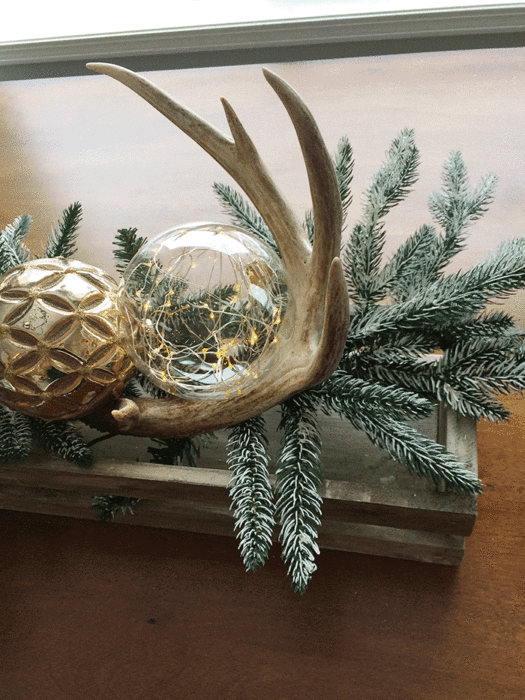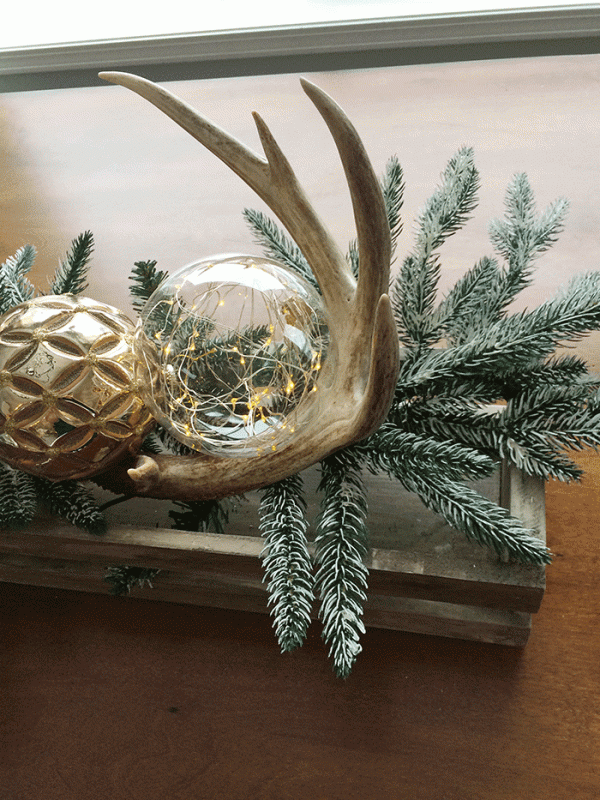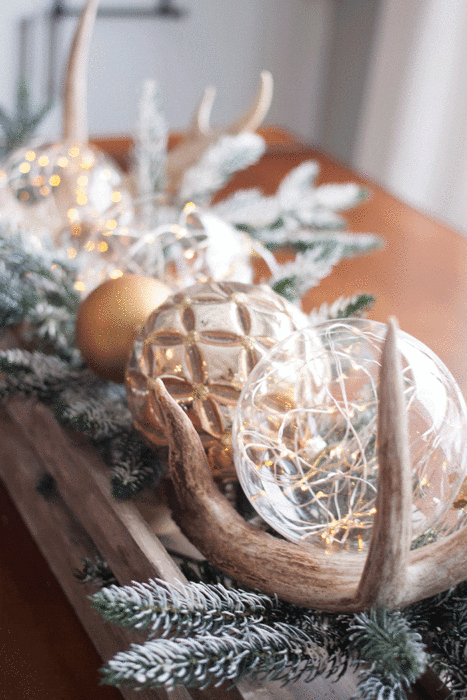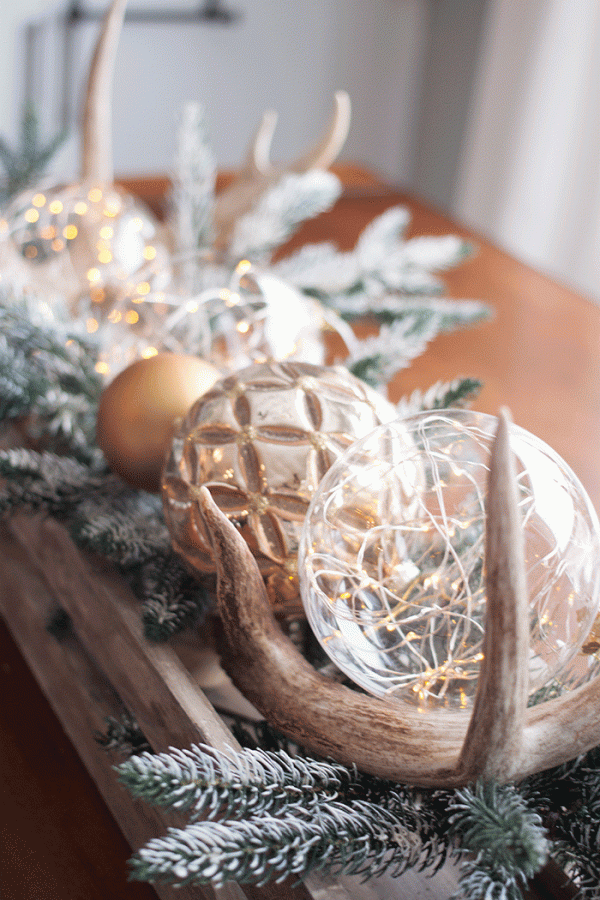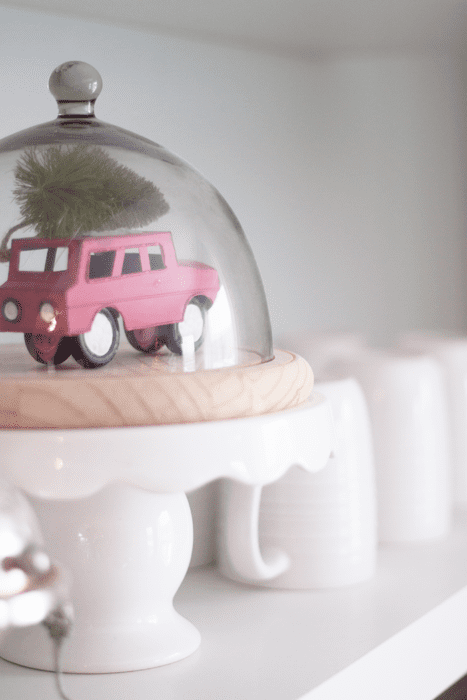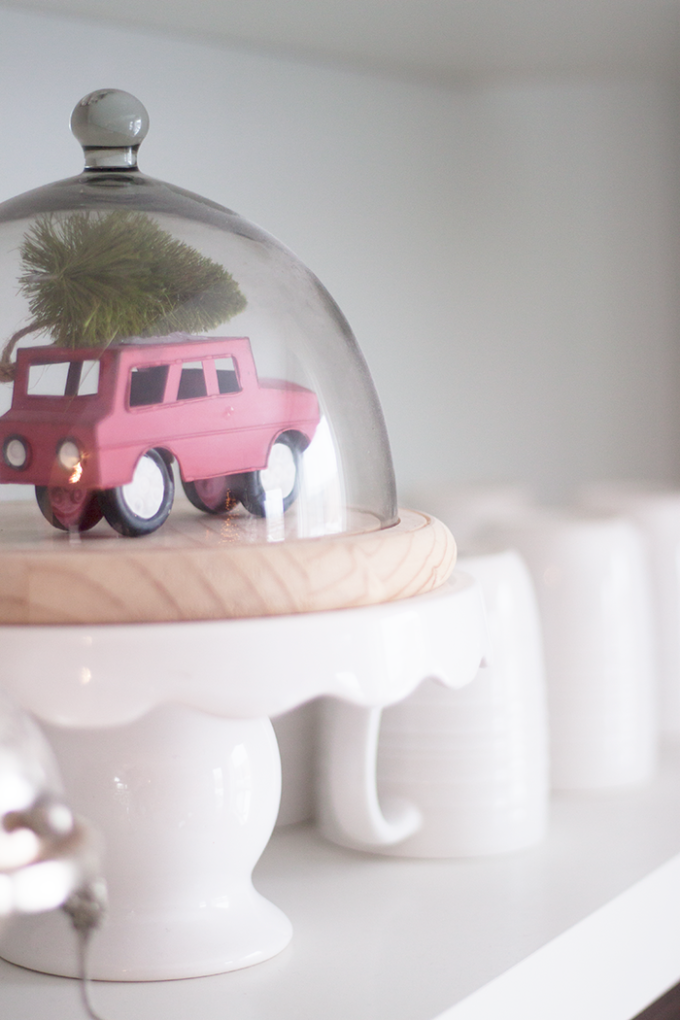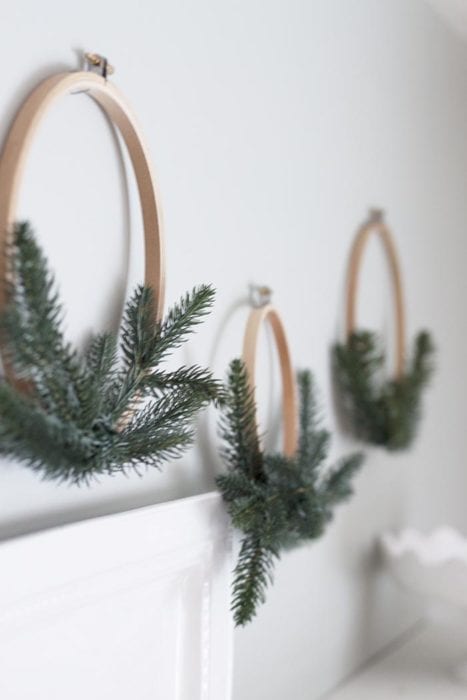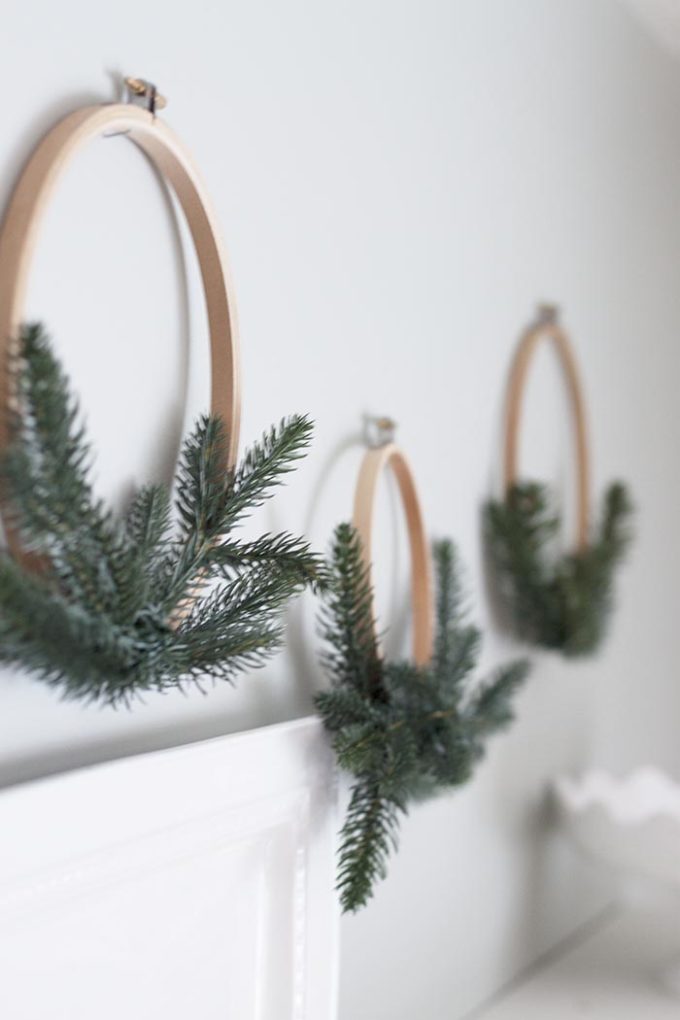 Even the dining room shelves got some little touches of Christmas. A vintage looking truck and bottle brush tree found a home here. I love seeing it! I also made a couple minimalist wreaths with embroidery hoops. Due to my fresh greens shortage I might go buy some rosemary at the grocery store to add to these. The scent is what I am going for. SO YUMMY.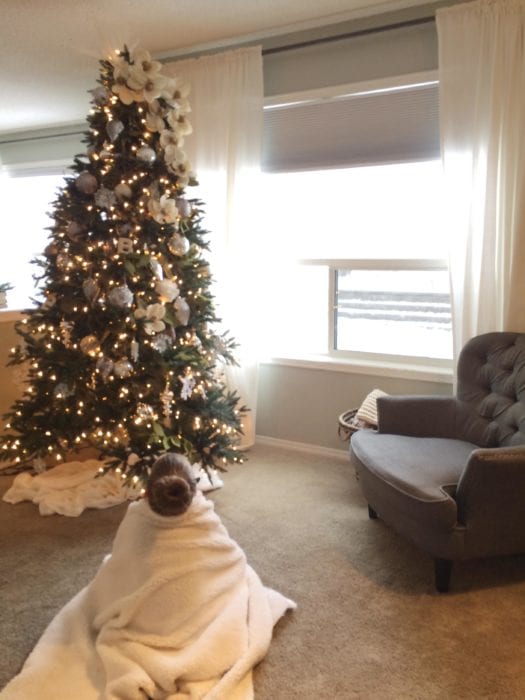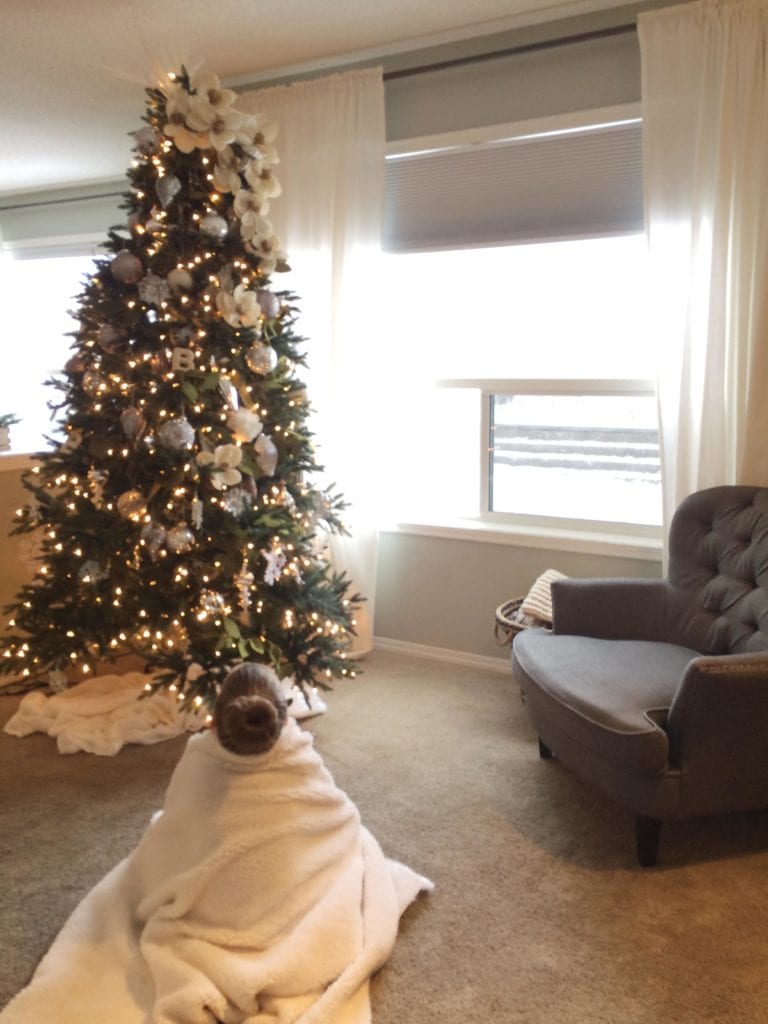 Having a one year old means those stunning ornaments went right up over his head and the bottom two feet get plastic and paper ornaments that can't be broken.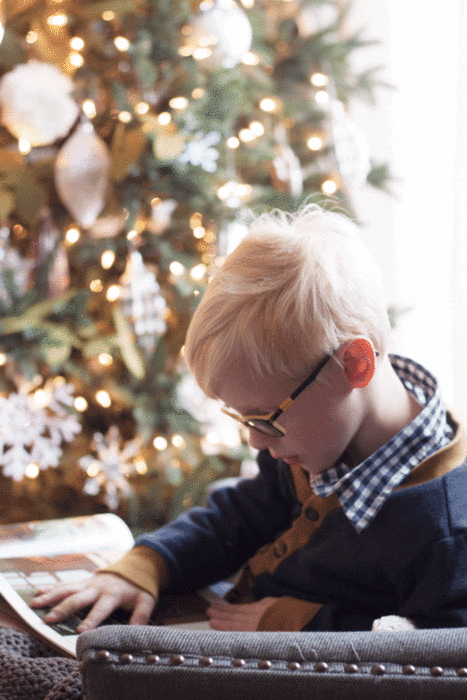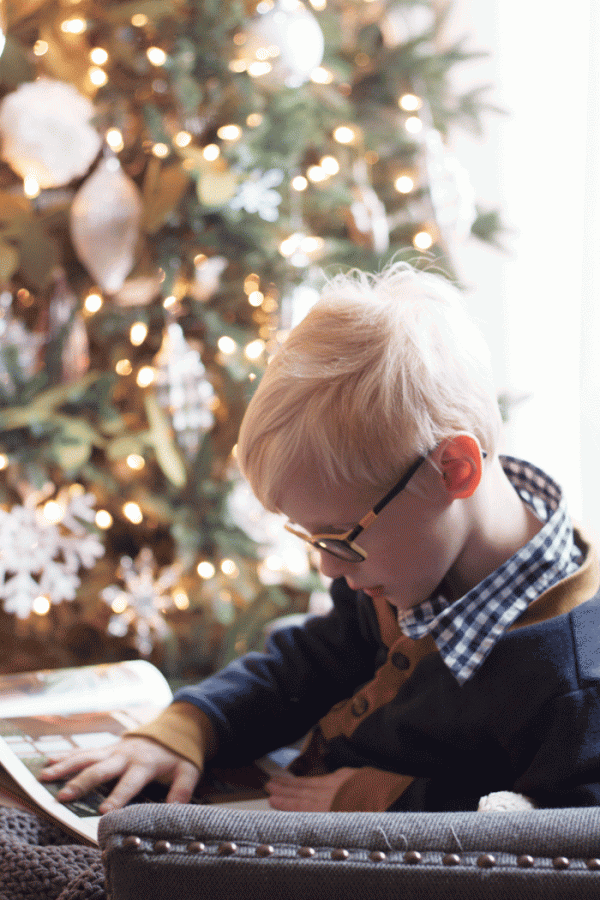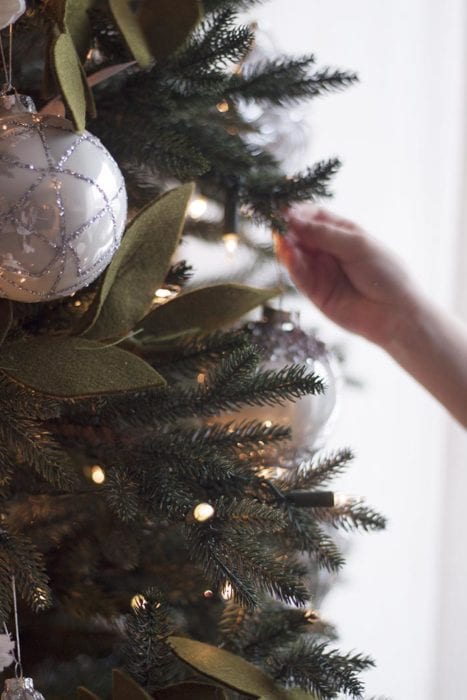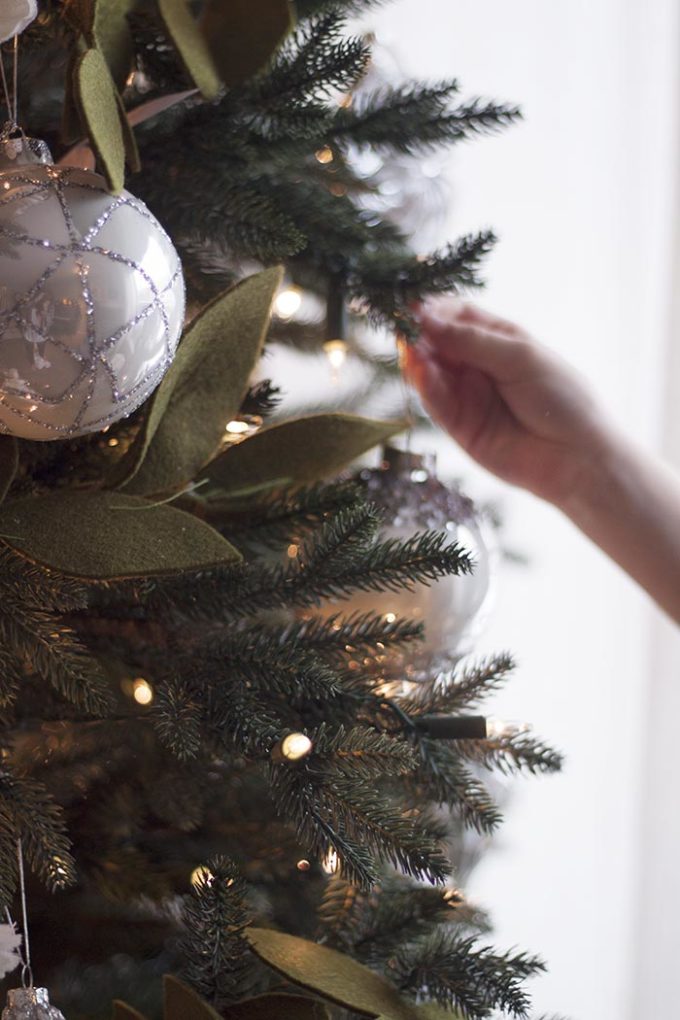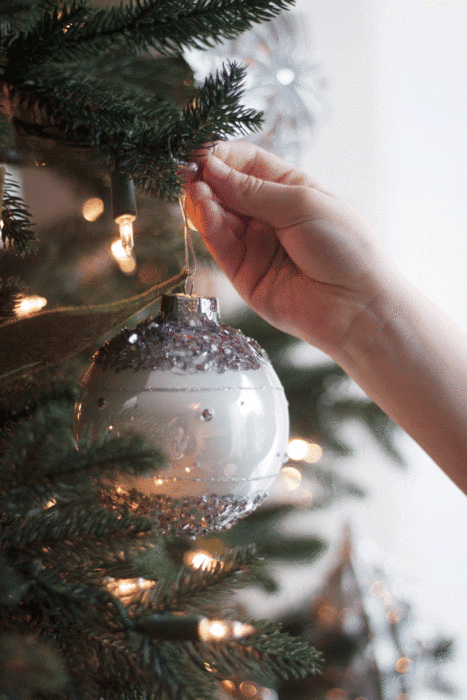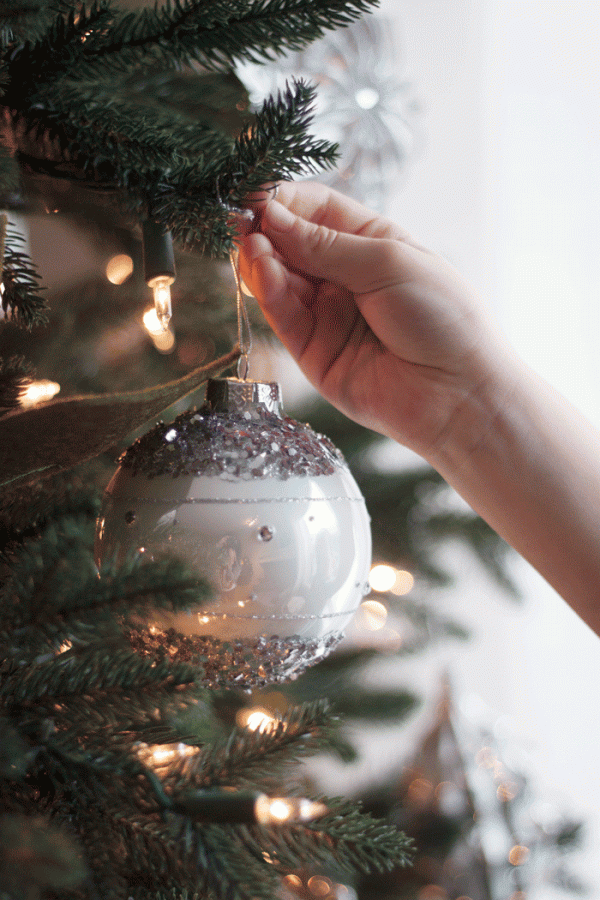 These are the beautiful glass ornaments I was talking about. They are all white, grey and silver.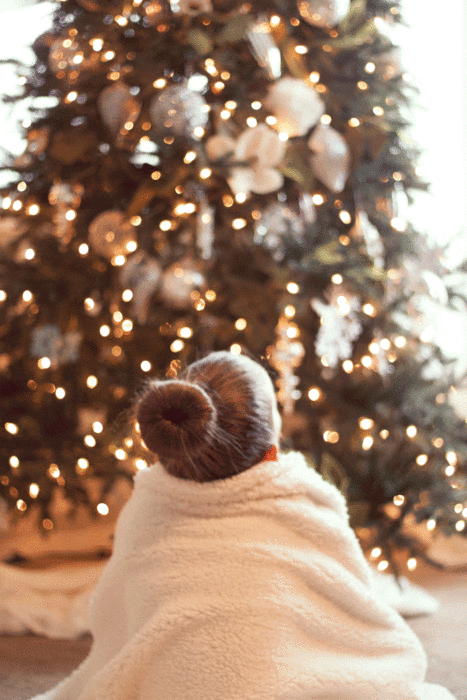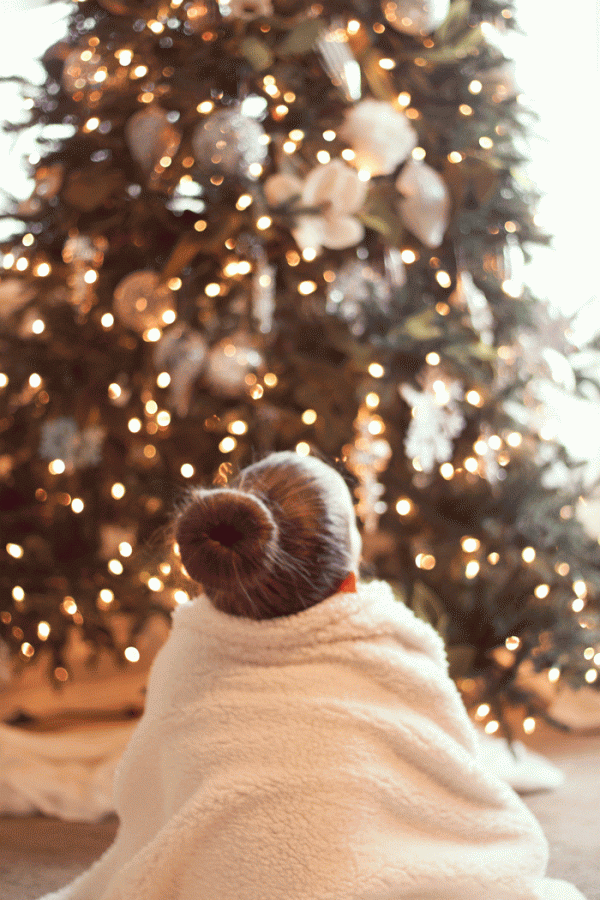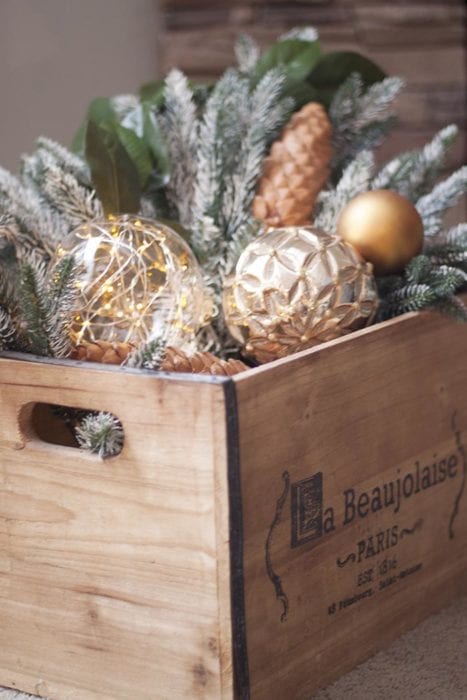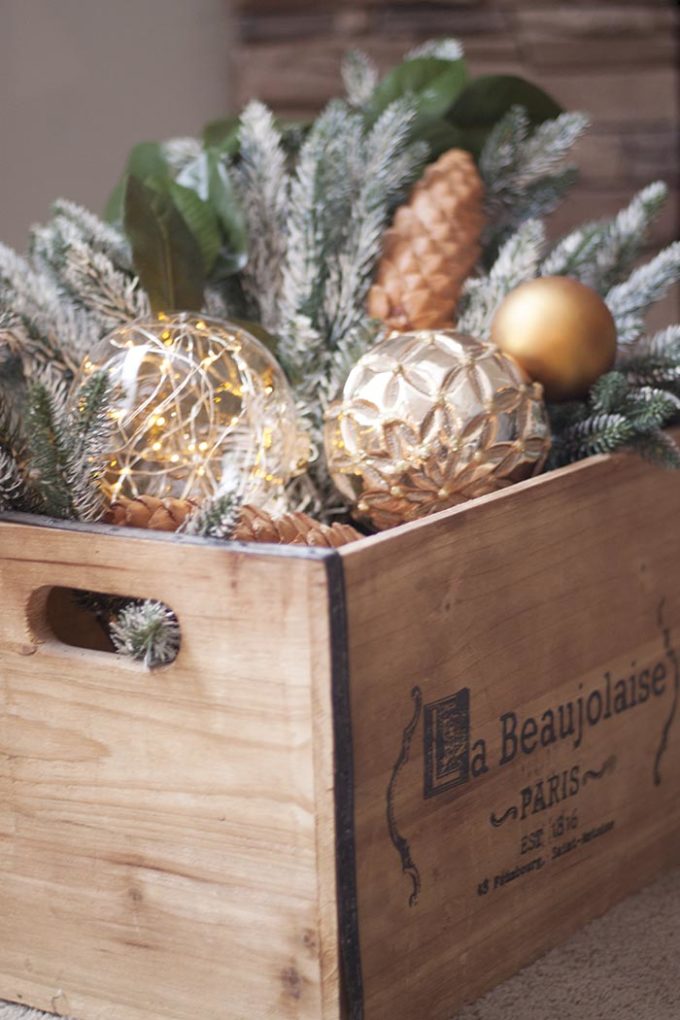 More of the fairy light ornaments. I added magnolia leaves to all my greens this year to add some texture and different shades of green.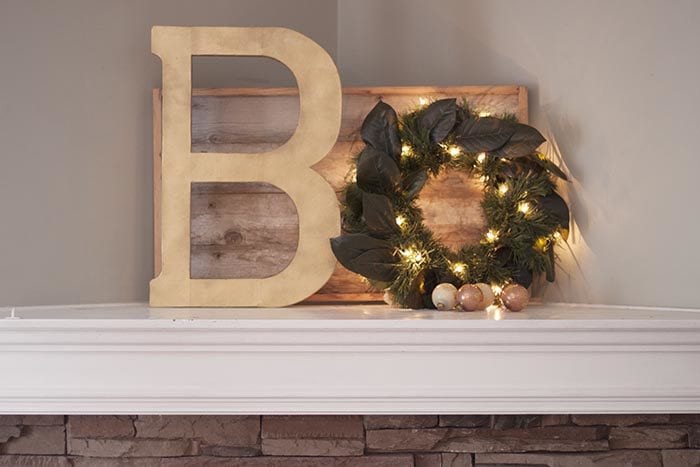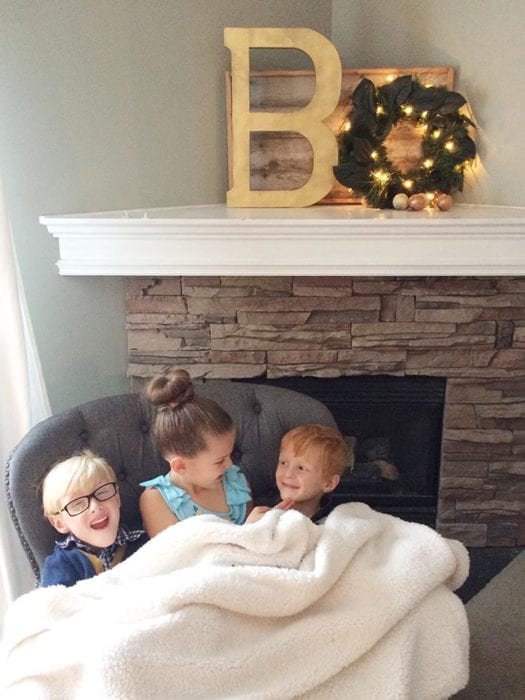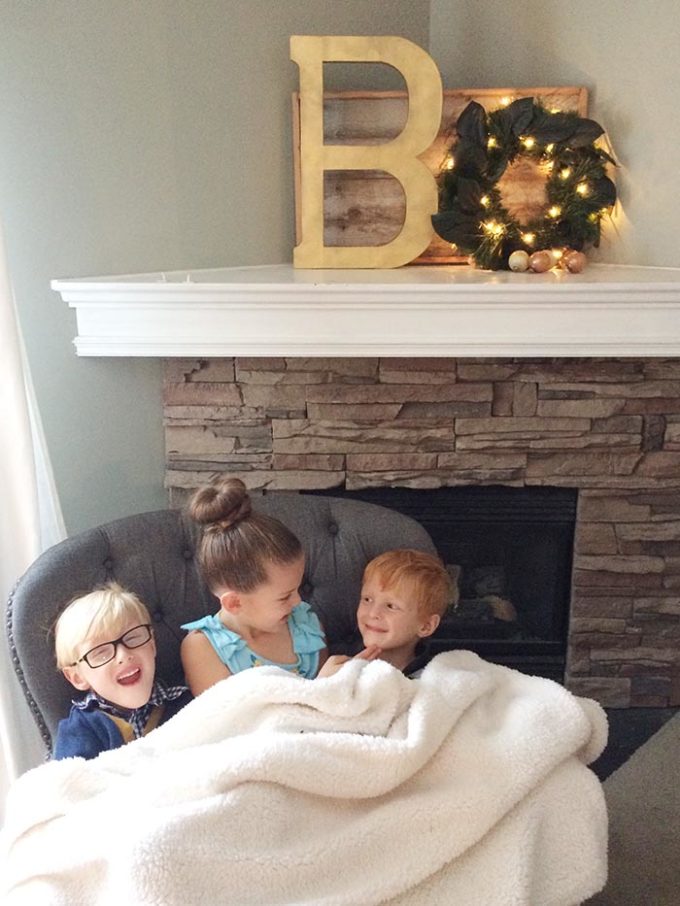 The fireplace has more pine needles and magnolia leaves. My boys were running wild all throughout the picture process, but they loved cuddling up with their cousin Chloe and posed for a picture.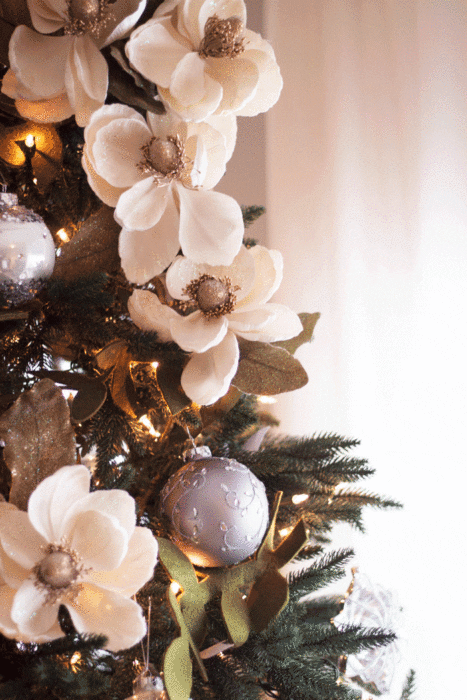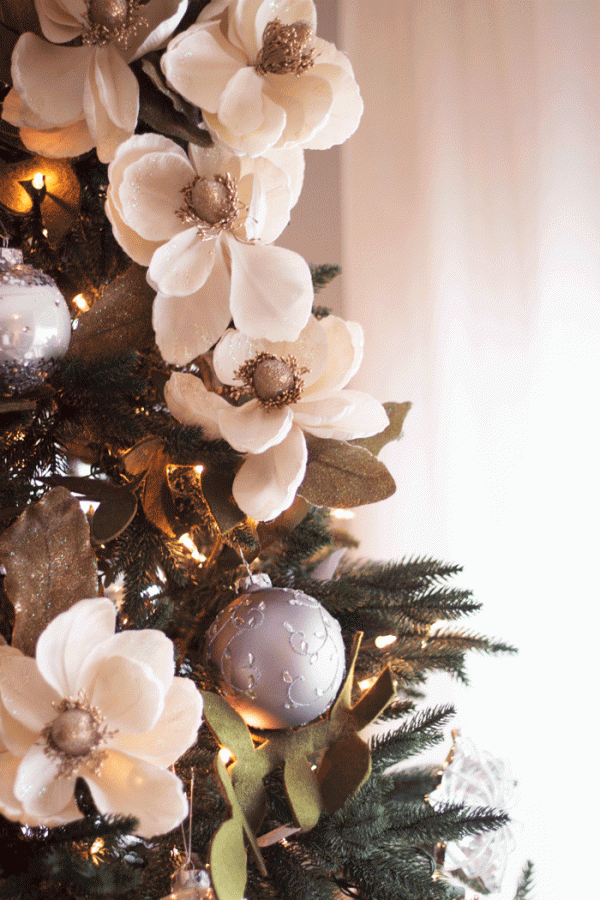 White magnolia flowers trail down from the top of the tree. I also made some felt garland (I have used them in my DIY wedding projects as well) and had every intention of hanging them from my fireplace mantle but at the last minute I thought to try them in the tree. It was just the something different I was looking for.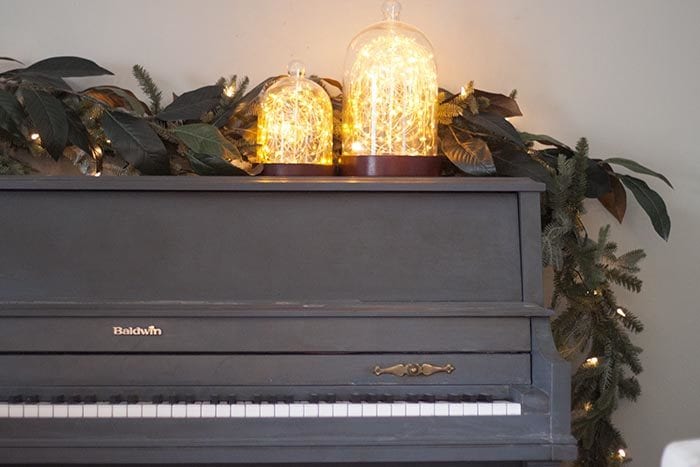 Lastly we have the piano. Simple greens including a vermont fir garland and fairy light cloches from Balsam Hill. I love the way they look during the day but my favorite time is when its dark out, the lights are off, and the fairy lights inside are turned on along with the Christmas tree lights. It just feel magical and special.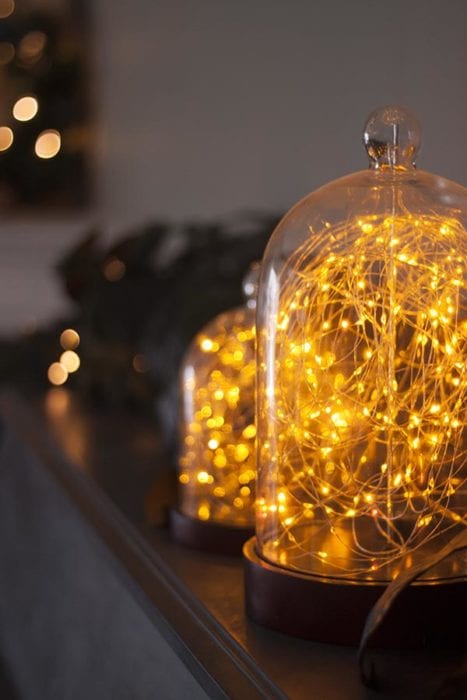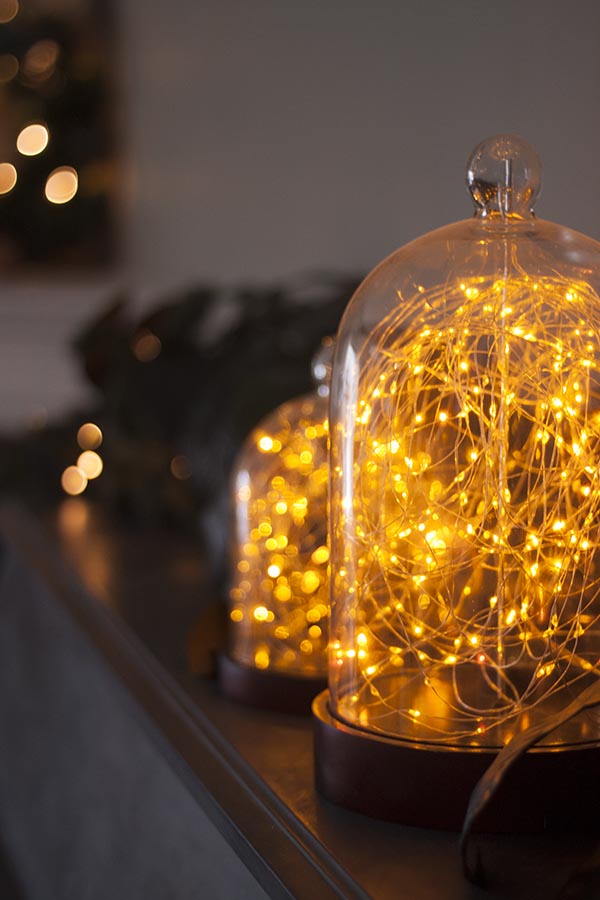 If I could sum up my Christmas theme (I hate that word) this year it would be magnolia leaves and fairy lights. Are you ready to see more Christmas home tours? I am joining with many other Canadian bloggers to share our homes decorated for Christmas. Check out this list for more homes to see.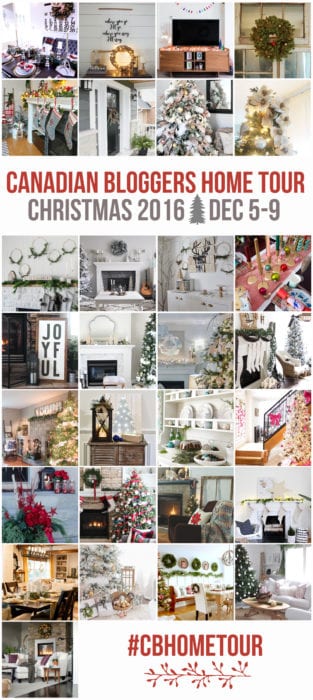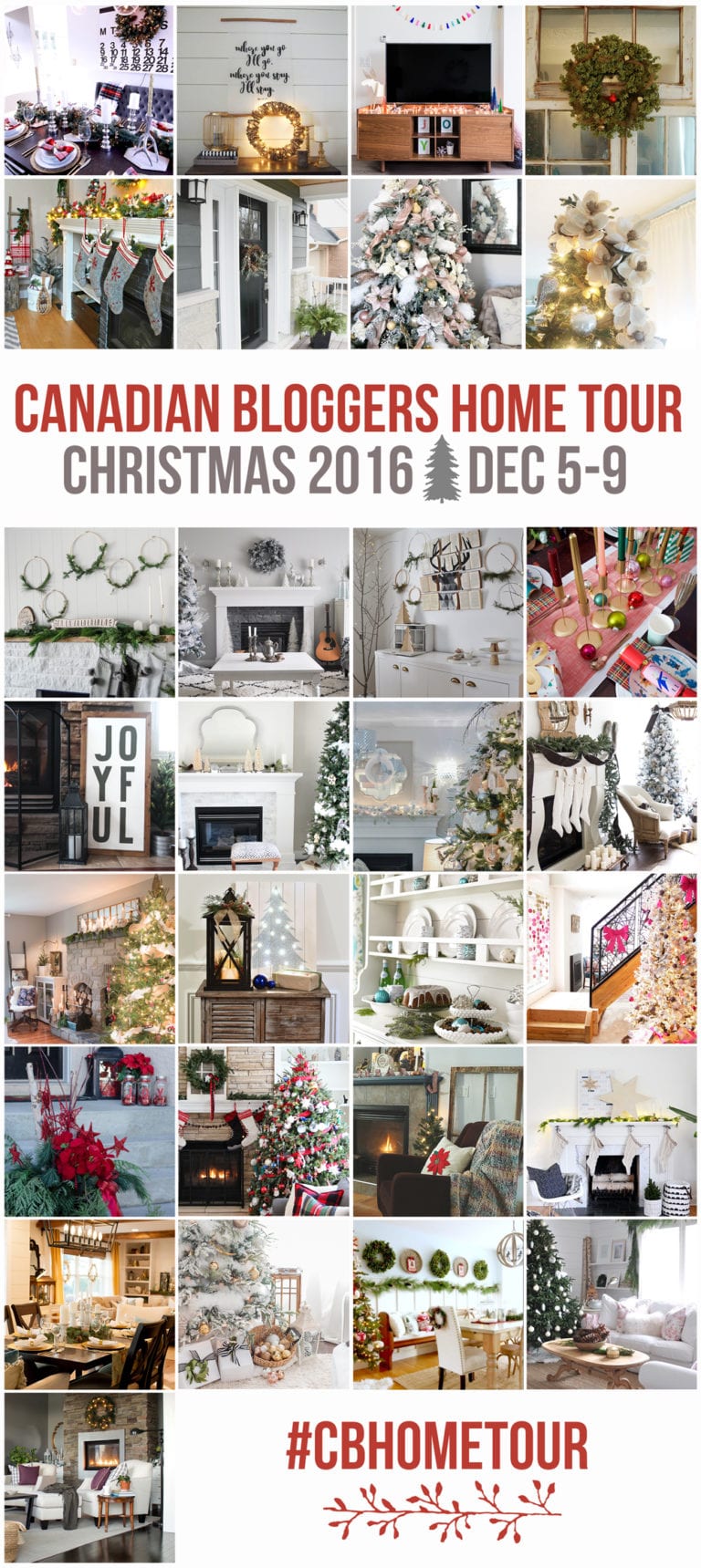 Monday
northern style exposure
The Learner Observer
The Uncommon Law
Heather In Heels
Clean and Scentsible
THE SWEETEST DIGS
Tuesday
Amidst the Chaos
Brooklyn Berry Designs
lemon Thistle
Suburble
Life is a Party
PMQ for two
Wednesday
Love Create Celebrate
Satori Design for Living
A Pop of Pretty
So Much Better With Age
VinYet ETC
Woman in Real Life
Thursday
The DIY Mommy
Fresh Crush
Time With Thea
A Pretty Life
Home To Heather
Nalles House
Friday
This Little Estate
Craftberry Bush
The Happy Housie
Kimpowerstyle
Elliven Studio