Bright Kitchen Remodel – DIY version
You move into a new house and want to change a few things. You have 3 young kids, and your husband is working long days. So you wait a while and spread it out over the weekends right? Not for this mom. Wielding power tools and decorating skills, the cabinets were painted, the counter tops replaced or painted into a new finish.
While the out of pocket cash was about $500 there was also the use of airmiles for gift cards to a home building store. Also, just really thrifty purchases.
This bright white kitchen looks so modern, you would never know how it started out.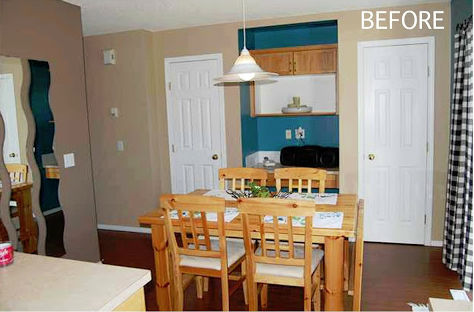 Boring beige walls and an odd teal accent color in the desk space looked fine before, but nothing to write home about.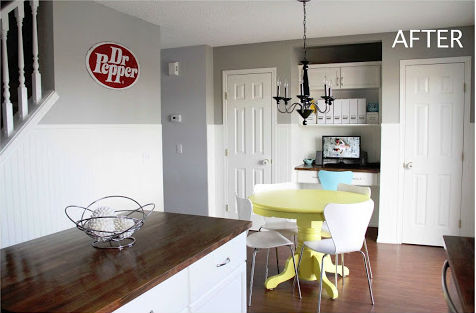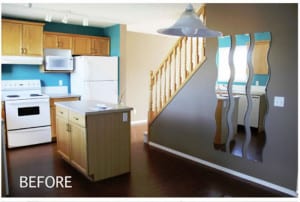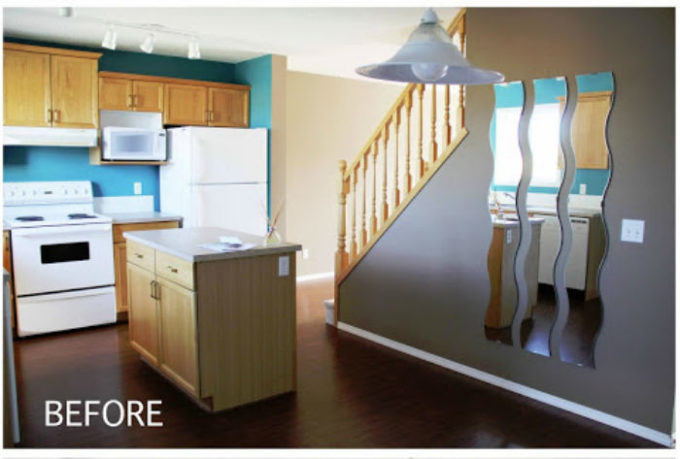 I love the painted railings – what an inexpensive update! You can see here, there is a new stove but the fridge is still the original white. Budget budget!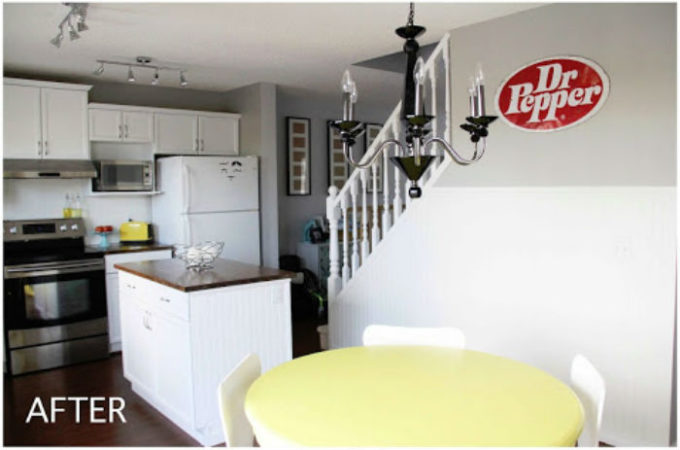 The before and afters in this kitchen make me so happy. The cabinets were painted white and the main wall color painted, removing the teal! Instead, pops of yellow and teal are used in the yellow toaster, the fun yellow dining table, and the kitchen aid mixer. I love the beadboard island and the beadboard is also used on the backsplash.
How To Renovate Your Kitchen By Yourself and On A Budget
I used my air miles and got about $400 in Rona dollars. I shopped clearance, made all my artwork and did all the renovation work myself
I found and purchased everything I could on kijiji…Seriously, I bought the yellow table for $25 with 4 chairs. I was able to sell the chairs for the same price so the table was free. I used some spare primer and paint I had in the basement. The new chairs from kijij were $10 a chair!
I made the faux roman shade from some leftover fabric I had from a previous project. I would love to get some pretty fabric that is colourful but that will have to wait until I find the perfect one.
I bought both the dishwasher and stove on clearance for killer prices. I mean seriously low…I still haven't found a fridge for a good enough clearance yet so it will have to wait.
I painted the toaster yellow so it could be a nice bright accent in my kitchen and it worked like a charm. I made most of the artwork in the kitchen. We got the sweet VW sign for free. We bought the Dr. Pepper sign on Vancouver Island a couple of summers ago so it was just hanging out in the basement.
I got the wood counter tops at ikea. They were on clearance as they are no longer carrying this exact type. I finished them in minwax stain and 5 coats of waterlox topcoat.
I used my Rona money for the breadboard, trim, track lights and some other projects around the house.
I bought 3 gallons of paint and used it all from Sherwin Williams at their 40% off sale. This is the best way to buy paint because it is cheaper than buying at the big box stores.
Sources:
Chandalier: Lowes Clearnace $25
Wood Countertops: Ikea clearance $120
Kitchen Sink: Costco
Roman Shade: DIY from scrap fabric
Table: $25 for table (which ended up being free) and $40 for chairs
Dining Chairs: $10 each on Kijiji
Hoodfan: Kijiji $40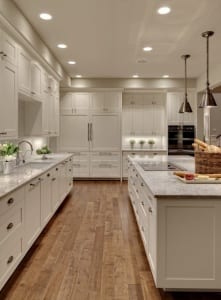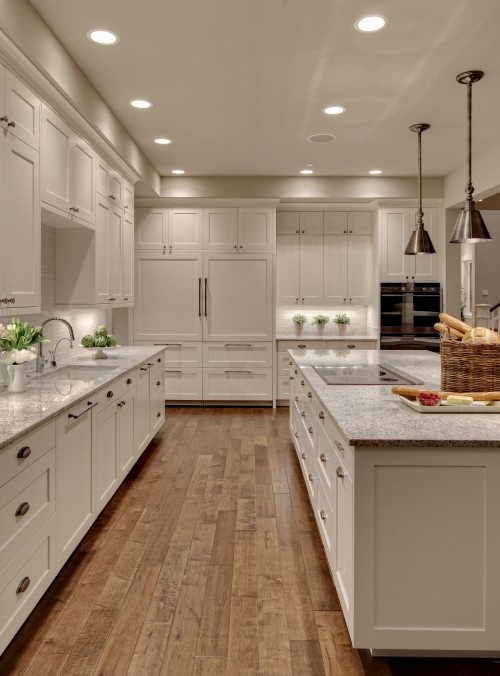 * If you are looking to remodel a kitchen, here are some tips to get exactly what you want out of a
kitchen design
.
I offer e-design services where I can create an inspiration picture or full design plan for your space. See an example of an
e-design here
.