Everything you need or want to know about Cricut Infusible Ink – the latest product release from Cricut. Taking your DIY projects to an even more professional quality.
You've never done heat transfer like this before.
The all-new Infusible Ink system delivers seamlessly smooth, professional-quality transfers that become one with your material – and last a lifetime.
This is NOT a sponsored post. I just wanted to share all the details and information I could find to help you with your projects.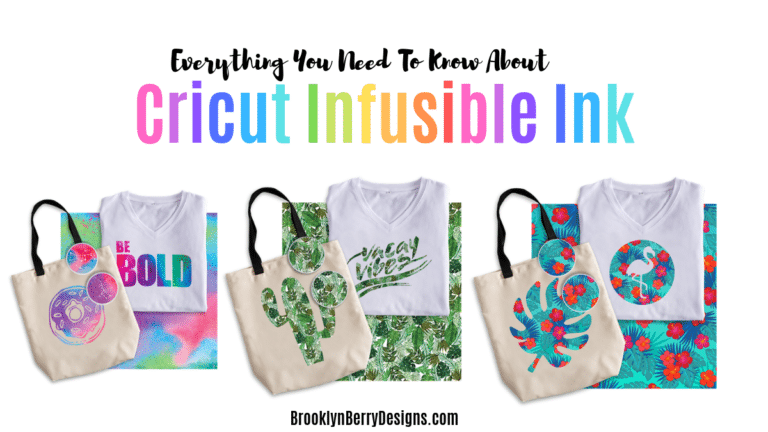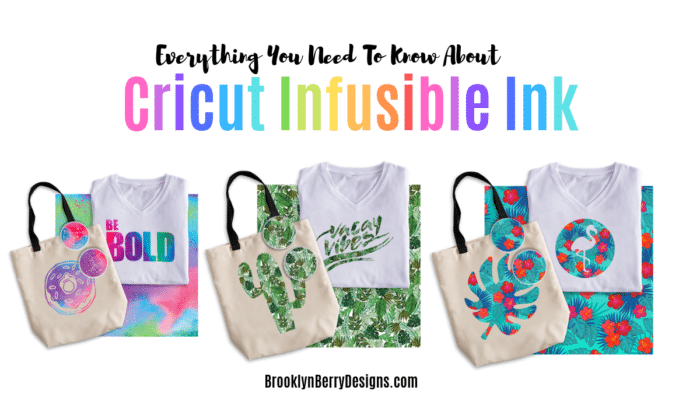 What Is Infusible Ink?
Infusible Ink is a permanent ink that is transferred using a high heat to a polyester item like a shirt or tote bag. For anyone that is familiar with sublimation printing this is probably sounding familiar. Cricut has developed patterned transfer sheets that can be cut on the Explore Air series or Maker machines.
How To Use Infusible Ink Transfer Sheets
Select a blank item to apply the designs to.
Cut the design using the Cricut keeping the INK SIDE UP (so pretty side up, which is opposite of how you cut the traditional iron on vinyl).
After removing the excess material, place design onto the item and press with the Easy Press.
Tricks and Tips For The Best Infusible Ink Transfer
Use butcher paper or cardstock inside of the shirt and on top of your design while applying heat to prevent the colors from bleeding
Pattern side facing up while cutting
Use a lint roller (even a few times) on the shirt before applying the design. Any lint pieces will leave blank marks in the design.
For coasters – wipe with an alcohol swap and lint roller before applying a design.
Check the EasyPress settings guide for temperature settings.
How To Use Infusible Ink Pens
You will need a blank item to design with, Infusible Ink Pens, and a piece of regular copy paper.
Draw a design on the piece of paper – you can freehand draw or use the Cricut to draw a design for you. Whatever you are more comfortable with.
Place the paper design side down onto your blank item. You can use heat resistant tape to keep the design from shifting while heating.
Using Non Cricut Items with Infusible Ink
Cricut recommends you use their blanks as they are tested thoroughly for quality control. They want you to have the best results with your designs which saves you money and keeps you happy! That being said, the whole process of Infusible Ink and sublimation printing needs polyester fiber content in the blank items, so any item with a high percentage of polyester should be able to be used.
The Cricut blank shirts are 95% polyester and 5% Spandex. If your item has less polyester in it, expect the colors to be not as vibrant or bold. Nobody can guarantee how it will look so please experiment with caution and try on scraps, a hidden spot, or extra before starting a big project.
Disclosure: This post may contain affiliate links. This means I may receive a small commission if you purchase something from a link shared here (including links to amazon). This won't cost you anything, but helps to power this site and keep me drinking diet coke. Thanks for your support!
Bookmark my Cricut Deals Page to stay up to date on what's on sale!
Looking for more project ideas?Get inspired with these Cricut Projects!
Photo Credit: craftingintherain.com
Photo Credit: craftingintherain.com
This blog post has some great tips for beginners - including mistakes and how to fix them. I love when posts have REAL user information and learning from mistakes is such a valuable lesson. Get the info from Stephanie at Crafting In The Rain.
Photo Credit: heyletsmakestuff.com
Cori at Hey Lets Make Stuff has some great information for this brand new product.
Photo Credit: jollyandhappy.com
Leopard Print coasters made with Cricut infusible ink.
Photo Credit: lydioutloud.com
Photo Credit: www.makelifelovely.com
Photo Credit: gigglesgalore.net
Photo Credit: gigglesgalore.net
Photo Credit: craftboxgirls.com
Photo Credit: www.artsyfartsymama.com
Photo Credit: love-the-day.com
Photo Credit: ambersimmons.com
Photo Credit: craftingintherain.com